Collecting firewood, building a campfire with kids, roasting marshmallows and singing your favourite songs under the stars. How wonderful does that sound? Work life and school eats up much of your family bonding time so camping can be the perfect opportunity to remedy that. It's also the perfect way to get away with your buddies and build some great memories.
Should you decide that camping is for you you'll need to gather all of the "must-bring" items including food, bedding and shelter. Speaking of shelter, one essential that must be on top of your camping list is the tent. This tent buying guide will introduce you to the various types and shapes of tent available as well as looking at other important features you should consider.
The tent will be your home and base so whether you're just staying overnight or perhaps longer you need to be comfortable to a level that suits your intended use and group size. Manufacturers will always oversell their products on features which you might not necessarily consider important. Thus, checking product reviews and comparisons is one step you should not miss and if you want to know what to look for in a tent, read on.
If you don't want to read the full guide then checkout the table links below to the products we currently rate very highly.
Winning Tent Reviews For Each Category
12 Person Tents
| Product | Verdict | Rating | Review |
| --- | --- | --- | --- |
| ​Tahoe Gear Prescott 12 Person Tent | ​Roomy, good customer service & weather resistant | | |
10 Person Tents
| Product | Verdict | Rating | Review |
| --- | --- | --- | --- |
| Coleman WeatherMaster 10 Person Tent | Spacious and supremely weather resistant | | |
8 Person Tents
| Product | Verdict | Rating | Review |
| --- | --- | --- | --- |
| NTK Laredo GT 8/9 Person Tent | Well constructed, spacious, sturdy and light | | |
| Product | Verdict | Rating | Review |
| --- | --- | --- | --- |
| ​REI Kingdom 8 Tent | ​ A premium, sturdy, wind and rain proof tent with nice detailing | | |
6 Person Tents
| Product | Verdict | Rating | Review |
| --- | --- | --- | --- |
| Kelty Trail Ridge 6 Tent | Spacious enough for a small family with great ventilation | | |
| Product | Verdict | Rating | Review |
| --- | --- | --- | --- |
| ​Kodiak Canvas Flex Bow 6 Person Tent | ​A tent for life that's easy to setup but it's very heavy | | |
| Product | Verdict | Rating | Review |
| --- | --- | --- | --- |
| Springbar Highline 6 10×10 Canvas Tent | ​​A great canvas tent even in the harshest of conditions | | |
4 Person Tents
| Product | Verdict | Rating | Review |
| --- | --- | --- | --- |
| ALPS Mountaineering Lynx 4 Person Tent | A good all rounder for backpacking or car camping | | |
3 Person Tents
| Product | Verdict | Rating | Review |
| --- | --- | --- | --- |
| Coleman Sundome 3 Person Tent | An easy setup, cheap and lightweight from big brand Coleman | | |
2 Person Tents
| Product | Verdict | Rating | Review |
| --- | --- | --- | --- |
| ALPS Mountaineering Meramac Two Person Tent | An easy to setup tent that is also strong and weather resistant | | |
1 Person Tents
| Product | Verdict | Rating | Review |
| --- | --- | --- | --- |
| Andaker One Person Tent | Safe lightweight and waterproof perfect for backpackers | | |
​Specialist Tents
| Product | Verdict | Rating | Review |
| --- | --- | --- | --- |
| ​NAPIER SportZ Truck Bed Tent | ​A fiddly first setup but the sewn in floor & awning are great. | | |
| Product | Verdict | Rating | Review |
| --- | --- | --- | --- |
| ​Danchel Cotton Bell Tent | ​​Great value, lots of room and 2 stove jackets. | | |
| Product | Verdict | Rating | Review |
| --- | --- | --- | --- |
| ​​Slumberjack Overland 10 Person 3 Room Tent | ​​​Super quality with flexible dividers great for families | | |
Initial Camping Considerations
2 initial things to ask yourself before buying a tent;
Size
How many people are going or will be sleeping in the tent on a regular basis? It's advisable to purchase a tent that will suit your sleeping needs for at least the next 2-3 years. Is it for you and your friends or perhaps a tent for a growing family?
Once you've been the first time and told others might the party grow? If so perhaps buy a little larger than you currently need.
Furthermore, when a manufacturer describes a tent as 4, 6, or 8 persons don't take that too literally. A 6 person tent might comfortably sleep 5 so if you actually want to sleep 6 perhaps go for an 8 man tent. This will also provide extra storage room for other essential camping gear. In fact, the 8 person tent is the most popular on the market with families and groups alike. See these fantastic eight-person tent options.
On the other hand, if you're a backpacker going on a solo camping trip then you'll want a compact and lightweight 1 man tent. Or if it's you and a buddy consider a decent 2 person tent that will set up quickly on the trail and keep you both dry and protected at night.
Read this post for more detailed information on tent sizing.
What type of camping will you be doing?
Is it front-country camping, wild backcountry camping, impacted area camping, or pristine area camping? You might also only be considering a backyard camp if it's your first time or don't enjoy traveling too far. Your plans will determine the type of camping tent you will need.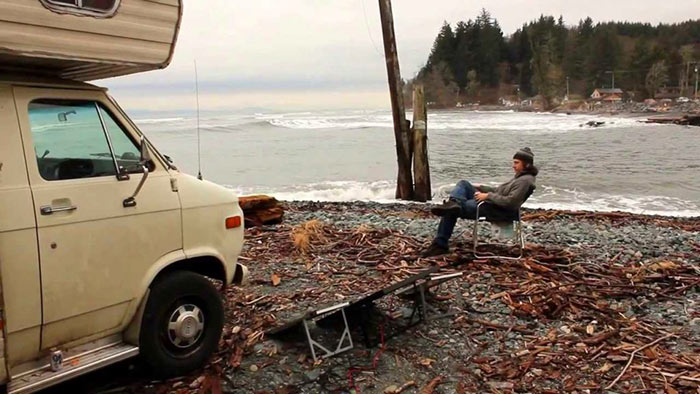 For wild, backcountry, dispersed camping or boondocking don't cut any corners with quality. This will be your base, a means of protection from the elements and potentially from wildlife. It also needs to be a safe storage space for your camping gear. You should allow a higher budget for a tent if considering this kind of trip.
With front-country camping, you'll largely experience more developed camping grounds such as those with Kampgrounds Of America (KOA). Furthermore, they will be busier places. If you forget something it's likely you can borrow a piece of equipment from a fellow camper, there might even be an onsite shop where basic equipment and tent repair supplies can be purchased. You could consider a cheaper tent for this kind of camping but nonetheless go for something durable.
Buying the wrong tent won't give much value for what your intended use is so choose wisely. Additionally, the comfort you should be enjoying should not be sacrificed with poor quality kit. If you want to keep your kids interested in camping then buy into comfort with a decent sleeping system, camping heaters, and everything you need to prepare a decent meal. As the saying goes buy cheap, buy twice.
Tent Material
Tents are still the most popular means of camping though camping pods are becoming more popular. They are commonly made of fabrics like cotton (canvas), nylon, or polyester. These materials are suitable for different types of tents and all have their advantages and disadvantages. Indeed manufacturers often combine mixtures of these materials in order to combine the benefits.
Canvas / Cotton / Polycotton
The durability of cotton made canvas cannot be denied. Cotton retains heat in cold weather and is cooler in warm weather. This breath-ability is a distinct advantage but alas it is heavier than some man-made alternatives.
Traditional all canvas tents such as some of those from Kodiak are less popular nowadays especially since they need to go through an initial weathering period in order to become fully waterproof. This can find inexperienced campers unawares but for those with patience, you'll have a tent for life. To make this process easier manufacturers have combined the benefits of cotton with that of polyester. Polycotton as it is called is a strong lighter alternative and is often coated to give it that all-important waterproof property.
Nylon
Cheaper tents are often made of nylon. This is because the material can be made thinner since the fibers do not absorb water. Furthermore, nylon is often coated with silicone, acrylic, or polyurethane to add further waterproofing and UV protection benefits.
Light nylon tents are great for backpackers. Be aware though that nylon doesn't fare well with long exposure to the sun. If you live in sunnier environments or are likely to camp in those destinations then consider more expensive options especially if you value the longevity of the tent product you purchase.
Polyester
Unlike nylon polyester made tents can withstand long periods in the sun. It is also slightly thicker and more durable than nylon. Do look out for those that specify they include a breathable coating to keep water out but allow air flow otherwise they can suffer from condensation build-up and also be stuffy inside.
Common Shapes & Types of Tents
There are numerous tent shapes you should be aware of. Which you should choose will depend on your intended use and the type of weather you plan to use the tent in. For example, a family tent would generally be larger and taller for full height access whereas a 4 season tent for winter use would be lower and more aerodynamic in order to stand up to the elements.
A-frame / Ridge Tent
The classic A-Frame tent has been around for centuries employed by armies, prospectors as well as scouting groups, and summer camps. The shape is easily recognizable as the form we see in icons and signage to represent tents and campsites in general.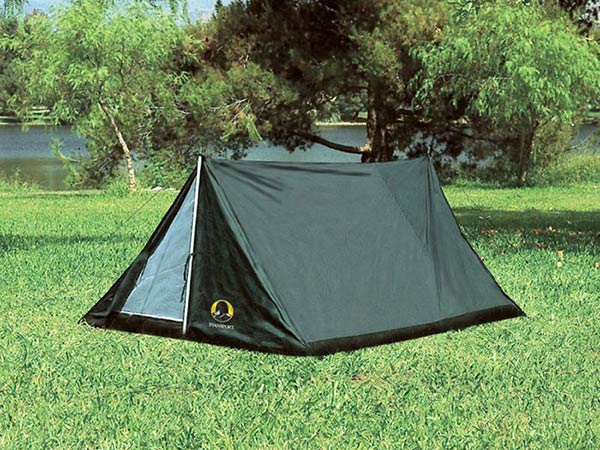 The "A" shape is formed with a single pole at each end and usually a horizontal cross pole or ridge to make the tent canopy we all recognize. The sloping walls can often limit the head and elbow room even in bigger designs. This makes this type of tent fine for sleeping in but not ideal for that family holiday, especially if it's raining and you want to move around freely inside.
Where this design does score well is in terms of stability and the fact that they are easy to pitch. For occasional camping with no kids, these are a good option though you will be limited on the brands that still offer them.
Modified A-frame / Ridge tent
This is an improved version that has an edge over the classic A-frames because it has a central curved hoop and ridgeline pole to make a more spacious interior and durable structure. This allows a little more freedom of movement.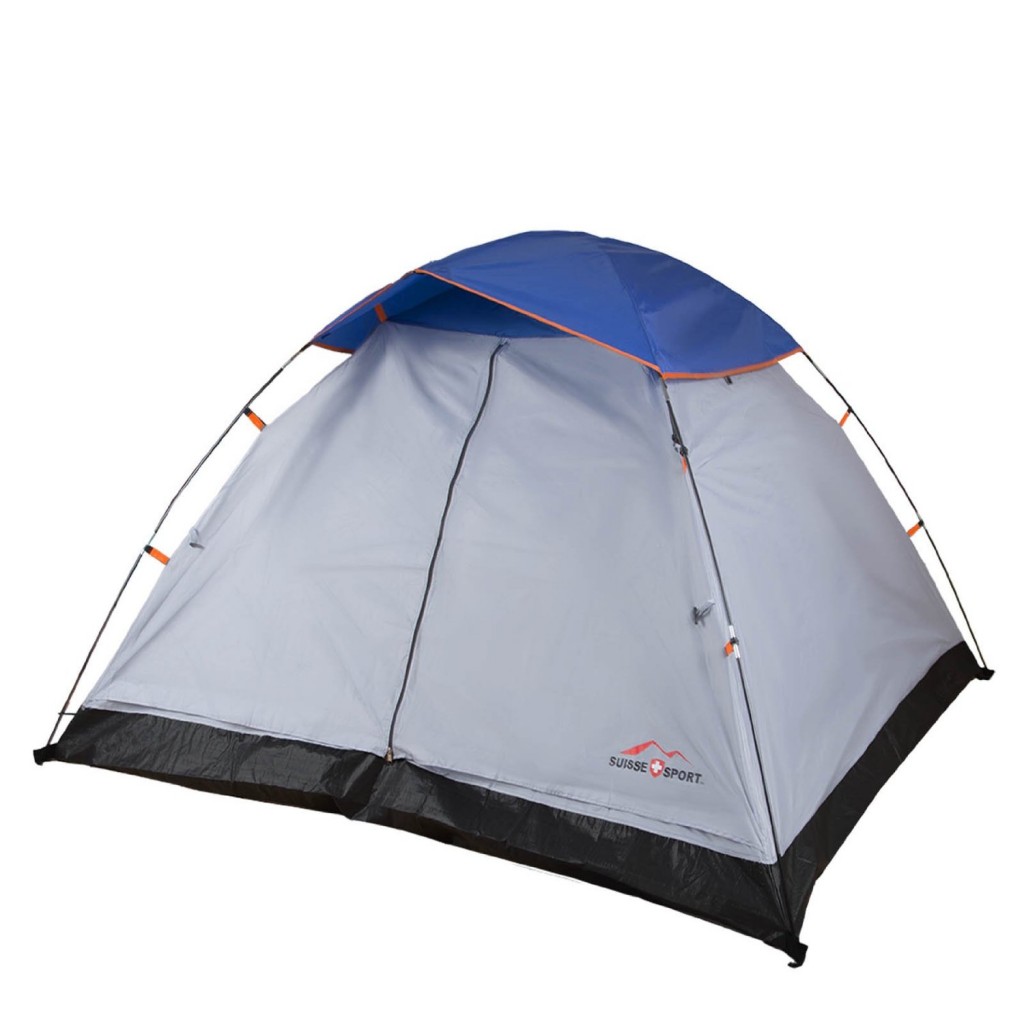 Dome-shaped tent
Windy conditions will always pose a problem for campers particularly when it comes to erecting a tent. To make life easier in terms of camping in windy or snowy conditions consider a dome-shaped tent.
Dome tents are simple to assemble and generally stable due to the 2, 3, or 4 pole systems they employ. The poles criss-cross and pass through the center of the roof creating an arched ceiling with a square, hexagonal or octagonal footprint. At head height this creates lots of room because of that, they're one of the most popular purchased tents on the market. Some models also offer separate sleeping rooms or a porch for storage.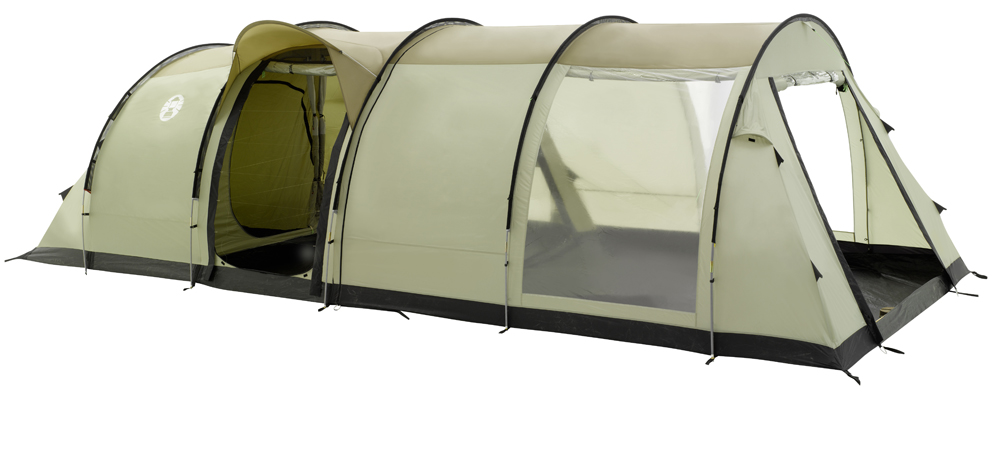 Tunnel / Tube shaped tent
One of the most common types of tent gracing campsites these days is the tunnel tent. The shape of the tunnel provides for a lot of internal storage and sleeping space with good standing height too. The structure is made strong with flexible poles that form a semi-circle roof.
These types of tents vary greatly in quality and cheaper offerings may need strategic positioning in order to withstand windy conditions. It is often best to pitch these tents head-on into the wind as the long exposed sides can be weak.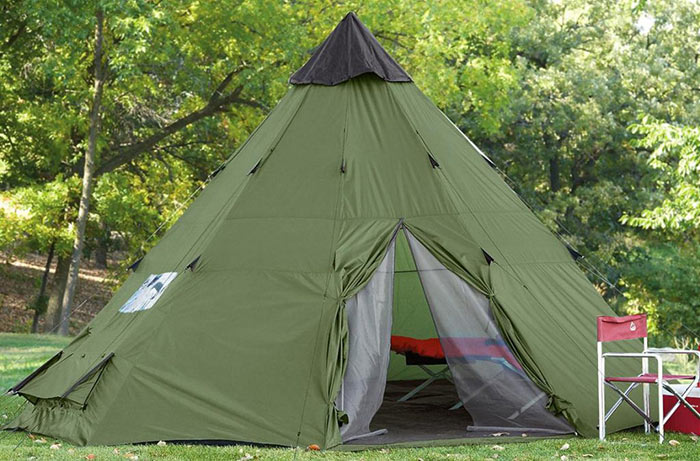 Teepee / Pyramid tent
The tepee style tent is enjoying somewhat of a renaissance with many manufacturers offering at least 1 model. The construction consists of a single central pole that holds an expanse of material. The structure is often round or even square creating a pyramid shape. The principal is the same though with the circumference or corners being pegged to the floor.
A tepee can be spacious yet floorless with just the grass beneath your feet. They're great for summer camping or just shared communal areas for any time of the year. If sleeping in them you might want to consider a bed that lifts you from the floor for warmth. You might want to check out these teepee-style tent reviews.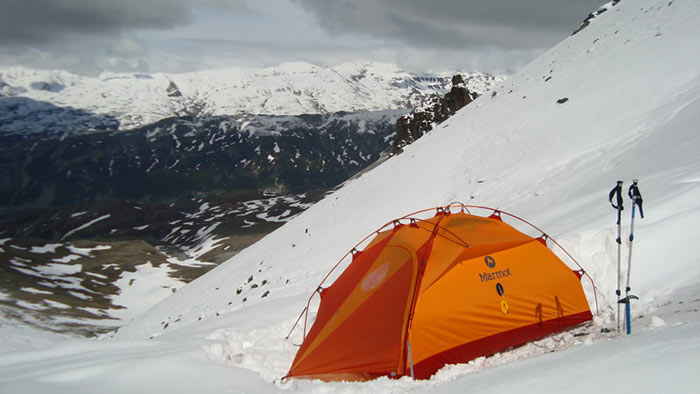 4 Season Tents
This type of tent is perfect for any condition. Whether you get rain in the evening and hot sunlight at noon, these are for variety of seasons including winter. These are structured to handle strong winds with mesh and ventilation-type walls that keep you protected from insects but still gives you good air circulation when inside.
One of its most common types is the summer tent, which is designed to have great air circulation or ventilation inside. It features large net bindings that give free air circulation when uncovering its fly. This spares you from being bugged out during summer seasons, too. Also, this is best for rainy days since it is built with a strong skeletal system and full-coverage rain flies that can withstand weather like summer thunderstorms
Convertible tent
If you are the type of camper who explores camping grounds in any type of condition, you must therefore be a perfect match for this convertible tent. Whether you are on a summer trip or on a stormy adventure, this gives you options with the following features like poles, vestibules, and a rainfly. It features solid nylon panels and mesh windows on its walls that you can zip up. It is heavier in weight, thus making it sturdier and more versatile than the other types.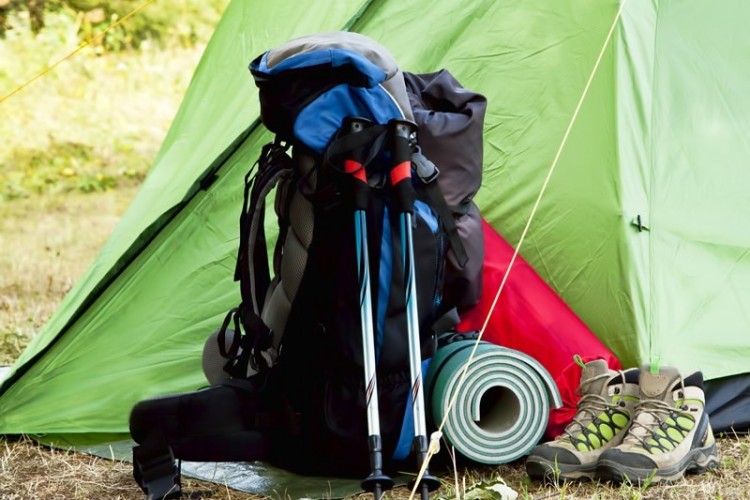 Backpacking Tents / One Person Tents
These are made with strong fabrics and premium pole structures. They also have a lot of guy-out points or external loops for securing the tent's fly, which makes them more durable in the toughest conditions.
Their structure is typically made with low, boulder-like shapes that help in shedding wind. they also incorporate convenient gear storage in the form of vestibules near the tent entry point. Backpacking tents also fold up small so you can easily move from one site to the next. Tents like these are generally for single person occupancy.
See our guide to lightweight backpacking tents.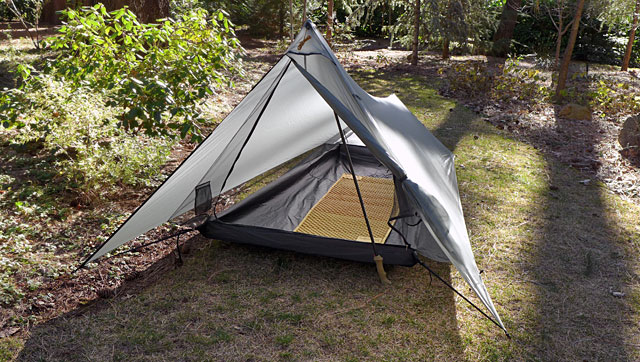 Tarp tent
This is a minimal type of tent with no walls and flooring. It's just an ultra-light solid sheet of nylon or polyester that can be tied to trees or other fixed vertical pole.
Bug protection is also sacrificed. Many use a tarp tent in conjunction with a bivy tent or hammock beneath. They use the tarp simply for overhead protection from exposure to sunlight or rain.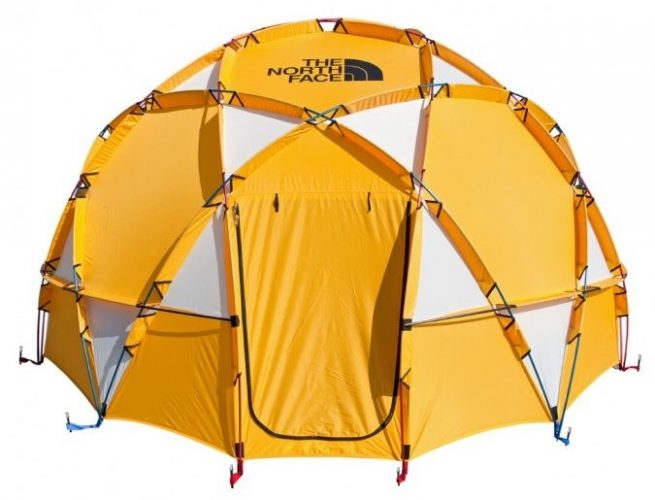 Geodesic & Semi-Geodesic
If you're planning a trip up Everest or K2 anytime soon then chances are you'll want to take a Geodesic tent. These are generally the most stable designs on the market. Support poles criss-cross over the surface creating a triangular panel type structure. For windy or extreme weather conditions these are your best bet. Geodesic or semi-geodesic designs are for those who take camping seriously and perhaps go it alone or with a friend, so not really suited to the family camping market.
Vis-à-vis
A Vis-à-vis style tent as the French call them are basically an extended design of the dome or tunnel tent. They feature offshoot rooms to the main head height living area. These are usually opposite each other hence the name Vis-à-vis. This type of tent offers a degree of privacy for parents and children or when in mixed groups. They're great for growing families.
Trailer Tents
Trailer tents or box trailer tents tend to be at the more expensive end of the market. They're also more popular in Europe than the US though there are still some great models to be had. They generally fit into a trailer towed by your car and incorporate all kinds of modern conveniences. If you want to camp in style and have a large budget then consider a trailer tent.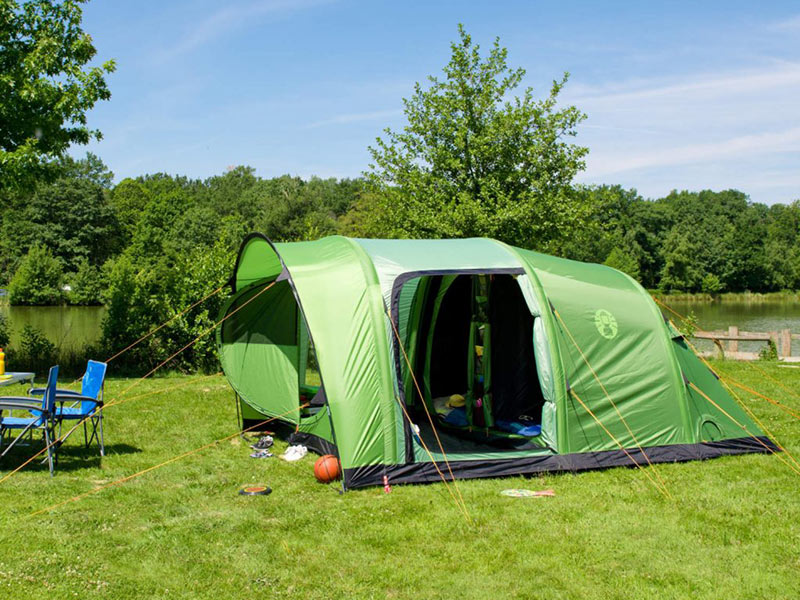 Inflatable Tents
These are the ultimate in convenience when it comes to erecting a tent. Again they're more popular in Europe with the likes of Vango and Berghaus leading the way. In the US Coleman and Wenzel offer some good family tent models.
This convenience does come at a price but if you want to avoid any hassle or arguments putting the tent up then consider an inflatable tent. They still come with guy ropes and supports for additional stability.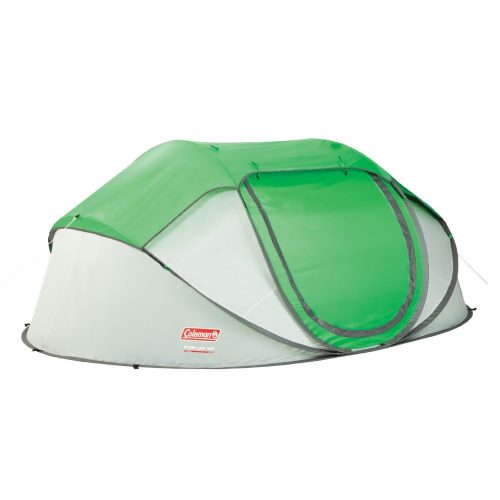 Instant / Popup Tents
These tents are sold in tens of thousands for the convenience they offer. They're perfect for 2-3 people to share and superb for festivals and events. Unzip the included storage bag, pop the tent out and let the incorporated flexible tent poles take over. While popping them up is easy taking them down often tests the patience so much so that at some festivals campers often leave them behind. Pop up tents have become a disposable tent in today's society due to price and convenience.
The fact is many tents on the market could fit into 2 or more of the tent types above. Manufacturers have striven to get the best out of designs for each user group they target by combining the benefits of more than one. You need to decide what's important to you, portability, weather protection, size, or convenience perhaps?
Key Tent Features To Consider When Buying A Tent
Having been introduced to several tent shapes and types, the challenge is choosing what features are important to your needs. Understand no product will satisfy every demand but look for something that works as closely as possible. The key features that you should take into consideration are the price, space, set up, portability, and availability. Let's kick on with our tent buying guide and consider;
Price
It is no wonder when you buy something in the store that the first thing you ask is the price of the product. Regardless of how much it costs, always think that cheaper ones will not always save you money, especially if you are a frequent camper. It is good to invest in something durable that will last for several years and storms. Dome or popup tents are known to be less expensive and the best pick for those who rarely camp out.
Space
Usual camping will bring about at least two people and a maximum of groups of 10 or more. When buying your tent, always consider the number of heads to be accommodated inside it and the size of each individual. Tents are usually measured with average-sized individuals so you should test it first and see how it goes. Manufacturers more often than not overestimate how many people a tent will comfortably sleep in order to get the numbers that sell for them up. For example, if you want to sleep 4 persons with room for gear then go for a 6 man tent.
Set up Time
Another consideration is the setup process. Once you hit the location or the campsite, your body longs to take a rest after a long drive and will get even more tired setting up a tent. Check on the tent's reviews online to see if it is easy to set up or not. You may also check it right in-store with the sales assistant and see if they'll demonstrate the setup so you can recall the process later on. Certainly, a popup tent will be easier to set up than most or those with pre-attached poles like many of the larger Ozark Tents.
Portability
There are types of tents, like four seasons tents that incorporate thicker materials or additional supports that are heavier than other types. Know the kind of camping you will be doing and choose the appropriate type. If you are going on a hiking camp, you should opt to carry it along in your backpack and it should not waste your strength. You may choose to have light nylon fabric tents however these are just for calm conditions and not rough weather.
Local Store Or Online
There are numerous places you can purchase a new tent but the best place to buy tents is either online or from a local reputable store. For instance, a specialist retailer recommended by a friend or online from the likes of Amazon.com, as well as at local shops, supermarkets, classified adverts, or even second hand at a car boot sale.
At a local store, you'll get the option to inspect goods before purchasing and the tent may even be erected so you can see if there will be enough room for your intended use. Don't dismiss online sources though especially the likes of the retail giant Amazon. Their products have amassed lots of reviews and even customer photo's and video's so you can really get the low down on any product prior to purchasing.
In conclusion, buying a tent is always at your own discretion. What is reflected in this tent buying guide are just a few tips and common sense allcampingstuff.com has gathered to help you choose the right type of tent for you. This will make camping a pleasant experience that you'll want to repeat. Your hard-earned money also deserves to be valued so be wise, read some tent reviews, and get the best tent you can for your dollar. Once you have purchased a tent, especially if it's your first one you should check out our list of camping tips for the novice camper.