Last Updated on April 14, 2019 by Dean Anderson
A good two-person tent is key when it's just you and your buddy or other half when you go on a camping expedition.
There are lots of 2 person tents on the market though. The best 2-person tents are the ones that offer adequate space for two people, are light perhaps for backpacking use and offer a little extra storage space for gear. They should also offer a durable structure that can protect you from the elements.
You'd expect these things to be basics that all tents offer, but that's not necessarily the case. You need to dig a little deeper and see what each tent can offer.
The five reviews below will teach you about some of the most prominent and common two-person tents available right now. It's important to know as much about them as possible if you want to make sure you get your tent purchase right. Everything from the size and portability to the waterproof features and durability will be scrutinized.
They all cost less than $100, which is important because people don't tend to want to spend any more than that amount. Carry on reading to learn what you need to know about these tents.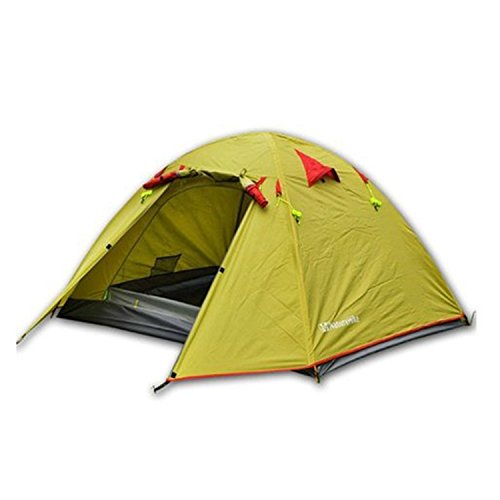 The Weanas Waterproof double layer backpacking tent stands out for its light and compact overall design. If you're going to be moving around a lot and don't want to be dragging a heavy tent behind you, this could be the ideal solution for you. It also has very impressive waterproof features, which are always important for campers.
Being resistant to the rain is one of the things that the tent is best at.
Insufficient space
You can fit two people inside the tent, but some users have complained of insufficient space. This won't be a problem for everyone. But for campers who are particularly tall, the length of the tent might be a bit of a problem. And when that's the case, fitting two people in it will be impossible.
Another good thing that this tent has to offer is the ventilation. It's also pretty simple and straightforward to set up. The size problems that the tent presents is the only negative to speak of. But it is a pretty big drawback if you're someone who is unlikely to fit inside it. You should check the dimensions before buying it.
Pros:
Low cost this tent is very affordable
Waterproof features: you'll be sure to stay dry even in heavy rain
Lightweight: easy to carry and move around
Interior pockets: useful internal storage space
Cons:
Size problems: the tent is on the small side, which won't suit everyone
Questionable materials: the materials are not of the best quality, and this doesn't lend itself to long-term durability
Product Summary

In conclusion the Weanas is the kind of tent that is going to suit people who want a cheap tent that's easy to carry around and to set up.
If, however, you're tall or you have lots of gear or luggage that will need to be stored in the tent then it might not offer you the amount of space that you're going to need. There are some small pockets and compartments for storing things like cell phones and wallets but there won't be much space leftover for bigger items such as backpacks once you've squeezed two people in there.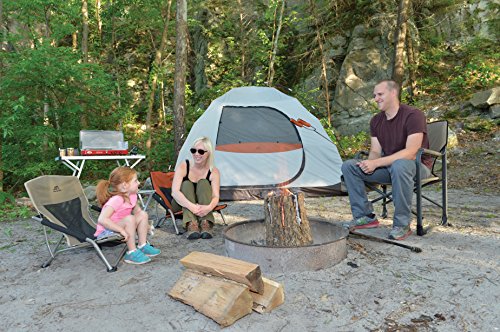 The weather protection features offered by the ALPS Mountaineering Meramac two-person tent are big selling points. The rainfly is one of the best you'll find. It's strong and keeps rain and snow out with no problems at all. This is something that you will really appreciate when you go camping if the weather suddenly turns nasty on you.
There are mesh panels on the tent that make the ventilation very good. You don't want to have to deal with condensation, and you won't need to if you choose this tent.
Roomy even for tall users
Even tall users have found that this tent offers them the size and space they need. This is a common complaint among tent buyers, but this tent offers you all the room you could want.
If you do opt for this tent, you will have to make sure that you're prepared to carry it. It's one of the most weighty two-person tents around, and it's not the lightweight option some hikers and campers might be looking for. Some users have also complained about the zips on the tent breaking a little too easily.
Pros:
Strong rainfly: the rainfly that comes with the tent is very strong and will keep out the rain well
Very easy to set up: you probably won't even need to use the instructions to get the tent set up
Good ventilation: zippered windows and mesh panels provide good ventilation
Plenty of space: this is one of the most spacious two-person tents on the market
Low cost
Cons:
Weight problems: at 8 pounds, this tent is pretty heavy
Weak zips: the zips have been known to break for some users
Product Summary

The ALPS Mountaineering Meramac is certainly a good two-person tent that will work well for many campers. As long as you don't mind being weighed down by a rather heavy tent when you're carrying it, it should offer you everything you need.
The protection offered by the rainfly is also second to none, and the ventilation is great too. The best thing about the tent is the amount of space on offer. It's not something that every tent on test offers.

Price Disclaimer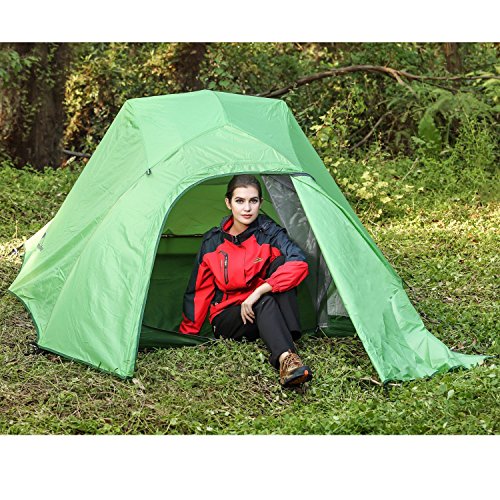 The materials used to make the Topnaca double layer backpacking tent are very strong, and this is what makes the tent stand out. It's the kind of tent that is going to remain in good condition and durable for years to come. This is good for campers and backpackers who don't want to invest in a new tent every year.
Good for a cheap backpacking option
Another thing that's good about this tent is the size and weight of it. You can easily fit it in your backpack, and the weight of the tent is 4.4 pounds. That's light enough to carry around easily enough, and it won't weigh you down or cause you any real problems.
Condensations problems do occur when you use this tent. Of course, this is more common and more likely when the climate is relatively humid.
Like the Alps Mountaineering previously reviewed the zippers are poor quality and can sometimes break if they're not used carefully too. It's important to be aware of these flaws before you make a purchase.
Pros:
Durable: strong materials mean that this tent is built to last
Lightweight: at 4.4 pounds, the tent is relatively light
Easy to set up: most people will have no problems setting it up and taking it down
Cons:
Minor condensation problems: condensation often forms on the inside of the tent overnight
Poor zippers: the zippers are poor quality
Product Summary

The Topnaca 2-3 Person Tent is a good product, if not the best tent on the market. For a chunk under the $100 target you can pick one up and it shouldn't let you down.
It's not perfect though. The condensation problem can be frustrating for some users, but it won't always be a problem and will depend on the time of year and the moisture content of the atmosphere. If the night is cold and humidity levels are not high, then this shouldn't present any problems for you at all. However, it's something to be aware of.
The overall quality of the tent is good, but the zippers on the access points are a little weak and could be better.
4. Coleman Hooligan Tent – A budget choice from the big brand Coleman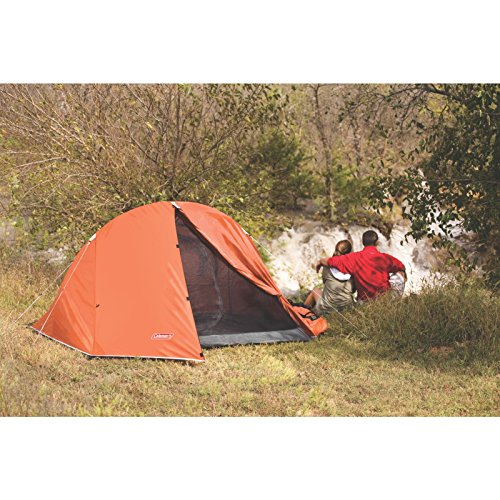 Anyone who wants a very cheap tent that can do the basic things well should consider this Coleman 2 person tent. The Hooligan is the cheapest on test and good quality for the price. Unfortunately it's not the best tent that you will ever use. The quality and sturdiness of the tent suffer as a result of the low manufacturing cost.
However, there is a lot to like about this tent aside from the low price tag that's attached to it. For a start, there is lots of room inside the tent. Two people can easily and comfortably fit inside it. The minor downside of this is that it makes the tent bigger when it's all packed up, making it harder to carry.
The storage vestibule gives you a small space to store items inside the tent. This can be very useful when you are camping and hiking. People often carry lots of things with them, and having somewhere to store those things is vital.
Pros:
The cheapest on test at less than half the $100 target
Plenty of space: there is room for two people to fit comfortably
Good storage vestibule: there is a space where items can be stored
Cons:
Quite heavy: 7 pounds can be too much weight to carry around for some people
Takes up a lot of space: it's hard to fit in a backpack because of its large size
Lack of quality and sturdiness: the low cost means the quality isn't the best
Product Summary

All things considered, the Coleman Hooligan tent is a great budget option. As long as you are prepared to accept the trade off that comes with using a tent that is as cheap as this one is. The quality is clearly not the best in the world. But the space, storage and cost are all big selling points. If you are looking for something that is durable and will offer you strong quality, this is not the tent for you.
5. Slumberjack Trail Tent – Great ventilation but some components could be better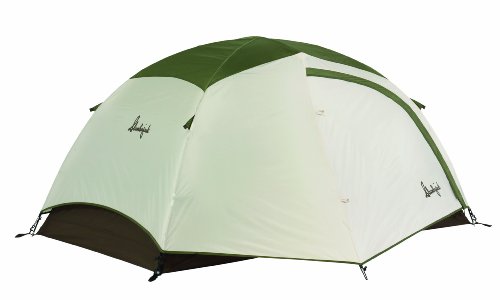 The Slumberjack Trail tent comes with mesh panels which make ventilation strong and prevents condensation. On top of that, the design of the tent looks great, and it's very easy to set up, even for people who have no experience of putting up tents. The waterproof coating won't let you down, so you should be able to rely on it in all weather conditions.
The poles are probably the weakest part of the tent. They are not as sturdy or reliable as the aluminum poles you get with other tents. As a result of this, they get damaged quite easily and quite quickly. This might not turn out to be a massive issue for you, but be careful when using them.
Tall campers might find that their feet stick out of the tent a little, which can be frustrating. It's not the most spacious tent on the market, so keep that in mind before buying. It does, however, have a vestibule for storing any extra bits and pieces you might have with you.
Pros:
Mesh panels: good for preventing condensation and offering ventilation
Simple setup: easy to put together and start using
Good waterproof features: strong waterproof coating which holds up well
Cons:
Pole problems: the poles are easy to damage
Poor quality bottom material: thin and poorly made
Too small for some: for tall campers, the size could be inadequate
Product Summary

The poor quality poles and bottom material are definite disadvantages of the Slumberjack Trail tent. If the ground is wet, you can never be sure that the moisture won't seep through as a result of the poor-quality bottom material. It's not a great product, but the simple setup and strong condensation and waterproofing features are selling points. At $87.32, the tent is relatively cheap, but there are better tents out there for a similar price.

Price Disclaimer
So Which is the Best Two Person Tent Reviewed Here?
There are two standout tents here. Firstly, there is the ALPS Mountaineering Meramac two-person tent. And secondly, there's the Topnaca double layer backpacking tent. Both of these tents have very few weaknesses. Yes, the ALPS tent is a little on the heavy side, while the Tonaca tent is susceptible to minor condensation problems. Ultimately it might come down to looks and value for money in which case the ALPS Mountaineering just edges it for us and is our best two person tent under 100 Dollars.
Despite great looks the Slumberjack Trail tent is the weakest of the bunch because a couple of features that simply aren't up to scratch. The poles are poor, and the bottom material is not good enough either. Sure, the tent has a lot else going for it, but these are pretty fundamental problems, and they can't be overlooked by most campers. It should probably be avoided.