Last Updated on August 3, 2022 by Dean Anderson
Smaller tents might be ideal for wild camping and long treks but sometimes you need something bigger. If your camping trip is a family getaway or a chance to spend quality time with a group of friends, sharing a tent gives you more quality time together.
Families especially can benefit from a larger tent, keeping the adults and kids together – and maybe the dog, too. Of course, a tent designed for 8 or more people doesn't have to sleep that many, either. The extra space is ideal for storing gear or even setting up furniture, heaters, and other camping conveniences.
An eight-person tent is the most popular sized tent on the market and as such the competition for your dollar is fierce. Have a look at the 5 tents available below to decide which is the best 8 person tent for you.
If you don't want to read the full review you can see which tents we rate the most in the comparison table below.
Buying  Advice
Size
The tent size you need probably sounds obvious. Especially since you've searched and are now reading an 8 person tent review.
The reality is unless you're OK with sleeping side by side like sardines if you want to sleep 8 in comfort go for a bigger size.
Realistically an 8 man tent will comfortably sleep 5-6 people plus their gear.
Tent Weight
The weight of your tent will impact how you use it and how easy it is to transport. The material used to manufacture the tent will have the biggest impact on its overall weight. Canvas is one of the heaviest materials used but it's also strong and durable and could last a lifetime. Polyester is a lighter option and nylon is lighter still.
The lightest polyester 8 person tents can weigh as little as 18 lbs, with the heavier options weighing around 30 lbs. Another thing that impacts the weight of the tent is the materials used to make the tent poles. For example, metal tent poles are significantly heavier than fiberglass poles but they're also stronger. You'll need to decide what your priorities are, weight or strength.
Number of Rooms
Next, you'll need to think about the layout of the tent and how many rooms it offers. If you're camping with your family or have a mixed group of people, it's important to have separate rooms to suit everyone's needs. If that's the case, you should search for a tent that has 3 or more sleeping areas that are separated and maybe also additional vestibules for storage and living space.
There are situations in which a single room is appropriate too. If you're camping with a small group of people of the same sex, it makes sense to have one sleeping area. Some tents also come with dividers that can be used to split up space. Various tent types are available depending on the number of rooms you need, including dome-shaped tents, tunnel tents, and vis-à-vis style tents.
Storage
Storage is a major issue for anyone when they go camping. There are many different types of storage offered, including pockets for small items like phones as well as hooks and hangers for clothing or things you don't want to fold and get creased. Screened areas can also be used for large or muddy items.
Gear lofts can also be found in some tents. These offer a storage platform at the top of the tent's interior space. It's a good method for keeping your possessions out of the way as they won't have to take up any floor space inside the tent. Instead, they'll be safely stored above you.
A full vestibule is another storage option to consider; this is usually the best solution if you have large bags, cooking gear or other possessions you want to store separately.
Electrical Ports and Air Con Ports
If you want to use air-con or connect appliances to a campsite generator or power-point, your tent will need the right access ports. Airconditioning ports are often adjustable so different AC units can be accommodated. You should check the size of the flap, whether it uses a zipped flap or a velcro flap, and how it all closes up when not in use.
Airconditioning ports are normally found low on the side or back of the tent, but it will differ from tent to tent. Electrical ports might not be of any use when backcountry camping but on an established campsite, they're often essential. They've usually covered flaps that are near the bottom of the tent and allow cables to safely pass through them.
Style Cabin/Dome
Choosing the style of the tent should depend on your intended use for it. Your usage needs and the capabilities of the tent should also be taken into account.
An example of this could be a dome tent, which is able to resist the elements but won't allow you to stand up straight in all areas of the tent. Cabin style tents, on the other hand, provide the head height needed for you to stand up comfortably but they're not as wind tolerant.
Dome tents use a cross pole structure, adding extra strength and stability to the top of the tent. This is important for anyone who wants to go camping in a cold environment where there's a chance of snow and ice falling and resting on top of the tent.
Durability
There are cheap tents designed for occasional use, but if you want to use your tent a lot throughout the year in various weather conditions, you'll need something more durable. There are lots of things you'll need to consider, including what kind of conditions your tent will be exposed to and how often you plan on using it.
A more durable tent will cost more at first but save you money over the long-term because it won't need to be replaced so often. The thing you'll have to think about most is the material that the tent is made of because this will dictate its durability. Canvas is a strong material but it's not water-resistant out of the box, you'll need to season it. Canvas isn't just a material, it's a way of life for those that choose it for camping.
Ripstop nylon is a popular choice because of its ability to prevent rips and tears from spreading and rendering the tent useless. Always assess the warranty and quality of the material before buying a tent.
Product Comparison Table
| Product | Weight | Base Size | Type | Rating | Price |
| --- | --- | --- | --- | --- | --- |
| Coleman Montana 8 Person Tent | 24.5 lbs | 16' x 7' | Dome | 4.0/5.0 | CHECK PRICE |
| Wenzel 8 Person Klondike Tent | 27.3 lbs | 16' x 11' | Dome | 3.5/5.0 | CHECK PRICE |
| Coleman 8 Person Red Canyon Tent | 22.4 lbs | 17' x 10' | Dome | 3.5/5.0 | CHECK PRICE |
| Core Instant Cabin Tent | 27.6 lbs | 14' x 9' | Cabin | 4.0/5.0 | CHECK PRICE |
| NTK Laredo GT 8 to 9 Person Tent | 18.74 lbs | 10' x 11.8' | Dome | 4.5/5.0 | CHECK PRICE |
1. Coleman Montana 8-Person Tent – A Coleman 8 man tent designed for adventure but with some minor flaws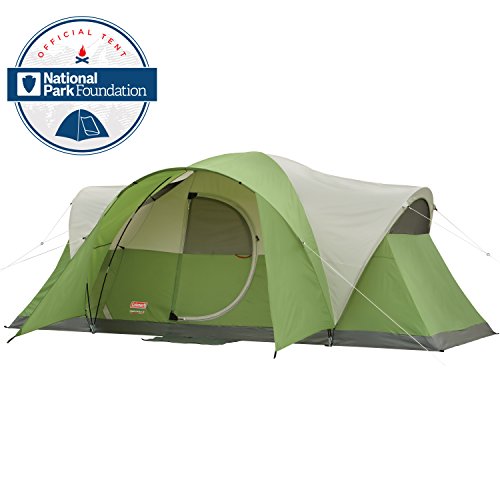 Key Product Info
| | |
| --- | --- |
| Product | Coleman Montana 8 Person Tent |
| Shelter Material | Polyester |
| Poles | Fiberglass |
| Weight | 24.5 lbs |
| Base Size | 16' x 7' |
| Rain Fly | Half |
When you're settling in for a long camping trip, you want to make sure you're going to be comfortable. The cabin design of the Coleman Montana is ideal for using with camping cots and airbeds for a comfy camping trip with family or friends. You can fit 2 queen-size airbeds but there won't be room for much else.
Measuring 16′ x 7′, with a 6'2 center height, the tent provides plenty of room for both sleeping and storage. You can get up to 5 people into the tent, even with gear, and stretch to 8 if only using the tent to sleep everyone side by side.
Color-Coded Poles Aid Setup But Can Prove A Little Flimsy
Color-coded grey and black poles make setup easier, but at least 2 people are required to do this. Setup will take about 15mins, not bad for a tent of this size. Just take care of the poles as they are a little flimsy, perhaps a result of the manufacturer trying to keep the weight down.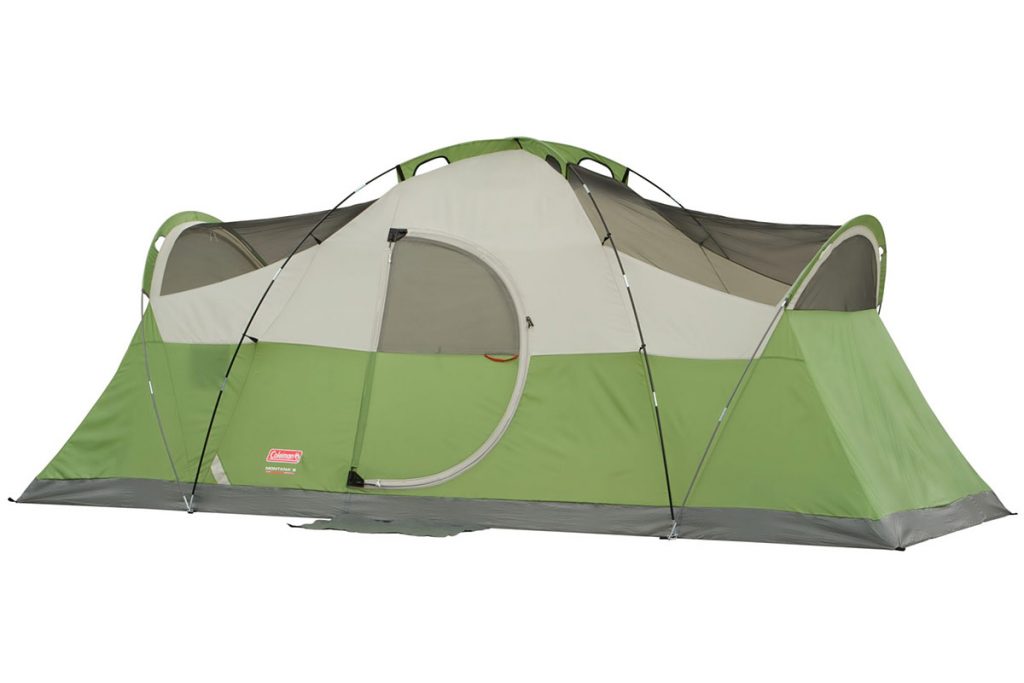 At around 25lbs when packed up the Montana is fine for carrying to and from the car. This makes it one of the lightest on the test.
Only Minimal Ventilation When The Rainfly Is On
Most people will find this tent to be a good purchase. Only those camping in warmer climates might struggle with the minimal ventilation that the Coleman Montana offers. In that situation as long as it's dry then you should take off the rainfly which will improve airflow considerably. A window on the back wall would have been ideal, obviously more windows and doors add to manufacturing costs and thus the bottom line.
One further gripe is that the instructions could be clearer for those with less experience. Still, those color-coded poles do help.
Pros
Angled windows help to keep out the rain and stand up to wind
Vertical walls provide more center height and standing space so no stooping required
Provides space for up to 5 people, even with gear
Packs up to 27″ x 8″ x 8″, with separate bag for poles
Porch/vestibule area behind the hinged door perfect for relaxing in
Color-coded pole setup
Official National Park Foundation Tent
Available in black, blue and green
Reasonable 15 min setup time
Cons
Requires at least two people to set up – instructions are not entirely clear
Inadequate ventilation can mean the tent gets hot but fine in cooler climates
Rainfly may not always hold up but sure to stake it down properly
Some reports of construction quality issues with poles but not in our experience
No room dividers which could be handy for occasional privacy
Product Verdict
The Coleman Montana is a great family-sized tent, well-suited to the average family size of 4 or 5. It could also work well for scout groups or other groups of people camping together. With plenty of space inside, as well as an awning, there's room to sleep a group of people and store gear too.
The cabin design gives it more space and helps to keep out the rain, but the rainfly doesn't always offer the protection it should. With the rainfly on the tent can also suffer from ventilation issues in warmer weather.
We've read that a few other reviewers have also reported issues with construction, such as misaligned stitching or snapping poles. They are indeed a little flimsy but they're also light. Just be careful when taking the tent down and they should last.
Still the Coleman 8 person Montana tent is the official tent of the National Park Foundation, it does plenty to a good standard and has the backing of a big company. It's still likely to get many fans, particularly in cooler or temperate climates.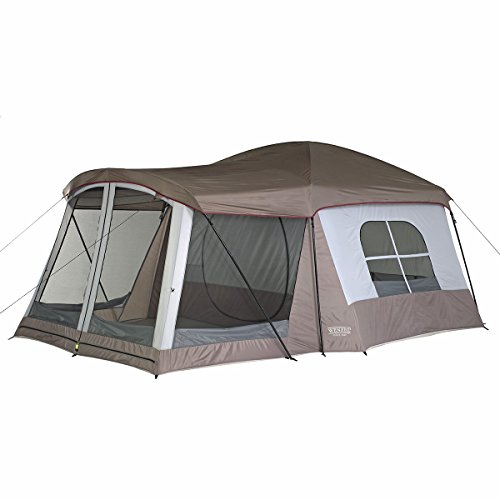 Key Product Info
| | |
| --- | --- |
| Product | Wenzel 8 Person Klondike Tent |
| Shelter Material | Polyester |
| Poles | Fiberglass |
| Weight | 27.3 lbs |
| Base Size | 16' x 11' |
| Rain Fly | Half |
When you have a larger tent, you often don't want to have everyone and everything in one place. The Wenzel Klondike offers you the option of having two separate spaces so you can make everything more organized. You can use the screen room area to store your stuff, keep your dog, or even sleep up to an extra 3 people.
The Sun Room Can Make The Rest Of The Tent Hot
While it makes a good sunroom the rest of the tent can also heat up a little too much during the day. This probably won't affect most people who will be enjoying the great outdoors during the day. Plus with the many windows to open ventilation is pretty good, unlike the Montana.
The setup process with the Wenzel Klondike is as fast as with the Montana at an average of about 15mins. You'll probably get that time down with a bit of practice. Just on the tent construction the poles on the Wenzel while not color-coded but are a little more robust than those of the Coleman.
Cabin Style Not Ideal For Windy Conditions
Many have said that the Wenzel doesn't stand up well to high winds due to the tall high sides. It certainly feels like a sound structure but we would recommend replacing the cheap and cheerful yellow tent pegs. The cabin style is probably not the best design for windy conditions.
Overall the Wenzel Klondike represents good value but there are a few issues to contend with, let's recap on those.
Pros
Roomy 16′ x 11′ tent with extra space in the spacious screen room
Easy setup could be done by one person
Screen room provides separate space for gear, away from beds
Waterproofing, including bathtub floor, will withstand short storms
Great value for a large tent
Cons
Can get hot during the day
Not designed to handle wind
Cheap tent stakes will need replacing at some point
Large size can make it hard to find a spot to set up on in cramped campgrounds
The door on only one side of the tent makes entering and exiting more difficult
No electrical port
Product Verdict
This Wenzel 8 Person Klondike tent with screened porch can work well for a family trip, giving two separate areas to make use of. However, although there are two sections, there is only one entrance, making some climbing over people or gear inevitable.
Overall the tent could work well for parents with kids or with pets but is also an option for couples or groups on their own who want plenty of storage space. The screened porch might just seal the deal for some buyers.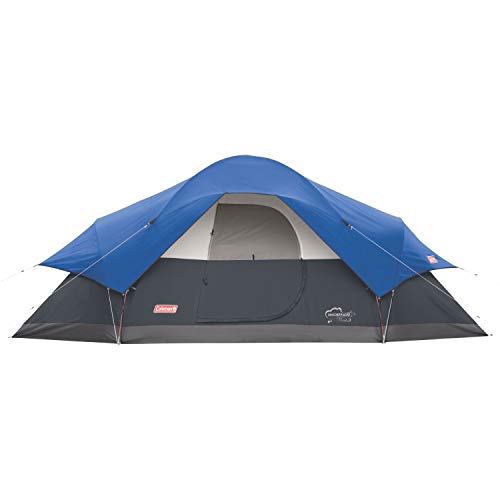 Key Product Info
| | |
| --- | --- |
| Product | Coleman 8 Person Red Canyon Tent |
| Shelter Material | Polyester |
| Poles | Fiberglass |
| Weight | 22.4 lbs |
| Base Size | 17' x 10' |
| Rain Fly | Half |
If you're looking for a tent that's even easier to separate into different sections, the Coleman Red Canyon has room dividers that enable you to create 3 different rooms. This is ideal for family camping, giving you separate spaces for adults, kids, and gear, or perhaps a space for the dog. Fitting a family of up to 6 with gear, this roomy tent works well for medium-sized groups.
Sturdy Dome Tent Construction But Some Sub Standard Material Construction
The dome construction allows the tent to stand up well in windy conditions, one advantage over the Wenzel Klondike. It's not bad in the rain either so long as you remember to seal the seams out of the box.
The Red Canyon can be set up quickly with two or three people working on it and as with the others will get easier over time. You'll have to be careful pitching though as some aspects of the material construction are a little sub-standard. For example, the loops that the stakes go through don't look well stitched and we'd expect them to rip if the tent is pitched too taut.
The zippers on the main door and the windows are also hit and miss, skipping teeth on occasion. Still, they didn't break.
Pros
Room dividers allow you to create 3 separate rooms
Space to fit up to 6 comfortably with gear
Plenty of ventilation for warmer weather and better than the Montana
Easy setup in 15 minutes or less
Good in windy conditions
Weathertec System decent in rain but seams need extra sealing
Cons
Some potential issues with the quality of materials
The zipper doors can jump teeth
Side windows can't be closed
Slow to take down
Product Verdict
This roomy tent from Coleman benefits from room dividers and excellent ventilation. However, an inability to close the side windows means the rainfly needs to be on at all times for privacy if there are other campers around.
Some reviewers have also complained of poor quality, including broken poles or ripped fabric seams. These do seem to be isolated events as our test product was perfect but worth bearing in mind.
Overall while some light rain won't cause any issues, thanks to the Weathertec System, the tent isn't designed for heavy storms. It's a great family tent with plenty of space but better suited to shorter occasional trips in spring or summer.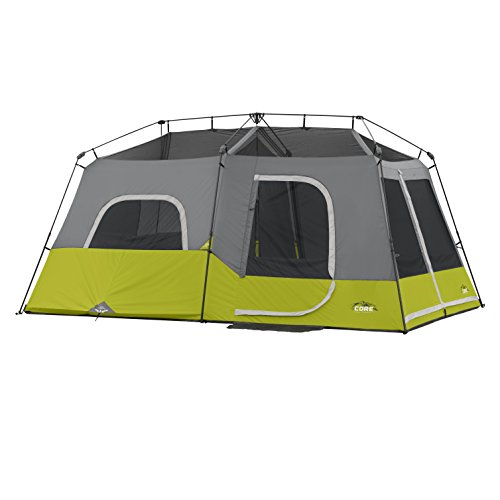 Key Product Info
| | |
| --- | --- |
| Product | Core 8-9 Person Instant Cabin Tent |
| Shelter Material | Polyester |
| Poles | Steel |
| Weight | 27.6 lbs |
| Base Size | 14' x 9' |
| Rain Fly | Half |
A tent doesn't have to do that much in order to be loved. If it's quick to set up, keeps you dry, has decent ventilation, and can stand up to the wind then you've got a great buy. This 8-person instant tent ticks most of these boxes.
Easiest and quickest tent to set up on the test
By far the best thing about the Core is the ease of set up. The main tent material is pre-attached to the steel poles. Simply fold out and extend and the tent is up in less than 60 seconds. The whole thing can be staked out within 5 minutes.
Hands down this is the easiest tent to set up in this test, even if you're on your own. Only the tarp is a little tricky. However, if you fasten this on before extending the legs out that makes things a little easier.
The tent is also quick to put away again.
Once up the Core is a handsome tent. It's spacious inside but not quite as big as the largest here. That's even though it's supposed to sleep 9 people, not 8. It will sleep a family of 6 in comfort but any more would be a push.
The large double door is useful for dragging in a pre-inflated mattress. However, we didn't like the fact that the zippers constantly catch the fabric flaps when you open and close them.
Waterproof all-round
Inside the tent, the floor feels very thin. Adding a ground tarp will help prevent pinching or tears. Still, the floor remained dry throughout our stay.
The half rainfly also protected us from a reasonable downpour. Not one drip, even in the corners where the inner and outer materials meet. A real plus point for a family tent.
One of the other tents plus points is also what lets it down. In summer this tent will be great in terms of ventilation thanks partially to the mesh windows. However, the permanently open-air intakes on either side made the tent a little too cold for our spring camp. An air mattress rather than a cot bed will be better for sleeping on and stop the cold from getting underneath you.
Not suited to windy conditions
This is not the tent for windy conditions full stop. The flat sides of the cabin style aren't suited to it. The poles while made of steel are a little too weak at the joints to put up with any major gusts.
The Core could just do with some refinement. It lacks finishing touches such as more hanging loops internally, no tiebacks for all the windows, and just generally the material quality could be better.
Pros
Easy and quick to setup
Good head height
Good ventilation for summer
Large door access
Handy room divider
Electrical port access
Cons
Some durability issues with materials
Not great in windy conditions
Too much ventilation for colder months
Zippers not great quality
Product Verdict
We really wanted to love this tent. The setup time is fabulous, we like the fact that it didn't leak, and the ease of access is great.
Only the minor durability issues with materials and overall refinement let the Core down. Plus reading some Amazon reviews there were some cases of poor customer service with warranty claims. For many buyers, this will still prove to be a great tent.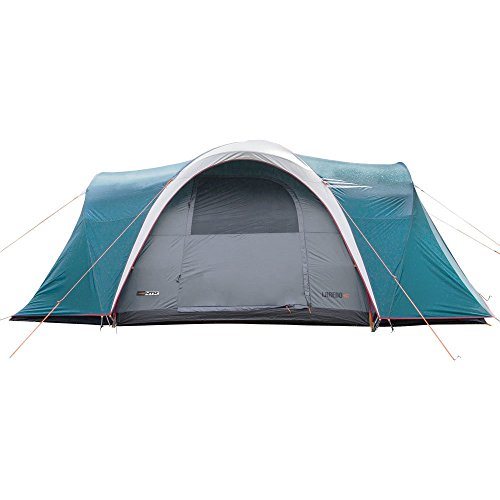 Key Product Info
| | |
| --- | --- |
| Product | NTK Laredo GT 8 to 9 Person Tent |
| Shelter Material | Polyester |
| Poles | Fiberglass |
| Weight | 18.74 lbs |
| Base Size | 10' x 11.8' |
| Rain Fly | Full |
Some people need an even roomier tent than others. If you're taking a particularly large group camping, you want more space for gear, or you like to create a nice living space in your tent, the NTK Laredo GT could work for you. With more than 6 feet of headroom and measuring 10′ x 15′, this tent can sleep up to 8 or even 9 people, depending on the configuration. Of course, we're talking about side by side sleeping in that respect. If you plan on taking air mattresses or camping cots then this tent will sleep 5 in comfort with room for gear.
The Most Waterproof Tent On Test
Of all the products on test here the NTK tent is the most waterproof and still doesn't suffer from the ventilation issues that the Coleman Montana and Wenzel Klondike do, even with the full rainfly on. The floor is of a heavy-duty bathtub style tarp material which means it doesn't rip or tear easily and water can't get through so you shouldn't wake up in a puddle!
As with the Montana, an extra window on the back would have made this tent perfect. Improving ventilation and light further. Still, it scores better than any of the others on the test in this respect.
Only Minor Gripes With The NTK Laredo
It's not perfect though but the gripes are very minor. We would have liked to have seen better instructions for tying the guy lines unless you're a seasoned camper you might struggle.
The NTK Laredo also opts for sleeves to push the tent poles through when setting the tent up. These are fine in the main, after the initial struggle, but you do feel like the material could rip when you push the poles through. Perhaps the quick attach plastic clips might have been a better design option.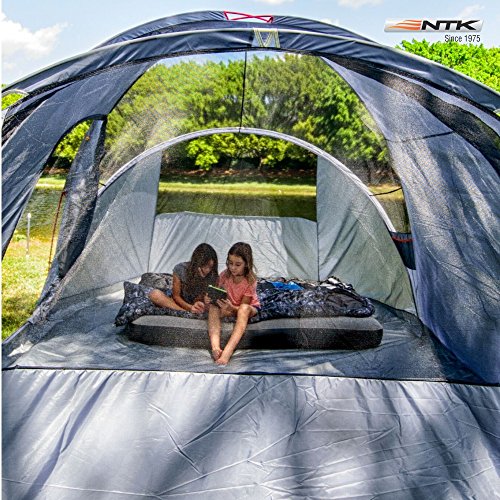 Overall although the materials feel like good quality just some of the detailing could be better. Better zips, longer pegs that fit into the pole ends, and as we've mentioned an additional window at the back. Still, all these would probably push up a very reasonable price.
Pros
Extensive rainfly covers the whole tent and has a waterproof coating
Plenty of space – can fit more than 8 people and is also 6.2′ high
Weighs less than 24lbs – lighter than some smaller tents
Good ventilation
Utility pockets inside for gear storage
Color-coded pole system
Cons
Room for improvement on stake and zip quality but these can be potentially upgraded
Only one door at the front of the tent
Poles need to be pushed through sleeves at the top of the tent rather than fastening to plastic tent clips
Product Verdict
The NTK Laredo GT is a wise choice for larger groups, with a lot of space to work with for a lower price than some of the other choices here. Despite its larger size, it still weighs under 24lbs, making it easier to transport than the others here.
Compared to the other tents on review, the dome design also provides better protection from wind and rain. There are a couple of niggles that could be better, such as the two separate zips on the door and the lack of a second door. However, overall, it's a well-constructed and sturdy tent, this is the best 8 person tent of this group test, the NTK tent reviews very well indeed.
Conclusion – The Best 8 Person Tent
These five 8 person tent reviews conclude that if you're looking for a great value tent that will serve you well for car camping, the NTK Laredo is the ideal choice. It offers plenty of space, plus good protection from wind and rain. Although it could benefit from an awning or porch for separate storage, it does have utility pockets inside. Overall despite a few niggles, it offers the best value for money of all these tents.
The Core Cabin Tent comes a close second, despite the easy setup we can't recommend it ahead of the NTK. It's great in rain but the various niggles let it down slightly.
The others on the test will still find buyers, particularly if you're a fan of the Coleman brand. The Coleman Montana is a decent tent but the NTK and Core just offer better ventilation and can, therefore, be used in comfort in more campgrounds across the country.
Need something bigger?
If after reading our reviews you don't feel that an 8 person tent is going to be big enough then check out the following reviews for larger tents;
You can also give yourself more living space when camping by taking a canopy tent. These make great shared spaces for eating and cooking under as well as providing shade and protection from light rain and wind.
Before Using Your New Tent
Setting up
Many people will purchase a tent and then the first time they set it up will be in the middle of nowhere or on the campground.
Do yourself and your family a favor and practice setting up the tent in your yard. Firstly you'll work out where any setup difficulties are. Secondly, you'll discover if anything is missing from the package or if there are any defective parts before you need to rely upon it.
Before unpacking try and make a mental note of how the individual bits were packed and folded. You could even take a photo on your cell phone. This will assist with packing.
Once erected, plan out where you'll all sleep and where you'll store any gear. Do you have enough room? Will you need to scale back on the gear you take? This process will reveal that.
Waterproofing
Learn how to properly season your tent.
The tents reviewed above, given they're mostly made of polyester, will be reasonably waterproof. However, if you don't want to be dripped on when there's a real downpour season once per year.
Taking down the tent
You've set it up, waterproofed it, now comes the real test. Can you get that huge expanse of material folded up and put back into the tiny stuff sack it came in?
In some cases, you might have a rainfly, tent inner, and ground tarp to pack into one bag.
To make this easier fold as neatly as possible. Where you have doors and windows with zippers, leave these partially open. When folding this will allow the air to escape. Good luck.
This process is always easier with 2 people, especially if it's an 8 person tent or larger.