Last Updated on December 9, 2019 by Dean Anderson
Tarp tents are not for those looking for a home from home just for those who want simple protection from the elements. They might be used in conjunction with a hammock or perhaps a bivy bag setup. They can be a great asset to your extended camping gear setup. Tarp tents are small and lightweight. This makes them easy to carry around in a backpack.
So whether you're backpacking or camping, a lightweight tarp tent could be a good addition to your kit. They can be particularly useful during the summer months when camping in the fresh air under a tarp is more appealing. So if you're buying one consider the key features, pros and cons of 5 of the best tarp tents currently available below. Hopefully we'll help you come to the right decision.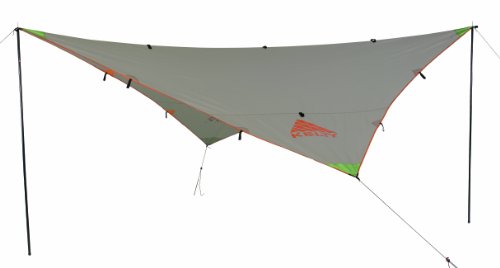 Kelty Noah's Tarp Shelter offers you a basic and lightweight tarp design that offers more protection from the rain than many basic tarps. The tarp is fully waterproof, and users report it holding firm even in harsh storms. It has adjustable corner guy lines that make it easy for you to use the tarp in a way that meets your needs.
Pros
Very adaptable: There are no limits to how you can use this tarp tent. The corner guy lines are adjustable, and it's easy to position in a way that works for you
Durable: The durability of this tarp means that you won't have to worry about being let down. Even heavy rain and snow storms can be dealt with without any problems
Lightweight: Being able to carry your tarp tent around while you hike and travel is essential, and this tarp shelter makes that possible weighs just 0.68 kg
Inexpensive: It's one of the most affordable tarp shelters on the market today
Cons
Poor instructions: Some users have noticed that the instructions that come with the tarp are not particularly helpful, and can be quite difficult to understand
Small ground stakes: The ground stakes that come with the tarp tent are quite short and not the strongest. This can cause problems when dealing with softer ground conditions
No storage bag: For some people, the lack of a storage bag might be a problem when transporting the tarp tent
Conclusion
All in all, Kelty Noah's Tarp Shelter is a good product that will keep you protected when you're camping outdoors. The adaptability and lightweight nature of the product stand out, and those are the features that make it so usable and useful. It would be good for anyone who needs affordable but reliable protection. As long as you have your own bag for transporting you'll get plenty of good use from it. Some longer decent 3rd party pegs wouldn't go amiss either.

Price Disclaimer
The Chill Gorilla 10' Hammock Rain Fly Tent Tarp is made from ripstop nylon, meaning it's strong and won't rip or tear during use. This gives you peace of mind when you need that protection in the great outdoors. It also comes with everything you need, which is not the case with all of the tarp tents in this test including the Kelty we just looked at.
Pros
Great size: This 10' x 10' tarp as about as big as most users need and it certainly offers a decent amount of cover
It packs small: Despite being a reasonable size tarp tent it actually packs down very small, making it easy to transport and carry
You get the complete package: Inside the waterproof bag, you'll find not only the tarp, but also all the tie down points, guy lines, reinforced corners and aluminum tent stakes
No Leaks: Thanks to its water shedding design, leaks won't be a problem. Real protection from the rain and other weather conditions is guaranteed
Cons
Stitching is a little cheap: Some users have found that the stitching on the tarp is not of the highest quality, and this can impact long-term durability
Conclusion
If size is what you need, this is probably the tarp tent for you. It offers more protection than you will get from most rival products. The stitching problems might concern some people, but this is a long-term issue, and will only cause problems after repeated uses. Keep an eye on it and you should be fine.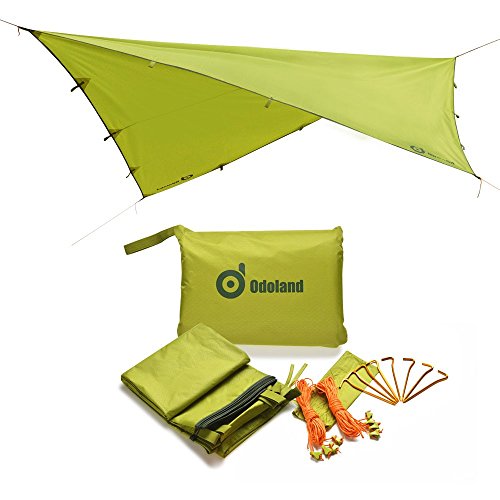 The Odoland Camping Tent Tarp is made from a water-resistant embossed polyester material that's capable of shedding water quickly and easily. It can be used in a variety of ways when you're outdoors. Whether you need protection from the sun while you're on a boat or camping in the woods, sheltering from the rain, it can do a job.
Pros
Good for multiple uses: This is a versatile product that can be used in many different ways
Strong UV ray protection: For many people, protection from the sun is as important as anything else, and this tarp offers that
Lightweight: Weighing 0.7 kg, the Odoland camping tent tarp is among the most lightweight tarp you can find
Cons
Cheap metals used: In an effort to keep costs down, cheap metal is used, and this can make the tarp and poles feel flimsy at times
Additional poles aren't the strongest: Odoland sell poles to be used with the tarp, but they've been known to snap and aren't good at dealing with strong winds.
Conclusion
This tarp tent is certainly affordable, but that means that you have to deal with some shortcomings. The Odoland tarp is not the strongest or most durable tarp on the market. And you are going to have to be careful with the poles. But there are plenty of good things about the product too. If you want something that is versatile and capable of protecting you from both sun and rain, this might be the tarp for you.

Price Disclaimer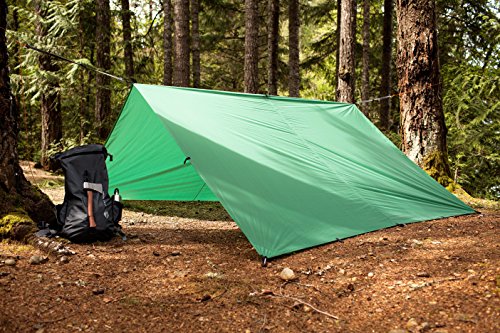 One of the things that make the Aqua Quest Guide Tarp popular among many people is its ability to keep you protected in even the harshest conditions. Its makers aimed to create a versatile tarp that doesn't have to be used in only a limited set of ways. It also packs down well, meaning it can fit in small spaces such as a backpack where you only have a limited amount of storage room on offer.
Pros
Very durable: Boasting reinforced stitching and 20,000mm hydrostatic resistance, this tarp is very durable
Capable of adapting to your needs: The webbing loops found around the perimeter of the tarp allow you to use it in the way that you want and need to
Strong and waterproof: This is a tarp that has been proven adept at handling even torrential rainstorms without you getting wet
Cons
On the small side: This isn't the biggest tarp on the market, so keep that in mind. It'll be big enough for most users, but not if you need vast coverage and protection
Heavier than other tarps: Weighing nearly 2lbs, this tarp might be slightly too heavy for some
Costly: This tarp is by no means the cheapest you'll find on the market but it is one of the best
Conclusion
In conclusion the Aqua Quest Guide Tarp tent offers lots of protection, and its overall manufacturing quality is very good. Of course, you have to be willing to pay for that kind of quality, and the product does come at a price. It's more costly than the others on this list. But if you want the best, you have to be willing to pay for it. It's great for people with variable camping and backpacking needs, and it's not going to let you down in stormy weather.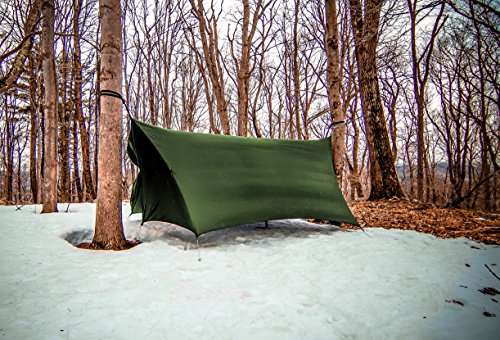 The flexibility offered by the ENO Eagles Nest Outfitters – Housefly Rain Tarp is what makes it stand out. It is able to offer you the protection you need when you're sheltered under it. But it is also able to act as a hammock for when you want to relax or don;t need that overhead protection. There are not many products that offer this level of versatility.
Pros
It acts as a hammock as well as a tarp: It's easy to switch between its multiple uses without any fuss
Large enough to protect you: The large size of the tarp means that you will have plenty of cover when using it
Robust and durable: Strong and durable materials are used to make this product
Cons
Size can make carrying it slightly more difficult: It is a large tent, so this can make carrying it more tricky. But it does pack down nicely and will be easy for most people to carry
It's not cheap: This is not a cheap product, and the price tag will put off many campers
Conclusion
Sure, some people will be put off by the hefty price. But you shouldn't let that worry you too much. It's something that can be overcome once you realize that you really do get value for money from the ENO Eagles Nest Outfitters this product. If you're going to be hiking, backpacking or visiting outdoor festivals this summer, you will use this product a lot.
The Verdict – Which is the best tarp tent of this crop?
People's needs vary, but if you're looking for great quality and you're willing to pay for it, two of these tarp tents stand out. The first is the versatile and well-built Aqua Quest Guide Tarp. It's strong, waterproof and reliable.
The other that deserves a mention is the ENO Eagles Nest Outfitters – Housefly Rain Tarp. It's expensive, but it's one of the best camping tarps you can buy right now.
Because of the cheap materials and poor poles, it's best to stay away from the Odoland Camping Tent Tarp despite the other benefits it has going for it.