Last Updated on March 5, 2020 by Dean Anderson
Searching for the perfect tent means you need to take many factors into account. You must consider how many of you will be camping, what sort of trip this is, your budget, and more.
Maybe you're going car camping, backpacking, or attending a festival. Whatever your needs, a 6 man tent can make a roomy addition to your travels if you're sleeping a few people and want to bring lots of stuff with you. You don't need to look any further for the best 6 person tent.
Read on to find the right one for your needs.
1. Sundome 6 Person Tent – A No Nonsense Tent That's Good Value For Money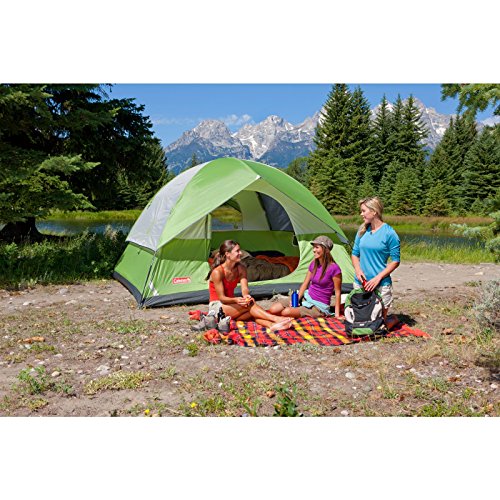 This tent is one of the easiest tents to set up. Many can't believe what they've got for the money. With an electric access port and great ventilation, this is a good tent for beginners. Let's take a look at the pros and cons:
Pros
Very little hassle to set up
Very little hassle to take down
Good value for money
Will last well when you look after it
Has a hook so you can hang a light
Well ventilated
Perfect for car camping
Cons
Only fits 4 comfortably if you're taking things with you
May need to take extra stakes as the tent may not hold up against strong winds
Too heavy for backpacking
Product Verdict
This 6 man tent only fits 4, but nobody expects a 6 man to actually fit 6 comfortably. You can expect to put this tent up very quickly even in bad weather. It's perfect for 2 people and lots of stuff, can still be comfortable with 3, but you may start getting claustrophobic at 4, 6 small kids may be doable.
This tent also has high quality zippers, and the tent is actually waterproof unlike others.
It's a very impressive tent for the money, it may not be as high quality as some of the better known names out there, but definitely better than one bought from a generic camping store.
The Sundome 6 person tent is a great tent for those who want value for money when car camping and don't need to sleep too many people.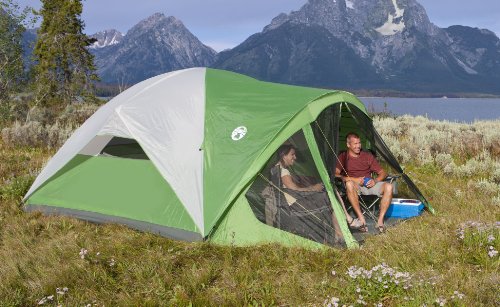 This tent makes a roomy tent for two, with a fully screened front porch to keep bugs at bay.
With 4 large windows you get maximum ventilation, and it's designed to keep you dry in rain.
The tent is pretty good with temperature control, but it may be a little chilly in the morning depending on the temperature and where you are. Let's take a look at the pros and cons:
Pros
Holds well in bad weather
Stays dry in rain
Easy to set up with two people
Cons
Won't fit 4 people if you have lots of stuff
Must fit the tent properly or you may expose the back window and be subject to rain
Screened tent portion will turn into a wet muddy mess in a storm
Product Verdict
This tent is perfect for 2, and potentially still comfortable for 4 depending on how much stuff you have. You can fit a queen and twin air mattress, but it will be a tight fit for two queens.
Bear in mind that the front portion of the tent is not suited for thunderstorms as it doesn't zip up.
Overall the Coleman Evanston is an OK tent, possibly a little more expensive than it should be. Suitable for a few people who plan on going camping in decent weather. Not one of the best tents, but OK overall.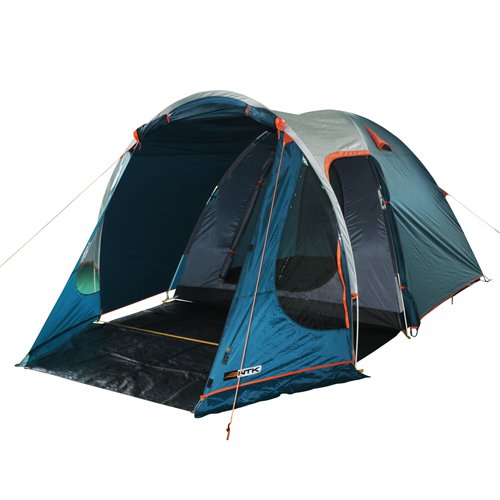 This tent is not too bad to set up, but much easier with some help. Dealing with the sleeves of the tent can be a little tricky. You can probably set it up alone in about 20 minutes if you've done it before. This tent is best for cooler weather. Let's take a look at the pros and cons:
Pros
Huge vestibule
Great for camping in colder weather
Cons
Doesn't come with great setup instructions for beginners
Ventilation isn't great
No good for camping during warmer weather
Product Verdict
You can have a little fun with this tent if you don't put the rainfly on; you'll be able to see the stars as you sleep. However, this tent is no good at all for camping in warm sunny weather, as it gets far too hot. If you plan on camping during the colder months and rain, then this is a good tent to consider.
It's probably best to do a trial set up of the NTK Indy GT before you actually go camping with it to make sure you can set it up by yourself. This tent is best suited for couples and maybe small families who want to go winter camping.
Other than the few small gripes it's a fairly good quality tent. It's what you would expect for the price.
4. Kelty Trail Ridge 6 Tent – The Most Expensive Yet Best Performing Tent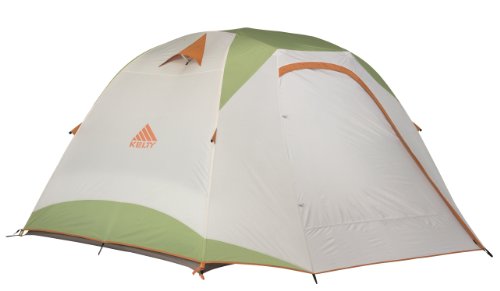 This is a very popular tent for families, although it can seem out of the price range of some.
That being said, you will find more expensive tents that just aren't as good as this one, with the same features and everything.
You can fit up to 4 adults comfortably, or 2 adults and possibly 3 small children. Let's take a look at the pros and cons:
Pros
Totally painless setup
Offers exceptional performance
Great family tent
Feels roomier than other 6 man tents
Will let absolutely no moisture inside
Brilliant ventilation for warmer weather camping
Cons
Doesn't come with a footprint
Expensive
The wire stakes aren't the best
Product Verdict
The great thing about this tent is that somebody who has no experience with tents will be able to set this up in just a few short minutes. It's that easy!
There's plenty of head space inside and a sturdy structure to top it off.  If you need more ventilation you can simply roll up the doors and the opaque covers will maintain your privacy. No need to worry about people peeking inside.
There are storage options inside for campers, including little pockets and a mesh attic cover.
This is a perfect, well organized set up for a family or even a couple who want quality and plenty of space. It's expensive, but it's so worth it.

Price Disclaimer
Conclusion – Which is the best 6 person tent here
It's easy to see from these reviews that the Kelty Trail Ridge 6 Tent is the winner. This tent has everything you could possibly want in a tent, from amazing ventilation to a spacious interior. If you're looking for the perfect family tent, this is the tent you should invest in if you have the budget! More tent reviews from the Kelty brand can be found here.
However, many will not have the budget required for such a high quality tent. In this case, the runner up is the Sundome 6 Person Tent. This tent is really good value of money for what you get, and a good choice for beginner campers too.
If you don't think these six man tents are still quite big enough for your family then perhaps take a step up in size with these larger tent options.