Camping can be great fun through the summer months, but there is a problem that you may encounter and that's the heat itself. Certain materials will not breathe and as such you could easily be caught inside a hot and humid tent.
Less naturally ventilated materials will also allow condensation to form inside the tent which may damage the material. That's why for camping with the best ventilation and protection you really need a canvas product.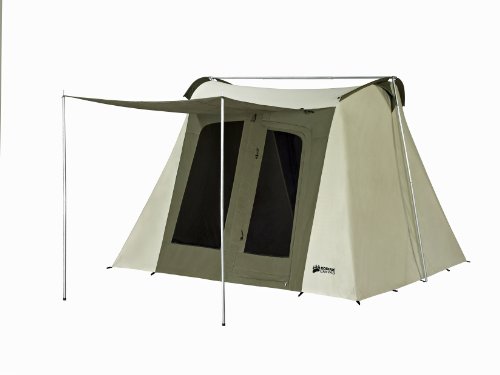 | | |
| --- | --- |
| Product | Kodiak Canvas Flex Bow 6 Person Tent |
| Sleeps | 6 Persons |
| Total Setup Time | 25 minutes |
| Shelter Material | 10oz and 8.5oz Cotton Canvas |
| Poles | Galvanized Steel |
| Weight | 68lb |
| Base Size | 10' x 10' |
| Rain Fly | Full |
There are various options on the market and we've recently tested out the Kodiak Canvas Flex-Bow 6-Person Canvas Tent. So, how does this product compare others on the market? Could this be the right choice for your next camping trip?
The Good
Firstly the cotton duck canvas of this Kodiak tent breathes beautifully. It also makes it highly durable and provides a comfortable place to sleep for a week or two of camping, it might even be one that you could permanently live in. If you've ever camped under canvas before you'll also appreciate how much quieter the space is than when sleeping in a synthetic tent. The Kodiak is no different.
Spacious with good airflow
The 6 person Flex Bow is also large, spacious and is designed for good airflow. With a high ceiling you won't need to stoop even if you're over 6″ tall. You could spend hours comfortably in here even with all the family.
Dodging the narrative that canvas isn't waterproof, this tent has been made to be one hundred percent water resistant thanks to the Hydra-Shield cotton. This is where the money goes on this product.
Retro looks
The overall design is not flashy but quite plain which will make it ideal for a particular subset of campers. The old school retro looks will appeal to those who got the camping bug at a younger age on trips with their parents.
Strong quality build
It's strong too, with high quality galvanized steel tubing so you won't have to worry about wind blowing the Kodiak over. When we tested it out, we found that you don't even need to use all the pegs. Instead, you can get by just fine by fixing down the corners. Of course we're presuming you've got suitable ground to stake it into. Once pegged it is sturdy enough to hold up in strong winds and waterproof enough to stay dry inside during a heavy downpour.
Do bear in mind that the stake loops on the Kodiak are nylon rather than metal hooks. These will be fine as long as you consider this when pitching up. Don't stretch too much and don't catch with the hammer or they'll fray over time and potentially break. Also if you're trying to decide between this and a similar sized Springbar Highline then this is where the Kodiak saves money over the more expensive home grown brand.
Quality touches
If you're dealing with snow, this is going to be a little more touch and go but it will withstand a moderate amount. Little features add to the durability as well. For instance, the tent has metal YKK zippers. As such, you can be guaranteed rain and dust won't get inside.
Spacious design
Another great feature is the sheer amount of space. The tent is 10' by 10' and with over 6' of ceiling space, you won't have any issue moving around inside. To give you an idea of how large this is, you could just about fit two full queen-sized mattresses inside. You wouldn't have any walking space but it would be a very comfortable place to sleep. We opted for or 2 XL camping cots which gave a nice corridor between us, plus room for gear.
Reasonably straight forward to setup
We also like how easy this tent is to set up. In theory you can do this without any help but it will be less time consuming if the family pitches in. By easy set up we mean you won't have to try to get steel tent poles through pockets that seem to be too skinny and the stakes provided are sharpened. So, you can avoid the epic struggle of getting them in the ground that seems to be the experience with some that other tent packages provide. A decent heavy duty rubber mallet will stand you in good stead.
25min setup time on first attempt
We managed to set the whole tent up in just about 25 minutes with no previous experience of this model. The next time we'd expect to do it in about 15mins. We should also point out that the ground wasn't rocky at all, just nice firm soil so we didn't need to relocate, saving time.
Once setup the cotton canvas is taut around the frame with no sagging. The resulting near vertical walls also makes the interior feel roomier than it actually is.
The Bad
Flooring not so well insulated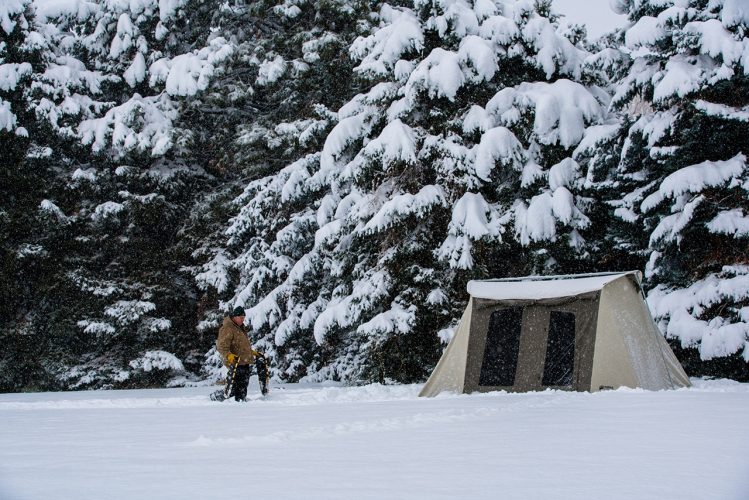 We did notice a couple issues when using this tent. First, the floor is quite thick, made from 16oz vinyl but you'll still need to be careful not to puncture it with your camping cots or similar. Also we're not convinced it will provide adequate insulation, on it's own, particularly in the colder temperatures. We recommend that if you do purchase this tent for something like 0-10 degree camping, you take extra layers for the floor or purchase the optional ground tarp or floor liner. A tent heater might also be a worthy investment.
If you have used Kodiak tents before you might be keen to add a screen awning to this one. Unfortunately, this tent is not suitable for that type of add on. There is a small sheltered awning included in the package though.
Heavy package
It's heavy too at 68lbs and it will be no surprise that it's not designed for backpacking. Though to be honest, with a six-person deluxe tent, that's probably to be expected. It will however be perfectly suitable for those camping in their car or truck. If you only go camping overnight then this might not be the tent for you. The heavy package and setup time are more suited to longer camping trips.
Are you a fan of your long lie-ins when you're out camping? It's a minor problem but this tent may not be for you. The roof is quite pale and thus lets in plenty of light in the morning. An optional darker zip on cover would have been beneficial here.
Pros
Highly durable and well made
Relatively easy with help to take down and put up
Large enough to comfortably fit six people camping side by side
Plenty of standing space
Good structure designed to avoid sagging and stay waterproof
D shape door/windows front and back
Creates a quiet secure space
Good internal pockets and gear loft
18 Long beefy stakes included
Cons
Lets light in through the morning
Floor provides low levels of insulation
Large heavy package, you'll need room in the car
Not suitable for a full-screen awning like the larger sizes
The Verdict: Is the 6 Person Flex Bow Tent any good?
As you'd expect this is a great tent for the summer months. This canvas tent does breath well and there are additional flaps that you can open for extra ventilation which is a nice touch. We think this could serve you well through winter too if you make sure to pack a decent flooring or perhaps some mats for insulation.
Who's it for?
In terms of who could use it, a family or a group of friends would have no problem sleeping comfortably in this tent. The fact that in principle you can set it up without help and take it down easily also makes it perfect for hunters. The subtle colors are going to be beneficial for this purpose too and it's certainly big enough to keep all your equipment safe from inclement weather.
Despite the premium price this tent is certainly recommended. If you're looking for a reasonably large tent, that isn't going to fail you in bad weather and you don't mind the weight this canvas product will serve you well for many years.
It's worth watching the video below, made by Kodiak, to get a feel of the Flex Bow range, understand the setup and how the Hydrashield system works. There are some close up shots of the frame that holds the tent up, showing just how robustly this product is made.
A note on storage
It is vital you understand that it needs to be completely dry before you store it away otherwise you could experience mildew or mold growth which can rot the cotton canvas. If you haven't the patience to care for the product you should perhaps seek out a decent synthetic alternative.
​VERDICT ​Easy to setup and great for all year round use, the canvas will also last a lifetime if properly cared for.
Last Updated on September 4, 2019 by Dean Anderson