Last Updated on February 18, 2022 by Dean Anderson
Whether you're planning on camping a lot this summer or you just want something to accompany your occasional fishing trips, take to a one off festival, or something else, you're going to want something reliable that ideally doesn't break the bank. A 3 person tent is perfect for one person camping with a fair amount of stuff, or two people camping with the essentials.
It's important to remember that in reality '3 person' does not necessarily mean you will fit 3 people comfortably in your tent, unless you want absolutely no room to move. If this is the case view our 4 person tent reviews.
Here are a selection of 3 person tents you can buy in 2022. Take a look and see which one is right for you, and which one we deem the winner!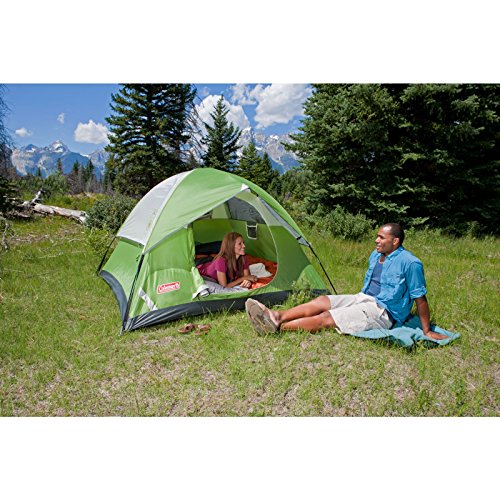 With the Sundome 3 person tent you have both Green and Navy color options. The first thing you'll notice about this tent is that it's very reasonably priced. There's a rainfly included for extra protection, with 2 windows for ventilation and views. The tent comes with a 1 year warranty, and can be set up by one person in about 10 minutes. Let's take a look at a rundown of the pros and cons:
Pros
Very easy to set up alone – should take 10 minutes
Cost effective
Quality construction means it should stand the test of time
Light weight and easy to carry
Can fit a queen size air mattress
Cons
May leak at the seams in heavy rain
A little airier so suitable for warmer weather
The 3 Man Sundome is a brilliant tent for the price, and so much less expensive than tents that aren't nearly as effective. Although it can leak a little at the corners in heavy rain, as long as you put it up properly it should hold up fine.
The construction is quality and you'll find carrying this tent really easy. It also has substantial ventilation, so is suitable for warmer weather. This may not be the best tent to use during the winter as it's so breathable and not so well insulated. Nonetheless a great tent if you plan on camping during the summer months!
2. Wenzel Alpine Tent – A good cheap option and overall the best 3 person tent on test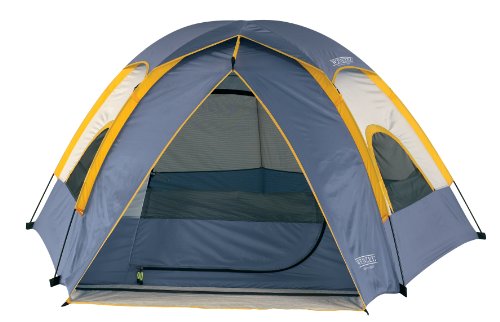 This tent is super cost effective, making it a steal for those who are on a budget. You can fit a queen size air bed inside, and it's so easy to set up that it almost puts itself up. This is great news for those who are novice campers and not quite sure whether they'll be able to set a tent up alone. The tent will keep you dry for the most part, so you don't have to worry too much about rain.
Pros
Good value for money
Simple to set up
Quite roomy inside
Quite light when packed away
Great carrying case included in the price
Cons
Could do with more vents and bigger windows
Not all that breathable
Materials feel thin and tearing may be a problem
The Wenzel Alpine is another great tent for the price, especially when you look at the performance and construction. It is the perfect tent for novice campers who don't want to experience too much hassle putting the tent up. It also has a fair bit of room, making it one of the truest 3 person tents on the list.
However, it could be a little more breathable, and the material can feel thin so you'll want to watch out for tears and rips. Having said that, it's an overall satisfying tent that should do the job. Just bear in mind that it's a great tent for winter months, rather than summer.

Price Disclaimer
3. SEMOO Large Door 3-Person Tent – Not great for 3 but holds up in various weather conditions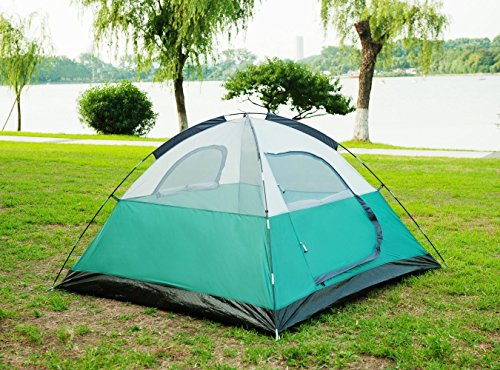 This is a 3-Season Lightweight Water Resistant Family Camping Tent with Carry Bag, as described by the manufacturer. In the other tents listed so far you can easily fit a queen sized air bed, however, a queen size mattress will take up entire floor of this tent. The heavy duty material is great and the tent itself is light and easy to carry, it should also keep you dry in more extreme weather conditions.
Pros
Holds up fine in different weather conditions
Easy to carry
Perfect for kids camping
Cons
More of a 2 person tent than a 3 person tent
This is a decent tent for the price, however, it isn't really a 3 person tent. It's quite small and not as spacious as the other tents, although it still performs OK. This could be a good tent to purchase if you have a couple of kids who are going camping, or if you're camping alone/with a partner. Bear this in mind before you purchase the tent!
This tent is described as a 4 Season Waterproof Backpacking Tent With Sun Shelter, with Instant Setup. The company say it's a great family tent for things like hiking and camping.
The tent takes hardly any time to put up and take down, which is good news for those who want to get straight down to business.  There's ventilation and a viewing window for when the temperature is high and you want to enjoy the view. The tent is slightly more expensive than some of the others on the list but still cost effective for the performance. This can be a good tent for couples or a group of 3 young people.
Pros
Can protect from most weather conditions
Super simple to put up and take down
Can be used in a variety of situations
Cons
May need to check zippers over to ensure in full working order
The Hairy Nose Bear tent is one of the easiest to take up and down and can be used in a variety of different situations. It can protect you from most weather conditions. Like the Semoo it isn't really a true 3 person tent, however, and would likely be better for one person or a couple.
Although the majority of these tents are fine if you do purchase check over the zippers to ensure they are working smoothly, as a small number of people have experienced problems. Overall this is a pretty good tent for the money, although you may be able to find something cheaper that is larger and performs a little better.
5. WEANAS 1, 2, 3, Person Tent – Expensive and really only suitable for one never mind 2 or 3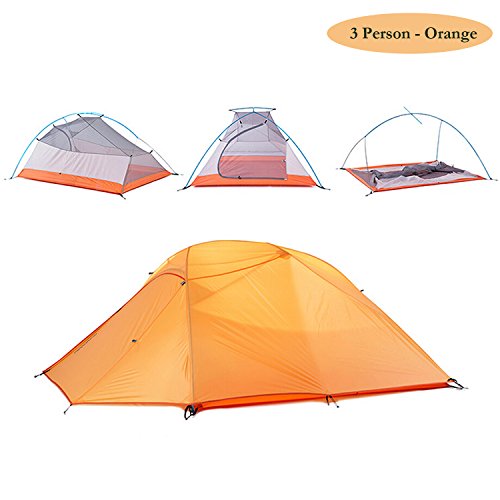 This is the most expensive tent on the list, which is probably the first thing you'll notice when browsing them. The tent is described as a 1, 2, or 3 person tent, which almost suggests that it can fit up to 3 people but isn't quite a 3 person tent. That being said, the tent is lightweight and easy to carry, so could be a good tent for those who need something easy to transport. Let's take a look at the pros and cons:
Pros
Light tent good for carrying
Cons
Not a true 3 person tent, may fit one fully grown man and gear or 2 people with a few things
May not fit 2 people depending on size
More expensive than the other tents on the list
This is a tent you should probably consider carefully before investing in. The money you would spend on this tent could easily be spent on a cheaper tent on the list, where you would get more space for your money. This tent can fit one person comfortably. Anything after that may be a struggle, depending on how much gear you have and how tall you are. That being said, it's an OK tent that performs well. Just expensive and small and certainly not suitable for 3!
Conclusion – Which Tent is The Best 3 Person Tent For 2020?
It was tough to decide on a winner between the 5 tents listed here, but we've managed to come to a conclusion! The Wenzel Alpine Tent has been labelled the winner, with its sturdy construction, light weight, cost effectiveness, and ease of set up. All of these things make it a wonderful tent for anybody who is thinking of camping this year.
The Sundome 3 Person Tent is the runner up. With similar features to the Wenzel Alpine Tent, it was a tough call. However, the Wenzel is perfect for cooler weather, while the Sundome is best for warmer weather, with the latter being more ventilated. You'll want to choose one of those two tents depending on the weather conditions you plan on camping out in! The Coleman Sundome is also easy to set up, cost effective, and light, making either choice a good one.
Now, is there a tent on the list you should avoid? There's nothing strictly wrong with the WEANAS tent, however, it is quite a bit more expensive than the other tents on the list. There isn't much that warrants the higher price either, as it isn't as spacious as the other tents. You may still like this product if you're a single person who wants a light tent, but you would get something better and more spacious for less cash.
Will you be purchasing the Sundome or the Wenzel Alpine tent? Which do you think is best?