The importance of getting the best air mattress for your camping trip should never be underestimated.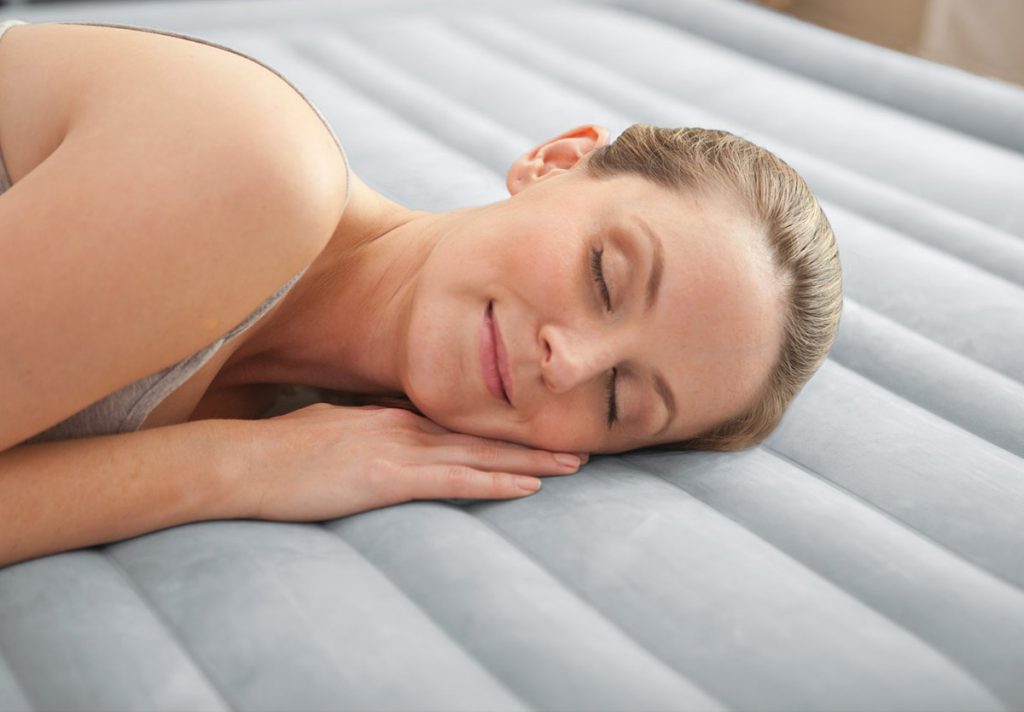 A lot of people associate camping with uncomfortable sleep. They never imagine a luxurious, warm bed, and with good reason.
You're never going to get the perfect sleep that you can get on your usual bed in the comfort of your own bedroom. But that doesn't mean you shouldn't put effort into making your sleep as comfortable as possible.
No one's going to accuse you of not being a "real camper" if you put a bit more between you and the floor than a camp pad or sleeping bag.
A camping cot is also a worthy option but these won't pack down into as small a package as air beds and aren't as portable.
A queen-size air mattress will also sleep 2. Still, they incorporate lots of positives so if you're interested see our 5-product camping cot review.
Being Uncomfortable While Camping Isn't Much Fun
Camping is supposed to be fun, or at least adventurous, right?
Being uncomfortable when you're trying to sleep isn't much fun and can result in various aches and pains. But more than that, it affects your ability to sleep properly.
When you're not sleeping properly, it affects you throughout the day. You won't be as alert as you should be and while you're out there in the wilderness, or getting ongoing demands from kids, staying as alert as you can could save your life or keep you sane!
A night of bad sleep will make you more irritable and less likely to want to get out and explore.
The upshot is you invest in some decent sleeping materials! So we're going to take an in-depth look at five air mattresses you should definitely consider for your next camping trip.
The best camping air mattress may well be within your grasp.
Buying Advice Before Purchasing A Camping Air Mattress
Size and the number of people the air bed is for
This pretty much speaks for itself. Although we've reviewed the queen options most of the brands below offer singles or even king-sized products, so you have flexibility.
Know before you buy what will fit in your tent and how many people the mattress needs to comfortably sleep. At the very minimum, you'll need a 4 man tent to accommodate a queen-sized mattress.
Double-check the dimensions before you buy.
Mattress height & thickness – for comfort and insulation from the ground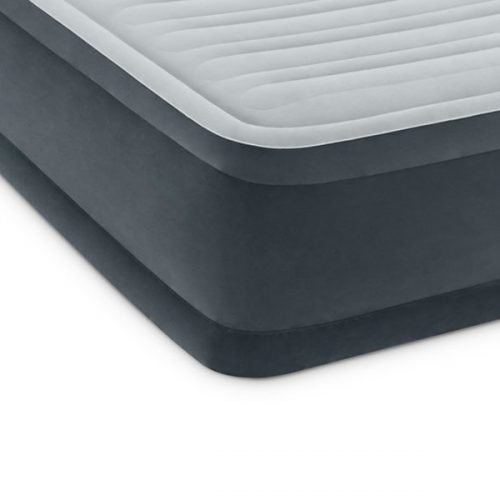 An often overlooked specification. The higher the mattress the further you are from the ground. This means you're more insulated, the result is a warmer nights sleep.
On the other hand, if your tent has sloping sides a higher mattress will reduce the amount of available room in the tent. You need to weigh up the benefits of your own circumstances.
Mattress thickness will also have a bearing on comfort. A decent thickness will make the bed more comfortable but this isn't a hard and fast rule.
You also need to check what materials the mattress employs. Pure cotton mattresses will likely be more comfortable than their synthetic counterparts.
The last thing to be said about mattress height is regarding mobility. Those with limited mobility will appreciate getting in and out of a mattress that's on the taller side rather than struggling to get up from nearer the ground.
How the mattress is filled and deflated – Plus R-Value for the firmness of inflation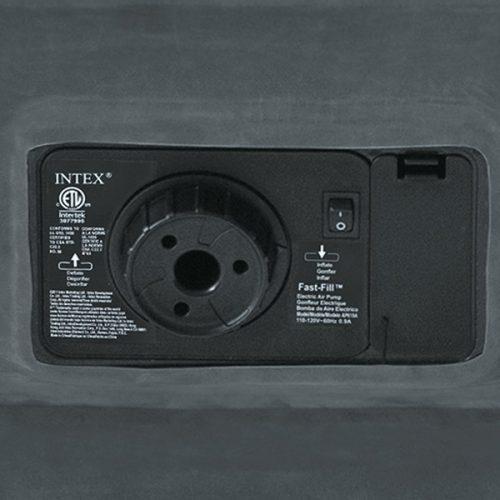 Two of the mattresses below have a built-in pump for easy inflation and deflation. The other can employ hand pumps or 3rd party battery/electrical pumps.
You'll need to weigh up the convenience versus flexibility factors for the type of camping you do.

In terms of inflation, the R-Value of an air mattress is also worth taking note of. The R-Value is the rating given for the mattress to be inflated to the maximum. Resulting in a firmer more comfortable sleep.
Put simply the higher the value the better the mattress.
On some models, if the mattress loses air it will auto-inflate to return to the correct firmness. This can generally only be achieved if the bed material is made from non stretchy materials such as thermoplastic polyurethane (TPU) a mixture of silicone and plastic.
This type of material also results in good R-Value.
Comfort and support
The best air mattresses will have a flat, firm surface when inflated. Even if you lay on one side of a queen the mattress should maintain its shape. Manufacturers use all kinds of terminology to advertise this feature.
A flocked top mattress will also be more comfortable for all year round camping. You'll be warmer in winter and not as sweaty on hot summer nights.
Durability
Cheaper mattresses will use cheaper materials throughout their construction. More expensive models will use a thicker TPU and plusher natural cotton materials on the top layer where you sleep.
The thicker the material the more puncture resistant it will be and the less likely you are to have to reach for the repair kit.
Warranty & Customer Support
If you're spending a reasonable amount on a camping air bed then you should expect decent customer support and perhaps even a warranty. This also tells you something about how reputable a manufacturer is.
Inflatable Queen Mattress Comparison Table
Should you not want to read the full review you can get an idea of the most important features by comparing the specifications in the table below.
As you can see as far as weight and size we really rate the Coleman SupportRest. Find out the price on Amazon here.
| Product | Weight | Inflated Size | Packed Size | Inflation Method | Rating |
| --- | --- | --- | --- | --- | --- |
| Intex Dura-Beam | 16.6lbs | 80 x 60 x 20 in | 14.5 x 18 x 7.25 in | Built in pump | 4.0/5.0 |
| Coleman SupportRest | 15lbs | 78 x 60 x 18 in | 15.5 x 6 x 11.8 in | Separate electric pump | 4.5/5.0 |
| SoundAsleep Dream Series | 19.3lbs | 78 x 58 x 19 in | 17 x 13 x 7 in | Built in pump | 4.0/5.0 |
| King Koil Luxury Raised Air Mattress | 17lbs | 80 x 60 x 20 in | NA | Built in pump | 3.5/5.0 |
| Insta-Bed Queen Air Mattress | 24lbs | 80 x 60 x 19 in | 21.6 x 16.9 x 7.5 in | 2 built in pumps | 3.5/5.0 |
| AirExpect Queen Air Mattress | 8.5lbs | 80 x 60 x 9 in | NA | Separate wireless rechargeable pump | 4.0/5.0 |
| Lightspeed Outdoors Marsala Queen Air Bed | 7.87lbs | 80 x 60 x 6 in | 17.5 x 9.2 x 9.2 in | Separate battery pump | 4.5/5.0 |
The first air mattress we're going to look at is an affordable option in the Intex Dura-Beam series.
It's an inflatable queen mattress that blows up to quite an impressive size when pumped up, considering it's such a portable mattress – thankfully, it comes with a built-in electric pump which will make preparing it for the evening much easier.
The electric pump takes about three and a half minutes to blow the mattress up to full size. That inflated size is 60 x 20 x 80 inches. This should be able to fit just about any camper in luxury or sleep a couple in comfort.
The Intex can also hold up to 660lbs in weight, which is impressive.
A Comfortable Mattress But Not A Plush Surface
The question, of course, is whether or not it makes for a good camping mattress. Well, it's definitely comfortable despite its decidedly 'un-lush' sleeping surface.
The manufacturer talks about various forms of support built in due to the way it's constructed. Ultimately this boils down to providing a very firm surface that doesn't roll even if you're on the heavy side.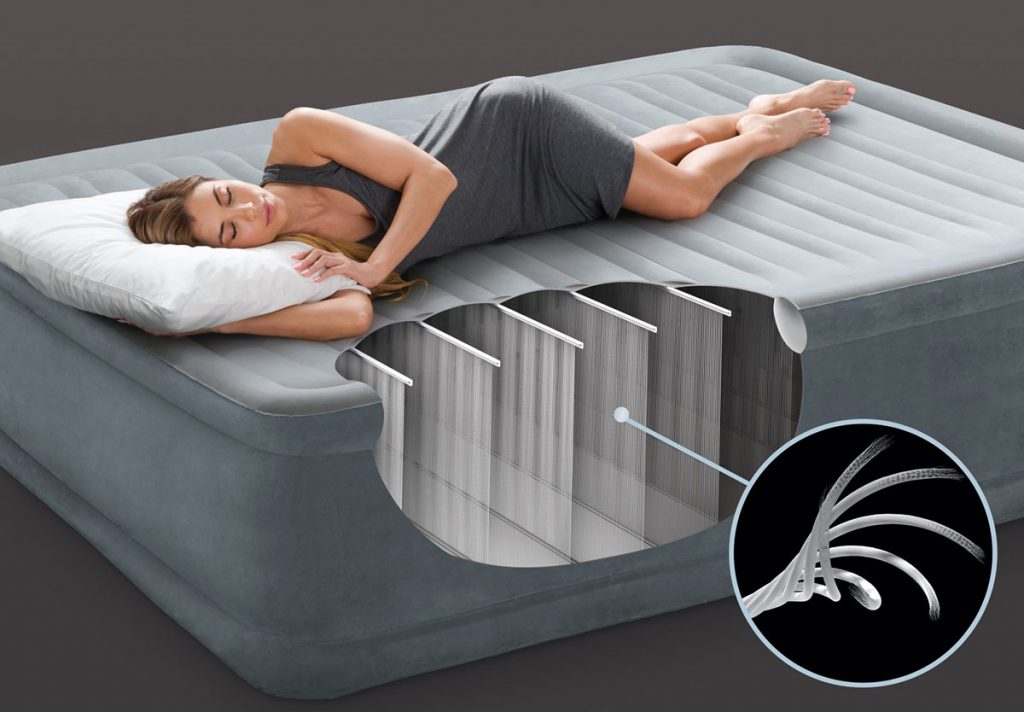 In terms of portability, it also has an edge over the others and can easily be folded away. The provided duffel bag is also handy.
Of the three mattresses featured here, this is the cheapest if you want an inflatable queen-sized mattress. This product thus offers good value for money.
You'll Need An Electric Hookup To Inflate
Unless you have an electric hook up on your campsite there's no easy way of using the built-in electric pump. The good news is it can still be inflated manually if need be.
A third party external electric pump could be employed, perhaps connected to your car. This product affords you that flexibility.
Like most mattresses, you may find the mattress seems to deflate after lying on it for a little while. This may have just been the materials stretching, but temperature fluctuations while camping may have created some minor pressure problems.
After about a month of use, a few camping trips during summer, there was a noticeable drop in how well the mattress seemed to keep the air in.
Pros:
A good size for the price at 60 x 20 x 80 inches
Easy to store and set up
Relatively light at 16.6lbs
Built-in electric pump is easy to use and quick to complete inflation if you have an electric hook up available
Has strong stability and support at first…
Cons:
Begins to lose air more regularly after about a month of use
Not much cheaper than higher-quality air mattresses
Sleeping surface isn't very plush
Heaver than the similarly-sized Coleman SupportRest
The verdict
This is a good air mattress, but it may be more suitable for temporary bedding at home rather than a camping solution.
We've definitely used built-in electric pumps that are much slower than the one that comes with the Intex Dura-Beam, but this really isn't that useful a benefit when you're camping unless you're on a campground with electric hookups. If you're backcountry camping then this really doesn't come into it.
Those looking for something really comfortable would probably have to invest in a plush mattress topper which would add something else to your gear list. It's also certainly strong enough to hold two people if you're willing to share.
VERDICT Comfortable with a good built in pump but more suited for home use than camping.
The Coleman SupportRest is a bit more expensive than the Intex Dura-Beam, but not by much at the time of review. This is very much an airbed made for camping, though it can, of course, be used indoors.
It doesn't quite have the aesthetic that the Intex Dura-Beam has; it's an all-over pale green that makes it look somewhat like a basic military item – but looks aren't what a serious camper should put much thought into. What we want to focus on is durability, comfort, and portability.
Thankfully, the Coleman SupportRest delivers on these fronts.
Fancy Trademark Names That Result In A Firm Comfortable Surface
The Coleman SupportRest comes with a bunch of sexy-sounded 'trademarked' features, such as the Wrap 'N' Roll™ system, Support Lock™, ComfortStrong™, and Double Lock™. Thankfully, these aren't just trademarked terms being thrown around to sound impressive.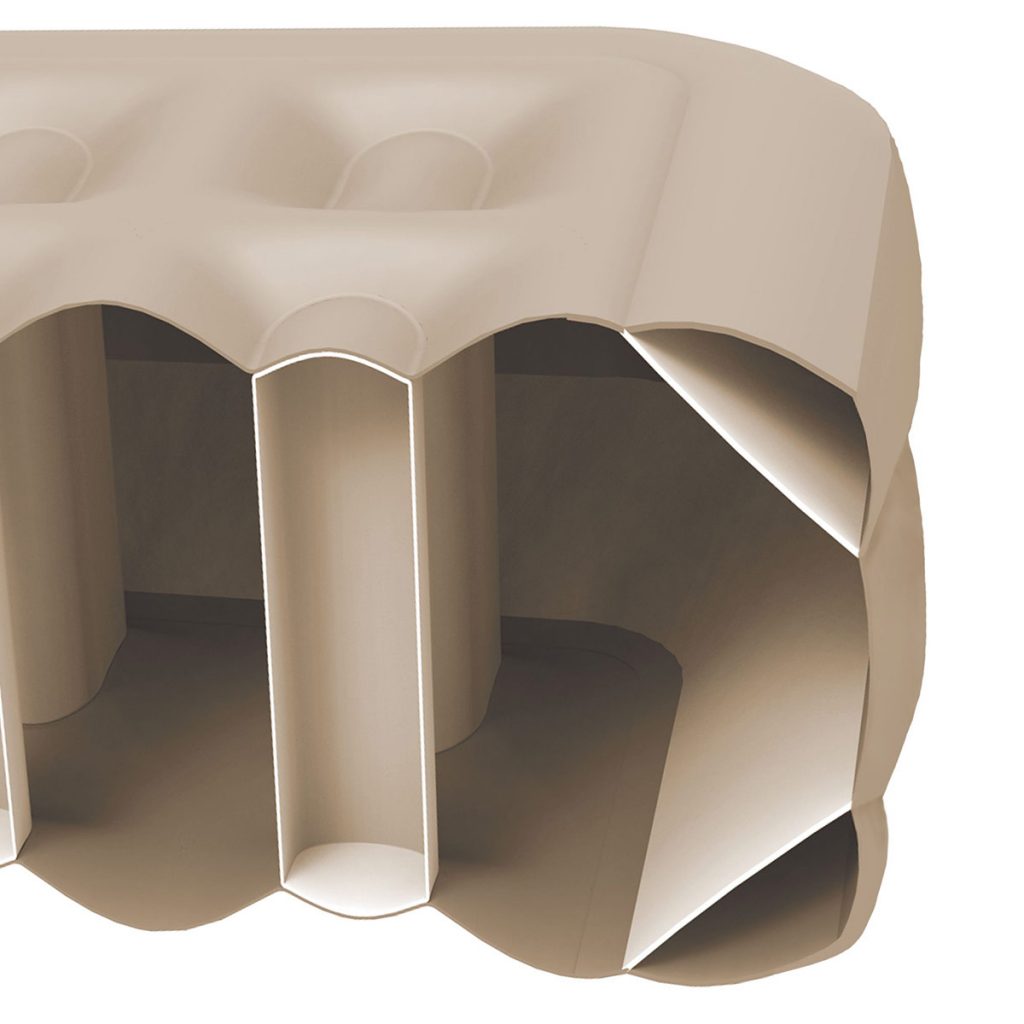 The Support Lock™ coil system – not all that common in the best air mattresses – really does provide a good amount of support along with a stable sleeping surface. This construction even means you can sit on the edge of the bed and it will support you upright.
The sleeping surface is also made of slightly more plush material than that of the Intex Dura-Beam, which helps a lot with the comfort levels.
No Built-In Pump
The Coleman SupportRest doesn't come with an inbuilt electric pump, which may be off-putting to some people. However, it's worth noting again that this is designed primarily for camping, and those who need the best air mattress for camping probably won't be too bothered by this omission! You're likely used to using a 3rd party pump that you connect to your cars cigarette lighter socket or available electrical outlet.
You should also see the video at the bottom of this post which shows a great hack for inflating mattresses without a pump of any type.
Pros:
A good leap in quality for a relatively small leap in price
Great size at 78 x 60 x 18 in
At under 15lbs, it's one of the lightest on test
Plush and comfortable surface
Great construction keeps the mattress firm and non-rolling
Officially recommended by the National Park Foundation
Includes a 1-year limited warranty
Cons:
No inbuilt electric pump
Not the prettiest option available
There are better indoor guest bed options
The verdict
Though it's a bit more expensive than the Intex Dura-Bed, the Coleman SupportRest certainly seems to justify the price. The fact that it doesn't make the best indoor guest bed in the world is probably just as well, as a lack of focus on this aspect has left us with a light yet sturdy air mattress that's great for camping.
This is an all-round good product and perhaps the best queen air mattress for camping.
VERDICT The largest, lightest and it's comfortable for camping duties but no built in pump.
This air mattress has so many patented and trademarked features that it's difficult to know where to begin. We may as well start with the most important thing to know: this is a very good air mattress for camping. It's also the most expensive of the bunch, being, on average, almost twice the price of the Coleman SupportRest.
It Features Everything That's Good About the Coleman
The SoundAsleep mattress features pretty much everything that's good about the Coleman SupportRest – except, of course, for the sheer portability. This isn't to say that the SoundAsleep doesn't make for a good portable air mattress, but, at 19.3lbs, it's certainly the heaviest of the lot. Deflated, though, it's certainly the easiest to actually roll up and store elsewhere.
Forty Individual Air Coils Create The Flattest Surface Of The Bunch
But does that additional weight come with a bunch of good features? Sure – although you also lose an inch in height when compared to the other two. This is 19 inches high, compared to the 20 of the previous air mattresses. But the SoundAsleep Dream Series Air Mattress does come with its patented ComfortCoil Technology, meaning its made with forty individual air coils to provide the flattest sleeping surface of the bunch.
On paper it isn't quite as durable as the other two – it holds up to 500lb – but the material certainly feels thicker and more durable. It also has a really good grip at the bottom, providing some satisfying suction that makes it easier to remain still throughout the night.
Pros:
Makes for an excellent camping and indoor guest air mattress
Very easy to deflate and put away
Very comfortable surface
Doesn't seem to lose any air after a lot of use
Electric pump is noticeably quieter than others without being much slower
It's the best-looking of the bunch
Cons:
Twice the price of the Coleman SupportRest but not necessarily twice as good
Weight makes travel a little awkward
Not as tall as the others, nor can it hold as much weight
The verdict
The SoundAsleep Dream Series is a really excellent air mattress, and fits those looking to camp as well as those looking for temporary indoor sleeping solutions. It definitely provides a good night's sleep and is easy to deflate and put away. This is perhaps the best air mattress for everyday use we're just not sure it's worth the additional cost over the Coleman.
VERDICT The most comfortable, good for home and away but also the most expensive by some margin.
This is another queen sized air mattress with built in pump for inflation and deflation. Simply unfold and connect the pump to an electrical outlet and approx. 3 minutes later the King Koil is fully inflated.
Manual inflation option
If you're camping where there's no electrical hook up, then you'll be glad of the port for manual inflation. Though you might not want the job of inflating.
The mattress looks plush once inflated, perhaps the best in test. The materials on the top surface and sides are well specified. We love the soft flocking which is much more comfortable than sleeping on cool vinyl as with cheaper options. Even if you do have a blanket or sleeping bag in between.
The flocked surface also means less chance of slipping down the bed.
One thing that was noticeable upon setting up for the first time was the smell of the product. This will surely disappear after being aired but you might want to inflate before you take it camping or guests use it, just to get rid of the smell.
The manufacturer also advises that before first use the mattress is inflated and allowed to stretch. Then prior to using it should be topped up with air.
Is it comfortable?
In short, yes. Very. The internal coils help the mattress keep its shape even when you're wriggling and moving side to side during the night. We think front and back sleepers will get the most from the air mattress with this design. As a side sleeper I did sink a little when testing the mattress out but it was comfortable nonetheless.
We're not so sure however about the 'built in pillow'. In principle a nice idea but it's not enough of a pillow on its own. You'll still want a decent camping pillow or your own from home. Furthermore, it eats into the usable space, especially for tall users.
The mattress construction and raised lip around the edge mean you can sit on the edge and it will keep its shape. It also serves as a boundary, so you're unlikely to fall out of bed.
Loses air overnight
The main downside with this mattress is the fact that it can lose a lot of air overnight. Sure the instructions advise that the product should be fully inflated and topped up before each use but that's not enough for many users to get through the night. This is a real shame for what is otherwise an excellent product.
Just looking at the reviews on Amazon.com, many users report the same experience. It seems to be less of an issue if you're sleeping alone.
The pump is also very loud. Using during the night, especially on a campground will disturb others. This might be less of an issue for home use where walls are thicker.
Once you've used the product if you still have any air left to deflate this is an easy enough process. Unlike many similar products the air mattress also goes back easily enough into its own carry case.
Pro's
Great quality materials
Really comfortable for back and front sleepers
Grippy bottom perfect for a tent floor
Built-in pump
1 year guarantee
Con's
Materials smell a little when first setup
Pump a little loud for some, needs inflating at a reasonable hour if camping
Built in pillow not convenient for all
Slowly deflates
Product Verdict
The King Koil showed great promise given that it's really comfortable and offers a plush surface. We also like the idea of a built-in pillow, but the manufacturer doesn't quite pull this off. Still it shows the brand is leading the way in terms of design rather than following.
There are some niggles, like the smell, noisy pump and the fact you need to top up prior to each use, that can be overlooked. However, the fact that the mattress constantly loses air is hard to ignore.
If you did want to give the King Koil a try, there is an excellent 1 year guarantee, which according to reviewers on Amazon the manufacturer honors.
VERDICT Very comfortable, plush and well made but unfortunately this airbed loses air a little too easy.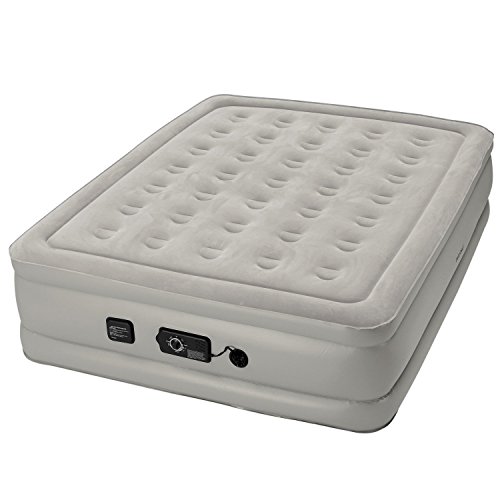 Our next option incorporates not 1 but 2 electric pumps. Uniquely the Insta-Bed uses 1 pump for inflation and deflation and then the second 'never flat pump' to continually monitor and top up pressure while you sleep.
Potential game changer
This is the only air mattress on test that does this and if it works could prove to be a real game changer.
Size wise this is another Queen mattress and very similar in dimensions to the Intex and King Koil.
After laying the mattress out and connecting to an electrical outlet through the flap in our tent the Insta-Bed inflated in approx. 4.5 minutes. We chose the firm setting from the 3 on offer of plush, medium or firm.
Neat auto-switch off feature
On reaching our firm setting the pump automatically switches off, which is a neat feature. This means you can set it off going then get on with another task to set up camp.
For the sake of good camp etiquette, you want to inflate the mattress before the rest of the campground goes to bed. It's not the noisiest but isn't quiet either.
The Insta-Bed claims to support a combined weight of up to 500 lbs. This will be fine for most but if you're a big guy or gal you might want to consider something with a higher rating.
A very comfortable mattress
The good news is that this is a very comfortable air mattress. The 3 settings really help with that.
I personally like it firm but sleep on my side. I found that I could get the most comfort by initially inflating to firm then deflating very slightly. Then when on the mattress the top up pump would just keep me below that fully firm point.
The key takeaway from that is that you can fine tune to your own tastes. Furthermore, once you do get it right the 35 circular coils maintain the bed structure nicely.
So far so good.
Quiet top up pump
The 'Never Flat Pump' system also really works well. We woke on a single night test with the mattress fully inflated, unlike with the King Koil. It is also very quiet, and it wouldn't disturb other campers or anyone in another room at home.
What I would say though is that the top up pump seems to work best when you're not on the bed. When less pressure is being exerted on the mattress.
Having gone to the toilet in the night on return I could feel an immediate improvement in comfort with that little extra firmness.
Some users report leaks from main control module
Unfortunately, it's not all good news. While our experience of the Insta-Bed is so far very good there are many previous buyers on Amazon reporting leaks from behind the main pump control module.
The leaks tend to develop after a few uses. The mattress material pulls away from the plastic back of the pump. This could possible be an issue with the heat generated by the pump. You can't fix this with the included patch kit.
If this happens within the first year the manufacturer has got you covered. There are many reports of great customer service from Insta-Bed.
Outside of this period the product will only be fit for the garbage.
Let's recap.
Pro's
3 firmness settings
Fine tuning of comfort is possible
Auto shut off on primary pump
Top up pump is quiet and maintains pressure well
Shape of mattress sides holds a bed sheet well
1 year guarantee
Con's
Some buyers experiencing leaks from behind the control module
Product Verdict
If it was only down to ease of setup and comfort, then the Insta-bed would have a very good chance of winning this test. Unfortunately, we can't ignore the 100's of buyers whose purchase has developed air leaks from behind the control module.
This is a real shame.
It's only fair to say though that there are many more people that haven't had leaks. So, if you're willing to take a chance this might be a great camping air mattress.
One way around this problem could be to purchase an additional warranty such as the Square Trade warranties available on Amazon with some products.
VERDICT Comfortable with an ingenious 2 pump system but you take the risk of a leaky inflation module.
The AirExpect Camping Air Mattress is a great step up from the cheap $10 offerings from the big box stores.
Your additional spending is evident as soon as you unpack the item.
So too is the smell of plastic! Make sure you inflate and air the product before taking on a camping trip or before an overnight guest uses it.
The product material feels thick and durable. While the flocked top surface is also a nice touch at this price. A feature shared with the more expensive options on review here.
The only issue with flocked top surfaces is that they are difficult to repair if you puncture them. Whereas a smooth vinyl surface is repairable.
Wireless rechargeable pump included
To inflate the AirExpect mattress you use the included rechargeable pump. Before you can use it you need to plug the pump in a wall socket for 12 hours until fully charged. The pump will then inflate your mattress in under 90 seconds flat.
The fact that there are no wires and that you can essentially transport a pre-powered charger anywhere is a great plus point. Inflation is also relatively quiet. This was impressive.
Inflates fully 5-6 times on a full charge
In practice, users have found that you can inflate the mattress fully 5-6 times on a full charge. You should note that if your campground does have an electrical point you can't inflate the mattress while it's plugged in. You only plugin to recharge the unit and the light turns green when fully charged.
A firm and comfortable air mattress for camping
Once inflated the mattress feels firm and comfortable. The Duracoil construction does seem to result in an even spread of air and even if your partner gets on or off the mattress you don't seem to be raised or lowered as much as with a cheap offering.
The built-in pillow at one end is also a bonus. It wouldn't stop us taking our own pillows camping but the slightly raised edge acts as a kind of headboard and prevents your own pillow from slipping off.
Allow to stretch
As recommended by the manufacturer the mattress was left overnight to stretch. By morning the surface had lost some of its firmness. But nothing that a few seconds of the air pump wouldn't resolve.
Once stretched and aired you could reliably inflate the mattress and sleep on it for a couple of nights camping before it needed topping up again.
Just remember that if you don't go through that stretching process at home, you'll likely have to top up your mattress with air every 3-4 hours. During the night that won't be a pleasant experience for anyone.
When putting away you can use the supplied pump to deflate the mattress. In all honesty, this is probably a waste of the charge held in the pump. It's as quick just to use your own weight to force the air out.
Then it's simply a case of rolling up the mattress and packing into the case supplied.
Pros
600lb weight capacity
Inflates in 90 seconds with the included pump
Rechargeable wireless pump
Comfortable and firm
Thick PVC material
Flocked top surface for improved comfort
Rolls and packs up small
Non-skid bottom
Cons
Low to the ground
Smells a little on first use
You need to allow the air mattress to stretch before using
The pump doesn't hold the charge for ever so check before going camping
The verdict
Given the price and the unique rechargeable pump included this queen air mattress is a bit of a steel.
The 8-9" thick size means it's never going to be as comfortable as the very best. However, for a weekend of camping or occasional bed, the AirExpect is a light, durable and worthy product. It's well made and packs up nicely when not in use.
Just make sure you allow the product to air and stretch prior to first use.
VERDICT A cheap comfortable air mattress for camping with a unique separate rechargeable wireless pump.
This queen-sized product is the largest of the Lightspeed Outdoors air bed range. It comes in a snazzy Marsala red color complete with a battery-operated pump.
No annoying odour
Out of the box, this is a quality item, the seams and valve area look good quality. The other thing we notice, or don't notice, is the lack of an odor as experienced with the  AirExpect product. A bit of a bonus.
The Lightspeed Outdoors air mattress is made of TPU rather than PVC. Without getting too technical this means it has no odor and furthermore it's lighter and folds away far easier.
The included pump is battery operated. Ultimately it can be taken anywhere, and it will reliably pump up the mattress at least 4 to 5 times. It's just a shame it takes around 4 minutes to do this. More than twice the time of the AirExpect wireless pump.
Included pump can't get the mattress firm enough
The pump also lacks a little oomph. It can't quite get the mattress firm enough for our liking. If you want it firm, you'll need to either get your mouth around the valve or use a foot pump to top up.
The good thing is you can swap pumps and the air won't escape thanks to the Boston double valve design. This also means you can adjust the bed for firmness by gradually inflating or deflating.
As comfortable as any of the other air mattresses reviewed
Once fully inflated the Lightspeed Outdoors air bed is comfortable. It's at least as comfortable as the best on test here.
Should you need to use the restroom in the middle of the night, then getting in or out of the bed won't result in your partner bouncing around. The built-in stabilizing system, that ultimately joins the top and bottom materials internally, distributes weight evenly and what's more, it works.
Only a small top-up required
Overnight the mattress held up to lots of wriggling and movement with only a minor loss of air. A small top-up would ready the Lightspeed for another night.
We also like the built-in handles. Once inflated many air mattresses are difficult to move because there's no part of them to get any purchase on.
Folds away easily
Putting this product away is also straightforward. Remove the valves and force the air out manually. We wouldn't waste the batteries on deflation. The TPU made mattress then folds easy into the oversized bag.
Pros
600lb weight rating
Very comfortable and stable
Battery powered pump can go anywhere
Light material
TPU material doesn't give off odour like PVC does
Good quality Boston double valve for fine control of firmness
Cons
Battery powered pump doesn't get the mattress firm
Careful how you pack the pump as the switch is easy to turn on
A few reports of leaking and multiple holes – more than likely manufacturing duds
The Verdict
The Lightspeed Outdoors queen air mattress gets a lot of things right. We love that it's light and portable. The TPU material means that you could even take this backpacking, at a push.
More importantly for car camping, this product is extremely comfortable and the stable surface means your partner won't disturb you if they move around.
The external pump could be a little more powerful but by enlarge it does its job. For a quality sub $100 camping mattress this is a great buy if you don't mind getting low.
VERDICT A comfortable, stable and portable mattress for camping with some high-end features.
Final words – The best air mattress for camping revealed
The SoundAsleep Dream Series Air Mattress certainly feels like the most expensive – and that is a complement – but the edge really does go to the Coleman SupportRest and the Lightspeed Outdoors.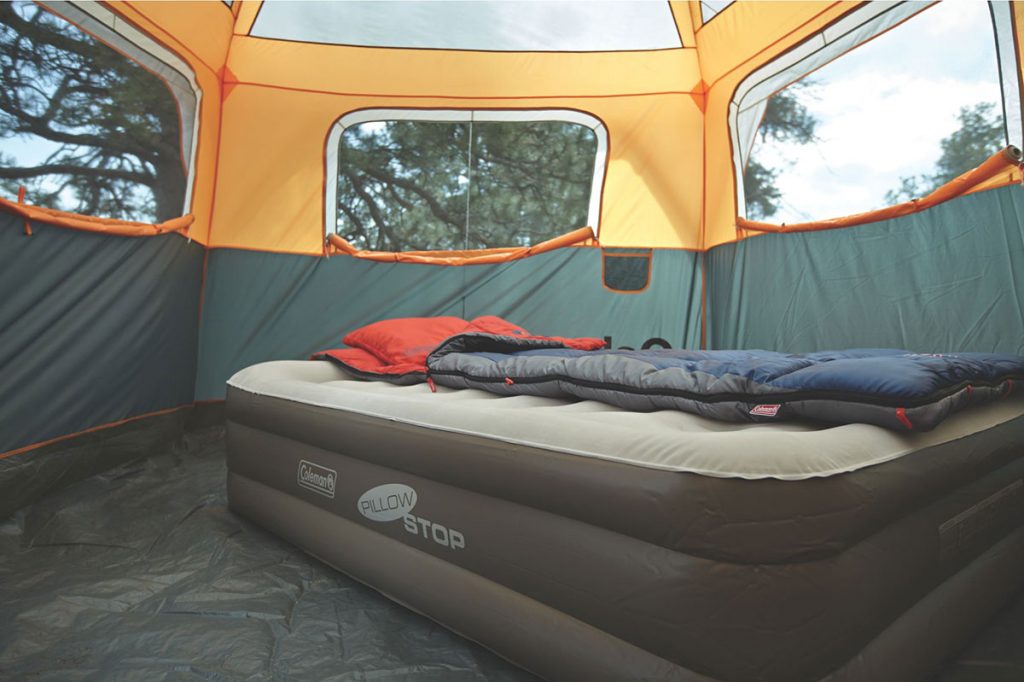 None of these air mattresses are a bad buy and all have their plus points. The Coleman SupportRest stands out simply because it makes for the best camping mattress and that's where we'd put our money. It's the most comfortable and still one of the lightest most portable mattresses and provides the best value for money overall.
The Lightspeed Outdoor air mattress is a good option if portability is your most important buying factor. Despite it being only 9″ high it's still incredibly comfortable too.
If you have the money to spend, then, by all means, go for the comfortable SoundAsleep. The King Koil is also extremely comfortable and well made. Some users will also love the built-in convenience features but the reality is that a lot of reviewers including us found the product to lose air overnight.
If you're strapped for cash, then don't worry too much – both the AirExpect and the Intex Dura-Beam will definitely get the job done if you just need an air mattress for an upcoming camping trip. They're safe options and the AirExpect comes with the added bonus of a rechargeable and wireless pump.
If you're a bit of a risk-taker then give the Insta-Bed a go, we'd just recommend taking out an additional Square Trade warranty to go with it.
For car camping all of the options above are a massive improvement over a sleeping bag on top of a basic foam sleeping pad.
Camping with a bad back
From time to time we all experience aches and pains to the back. In fact about 1 in 4 Americans say they've experienced pain to the lower back. Many of us also suffer from Arthritis or pain to the Sciatic nerve or similar conditions. A good mattress can help give comfort to such conditions.
Air mattresses are a surprisingly good option if you have back pain. This is because you have fine control over firmness through inflation or deflation.
Models with built-in coil technology are the best options. In this format, these air columns replace the traditional spring. Even on the cheapest options, unlike with a cheap sprung mattress, the coils will never dig into your body.
Higher mattresses will be easier to ascend from
If you're camping with a bad back, you should look at options that have fine control on firmness but are also reasonably high from the floor. This will mean less bending over and a higher mattress will be easier to ascend from. From the reviews above the Insta-Bed would be the best bet – but don't forget that Square Trade warranty.
Memory foam topper?
If you really want to simulate the comfort of your mattress at home, then also consider a memory foam mattress topper. These are only a practical option if you're car camping but can make all the difference to comfort.
Advice for setting up an airbed
You may think this is straight forward, just inflate and sleep right?
Well kind of, but there are some basic rules to follow to ensure best performance and to avoid leaks and punctures in the mattress.
First off prepare the sleeping area. Do a visual inspection and ensure there are no stones, twigs, thorns or tent stakes in the area. In theory you should have already done this before pitching your tent.
Ensure the mattress won't be placed near any heat sources such as cooking stoves or heaters.
Put the mattress in position and inflate. This might be with a built in pump, an external electrical unit or a manual pump.
If this is the first use, pump until firm then leave the air mattress to stretch.
Return to the mattress 30mins before using it and top up the inflation. Follow the manufacturers instructions for the max pressure rating. Remember your camping etiquette and ensure you do this before people start going to bed, as pumps can be loud.
Once inflated ensure camping furniture such as chairs can't lean against the mattress. Some products have sharp edges.
Enjoy your sleep!
Watch This Genius Camping Hack To Inflate An Air Mattress With No Pump
All of the reviewed options above either have a built-in internal pump or can be inflated with an external electrical pump. But what do you do if you have no electrical hookup and not even a foot pump? If you've camped as often as I have these situations do arise. Even the best air mattresses won't be much good if you can't inflate them.
Watch the DaveHax video and never go without your home sleeping comforts again.
Alternative Sleep Systems
If a camping mattress isn't for you after all you could always consider an alternative solution.
Many people combine a camping cot, with sleeping pad and sleeping bag to make a fantastic individual bed. If you're short on space you should also consider bunk cots.
See the following product reviews of;
Last Updated on August 5, 2023 by Dean Anderson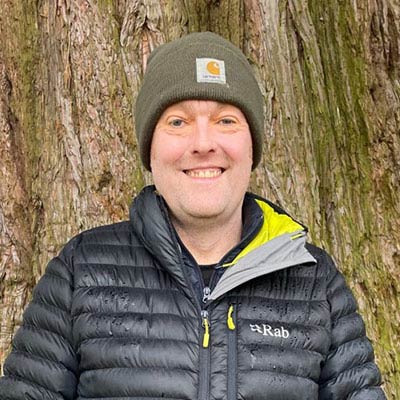 Eight years ago, I took a risk and left a miserable office job to follow a lifestyle career that involved my love for the great outdoors. I've taken my love for camping, hiking and travel to the next level by running my small campground with a friend near Portland, Oregon. It's for way less money but this has truly been a dream come true and the running involves lots of family and friends.
The next evolution of that was to get online and start allcampingstuff.com. At our campground, I spend a lot of time setting up camping equipment for customers and disposing of the garbage products they leave behind. If I can help just a few people with advice on good camping gear, then this website venture will be worth it.
So, if you want to avoid the duds and spend your money wisely you've hopefully come to the right place.