When REI first introduced the Kingdom 8, we were excited to see whether the company could do something to enhance sleeping arrangements for groups on camp. Although large tents have been with us since time immemorial, we wondered whether the Kingdom 8 would give modern campers what they wanted: plenty of room to house everyone combined with a modicum of privacy to boot.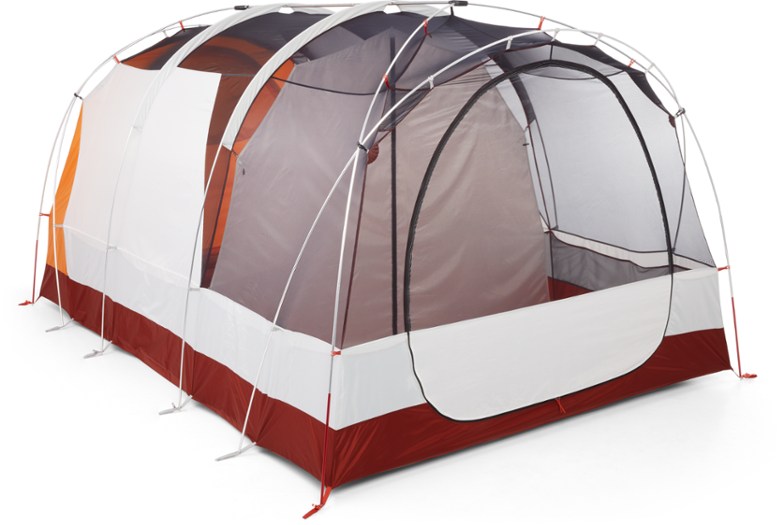 The Kingdom 8 is REI's 2019 appeal to the group market. It's for people who want to set up a single tent for shared accommodation and don't want to go to the hassle of putting up multiple individual tents. If you've got a large family or you're traveling with a group of friends, REI's offering makes it easy for you – or at least that's the hope. But what was this tent like to camp in? And is it any good at keeping the wind and rain at bay? Let's take a look.
The Good
Rain-Proof
After having spent many nights with the Kingdom 8, we feel that we have a pretty good idea as to how the tent will stand up to the rain. And, we have to say that the majority of that experience was excellent. REI has done a great job of making the tent waterproof – or as waterproof as you'll ever need it to be in wet weather conditions. Some nights it rained the whole night through and, while the noise wasn't great, we have to say that we didn't get wet once.
The "seam-sealed waterproof polyester rainfly" certainly lives up to the company's marketing claims, with none of the seams in our test failing once. The rain fly, made of 75-denier coated polyester taffeta, is quick and easy to drape over the sleeping compartments – an excellent addition for when you can see storm clouds gathering on the horizon.
The Kingdom 8, therefore, checks an important box for savvy campers. The seams on the rain fly are manufactured to a high standard and performed admirably for the duration of the test. While we weren't able to ascertain whether they would fail after repeated packing and unpacking over the long term, we can state with confidence that they work as intended out of the box.
Wind-Proof
Quite a bit of the feedback leveled at the 2018 Kingdom 8 suggested that it should cope better in the wind given the premium price tag. To remedy this the 2019 version incorporates new aluminum crossover poles at the front and rear of the tent. These extra poles add rigidity and help maintain the structure.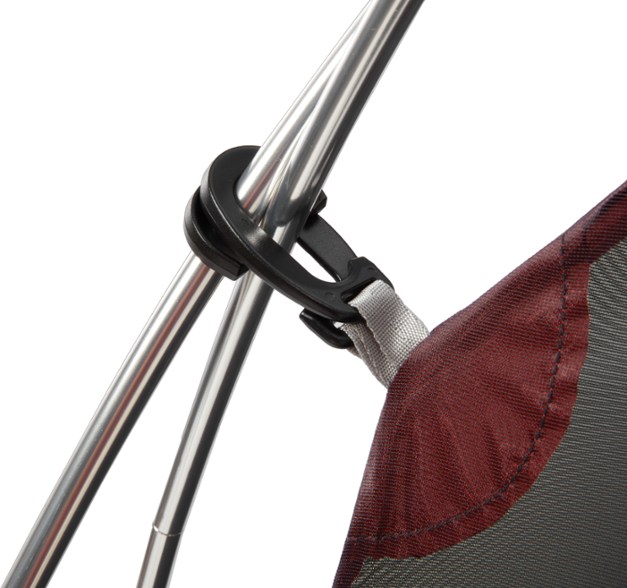 Given that even relatively tall people can stand up in this tent it now performs pretty well in windy conditions. Better still if you use all of the available 15 tent stakes, guylines and tighteners that the Kingdom 8 comes with.
An additional benefit of the new tent pole system is that a little more room is also created to the front and rear sides of the tent.
Spacious
Many tents claim to offer sleeping accommodation for more people than is practical in reality. Would the Kingdom 8 disappoint on this front? Would it sleep 8 or should it be called the Kingdom 7.5 instead?
The first thing you notice when you step inside the Kingdom 8 is the sheer volume of space. The tent isn't afraid to take up a large footprint. In the middle of the tent is a communal section with enough space for chairs, cooking equipment, and even decorative flourishes.
Either side there are sleeping compartments, complete with zippered privacy curtains. The curtains make the tent modular. You can dedicate extra space to sleeping if you want, or you can open the whole thing up for group gatherings out of the rain – the choice is yours. Suffice to say, that there is plenty of space for eight people (you could probably fit more at a push), but you may not get all the privacy that you want.
Easy To Set Up
Set up is relatively straightforward. No, the Kingdom 8 is not a blow-up tent that will take shape in seconds, but it does have features that make installing poles much more manageable (such as its hooked canopy design).
You can see the setup process of the REI Kingdom 8 tent in this short time lapse video.
The Bad
Lack Of Space For Gear
Although the tent has versatility on its side, we couldn't help but notice that there wasn't an awful lot of room for sleepers and their gear. While we could see that the tent could sleep eight or more people side by side, it just wouldn't be practical with eight people and their equipment too. The Kingdom 8, therefore, might be an excellent place to house people for the night, but you'll need a van or somewhere else to put your stuff. With airbeds and other kit set up, you might be looking at enough room for six at best. For most groups that will be fine.
Zippers Do Not Match
Although how a tent looks shouldn't affect its overall appeal – especially from a practical perspective – it seems that REI hasn't paid enough attention to detail in this regard. The main bugbear for us was that the zippers on the optional mud room (previously called garage area), that many buyers opt for, didn't match up to those on the tent body itself. While it's a minor gripe, it can jar somewhat if you're looking for it.
Okay, so we might be being a little "OCD" with this one, but if you're someone who likes things to be neat and tidy while you're camping, then this might just annoy a little. Still for us the mud room is an essential.
Extras Not Included In The Price
One final gripe has to do with value for money. The Kingdom 8 is a large tent, so you'd expect to pay quite a bit for the privilege of owning. And while the rain fly was included in the price, extras, like the the mud room, were not. We'd like to see REI update its offering to cover the mud room and/or porch in the basic purchase price of the tent.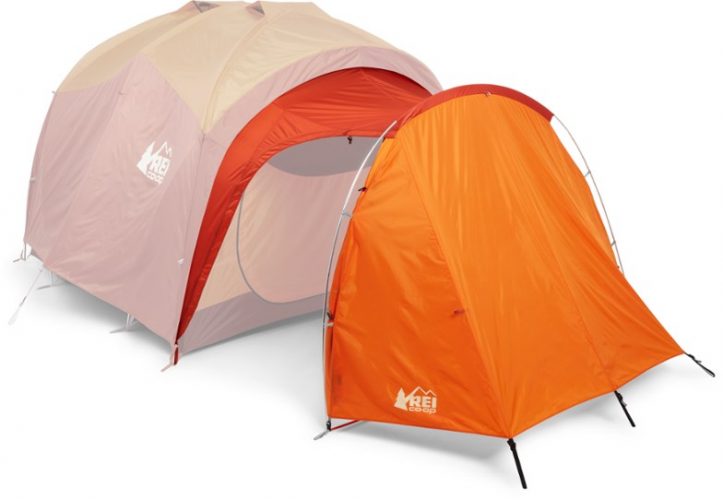 For a tent of this size, it's a necessity and something that competitors include as standard on their family tents.
Pros:
Excellent waterproofing
Helpful, well-constructed rain fly
Sealed seams for added protection
Easy to set up
Large enough for eight people to sleep, possibly more
Plenty of communal space
Tall people can stand up without having to stoop
Cons:
Some problems with the aesthetics, including the zippers
Enough space for eight people, but not their gear, and certainly not their air beds
Rain fly included, but no other extras in the price
Ventilation may be an issue in hot summer weather
Review Conclusion
So what did we think about the REI Kingdom 8 tent overall?
While it's still not the most attractive tent in the world, even though REI have gone back to the orange/copper colorway from the drab olive green of 2018, it does offer group campers excellent rain protection thanks to some pretty sophisticated seam-sealing technology. The hooked pole design makes setting up easy, even if you're the only person doing it, making it an ideal accommodation for those who've just completed a long drive.
The 'bug-proof mesh paneling and doors' are also a welcome addition. While the tent has some drawbacks – mainly to do with kit space – it offers the versatility that many large groups and families are looking for.
Lastly residents of California will be pleased that the Kingdom 8 2019 version is now treated with a flame retardant that doesn't require the California Proposition 65 warning.
You can view the 2019 REI Kingdom 8 Tent on REI.com
​VERDICT ​A premium, spacious tent with great detailing that can be extended with genuine REI accessories.
Last Updated on February 13, 2020 by Dean Anderson