Last Updated on February 11, 2020 by Dean Anderson
Owning your own tent allows you to get away into the wilderness – or just into your own backyard – whenever you want. But with so many tents to choose from, getting the right one for your needs can feel a little confusing.
One of the options open to you is a teepee style tent, which features a center pole and a generally round or pyramid shaped footprint. You might think of these tents as being the reserve of camping in the yard or perhaps a spot of glamping. However, they can also be ideal for some more rugged camping, although they don't necessarily hold up in extreme weather.
If you want to enjoy some casual camping with a lightweight and easy-to-set-up tent, especially with a large group of people, a teepee could be ideal for you. The three reviews below will help you to find the best teepee tent for your purposes.
Don't have time to read the full review? We really hope you do get into the detail but if not the table below can give you high level information about these teepee tents and reveal our test winner.
| Product | Weight | Sleeps | Type | Rating | Price |
| --- | --- | --- | --- | --- | --- |
| Guide Gear Deluxe 14' x 14' | 24lbs | 6 plus gear | Teepee | 3.5/5.0 | CHECK PRICE |
| Guide Gear Deluxe 18' x 18' | 30lbs | 8 plus gear | Teepee | 3.0/5.0 | CHECK PRICE |
| Winterial Teepee Tent 12' x 12' | 17lbs | 6-7 | Teepee | 4.0/5.0 | CHECK PRICE |
With enough space for 8-10 people, this large tent is ideal for a family camping trip or heading off with a group of friends. It's quick setup, with just a center pole and guylines to position is a welcome relief at the end of a long day of traveling. It also makes the tent lighter to carry at only 24lbs and packing into 33″ x 10″ x 10″, which is ideal if you're trying to travel light.
This tents unique feature over the others on review is the vestibule. It's ideal as a windbreak between the inner tent and the outside and is great for storing muddy gear, hiking boots or perhaps the dog.
If you're camping below the timberline in relatively good weather this makes an ideal base. It will easily withstand winds up to 30-40mph if you plan on camping in more exposed areas or above the timberline then use longer stakes to make the tent more stable. However this tent is not made for prolonged use in poor weathers for that you should consider a winter or 4 season tent.
In terms of waterproofing the polyester shell is reasonable out of the box but a treatment of Kenyon seam sealer 3 or similar will drastically improve performance. Some reviewers on Amazon have experienced dripping nearer the base of the tent so a good application of sealer should remedy that.
Pros
Good value for the price
Quick and simple setup
Sleeps larger groups
Excellent ventilation
Sewn-in polyethylene floor with sewn in seams creates a tub like structure
Includes vestibule for gear, dog bedroom, or other space
Lightweight and compact to carry
Cons
Waterproofing may not always hold up out of the box so undertake additional sealing
Construction more suited to 3 seasons particularly summer weather
Ground pegs and peg loops not the best, consider upgrading
Only one entrance
Product Verdict
The 14′ x 14′ Guide Gear Deluxe Teepee provides a roomy option for camping, making it ideal for young families especially. The extra space in the vestibule makes it easier to keep the tent clean and keep all the internal space free of gear or muddy boots.
For the price, the tent is a decent option. However, it's important not to expect too much from this tent, as the price is on the lower end of the scale for a tent that has the potential to sleep so many people. You're not getting canvas bell tent quality here.
Lastly while it's ideal for using on a sunny, breezy day, it's not built for exposing to high winds or rain.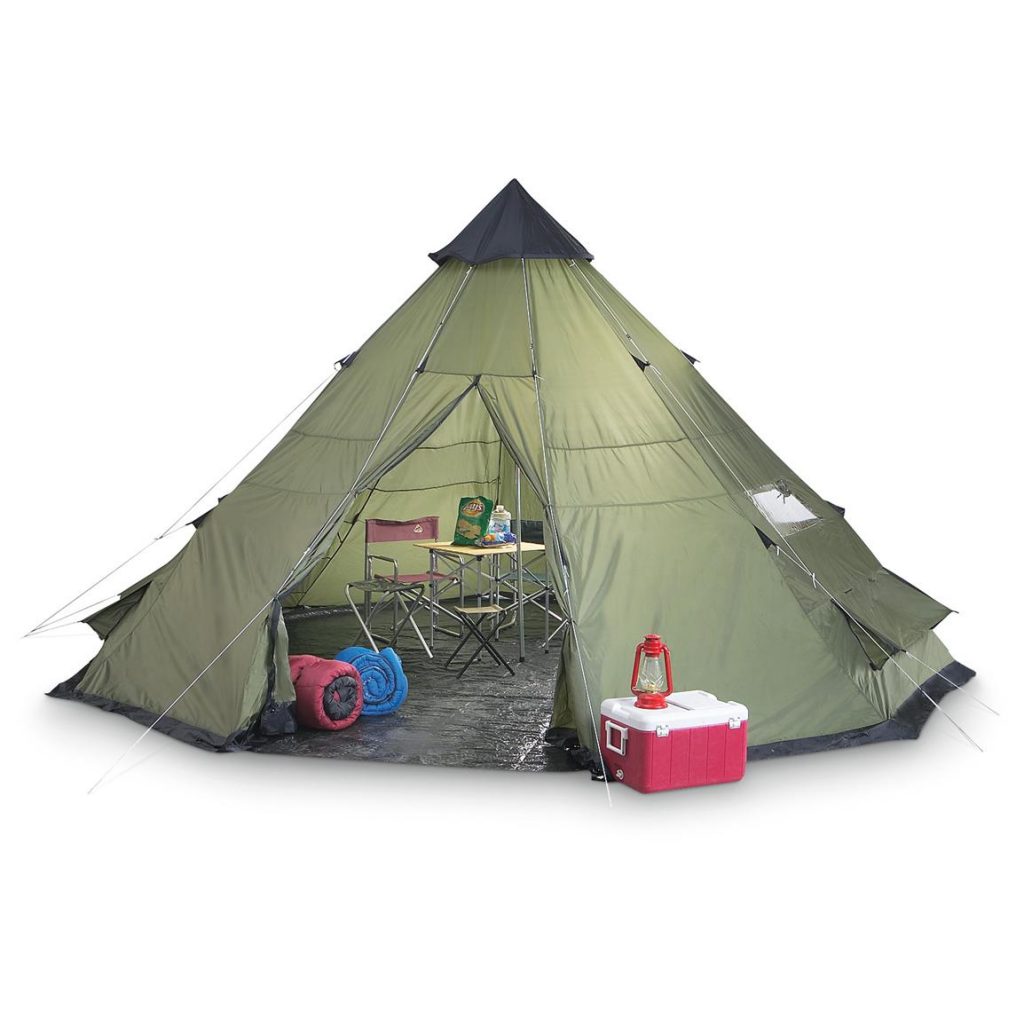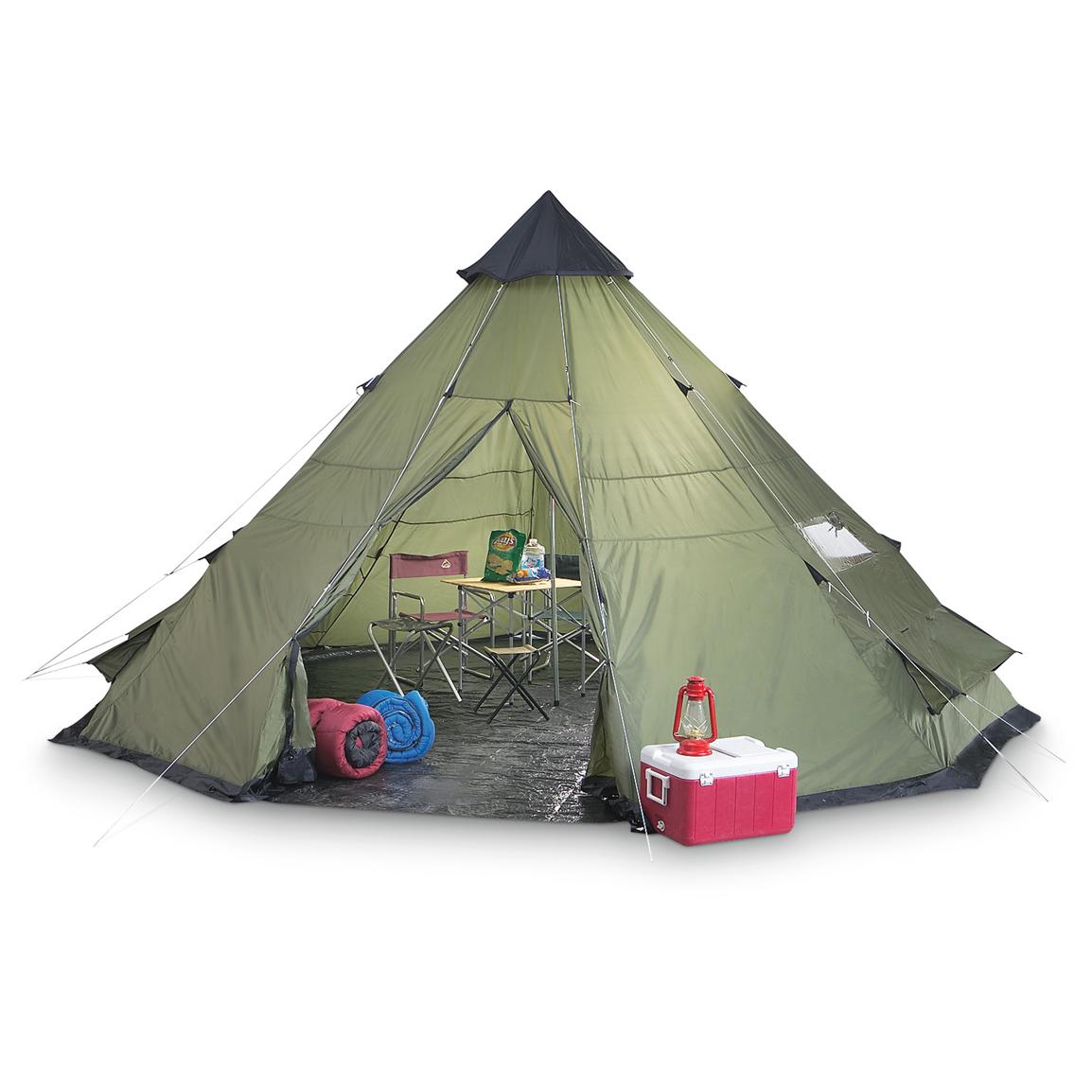 If you're planning an epic camping trip with an even larger group of 10 to 12 people or you just like to have as much space as possible while you're camping, this 18′ x 18′ teepee from Guide Gear gives you a larger option.
Its height in the center is a generous 9'9″, giving plenty of head height to stand up. Surprisingly, it is slightly lighter than the smaller Guide Gear option at 21lbs, although that may be due to the lack of vestibule with this tent.
The tent is easy to set up with the pole and guy ropes, but it's best to have two people on hand for this task. Some might find that the ropes aren't as high quality as they are hoping for and the construction might not hold up when it gets windy.
Pros
Plenty of space for lots of people or more comfortable camping
Lots of headroom to allow taller people to stand
Well-ventilated and so ideal for warmer weather
Takes only around 15-20 minutes to set up
Cons
Requires at least two people for setup
Large size restricts the places where you can camp
Stake loops and guy ropes are a little flimsy
Requires extra waterproofing for use in rain
Product Verdict
If you need even more space than the 14′ x 14′ Guide Gear Teepee offers you, this 18′ x 18′ version offers plenty of room for sleeping and living.
Its large size however, can also be a detriment, making it harder to find a substantial piece of flat land to set it up. When you can find space, it's reasonably quick and easy to set up this tent with two people involved. It offers ventilation for warmer weather, but this can mean that heat is lost through the top of the teepee when it's colder.
Waterproofing should prevent rain and snow from entering the tent, but it may need some extra help to protect it further. Like many teepees, this larger option is best for more casual camping, rather than tough conditions.
Durability is important for a family tent, and the Winterial Teepee Tent offers a sturdy construction, ready for people to constantly go in and out. Made with 210T polyester, it provides protection from the weather and should hold up for a number of years too.
A focus point of its design is that it's easy to set up. It's possible for only one person to put together, although it can be done in only five minutes if there are more people pitching in. It claims to sleep up to 8 people, although the interior of the tent offers a little less space than you might expect. If using beds or mattresses, there will obviously be less space to go around.
Pros
2 zippered doors for waterproofing and easy entrances and exits
Made from durable, waterproof material, with a waterproof tarp
Quick and easy to setup
8′ height offers lots of standing room
Packs up smaller than some tents at 23″ x 9″ x 9″
Well ventilated with mesh vents and plenty of light from windows
Cons
May not sleep as many as 8 people
No internal storage for gear or camping accessories
Lots of lines and stakes can present a tripping hazard
Product Verdict
The Winterial Teepee is a great family option and offers durability that should stand up to slightly harsher weather. It has a roomy interior, so there's space to take the kids camping or perhaps go on a trip with a group of friends. Alternatively, there could be space to set furniture up inside. However, the inside may not be as large as you expect it, perhaps being a foot or two less than advertised. It's both waterproofed and well-ventilated, and the two doors with zips make it easy to climb in and out. However, there is no storage space so some of the sleeping room may need to be used for gear.
So Which is the Best Teepee Tent For Camping Among these products?
If you're looking for a reasonably roomy and durable teepee tent, the Winterial Teepee Tent 12′ x 12′ is your best option for family camping. Although it's smaller than other available options, it's much more likely to stand up to wind and rain and to last the buyer a number of years. The overall quality is just that little bit better.
Both the Guide Gear teepee tents might be good for casual camping in the backyard or on campsites during the summer, mild spring or fall. However, the Winterial teepee provides tougher construction, with excellent waterproofing and ventilation, as well as quick and easy setup. It has two entrances, unlike the other options, and it packs into a small and lightweight bag. Although it is without the vestibule of the smaller Guide Gear tent, some of the space inside can be used for storage, including the 8′ head height.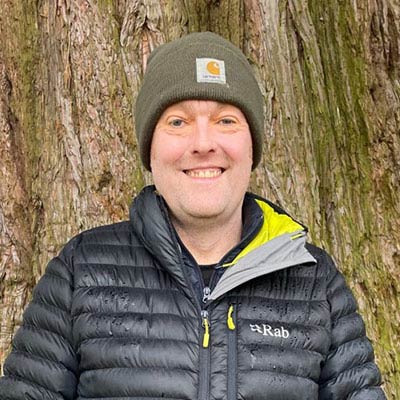 Eight years ago, I took a risk and left a miserable office job to follow a lifestyle career that involved my love for the great outdoors. I've taken my love for camping, hiking and travel to the next level by running my small campground with a friend near Portland, Oregon. It's for way less money but this has truly been a dream come true and the running involves lots of family and friends.
The next evolution of that was to get online and start allcampingstuff.com. At our campground, I spend a lot of time setting up camping equipment for customers and disposing of the garbage products they leave behind. If I can help just a few people with advice on good camping gear, then this website venture will be worth it.
So, if you want to avoid the duds and spend your money wisely you've hopefully come to the right place.