If you're relatively new to camping and have no idea how to properly erect a traditional tent, then a pop up camping tent could be for you.
They're great if you're only an occasional camper, have a festival to go to or perhaps you're just camping out in the garden over night. Bearing that in mind, we've put together a review of five tents to try and figure out which one is the best pop up tent for camping on the market today.
Check out our 5 instant tent reviews below, for those in a hurry see our comparison table for the pop up tents we really rate.
What Should You Consider Before Buying A Pop Up Tent?
Easy set up tents
The clue's in the name, 'Pop-up'. Many people purchase this kind of tent purely for the ease of setup. Indeed many buyers of this product won't be regular campers and the tent might be used for a one off occasion. Perhaps a festival or a single night out camping under the stars.
To be considered a pop up tent we think it should be possible to unpack and get the tent fully up and staked out in less than 1-2 minutes. Some in this review can be fully setup in less than a minute.
Taking the tent down
While some pop up tents score well on the setup time they really suck at being simple to pack away. Particularly difficult are the twisting variety that fit into a more circular type sleeve when packed away. They can be so frustrating until you have the knack.
Part of the reason festival grounds are littered with abandoned tents the morning after is because they're inherently difficult to pack away!
Size
Will you be camping alone, with friends or a significant other? Most pop up tents on the market are to accommodate 1-4 persons. Yes there are larger models but most are for this group size.
So before buying think carefully about the number of occupants and how much gear you might have to fit in.
Center Height
Closely related to size is the center height of the tent. A small pop up dome tent with a height tall enough to stand in is a rare thing indeed. More than likely you might be OK to sit up in or at best stoop in. So if you are tall then check the center height specification.
Weight
Pop up tents aren't strictly backpacking tents but there's still an expectation for them to be light and compact. You should be looking at tents weighing in the region of 5-9lbs. Do bear in mind that lightness can be at the expense of quality material specification.
Materials
Pop up tents will most likely be made of nylon or polyester. Both are strong and light but have different air flow and waterproof capabilities. You'll want to check that it's been given a UV coating to protect against the suns rays. Furthermore that the material has been coated with polyurethane (PU) in the factory. This will provide a reasonable amount of protection in wet weather.
Many of the models below have built in structures generally achieved from fiberglass. This is flexible yet strong and keeps weight down.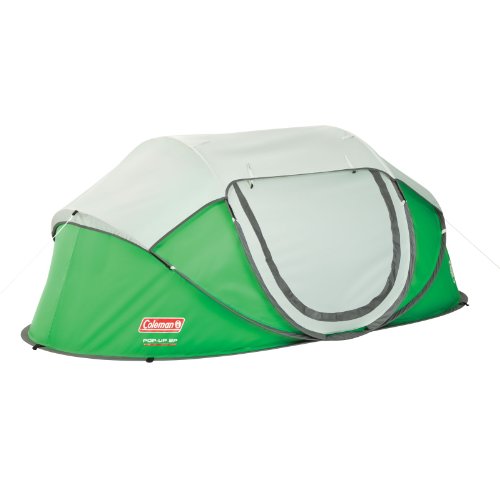 The Coleman Pop-Up Tent has a classic dome shape and features an incredibly short set up time of less than one minute. The tent can sleep up to two people and is very lightweight. There's plenty of mesh which keeps the tent highly ventilated at all times. The product dimensions are 27.5 x 1.5 x 27.2 inches.
Sets up quickly and learn the 'taco method' to put it away
Arguably the best thing about this tent is the assembly time – it pretty much assembles itself once you unpack it. However, it can be slightly harder to put away, particularly on your first try. There's a good review on Amazon.com on exactly how to do it using the 'taco method'.
The tent can easily stand up to light and medium rainfall, so you don't have to worry about getting wet if there's a shower. One slight issue is that rainwater can sneak inside the tent when you open the door if the tarp is still speckled with water. One way around this is to shake and rattle the tent sides and roof before undoing zippers.
Only really big enough for one
Price-wise, it costs a reasonable amount for a pop-up tent. It would make an excellent and reasonably priced one-person tent, but if you're paying for two people you kind of want that extra space, and this tent can't provide it.
Pros:
Very lightweight
Fairly waterproof
Made of fire retardant material
Extremely quick to set up
Fly can be removed for star gazing
Cons:
Struggle to fit two people but perhaps an adult and a child, just
Not great value for money – for a two person tent
Round pack shape so no good for a backpacking adventure but fine for the trunk
Product Verdict
If you're looking for a solo pop-up tent to use for a few days in fairly decent weather, then this could be ideal for you. Furthermore the Coleman Pop Up Tent is reasonably good in light showers so ideal for Spring and Summer use. However, if you need something that will accommodate two adults then this isn't going to cut it. It's worth mentioning though that this tent is available in 4 person guise but obviously costs more.
2. Pop Up Tent by TSWA – A roomy pop up tent good enough for 3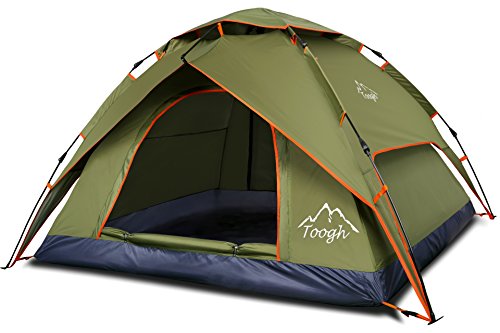 This polyester pop-up tent can be set up instantly and will sleep up to four people at any time. It features double doors and insect proof screen windows, which also help keep the tent ventilated. There's also the added benefit of interior storage in the form of a pocket that's great for storing small items such as cell phones or a wallet.
The definition of a pop up tent
First thing's first, this is the definition of a 'pop-up' tent. Once you undo the carry bag straps, you just throw the tent into an open space, and it pops up with ease. But, it's not so easy to pack away as it can be very strenuous and quite complicated.
The biggest negative with this tent is that it isn't as waterproof as it claims. It's made from polyester which makes it very light and easy to carry, but the material isn't good when it rains. All you need to do is touch the inside of your tent and water droplets form on your hand. Prior to any trip away from home, certainly on the first one you should waterproof the main tent material as well as next to zippers and joins with seam sealer.
Sleeps  3 in relative comfort
Sizewise, there's a decent amount of space in this tent – at 78.74 x 78.74 x 51.18 inches, there's more than enough for two people and possibly three in comfort still.
Regarding the price, you'll be hard pressed to find a tent big enough for three people for such a low price. It's good value for money if you treat it as a 2 season tent when there's less chance of rain about.
Pros:
Very cheap for a three person tent
Instant setup
Bonus internal storage
Spacious
Easy to carry and store
Cons:
Not very waterproof – definitely needs treating before use
Some have arrived without instructions though the setup is relatively simple
Difficult to pack away but a demonstration video is available
Product Verdict
To sum up, this is a nice little tent for a spring or summer camp trip for a night or 2 at the most. If you plan to go on regular trips then something with better waterproofing properties should be on your shopping list otherwise it's fine. Do watch the available video though to master puttingthe TSWA tent away!
3. FiveJoy Instant 4-Person Pop Up Dome Tent – The easiest to put away, great quality the best instant tent here and thus our test winner
This tent comes with a portable carrying bag, and it pops up automatically when released. There are mesh windows, double doors, and multiple storage pockets on the inside. There's a floor area of 80.7 x 78.7 inches, and a peak height of 47 inches.
Easy to put away as well as setup
Once again this tent is so easy to set up and will be ready for use in under a minute. Likewise, packing it away is so easy, unlike the TSWA and can be done in a couple of minutes once you get the knack.
It can easily fit four adults in – if you're traveling light. If you want to use air mattresses, then you're probably looking at this being a two person tent max instead.
If it rains, then this tent can easily stand up to the moderate wetness and casual showers. However, the manufacturer does stress it's not to be used in heavy rainfall. Like any tent treating it prior to your first camp is good practice.
No corners cut with additional detailing
What's really great about this tent is the additional features such as internal storage spaces and hooks to hang clothes on. Plus, there's even a small porch area that you can keep your shoes in too. Details like this all add to the manufacturing cost so it's a good indicator when corners that could have easily been cut have not.
The major downside is the price. At over $100, you're looking at a very pricey piece of kit but this is reflected in the tent quality. The seams and zippers are in a different league to those of both the TSWA and the Coleman.
Pros:
Instant setup time
Quick and easy pack up time
Spacious interior
Windows
Internal storage
Nice little porch area
Fairly waterproof
Cons
Relatively expensive but you get what you pay for
Not resistant to heavy rainfall
Product Verdict
All in all the FiveJoy Instant is a fantastic tent that will provide you with everything you need for a short camping trip or festival. The big question is, is it good value for money? If you're semi-serious about camping and will use this tent at least 5 or more times then purchase without hesitation. A few customers on Amazon have also made video's to show how easy it is to put it away after use.
4. Pop Up Tent by Survival Hax – An OK automatic pop up tent for a one off camping trip in the Summer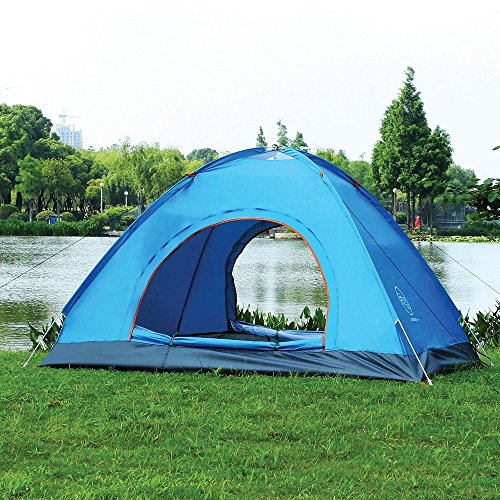 The Survival Hax tent automatically pops up in a matter of seconds and is made with an ultralight design meaning it barely weighs anything. It's incredibly durable and can stand up to the elements while also being spacious (6.5 x 6.5-foot tent). There are even front and back doors to allow a nice breeze through your tent and further more you won't need to step over whoever you're sharing with.
Frustrating to pack away on your first attempt
Like most pop-up tents, this one is very quick and easy to set up we can almost take that for granted with all 5 of these tents. Taking them down is the real chore and this particular product is very frustrating on your first try.
However the tent is very spacious and will easily fit a family of four in, or two adults on their own, or even three adults in a tight squeeze. Having two doors is great as tents can get super hot when they're in the sun, so this is a welcome feature for ventilation.
Don't think of this as a long-term investment
Quality-wise, you're not looking at a tent that will last years and years. Perhaps a couple of seasons at best will probably do it, the material is quite cheap and can tear if you're not careful. For some a tent of this potential longevity might be just fine, perhaps it's a stepping stone to something bigger or of better quality or like many perhaps you're buying for a festival and will be leaving the tent behind.
It is a very cheap tent considering its size, so you kind of get what you pay for.
This thin material can protect you from light rain, but you should definitely stick a camping mat on the floor, or you'll get soaked from the bottom up should it rain.
Pros:
Simple and fast setup
Very cheap and affordable
Extremely spacious
Two doors
Cons:
Not waterproof if rain is anything other than light
Material tears too easily
Difficult to take down
Product Verdict
This is one of those tents that will serve you well if you're going on a one-off camping trip and just need a cheap tent for a couple of people. It's not the most waterproof pop up tent here for that go for the Coleman.  If you want to buy something that lasts a long time, then I'm afraid the pop up tent by Survival Hax isn't going to be it.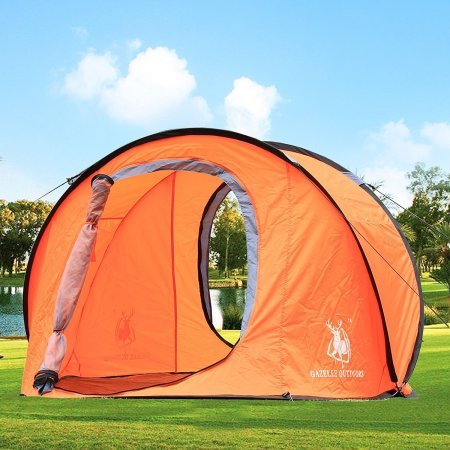 This is an easy set up tent with a circular carry bag that makes it very portable. The Gazelle is complete with two doors for great ventilation and made with waterproof polyester. At 95 x 57 x 39 inches, this tent is good for three people in comfort.
Just throw the tent into open space to setup
The set up is as easy as throwing your tent into an open space and watching the magic happen. However, as with most pop-up tents, packing it away is a lot harder, and the instructions are poor.
It's spacious enough for three medium sized people or two full-grown adults. The two doors are great for opening up when it's warm and hanging your legs outside the tent for some extra coolness on your body.
This tent isn't particularly waterproof
The biggest issue is that it isn't very waterproof. You'll get a couple of leaks if it rains quite hard, which means it's more of a summer tent than anything else. Don't wonder too far off the grid in this tent.
Price-wise it's reasonably affordable but we're not sure it represents the best value on test.
Pros:
Pop up time is instant
You can stand in this tent
Very spacious
So easy to carry around and transport
Two doors
Cons:
Hard to pack away as instructions are poor but a video is available
Not very waterproof but a treatment would remedy this to an extent
Window zippers on the outside
Product Verdict
Given that this tent is twice the price of some on test we were expecting a bit more for the money certainly in terms of waterproofing out of the box. The instructions are also poor. Saying that if you can get past that and give the tent a waterproof treatment then the Gazelle could prove a nicely made and attractive tent that's great for Summer use for 2 adults, possibly 3.
and the Best Pop Up Tent For Camping is…
To conclude, we have to pick a winner and declare the best pop up tent for camping. It's a relatively easy choice and the best one has to be the FiveJoy Dome Tent. Even though it's by far the most expensive, it's still better than all the other tents in all departments and will last long enough to make it's price tag seem reasonable.
If the FiveJoy is too expensive then go with the Coleman pop up tent if you're solo camping or are an adult with a child. If you must have room for at least two adults then go with the TSWA or the Gazelle but be wary of both of their shortcomings. In terms of waterproofing either tent would benefit from a treatment of Nikwax or similar.
One pop up camping tent you should avoid is the Pop Up Tent by Survival Hax. It's cheap and not so cheerful as it can tear easily and can get very wet too.