So you're on the lookout for a value for money tent from a brand name you can trust. Below are 7 Ozark Trail Tent reviews covering everything from a simple backpacking tent right the way up to a 14 man base tent.
The Ozark brand specialises in value for money tents and outdoor equipment and is named after the popular trail in Missouri. The tents are reasonably priced and packed with some great features and benefits suited for a myriad of camping needs. They're designed to deliver comfort and protection from the elements even out in the wilds. Ozark Trail Tents come in different sizes and shapes but with an underlying quality that has a universal appeal.
Here are 7 of the best Ozark Trail tents for you to consider for your next outdoor adventure.
Ozark Camping Tents Comparison Table
If you don't want to read the full Ozark Trail Tent reviews then see our comparison table below of the most important product features and benefits.
Ozark Trail XL Cabin Tent


Ozark Trail Instant Cabin Tent


Ozark Trail Base Camp Cabin Tent

Editors Choice​




Ozark Trail 4 Person Instant Dome Tent


Ozark Trail 6 Person Instant Cabin Tent


Ozark Trail 8 Person Instant Cabin Tent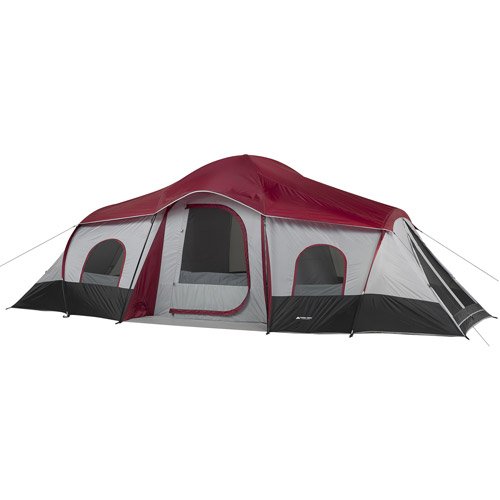 View More Product Images On Amazon
If you're planning to hit the camping trail with a pack of friends or a whole lot of family members, this extra large family cabin tent is something you're going to love.
This tent can fit in three queen-sized air mattresses in the three rooms you can create, simply by putting up the two removable room dividers it comes with. Enough space for 10 people, with some to spare, this tent is built for a camping experience with a difference; it combines outdoor living experience with the spacious comfort of home.
Furthermore, this 20"X10" tent provides total privacy in the form of separate entrances made up by the single central door and two side doors.
Pros
Excellent ventilation with 6 windows and side doors
No leakage in rainy weather as a result of taped fly seams and rain fly
Zippered carry bag for all camping essentials
At 6 ft height, allows tall people to stand easily
Easy to assemble
Cons
Dividers are not sturdy; they merely hook into the sides
Slopes at the ends, hence less space at the corners
Not waterproof, only water resistant
Conclusion
Now you can live in total comfort even when you're out camping. The Ozark Trail is spacious, and the excellent view and fresh air from its the numerous windows will make every camping holiday an experience to remember. Come strong wind or rain, this Ozark dome tent will keep you safe, without a worry to spoil your vacation.
Still not convinced? Then checkout the video below from Jeff Furr who has setup the Ozark Trail 10 Person 3 Room tent in his yard and given an in depth review.
---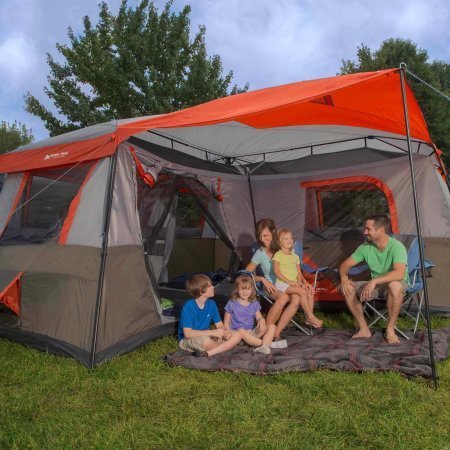 View More Product Images On Amazon
Like most large Ozark Trail tents this is an attractive, roomy and airy tent. According to the manufacturer this tent can be set up in under 2 minutes, thanks to the pre-attached poles it comes with. Indeed this 16×16 feet instant cabin tent requires little assembly. Just unfold it and extend it, and it's ready for some great camping experiences for you, your friends and family.
The Ozark is adequate for three queen airbeds or 12 campers. In reality the space is large enough to sleep 10 people in relative comfort or 12 at a push. Separate living and sleeping spaces can be whipped up in a jiffy thanks to the room dividers. Each of the 3 rooms measures approximately 8×8 feet.
Pros
Easy 2 Minute Setup – A 2 minute setup time is a bold claim for a tent of this size. The reality is that it takes nearer 5 mins, still pretty good and that's as long as you've had a practice run back in the yard at home. With 1 or 2 helpers and the pre-connected poles it's a breeze to setup on the campsite.
7 Closeable Windows – This tent is light and airy all the way around. Windows can be opened and closed easily to add ventilation or to protect from insects and the elements.
Large Front Awning – This is a great space for kicking back with a drink and relaxing in the shade. At the hotest time of day it's also a great space for the kids to remain outside but protected from the sun.
Air Conditioning Ports – This tent incorporates 2 ground vent flaps (AC Ports) to accomodate air conditioning units, see the image below
Handy Power Outlet Flap – Rather than running cables through windows or doors this special flap allows you to connect to onsite electrical points through the bottom corner of your tent whilst not allowing any moisture or rain into the tent.
Cons
Material Quality – The tent straps and floor material could be better quality. However this is a small price for what is a decent tent and 3rd party straps can be purchased for relatively little. As with any tent you should also purchase a ground sheet or tarp to set the tent up on top of. This will put an extra barrier between you and the floor and will also protect the tent material. It would also be worthwhile ensuring people don't wear outdoor shoes whilst in the tent.
Limited Luggage Space – This criticism could be said of most tents on the market especially if you occupy them to their full occupancy. However if you're a large family or a group smaller than 12 then you will find a space for your gear.
Gaps In Netting – Some small gaps in the mosquito netting near ventilation peaks.
Last Words
The ease of installation makes the 12 person instant cabin tent a serious contender for any large group of campers, you're not likely to regret buying it.
Breaking it down and stuffing it back into the bag is a little tougher than assembly but that's a small sacrifice to pay considering the other benefits of this tent. Checkout the video below which shows you around the tent as well as how to set it up and break it back down again,
---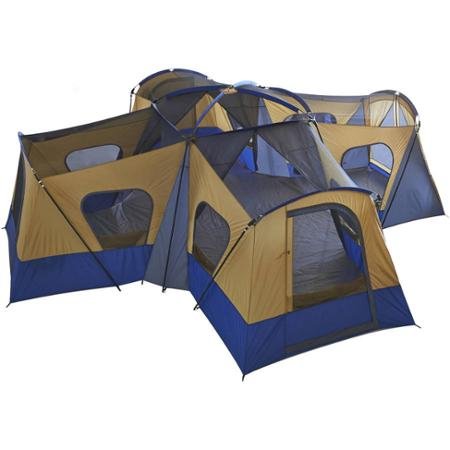 View More Product Images On Amazon
This is the ultimate Ozark Tent for those wanting to sleep a party of up to 14 people. The base camp takes the form of a large cross or plus sign if viewed from above. There's a central communal area with vestibules trailing off. This central area is great for coming together or for storage. Just add some decent lighting and a heater and you're all set.
The space can be split into up to 4 spaces by means of 3-sewn in dividers with tie backs. All round visibility and ventilation of this tent is excellent and the mesh roof will help keep mosquitoes and other insects at bay. All campers have their own access points to the tent so can come and go as they please without disturbing others.
Pros
A super spacious tent for large groups of friends or a palatial space for a family
Holds up well in the rain with no leaks
Good standing height and plenty of storage space
The roof fly can be removed for sleeping under the stars
E-port access for electrical extension cords
Cons
The pack weight is a little on the heavy side but hey it is a 14 man tent
The tent can be a little difficult to pack
Conclusion
Amazon buyers have all rated this tent 4 or 5 stars with very little bad to say about it. According to the manufacturer 2 people can erect the Ozark Base Camp in under 20 minutes and no reviewers have disputed this.
One man and wife team put theirs up in just 30 mins after watching the video for the first time, not bad. Add the great height, water resistance and competitive price and you have a great package for a large group or a super spacious pad for a family.
Take a tour around the Ozark Trail Base Camp in the brief video below.
---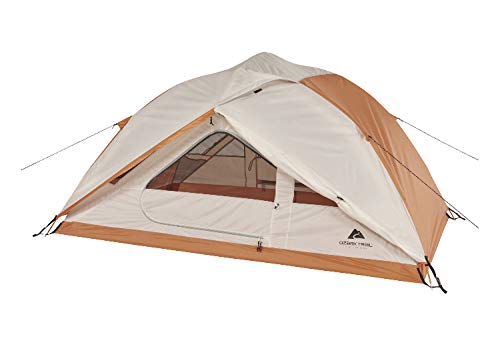 View More Product Images On Amazon
This is perfect for a cozy twosome. Amazingly light and easy to carry, it comfortably sleeps one or two people. Its two-pole design ensures smooth set-up to provide total comfort when you're out hiking or weekending.
If you're particularly looking for a 2 person tent then you may also want to read these reviews.
Pros
Storage is excellent for a small tent with its handy gear loft and 2 organizer pockets
Built-in e-port facilitates give access to an available electrical
Interior pockets for essentials
Cons
Floor sewing doesn't protect against moisture
Zipper is somewhat stubborn to operate
The Verdict
It's wonderfully easy to carry along in a backpack and an absolute breeze to assemble. It's ideally suited for a camping experience alone, or at best with one other person.
The e-port access to electrical extension cord is one of the best features of this compact and relaxing tent but the reality is that only a few will use that facility. Especially if you're using the tent for backpacking.
The competitive price also makes the Ozark hiker tent an option you should check out.
Would you like to know more? Checkout the video review below from the Father and Son Adventures of Iowa.
---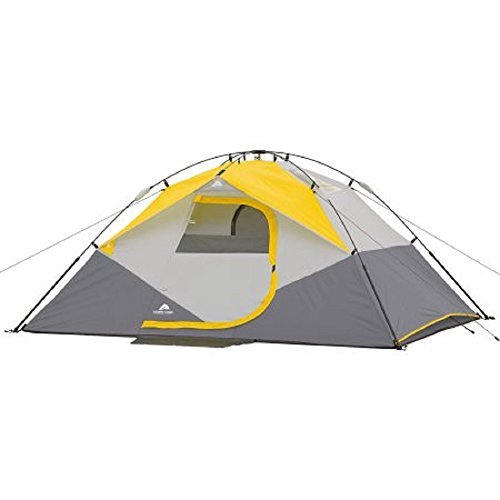 With setup in under 30 seconds once it's out of the bag this instant tent is a dream to hit the camping ground with. All poles are pre-attached so you only have to unfold, extend and clip the poles into the corners. One person can easily accomplish this.
A rainfly is included with the Ozark tent for protection against the elements but we would also recommend purchased a ground sheet or tarp as the floor material is a little thin. To be fair a ground sheet with any new tent is a good idea and they only cost a few dollars.
As with most tent manufacturers Ozark seem to over specify the available room. In this reviewers opinion it would be a squeeze for 4 persons, perhaps ok for an overnight one off. It will adequately home 3 in comfort though or 2 if you're putting in a queen air mattress.
Pro's
Unbelievably easy to setup and put down again and it fits nicely back in the tent bag
Attractive design available in green, red or grey
Large window and dual roof vents
Lightweight design and good pack size of 7.4 x 7.7 x 36.2 inches that isn't too bulky
Strong construction to this dome tent
Cons
It might be a push to fit 4 people in but 3 is fine
Extended use in the rain can result in leaking so it's important to seal with a waterproofing spray once a year
In Conclusion
The easy, quick setup of this 4 person Ozark Trail Tent is a major benefit to a novice camper and will no doubt win many over. If you're arriving to an unfamiliar place with people watching you setup then this feature is a blessing.
Unlike a lot of tents this also goes back into the bag pretty simply. This is highly recommended for a group of 2-3 people with a few bits of gear to store, it's also an attractive and robust bit of kit on the camp ground.
---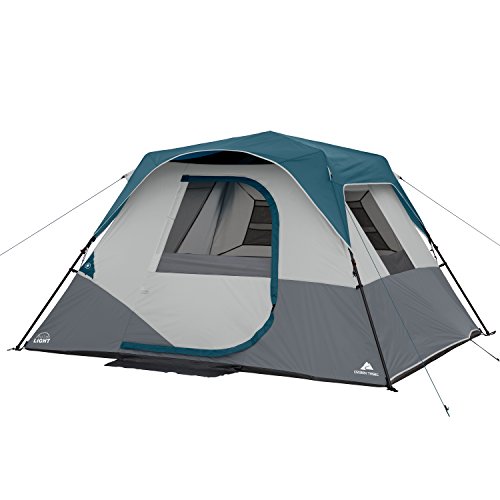 The Ozark 6 Person Instant Cabin Tent will hit the sweet spot for many tent buyers. It's listed as a 6 man tent, in reality this makes it large enough for most 2.4 families and also sets up in less than 30 seconds. There's no time at all to fall out about the best way of erecting this tent.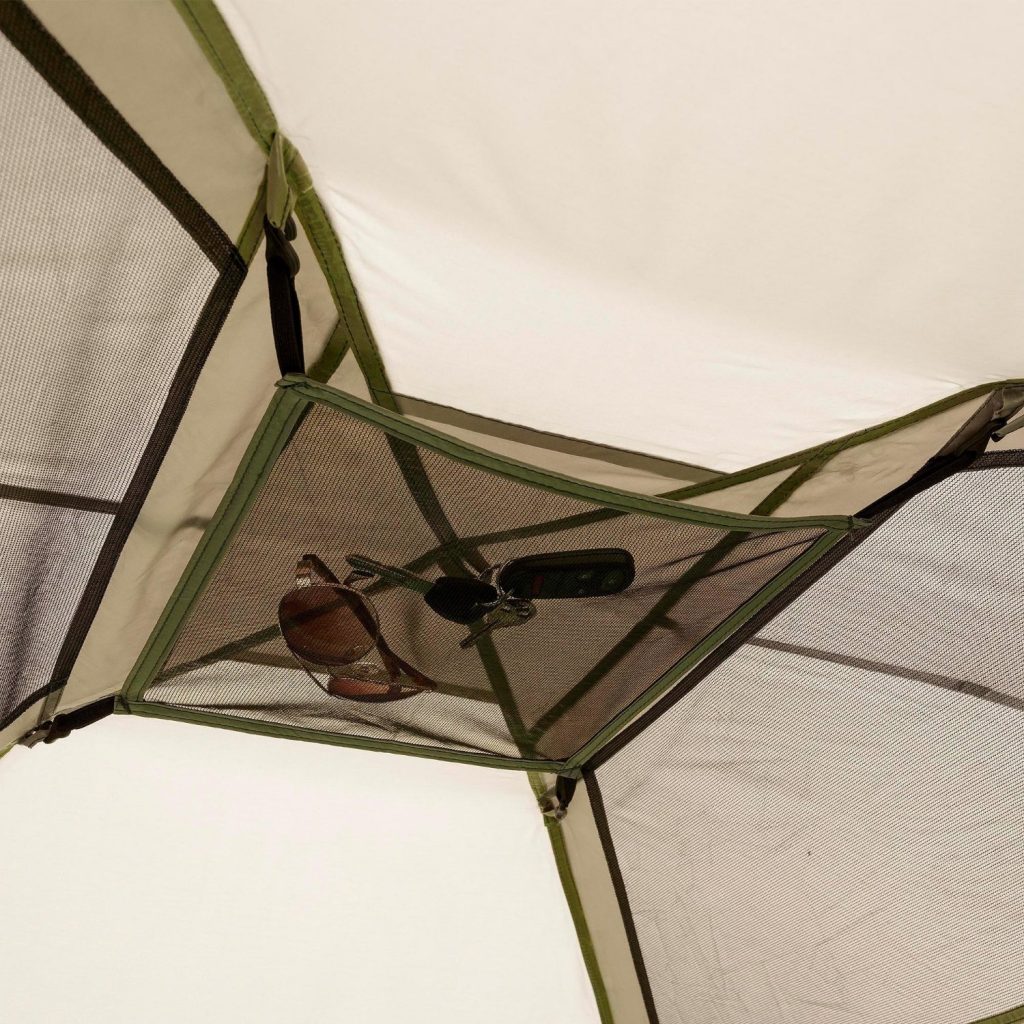 The interior is spacious and will fit in 2 queen sized airbeds. The 3 windows also offer plenty of light and ventilation when required.
Speaking of light many buyers will be attracted to this tent thanks to the built in lighting. LED lights are built into the roof poles offering campers 3 brightness settings. This is a great addition that works well and means you won't need to pack a lantern.
The fly sheet can also be removed revealing a mesh ceiling, great for all you star gazers out there.
On a less positive note a couple of buyers have warned about the floor material not being very durable. As with any tent particularly if you're setting up on rough sand or gravel, we're thinking about the South West here, then you should erect over a ground sheet. This will give the Ozark more longevity.
Pro's
Sets up easily and quickly with pre-attached poles
Handy electrical cord access point
Mesh roof to keep mosquitoes out but great for ventilation and star gazing
Pre-attached freestanding frame
Handy roof storage for keys, cell phones and sunglasses
Built in LED lighting with brightness settings
Great D-Shape door opens rigid for easy access
Con's
Some concerns over floor material durability
Conclusion
There's not a lot to fault with this tent it's certainly up there with the best in this company. Indeed this Ozark 6 Person Cabin Tent with Light stands up well to rain from above with its factory sealed seams and also moisture and insects from below with its tub like construction.
Furthermore it is still flexible enough to be used in warmer climates with the removable fly and vented windows. Again like the 4 person tent the construction is good, it looks and feels like it will protect you and yours. For a younger family happy to share a single room space this is an excellent choice of tent. Just remember to add some floor mats internally or pitch over a ground sheet to prolong the life of the tents floor.
If you struggle to sleep with excess light coming through the tent canvas then you should also consider the blackout version of this tent.
---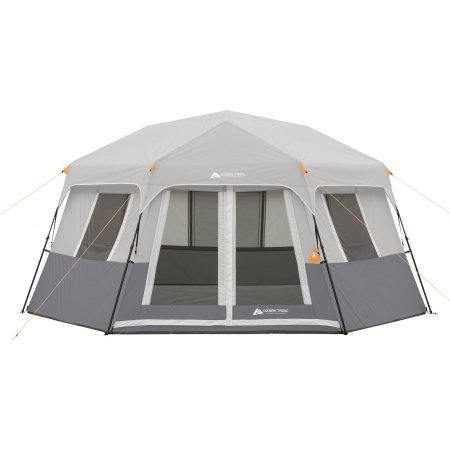 The 7th and last of these Ozark Trail tent reviews is for the 8-Person Hexagon Instant Cabin Tent. This uniquely has a hexagon shaped footprint, hexagonal and octagonal tents are becoming more popular thanks to their stability and the amount of usable interior space they create.
Like the previous tent it features Ozarks easy pitch system which will see the tent setup in a couple of minutes or less. Pre-attached tent poles make this possible. This is a real bonus for families with children, who might, just might be a little grumpy after a long journey to the camping ground.
This 8 man has windows and vents to all six sides making the space light and airy. The tall design at 80" internally also means you can walk in and out without stooping your head. This is a distinct advantage of cabin tents over many of the dome equivalents.
As with most Ozark tents customers do express concern and question whether the floor material will be durable enough long term. We would recommend always pitching over a ground tarp with any tent. Furthermore take a mat to put in the doorway so shoes and boots can be slipped off and stored.
Pros
Easy to setup and to put down again
Unique hexagonal design which creates a stable base
Includes rainfly unlike the Coleman equivalent
Good standing height makes changing clothes easy
Good value for money for a family
Mesh roof allows for great ventilation
Cons
Easy to put down but tough to pack away due to the small bag
Not the best tent for excessive bad weather although proofing will help
The Verdict
The drawbacks of this Ozark 8 man tent are relatively minor and can be overcome with a few small tweaks or cheap 3rd party solutions. Overall it offers great value for money and is a good option for your family's first camping tent.
If you really do have a party of 8 then we would recommend going a little bigger, perhaps with the ten man option in our first review as you'll have to sleep shoulder to shoulder, but for a group of 5-6 it's great.
You'll love the quick setup, good ventilation and little touches like the 2 organisers and electrical cord access point. With the exception of the shape this is a very similar product to the 6 man above and is therefore worthy of your consideration.
8 person tents are the most popular on the market so if this Ozark example doesn't float your boat checkout 5 alternative 8 man tent reviews.
---
6 Person Instant Cabin Tent

Great for families

Good in any weather

From $134
14 Person 4 Room Base Camp Cabin Tent

Roof fly can be removed

Room for 14

Tricky to pack

Heavy & large pack size

12 Person 3 Room Instant Cabin Tent

Tricky to pack

Ventilation issues

Final Words – So Which Is The Best Of These Ozark Trail Tents?
These Ozark Trail tents come with a good range of features making choosing very difficult. So which is the best of the 7?
The Ozark Trail 10 Person 3 Room XL Family Cabin Tent is perfect for a family camping experience. Sufficient space, great ventilation, lots of air, there's enough in this tent to make you want to spend all your outdoor vacations in it. However it's fair to say this tent is not ideally suited to warmer climates.
With that little extra room the Ozark Trail 12 Person 3 Room Instant Cabin Tent is huge but the best part of it is the virtually instant way in which it can be put up. So go for it without a second thought if you want an Ozark Trail tent with ac port, quick setup and electrical hook-up. The construction for a cabin tent is also robust. This gets our Bronze award.
The largest of these 7 tents is the Ozark Base Camp sleeping up to a whopping 14 people. While it doesn't have the AC ports of the Instant Cabin Tent it does still go up quickly and is supremely spacious. You'll also like the fact that the rain fly can be removed meaning that on fair nights you can sleep under the stars, great for those interested in star gazing. If there's a bunch of you going on a trip you could chip in together to purchase this huge Ozark tent. If you only used it 2-3 times it would bring the cost down to just a few dollars each, representing great value. This therefore is our pick of the bunch and gets our Gold award. Obviously it won't be for everyone given the size but bang for buck it represents great value.
For families there's nothing in this test to touch the 6 Person Instant Cabin Tent. It goes up in a jiffy and fares really well to both hot and inclement weather. So for smaller groups that don't need the space for 14 this is our alternative editors choice and gets our Silver award.
The larger 8 man product has the unique hexagonal shape which will turn a few heads on the camp ground. For a growing family with lots of gear this could be a great option. The head height and the sturdy design are 2 further plus points.
For occasional use for those that want to enjoy a simple hiking trip on your own or with a friend get the lightweight, inexpensive and easy-to-carry Ozark Trail 2 Person Hiker Tent. Likewise the quick pitch 4 Person Instant Dome Tent is a good option for slightly larger groups of 3-4 friends.
All of these Ozark Trail Tents have something to offer with their great mix of features. Your choice will largely be dictated by group size or what weather conditions the state you plan on camping in offers. With all of them it would be worth investing in a few additions such as a ground tarp and undertaking tent waterproofing precautions perhaps by using a spray solution.
Ozark Trail Outdoor Equipment Replacement Parts

Before you make any significant investment in any tent, let alone Ozark Trail Tents, you need to be sure that replacement parts are available. Either official manufacturers parts or universal parts that will do the job equally well. Items that often need to be replaced include tent poles, the canopy, guy ropes and cord. As well as replacing these items kits are also available to repair.

Coleman Replacement Fibreglass Tent Pole Kit


While Ozark Trail Tent Poles aren't readily available there are plenty of 3rd party offerings around including these from Coleman.

---
Coghlan's Tent Pole Repair Kit


You can repair your Ozark Trail tent poles with this aftermarket kit from Coghlan's. Includes cord, wire, washers and ferrules.

---
Coleman Tent Repair Kit


With this kit from Coleman you can pretty much repair any aspect of your tent including the tarp, mesh and poles.

---
Camping Tent Essential Accessories
Even from decent manufacturers some of the fixtures and fittings you get with your tent can be sub standard. Furthermore there are some essentials that no camper should be without if they want a comfortable vacation, get these right and it's likely that you'll get the camping bug. So perhaps consider the following accessories to make your Ozark Tent more comfortable.

12V Portable Air Conditioner For Camping



Many people will choose the Ozark 12 Person tent specifically for the 2 AC ports built in so why not give the GoCool a try?

---
Coleman Tent Stake Kit With Mallet & Puller



Whether you purchase an Ozark or any other brand of tent this tent stake kit with mallet and puller is a camping essential, get it.

---
Coghlan's Mosquito Netting
For gaps in the internal tent netting and for additional protection from mosquito's in warmer states this purchase is a no brainer.

---
Last Updated on February 18, 2022 by Dean Anderson