Last Updated on February 18, 2022 by Dean Anderson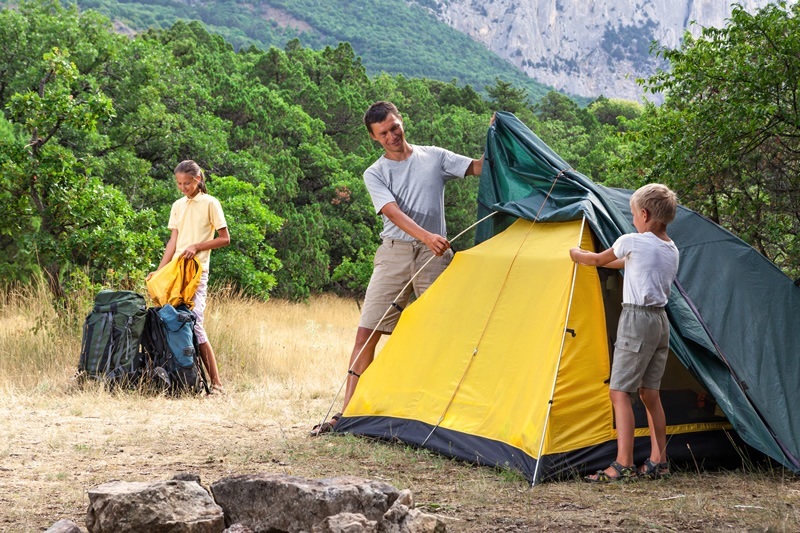 In these reviews of the best family tents, we cover five tents that will let you get some family time in with little fuss or expense for the most part. All of the tents listed here are not only sturdy and easy to set up, but also reasonably priced enough for you to avoid a 'Battle-Royale' over whether or not to buy them.
They're also sufficiently waterproof to give you a water-free sleep in a storm with a bit of help. Overall, any of them will make a great and relatively long-lasting investment if your family is at all into the outdoors or adventuring. But which of these family camping tents is our pick for 2021?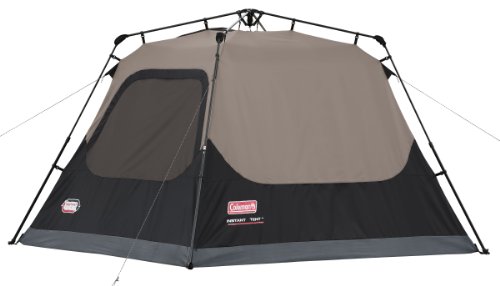 This tent boasts a 7-foot by 8-foot footprint and promises to be capable of holding up to 4 people. There are 2 vestibules within for storing all the necessities, a welded waterproof floor, coated polyester sides, and reflective guy lines. There is also an optional rain fly for true rain-proofing.
Pros:
That famous Coleman brand
Great, robust construction
Simple and quick to set up
Affordable for its size and build
Cons:
Rain fly is an add-on purchase
Can get tight if the 4 people inside are all adults or on the large side
The biggest negative of this tent is probably the fact that Coleman makes you buy the rain fly for it as a separate product. But then, it adds only about $25 to what's still a reasonably priced family tent. With that and just a little more of the usual rain-proofing effort we all need to go through for tents in this category, this Coleman turns out fantastically dry even in a serious downpour.
Keep in mind, though, that this can be a tight squeeze if your kid or kids are already quite big—or if mom or dad is on the large size. This Coleman 4 Man Tent is really best for groups of 2 or 3 (if one of the latter is a smaller child), given its size. That said, it's a good buy since it's very well-made, easy to put up and very easy to put away too.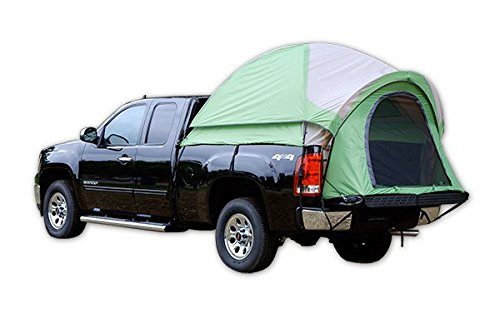 How about something completely different?
If you're the owner of a pickup why not consider a truck tent? It comes in a range of sizes from 5'5" to 8' to suit various truck bed sizes. The Napier is also designed to fit most standard pickup trucks, and comes with a sewn-in polyester floor and a ripstop nylon body. While the extra-large door allows for easy entry and exit. Finally the package is complete with 4 ventilating windows, and shock-corded fiberglass poles to keep the structure rigid.
Pros:
Surprisingly easy and quick to erect
Full rain fly performs very well in storms
Good, durable brand
The sewn in floor is quite unique for a truck bed tent
Cons:
Windows don't come with zippered flaps
If your family takes the truck along on camping trips the Napier Outdoors could be the tent for you. Firstly it will get you off the floor away from any critters and you'll also be insulated from the ground.
The Napier is also sturdy, quick to set up, reasonably roomy (we're talking about the 8-foot version, of course) for a party of 2 or 3 and also affordable and generally sold under $200. It could prove a great option within a single parent family. The only real issue with it is the lack of zip-up flaps for the side-windows, but you can technically use the rain flap to cover those.
If a truck bed tent interests you we have a 3 model shootout here. See how the Napier fairs.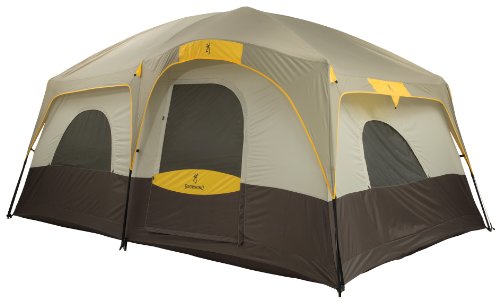 This 2-room tent sports a heavy-duty 150D oxford floor with a 2000mm coating and a full-coverage polyester fly for those rainy nights under the sky. There are 2 doors and 6 windows and it will accommodate up to 8. The seams and fly have been sealed in the factory for added wet weather protection, and the tent uses a tri-pole freestanding design.
Pros:
Very spacious, with an approximate footprint of 10x15ft
The tent's 2 rooms have individual entrances for privacy
Great ventilation, even with the rain fly on
8 man tent design good for larger families or hunting groups
Strong construction with a mixture of fiberglass and steel uprights
Cons:
Door zippers can stick a little
This is a great, freestanding tent if you really need a big tent for your family. It's one of the more expensive on test but also feels like it should cost more when you get it up. The thick floor tarp is great, as is the fact that you get individual entrances per room. It's also tall enough to allow people over 6 feet to stand up comfortably, no stooping here.
The only problem with the Browning Big Horn is that its zippers do tend to stick a lot, so zipping up and down becomes a bit more of a chore than a smooth movement. It can be annoying during the night when you need the bathroom but if you can live with that niggle then it's a good purchase for a growing family. If you're specifically after an 8 person tent then you could also checkout these reviews.
4. Coleman Prairie Breeze Cabin Tent – Most water resistant on test & includes an LED light plus our overall pick of the test!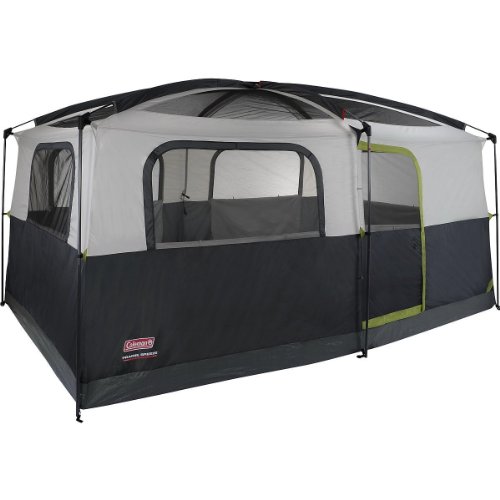 The second Coleman branded tent in our test has welded seams and a factory-sealed rain fly to help keep out the worst of bad weather. This is something that Coleman put a lot of focus on with their tent designs.
The Prairie can sleep up to 9 people reasonably comfortably or a family of 5 in luxury (as far as camping goes!). Uniquely it has an LED-lighted fan inside providing light and comfort in the heat, 2 less purchases for you to make if you're just getting into camping.
We also like that the interior can also be separated into 2 rooms/vestibules for privacy between the adults and kids. If you're looking for a tent with 3 rooms, check out these tents.
Pros:
Very spacious and tall inside
Comes with a battery-powered LED-lighted ceiling fan, see image below
Nicely water-resistant out of the box
Usual Coleman refinements
Cons:
Known to suffer in strong winds if not staked and set up properly with guy ropes
Can be a challenge to setup on your own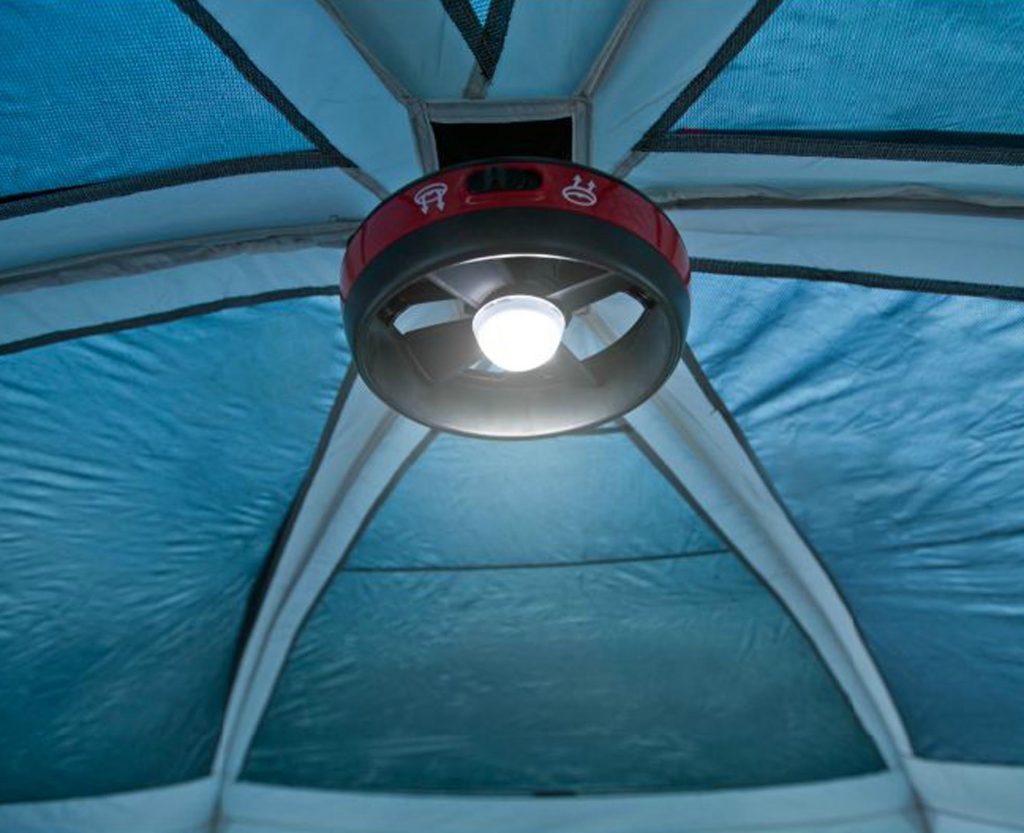 This is an amazing tent for the money. Not only do you get a huge space (you can fit two queen-size mattresses in this thing with room to spare), but you also get a nearly waterproof-as-is tent out of the box for that price. It wouldn't hurt to undertake proper waterproofing yourself, of course, but it's always nice to know your tent comes ready for a bit of rain as it is.
It can be a bit of a challenge to set up if you're doing it alone and for the first time, but it's relatively easy if there are two or more of you. Given the size and nature of this family tent review it's likely you'll have help to hand.
We thought the Browning was a good purchase but it's clear the Coleman Prairie is one of the best large family tents around.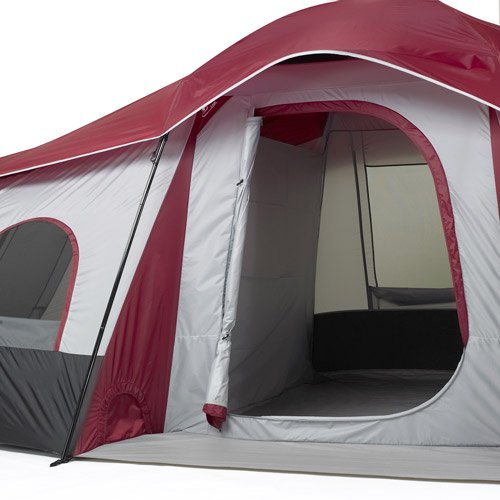 Intended for use by groups of up to 10 people, this Ozark 3-room tent includes a center door and 2 side doors. There are 6 windows with flaps for maximum ventilation and taped fly seams for water-resistance. It has a height of about 6ft and a 10x20ft footprint.
While 10 people might be a push the 3 separate rooms is really handy for a growing family.
Pros:
Affordable family friendly brand
Individual doors for all 3 rooms
Good ventilation
Cons:
Room dividers have gaps
Sloped sides at the ends reduce actual space inside for cots
This is another of the great extra-large tents, and it's definitely affordable too. It has pretty good wet weather performance (although it's strongly advised to waterproof it after getting it, even so), and when set up right, has good wind resistance too, thanks to it's dome design, unlike the Coleman Prairie. Keep in mind, though, that the 10x20ft footprint of the Ozark Trail does translate to a slightly smaller space inside because of its sloped end sides. So what you gain in wind resistance you lose in internal usable space.
The dividers inside although good in theory don't allow quite as much privacy given that they let you peek into the other rooms from the top. This could of course be a good thing if you have smaller children you want to keep an eye on. If you like the look of the Ozark there are further options here.
The Ozark is a decent enough tent for families just getting in to camping but don't expect the refinement of the Coleman brand.

Price Disclaimer
Best Family Tent Verdict
So which of these should you get? It depends, really. If you're camping with a smaller or single parent family (say just you, your spouse, and one child or one pet), you can go with either the Coleman 4 Man or the Napier Outdoors truck tent. Of course you'll need a truck!
They're cheaper and lighter than the other three selections. If push came to shove we'd choose the Coleman 4 Person though since then you're not tied to the pickup. If you need the extra room but on a budget then you may as well go for the Ozark Trail instead. It's so much bigger than the other two and at just a marginal increase in price that you won't regret it. It will just take a bit more effort to set up and lug around, though.
That said, if you really want a extra large family camping tent for trips away and can shell out a bit more money, the best family tents here are the Coleman Prairie Breeze and Browning Camping Big Horn. They're of superior construction quality, come backed with some nice warranties and will see you through most rainy days with nary a drop dampening your bedding.
If you push us to pick one though it has to be the Coleman Prairie which edges because of the welded bathtub like floor and the included light and fan. It might be a little more expensive but you won't need to purchase those convenient extra's. The Coleman Prairie is our top pick and also the best waterproof family tent on test.
Considerations Before Buying
Different types of camping group need different things from their tent. Lets break down exactly what a family needs and what will help prevent you from arguments in a confined space before, during and at the end of your vacation.
An easy setup (and break down)
You arrive on the camp ground it's raining, it's windy, you've never set up the tent before and you have an audience of onlookers and an expectant family. Don't let this be you.
Know what's involved in the setup before your trip. Are the tent poles preassembled, are they color coded, can the setup be completed by 1 person or will you need help? Set the tent up in your yard before your vacation and make all the mistakes at home. This will prevent any tempers and get your trip off to a good start.
Just enough space
The last thing you want is to be short on space. If it's a father and son trip then sure the truck bed tent will be fine. But if you're a family of 5 or more with gear then look at extra large family camping tents, perhaps an 8 person model as a minimum. You won't need to climb over each other and if you have to spend any extended amount of time in the tent during the day you're less likely to fall out with each other.
Plenty of storage
It's good to enjoy the great outdoors and get closer to nature but lets face it very few of can or want to avoid the trappings of the 21st century. We love our cell phones and gadgets and for the sake of our kids at least, we also need to take camping a host of medical supplies. From band aids to insect cream they're all camping necessities.
Storage is what we need and lots of it. From gear lofts to vertical organizers. We need somewhere to keep all our important bits to hand. Ensure you discover what your tent is kitted out with in case you need to purchase a separate organizer.
A waterproof product
Getting wet or being exposed to the elements is a sure fire way to ruin your family camping trip and to put you off ever going again. But as the saying goes 'you can't polish a turd'.
The tents we often find that get trashed or just left behind during the night at our own campground are the cheap and nasty tents that don't have welded floors. Furthermore they're made from cheap thin polyester where the seams aren't properly sealed, the zippers stick and the tent material flaps in the wind. No amount of waterproofing is going to fix this in the middle of the night.
Buy the best family tent you can afford with all the right credentials and then season or waterproof prior to your trip.