Last Updated on February 18, 2022 by Dean Anderson
Do you own a pickup? Are you interested in going truck bed camping? But want to avoid the garbage products?
Then consider one of the best truck bed tents available, 5 of which are reviewed below.
Imagine traveling around in a truck in which you can sleep in the comfort of your own bed. Well, almost! There's actually an amazing variety of truck bed tents for you to choose from. Wonderfully easy to put up and tear down.
These tents will ensure you're always ready for adventure, anytime, anywhere.
Tents For The Bed Of A Truck
As well as location flexibility there are further benefits too. Vehicle tents are raised from the ground so you don't feel the cold quite as much.
Also no need for staking out or guy ropes with pickup camping. Many tents for the back of pickup trucks can be erected in minutes and they're just as easy to stow away.
All five tents we're about to review are of a rear access design. So what are you waiting for? Take your pick of these 5 full-size truck tent reviews.
Truck Bed Tent Comparison Table
| Product | Product Image | Unique Feature | Rating | Price |
| --- | --- | --- | --- | --- |
| NAPIER Backroadz Full Size | | Sewn in floor | 4 Star Rating | CHECK PRICE |
| Rightline Gear 6.5' Full-Size | | Quickest to set up | 3.5 Star Rating | CHECK PRICE |
| Kodiak Canvas Short Truck Bed Full-size Tent | | Best for bad weather | 4 Star Rating | CHECK PRICE |
| NAPIER SportZ Truck Bed Tent | | Fantastic large awning | 4.5 Star Rating | CHECK PRICE |
| Milliard Truck Tent Standard 6.5ft Bed | | Great value for money | 4 Star Rating | CHECK PRICE |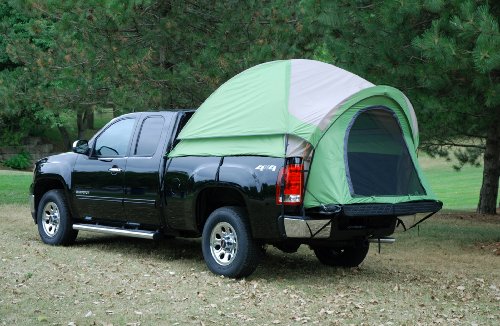 | | |
| --- | --- |
| Setup Time | 15 mins |
| Sewn in Flooor | Yes |
| Shelter Material | 68D Polyester Taffeta |
| Poles | Color Coded Fiberglass |
| Headroom Height | 5' 5" |
| Weight | 16lbs |
The Napier is available in four popular sizes to suit many truck models. At 6'5", our test model is a full-size regular bed option that has some exceptional and exclusive features to keep you comfortable in your pick-up truck, day or night.
For starters the special sewn-in floor keeps you separate from the metal of your cold truck bed. It also lessens the drafts associated with this kind of camping. Lastly, this keeps out any dirt from the truck bed from inside the tent.
The size of the packed tent means you can easily store this lightweight tent behind the seat in your cab. So you're well prepared whenever you venture out in your pick-up truck.
That's the beauty of camping in pickup truck bed, you can be spontaneous and do it on a whim.
Great headroom from the Napier
The Napier is also extremely roomy, the 5.5' headroom is really huge. Smaller folk will be able to stand up, while most will be happy to be able to sit up even if they're sat on a mattress or cot.
This truck bed tent comes with four shock-corded fiberglass poles to make installation a reasonably effortless affair. These are also color-coded so you know exactly where to put each pole resulting in a setup time of approx 10mins on the first attempt.
We've no doubt it will be easier the next time.
One other feature of note is that through a handy flap you can also plug into the truck's power to light up the tent cabin.
Pros
Built for total protection against rain; includes a full rain fly
Sewn-in floor
Color-coded pole and sleeve assembly
The door has an in-built storm flap for privacy and safety
Has good headroom height inside
Extremely easy to set up
Sturdy construction
Sufficient storage space
Cons
Windows remain open as there are no zippered covers
The zippers are lacking in quality
Ventilation and airflow could be better
Sewn-in floor means it's not compatible with dedicated truck bed mattresses like the Airbedz brand
So now you can sleep restfully and comfortably in the back of your truck with the strong and sturdy Napier Backroadz in any kind of weather conditions. You can rely on this full-size bed tent to keep you protected and safe virtually in any type of truck, with a few exceptions.
Easier for 2 to install
Ultimately this is a very flexible model and super easy to set up and uninstall. Ideally, 2 people would set it up but it can be put up by one person in a crunch situation. It's like an instant cabin tent but designed to fit a truck.
Have a quick tour around the Napier tent in the brief video below. You can see the internal floor lining. The Napier Backroadz in this video is installed perfectly in a Ford F-150.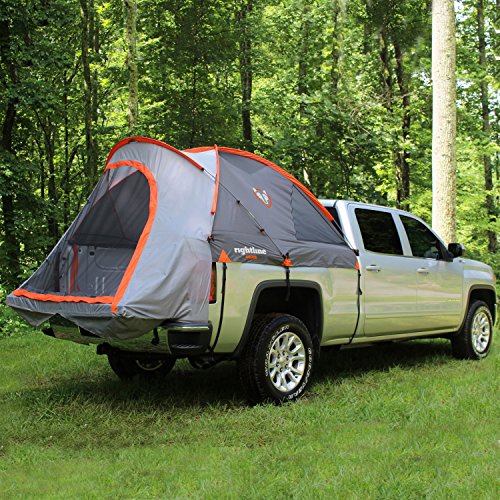 | | |
| --- | --- |
| Setup Time | 13 mins |
| Sewn in Flooor | No |
| Shelter Material | Polyester PU 2000mm |
| Poles | Color Coded Fiberglass |
| Headroom Height | 4' 8" |
| Weight | 11lbs |
With this standard truck bed tent in tow, you can now pull off the road whenever you wish to rest or sleep through the night.
It's remarkably easy to set up, with its floor-less design precluding the need to remove gear or work tools from the bed.
Color coding eases setup
The color-coded poles and pole pockets further facilitate easy installation without tarps, stakes or guy lines to complicate the process.
The tent is made of water-resistant fabric, with sealed taped seams for additional protection.
The sky view vent is also great for letting in more light during the day while providing a great experience of sleeping under the stars at night.
Well done Rightline Gear.
Pros
Heavy-duty straps and nylon buckles to protect the truck from damage
Comfortably sleeps, two adults
Rainfly keeps the tent dry in rainy weather
The stuff sack is sewn into the tent
Has a hanging hook for a lantern, plus handy glow-in-the-dark zipper pulls
Cons
Slightly short; doesn't line up on bed rails at the tailgate
Passenger side pouch is sewn in backward, hence difficult to use
Stitching quality is poor
Doesn't protect against very high winds
Mesh doesn't seem adequate against no-see-ums
Just 13 minutes is all it takes to set up and break down The Rightline Gear Tent, which is incredibly stable and strong. Wonderfully convenient for any road trip, it's a great way to camp off the ground, especially if the ground has been made soggy by rain.
Can be drafty in windy conditions
It's quick to set up because of the lack of truck bed lining but this makes it a little less comfortable and not as good in the wind when the tent can be drafty.
You may want to consider an aftermarket truck bed liner to warm things up a little.
Overall though it's well built with clean design lines and will be an asset for any pickup truck owner to have.
See how easy it is to set up the Rightline Gear tent in the video below.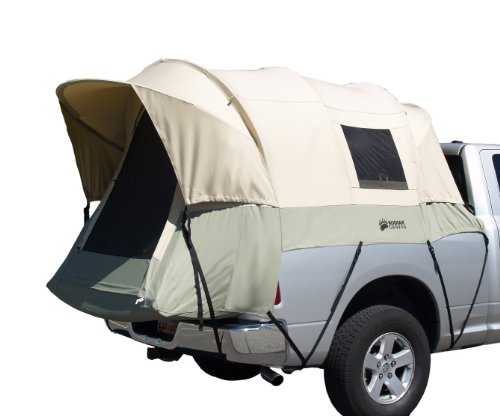 | | |
| --- | --- |
| Setup Time | 20 mins |
| Sewn in Flooor | No |
| Shelter Material | Cotton duck canvas |
| Poles | Steel tube |
| Headroom Height | 5' |
| Weight | 47.2lbs |
This hydra-shield constructed short-sized canvas truck tent has a unique tunnel-shaped design that has the effect of augmenting the ceiling height to increase the interior space.
The tailgate down design also works to expand the usable space in the truck.
Durable and sturdy, once seasoned the Kodiak is a completely watertight unit. You can even use your appliances in this tent by running a power cord from your cab.
Larger package to store
One thing to remember is that canvas is a much thicker and heavier fabric than the polyester/nylon alternatives on the review here. So it will be a bigger package to store and furthermore a tad more difficult to set up if you're on your own.
Pros
Made of breathable, superior marine-grade duck canvas fabric
Has ¾ inch steel tube frame to ensure a secure fit by connecting to clamp-on rails
Well ventilated and airy as a result of five windows, including a cab access window
Perfect for use in all seasons
Zippers are of excellent quality
Gear pockets and carry bag provide ample storage
Cons
Canvas portion near tailgate is loose
Small Velcro straps are not sturdy
C-clamps provided with tent not suitable for bedside rail
Heavier material than the others but not really an issue if you're truck camping
With the Kodiak Canvas you can stay dry and comfortable even in a downpour if you're caught in one on the road. With the canvas allowing the water vapor to escape, you're assured of 100% comfort, with no humidity or mugginess to disturb your sleep.
Wonderfully easy to set up and break down, it's just the thing you want when you're out driving.
Great quality but at a price
The Kodiak truck tent is, however, the most expensive of our 4 products on the test but it is the one to go for if you camp in areas with a high chance of rainfall.
Check out the video below made by an owner not the marketing folk at Kodiak. It also shows the stages of setting the tent up.
| | |
| --- | --- |
| Setup Time | 15 mins |
| Sewn in Flooor | Yes |
| Shelter Material | 68D Polyester Taffeta |
| Poles | Color Coded Fiberglass |
| Headroom Height | 5' 7" |
| Weight | 26lbs |
The SportZ truck tent from Napier is a more recent model than the previously reviewed Backroadz product. The Backroadz is a great product with many fans so how will the new kid on the block measure up?
The Napier SportZ gets off to a great start, offering models to suit 6 popular truck bed sizes, 2 more than the BackroadZ. Like the BackroadZ it also offers color-coded poles to make setup easier and it includes a sewn-in floor.
Fiddly first setup
It's fair to say the first setup with this pickup tent was quite challenging, more so than the BackroadZ. The instructions are just OK and the components are generally of good quality.
The issue we have is with the poles. You'll need 2 people to set up on first use as the poles are just so tight when threaded within the material of the tent. This is especially true of the fiberglass pole that forms the front access.
Get help the first time
Having read reviews on Amazon it's not surprising that a few users have gone all McGiver and cut an inch or so of the end of some of the poles just to make the assembly that little easier. We didn't feel the need to do that but as we've said get a buddy to help on first use.
Teething problems are no surprise with new tents. Especially so with pickup bed tents where you have to fit within the constraints of a vehicle.
At first, the limited instructions seem like a foreign language but begin to make sense after you've laid out the various parts. Despite the tight poles the Napier SportZ only took 15mins to erect.
Setup tip
If you are finding things difficult, try setting up on the ground and then carry the tent to your truck bed. You'll have better reach with the poles.
Great sewn-in floor
There is plenty to like with the Napier SportZ though. The sewn-in floor is a real plus point, creating a bathtub design, ensuring water cannot penetrate. It is a shame the rainfly isn't a little bigger, we'd feel that little bit more protected from heavy rain and wind.
Internally the head height is even better than the BackroadZ and better than the other models on test at 5' 7" high.
We also like the large rear access flap that allows running a charging cable into the cab for all our tech.
Large awning great for shade and shelter
Another unique element of this tent is the large awning that extends over your tailgate. We like the awning of the Kodiak but this is even bigger and provides great shade or shelter from the rain – depending on how lucky you get!
The clamps that hold the telescopic awning poles in place do look a bit flimsy. A more robust design would be better so don't leave home without a roll of gaffer tape.
To complete the deal Napier includes a really useful gear loft, great for lighting and essentials.
The straps that hold the tent in place so well in the wind are also padded, so no danger of marking your truck paintwork.
Secret weapon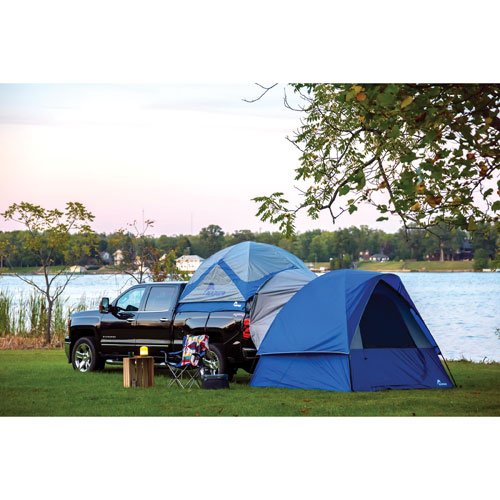 Like the other truck tents here the SportZ will sleep 2 in comfort. However, Napier also offer the SportZ Link Attachment as an optional extra.
This is essentially a ground extension offering further living or sleeping space for up to four people.
This would be good for longer camps but might be a bit overkill for an impromptu night out. You'll also need to factor in an extra 10mins setup time on top of the 15mins or so that it will take to put up the pickup bed tent.
Pros
Superb protection from wind and rain
Sewn-in floor
Color-coded pole and sleeve assembly
The best headroom height of all models on test
Sturdy construction
Good storage space
Cons
Fiddly to set up the first time because of the poles
Sewn-in floor means it's not compatible with dedicated truck bed mattresses like the Airbedz brand
In conclusion
Overall despite the issue with the poles we really rate this outdoor product. The fact that it's available in more sizes than the BackroadZ, has a higher internal height and includes a large awning makes this a fantastic truck bed tent.
It also holds up well in the wind and in our experience didn't let a drop of rain through. It isn't perfect but at a more competitive price than the Kodiak, this is hard to better.
Just check the poles, seams, and straps prior to first use.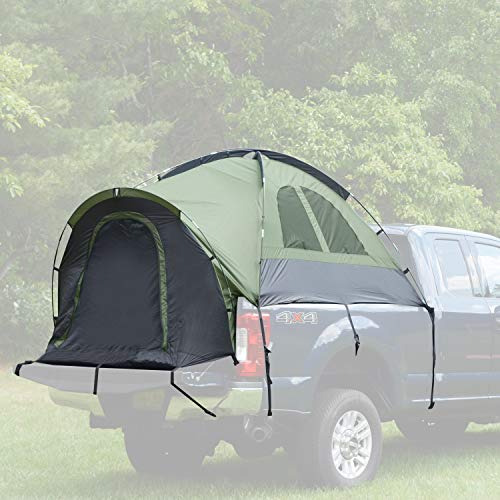 | | |
| --- | --- |
| Setup Time | 15 mins |
| Sewn in Flooor | Yes |
| Shelter Material | Ripstop Nylon |
| Poles | Fiberglass |
| Headroom Height | 5'10" |
| Weight | 15.7lbs |
The Milliard Truck Tent is firmly aimed at the budget end of the market. If you've limited funds or only want one for occasional use this could be perfect.
But how does the Milliard tent perform?
Our first set up of this tent was a little tricky. Though we can see how it would likely be easier ongoing.
Why the tricky first-time setup?
For example, the main cross poles are a little awkward to bend and seat into the pockets for the first time. Likewise trying to attach the rainfly to the clips at the rear is difficult.
In fact, it may have been easier to set up the tent on the floor and then carry the tent to the truck bed. You can do this on your own, but it will be easier with 2 people.
Don't tighten the straps too much
Once in place and strapped to the truck the Milliard looks good. Speaking of those straps I wouldn't advise pulling on them too hard, they don't look or feel of particularly good quality.
What is Ripstop fabric?
The sewn-in floor is great, and it goes right to the back of our F150, tucking into the corners. The tent material at first glance doesn't look that good quality. It's thin and lightweight but that describes exactly what Ripstop is. The tightly woven fabric is reinforced with extra threads at regular intervals.
Like some of the other truck bed tents here if you're under about 5'10" you could easily stand up. You feel like you're in a reasonably sized tent.
A simple tip to reduce condensation
If you value privacy, you'll also appreciate that if you remove the rainfly the windows have privacy shades. We also found that if you keep these slightly open when you have the fly on it will prevent the build-up of internal condensation in cooler weather.
There's a lot to like with this truck tent.
Sure, the zippers could be better and there's the slight condensation issue but for a little over a hundred bucks, this is a good tent.
We're not sure the quality of the materials, or rather the seams and joints, would stand up to heavy use but for an occasional product, it will be more than fine.
Pros
Strong and lightweight Ripstop fabric
Sewn-in floor
Internal lantern hook and storage
Handy privacy shades on the windows
Good head height of approx 5'10"
Comes with a carry case included
Cons
Zipper quality could be better
Minor condensation issue but easy to overcome
The first setup can be tricky – easier with 2 people
Shame it's only available for a standard 6.5ft bed
In Conclusion
Overall the fully-featured Milliard Truck Bed Tent offers fantastic value for money. It isn't as good as the best products here but it's available at a fraction of the price.
So, if you have a small budget to stick to for a home from home on the road then you can buy in confidence. Just go easy with the zippers, take your time setting it up and keep the windows open slightly to allow the tent to breathe.
The Best Truck Bed Tent Verdict: Which Should You Buy
It's not enough to have a great truck bed tent if you're going to end up expending all your energy in setting it up. You want something that's an easy fit on your pickup truck while providing you with all the excellent features of a solid functional tent.
The pole issue aside, the Napier SportZ is perfect for your pickup truck, with total protection virtually guaranteed against rain and wind.
You can move around as comfortably in this tent as you can to sleep or rest.
The extras like the fantastic awning just pip the Napier SportZ over the BackroadZ. Still, if you can find the BackroadZ at a decent price then it's still worthy of consideration.
If you're tall and want a cabin with good height, choose the Kodiak Canvas, it's also the best for camping in the rain. However, this comes at a price that makes it our third choice in this test.
If you're on a tight budget but still want all the important features then the Milliard truck tent is a great buy.
It's the questionable quality that puts the Rightline Gear in the last place but nonetheless, these are all worthy of consideration and your budget may have the final say.
Consider A Truck Bed Liner For Comfort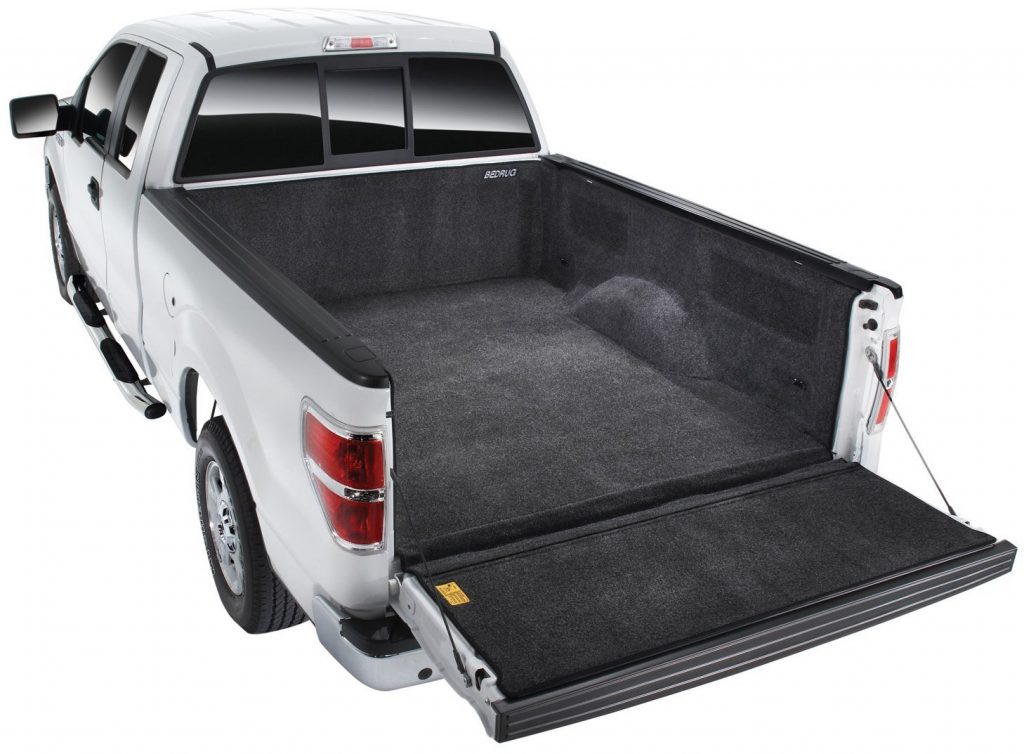 Of these 5 vehicle tents, the 2 Napier models and Milliard incorporate a floor lining. But even this is more for water-tightness than comfort.
The fact is that a truck bed on its own is pretty uncomfortable.
Of course, you'll be adding a sleeping bag and possibly a camp pad or mattress but if you want to create a super comfortable and homely place then you could do a lot worse than invest in a truck bed liner. We're not talking about the spray-on stuff to protect the bed but the thick carpet style material versions.
Bedrug make some of the best truck bed liner options around with a model to fit most pickups. At almost an inch thick as well as being knee-friendly they're also resistant to oil, bleach and even battery acid.
Bedrug liners are essentially made of plastic, or polypropylene to be specific, this creates a cushioned nonabsorbent surface.
They're well worth considering for day to day use let alone to improve pickup bed camping.
Ultimate Comfort From A Truck Bed Mattress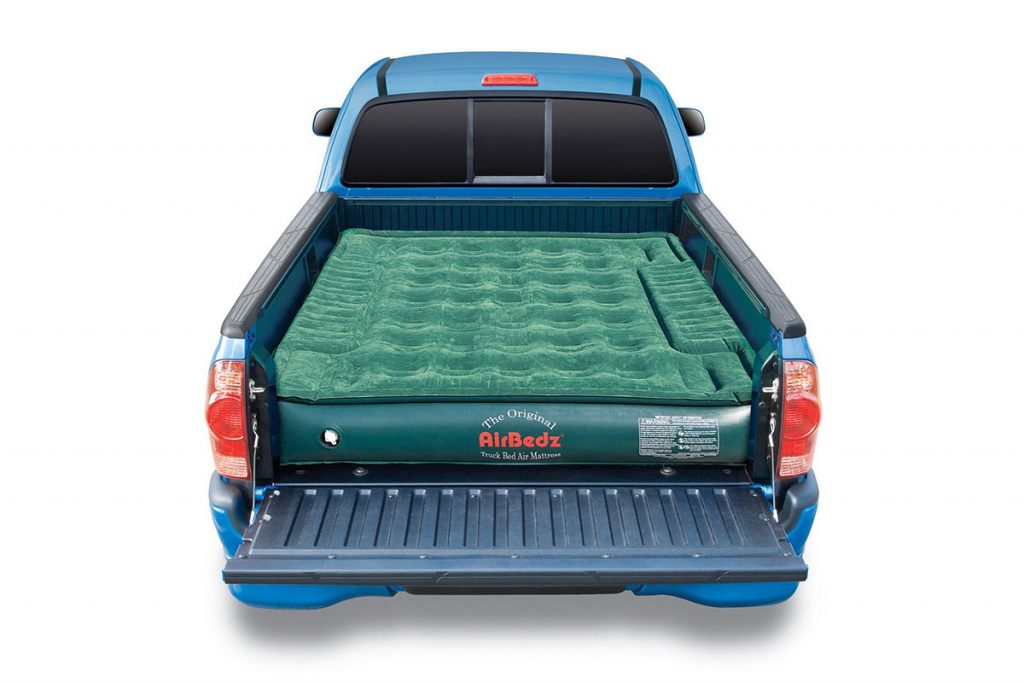 So you've got a truck bed tent for your F150 (or whatever your truck is!) and you're cruising out to the destination of your choice.
You know the tent fits well but what's missing? What will give you a great night's sleep?
You might have a plush liner fitted but if you want to sleep soundly don't even set off without a dedicated truck bed mattress.
Like the bed tents for full-size tents, we've just reviewed many of these also fit snug to the shape of your pickup truck.
Those from Airbedz are particularly worth a look. Those models incorporate cutouts for your wheel wells and many online retailers have a selector so you can't fail to get the right model. Be aware though they might not fit if the tent has a sewn-in floor.
With the right pickup truck tent, liner and air mattress you'll have a great mobile camping solution.
Frequently Asked Questions
Can you drive with a truck bed tent?
If you're just going to move your truck a short distance at parking lot speeds then you'll be fine with the tent setup. You shouldn't damage the integrity of the tent structure. However you can't drive on the highway with the tent set up, it will almost certainly blow off and will be a danger to other road users. For transporting the tent from 1 campground location to another you'll need to take the tent down.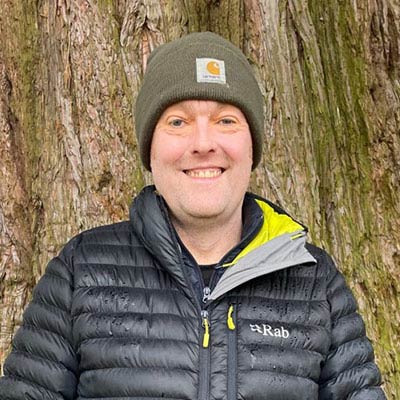 Eight years ago, I took a risk and left a miserable office job to follow a lifestyle career that involved my love for the great outdoors. I've taken my love for camping, hiking and travel to the next level by running my small campground with a friend near Portland, Oregon. It's for way less money but this has truly been a dream come true and the running involves lots of family and friends.
The next evolution of that was to get online and start allcampingstuff.com. At our campground, I spend a lot of time setting up camping equipment for customers and disposing of the garbage products they leave behind. If I can help just a few people with advice on good camping gear, then this website venture will be worth it.
So, if you want to avoid the duds and spend your money wisely you've hopefully come to the right place.