Last Updated on February 11, 2020 by Dean Anderson
If you are on the lookout for a high-quality cold weather tent, you may be struggling to decide what make and model to opt for. With so many unique designs to choose from, it can be hard to select the best 4 season tent. You need to determine which tent offers the best quality, as well as value for money.
Whether you are a keen backpacking enthusiast who is planning a cold weather hike or are organizing a camping trip to a colder country, you will need a high quality tent that's made to withstand cooler temperatures and more challenging weather conditions.
To help you find the ideal make and model, we have reviewed five of the most popular winter weather tents, discussing the pros and cons of each design. We've covered everything from which tent provides the warmest form of shelter to what design is the easiest to put up and take down again.
Of course we'd like you to read the full reviews but if you're in a rush here's a comparison table to summarize our thoughts.
| Product | Weight | Base Size | Type | Rating | Price |
| --- | --- | --- | --- | --- | --- |
| GEERTOP 2-person 4-season Backpacking Tent | 6.17 lbs | 122" x 47.2" | Dome | 4.0/5.0 | CHECK PRICE |
| Hillman 2 Person 4 Season Tent | 6.17 lbs | 320x120cm | Dome | 3.5/5.0 | CHECK PRICE |
| Weanas 2-4 Person 3 Season Tent | 4.5 lbs (2 person model) | 6.9' x 6.4' | Dome | 3.5/5.0 | CHECK PRICE |
| ALPS Mountaineering Tasmanian 2 Person Tent | 7lb 15 oz | 92"x62" | Dome | 4.5/5.0 | CHECK PRICE |
| Naturehike Cloud-Up 1-3 Person 4 Season Tent | 4.7 lbs | 82.72x49.2" | Dome | 4.0/5.0 | CHECK PRICE |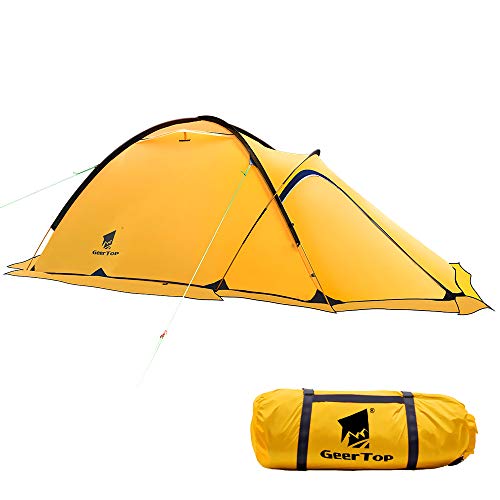 The Geertop 2-person 4-season Backpacking Tent is a very simple but effective type of tent. It is designed to be a multipurpose option that is easy to carry while backpacking thanks to its lightweight design.
The Geertop also offers excellent protection against all sorts of weather, including rain, snow, and wind. Although a winter tent, because the cover can be unzipped fully, offering plenty of ventilation, it can also be comfortably used in warmer weather making it a perfect all weather tent.
Great specification for cold weather camping
If you are planning on hitting the hiking trails this winter and want a lightweight tent that is quick and easy to set up (and pack away), that is fully rainproof and can withstand snow and wind; this could be the ideal option. Thanks to its double stitched seams and strong aluminum poles, this tent is incredibly strong and durable.
It's made to accommodate two people, but realistically it may be a better fit for one person, as two people could be a slight squeeze. It is excellent value for the money, is very warm inside even on cold nights, and is good for wet weather as the rainfly comes all the way to the ground.
Pros:
Very warm, even in extremely cold weather
Strong and durable material and poles
The design is lightweight, weighing just 5.7 lbs/2.59kg and measuring 6.3 x 18 x 18inches / 16 x 16 x 46cm; with a floor that measures (23+55+23)x 83 inches / (60+140+60) x 210cm and a height of 45.28inches / 115cm
Easy to assemble and put away
One of the cheapest options
Cons:
Realistically can only sleep one person comfortably
Problems with condensation
For hikers who like to hike in colder weather and want a tent that's lightweight but warm and durable, and is easy to assemble and take down, the Geertop 2-person 4-season Backpacking Tent is ideal. Come strong winds and rain, or even snow, this tent will give you the protection that you need.
Overall this really is good value for the money, with this tent design being one of the cheapest winter tent options. The only downside to this design is the fact it's not quite large enough to sleep two comfortably, which could be an issue.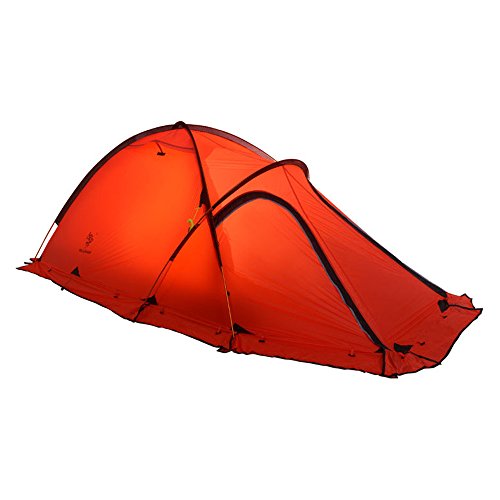 The Hillman 2-Person 4-Season 20D Double Layer Silicone Ultralight High-altitude Outdoor Camping Tent is a small but effective cold weather tent that's made to be tear resistant, waterproof, and wonderfully warm. Designed to offer incredible protection from the elements, this tent has a double-layer design to help ensure that it stands strong against wind and rain, with its cross-aluminium pole design used to make sure that it remains sturdy even in high winds.
Ultralight as well as breathable
If you are planning a camping trip and require a tent that is ultra light and has an anti-wind, anti-rainstorm, anti-snow, and anti-sediment design, this could be the ideal tent for you. It's breathable as well as being waterproof and storm resistant, which means that even though this design promises a safe environment for during bad weather, it also allows a fresh flow of air.
Easy enough to assemble even with the Chinese instructions
Despite being on the lower-end of prices for four season tents, this design offers a good quality option, complete with a high-quality fly. The downside to this tent is the fact that it's instructions are in Chinese, not English. However, regardless of this, it is a tent that's quick and easy to set up, taking around 10-minutes to put together, even without instructions.
Pros:
Double-layer design which makes the tent anti-wind, anti-rain, and ensures that it's breathable
Well insulated design, with anti-snow and anti-sediment outskirts
Cross aluminum pole design, which increases the stability of the tent in high winds
Waterproof double-stitching to prevent problems during bad weather
Anti-tear design, made with high-density nylon and copper rings
In-tent storage bags, which are ideal for holding smartphones, wallets, and keys
Cons:
Instructions written in Chinese, not English
Realistically the tent is not made to sleep two people
One of the more expensive designs
For hikers needing a tent that is able to stand up to the elements the Hillman is warm and is easy to put up and take down, this is the ideal option. The instructions may not be written in English, but it's still simple to put up and take down, and quick too. Given the price for such a premium brand it deserves to be considered.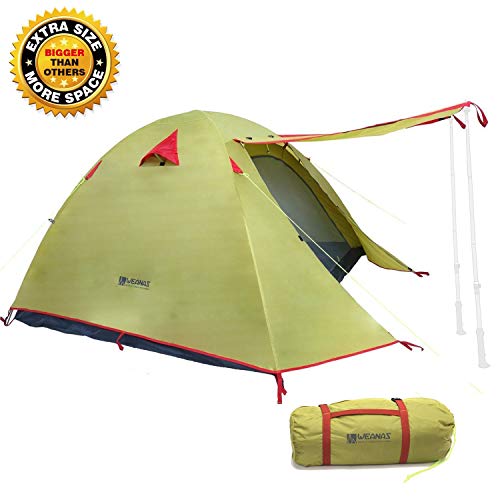 The WEANAS is a compact tent that's designed to be lightweight, strong, and waterproof. This three season design is made to be an ideal tent for backpackers, as it's quick and easy to put up and won't take up too much room in a backpack, which is a priority for hikers.
For anyone looking for a tent that's lightweight, this is the tent for you because it only weighs 4.5 to 6.2lbs depending on the size option you choose. That includes the accessories as well as the tent itself.
The cheapest tent for cold weather on test
This design is also affordable and offers great value for money – you could easily pay twice as much for the features that it offers. It's sizeable, well insulated, and wind and rain proof. Plus, it's the cheapest option out of all five tents, making it a very good value option.
Pros:
Great value for the price
Made from polyester
Lightweight design, making it easy to transport
The 201T waterproof polyester rainfly makes it rainproof
The tent is coated in SPF UV 40+, making it safe from UV rays
Plenty of space, thanks to the unique high-volume pole architecture
Cons:
The tent could use extra tie down points; sometimes the sides become loose
For anyone wanting a tent that offers great value for the price, the Weanas 3 season design is ideal. It has features that tents twice its price don't all offer. It has a lightweight design, is SPF UV protected, and offers plenty of space. Plus, it offers plenty of room for two people.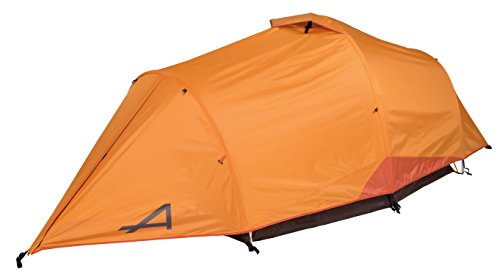 The ALPS Mountaineering Tasmanian 2 Person Backpacking Tent is a four season tent that's made to be suitable for two people to share while backpacking. Its design is made to be weather-resistant, well-ventilated thanks to its mesh windows, and roomy, complete with plenty of storage space.
Easy to setup even for 1 person
For hikers/campers that are in a rush to put their tent up, the design of this tent is great, as it can be quickly and easily snapped together and put up within just a few minutes.Even if you're camping alone, this tent can be easily set up and put down by one person, which is an added bonus of the design.
Seal the heat in
Although well-ventilated, one of the benefits of this tent is the fact it has window and vent covers inside so that the heat can be sealed in, and the insulation isn't affected. The various pockets inside the tent mean that there is plenty of room to store stuff.
Pros:
The design is suited to all weather conditions, from freezing temperatures to warmer weather
Plenty of storage space, from pockets to front and back vestibules
Well vented, without impacting the insulation
Huge compared to other two person tents – plenty of room to sleep and move around. Sleeps two people comfortably
PU coated for weather resistance
7000 series aluminum poles with one continuous pole system that stays stable even in high winds
Features a full coverage fly
Cons:
After use the material can rip slightly – may not last long-term.
The most expensive tent design
For anyone wanting a larger than normal two person tent, the ALPS Mountaineering Tasmanian is ideal. It's strong and sturdy, and weather resistant. It also has plenty of storage space and features a full fly. It's simple to put up and take down, and can easily be used by one person on their own.
Overall this tent offers great value for money, despite being the most expensive option out of all five tents This is because of the range of useful features it incorporates.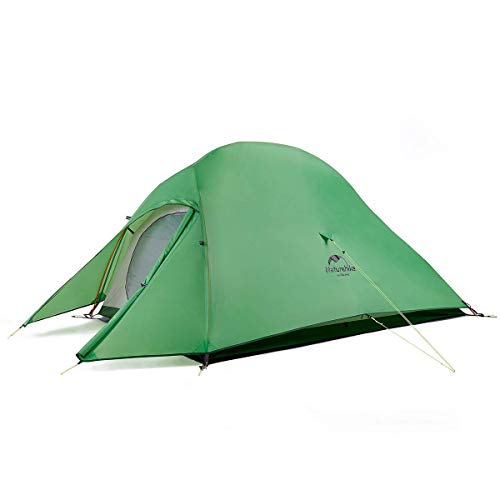 The Naturehike tent is designed to be a tent that's effective throughout the year, come rain or shine. It's a multipurpose design that is made to be light enough to carry easily while backpacking, while offering fantastic protection from the elements. For hikers that need a tent that's durable, sturdy and lightweight, this design is ideal.
Simple 5 minute setup
Made to fit two people comfortably, this tent has an anti-UV coating, is waterproof, well insulated, easy to put up and take down. It takes around five minutes to do either. The resulting shelter is durable and windproof thanks to its firm framework made from high strength aluminum.
The high-quality materials used in this design make it comparable to tents of more expensive brands.
Pros:
Has an anti-UV coating, protecting users from the sun
It is waterproof and doesn't tend to leak during wet weather, no matter how heavy the rain is
It stands strong during windy weather and is durable
This design is easy to put up and take down, because of its aluminum frame
This tent is lightweight and fits easily into a backpack, making it ideal for hikers
Cons:
Lacks room for storing items
Does not fit two larger people comfortably
One of the most expensive options
Overall, this Naturehike product is a success; it's lightweight, easy to carry, and can be put up quickly and easily. It's waterproof, has UV protection, and is strong enough to withstand strong winds. Although a little on the small side for some, for most users the tent can sleep two people comfortably. The downside to this tent is the fact that it is one of the more expensive options. This is despite having a few of problems with its design.
Final Verdict – Of These Cold Weather Tents Which Will Keep You Warm in Winter?
While each of these tents is impressive, and each design has its own unique pros and cons, the ALPS Mountaineering Tasmanian is the best of these cold weather tents.
It's easy to assemble, suitable for use in all weather conditions, well-ventilated, sleeps two people comfortably, and offers adequate storage space. It might be the most expensive and the heaviest option but thanks to its range of features, it's still good value for the money.