Last Updated on February 18, 2022 by Dean Anderson
Finding the best 4 person tent can be tricky with so many different makes and models out there. They all have their own unique selling points and pros and cons, but they are definitely not created equal.
A four man tent is perhaps for those looking for a little more room than what a 1 or 2 person tent offers. Still you don't want something that is going to be difficult to lug around yet offers a little more room over the smallest tents available.
Maybe you're looking to go camping with your partner and child, maybe you want more room but still want to backpack.
Unless you're moving from location to location while backpacking or thru-hiking the chances are that you won't be camping for longer than a weekend with a recreational 4 man tent. This size tent is great for a festival or weekend camp as it has the convenience of a smaller tent yet more room for changing and storage.
All of the tents reviewed here are of a dome design, strong, relatively light weight for the price point and easy to erect.
Read our reviews to help you make your decision on the right 4 man tent for your situation. Or if you're in a hurry check out the main points to consider in the comparison table below and the product tables for each tent.
| Product | Product Image | Unique Feature | ACS Rating | Price |
| --- | --- | --- | --- | --- |
| Coleman Sundome 4 Person Tent | | Easy to live with tent for Spring & Summer | | CHECK PRICE |
| Coleman Juniper Lake Tent | | Room for the dog but some quality issues | | CHECK PRICE |
| ALPS Mountaineering Lynx 4 Person Tent | | A great quality large backpacking tent | | CHECK PRICE |
| Slumberjack Trail 4 Person Tent | | Easy to setup but not great quality | | CHECK PRICE |
| Kelty Yellowstone 4 Person Tent | | Spacious but not so good in windy conditions | | CHECK PRICE |
1. Coleman Sundome 4 Person Tent – A nicely priced entry level tent for light use during warmer seasons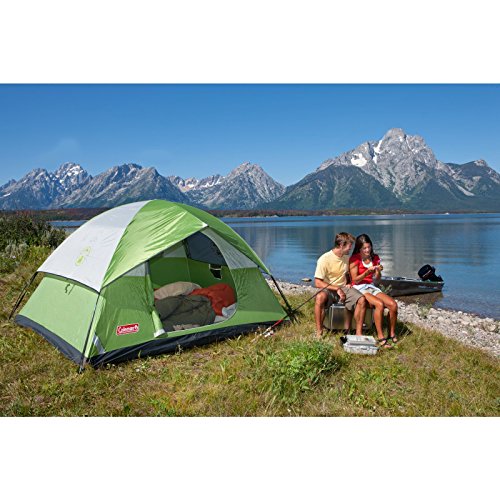 | | |
| --- | --- |
| Product | Coleman Sundome 4 Person Tent |
| Sleeps | 2-3 People |
| Total Setup Time | 10 minutes |
| Shelter Material | Polyester |
| Poles | Fiberglass |
| Weight | 3 lbs |
| Base Size | 9' x 7' |
| Rain Fly | Half |
The Coleman Sundome range sells in big numbers. This is thanks to the brand name, easy setup and blend of useful features for the price point. We've previously reviewed the 3 man and 6 man versions.
Some pole wiggling required
We found this a no hassle tent to erect, taking about 10mins. The only minor struggle was pushing the fiberglass poles through the central sleeves. Just a bit of wiggling required.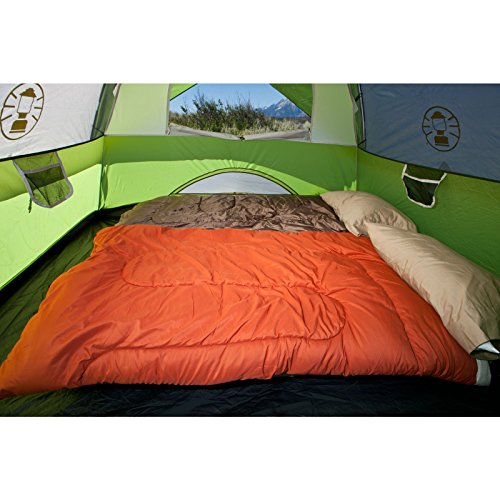 The Sundome can accommodate 2 adults on a queen size airbed or perhaps 2 adults and a child if using the floor space to sleep with camping pads. However, there won't be much room for gear with that air mattress in place, though there are a couple of pockets for phone storage and a central hanger for a lantern.
Not for use in storms or windy weather
With only a half rain fly this is not the tent to take camping if you're expecting a major down pour. In that situation the 4 corners will eventually reach saturation point and start to leak.The welded floors and inverted seems of the Weathertec System do go some way to keeping you dry but this is basic stuff to be honest. Treating the whole tent with a seam sealer and waterproof spray before traveling will give you the best chance of a nights sleep in rainy conditions.
This is a tent best used for the spring and summer seasons. Avoid the rain and wind where possible and you'll be fine. Those thin fiberglass poles just aren't made to withstand stormy conditions. Furthermore with only a half fly things will get drafty.
Pros
Super easy to setup even for beginners
Decent welded floor tarp
Great price for the quality
Good tent for spring and summer as it's well ventilated
Cons
Can deteriorate after a few seasons
Only basic stakes supplied that would be better being upgraded
Poles won't stand up to heavy wind above 35mph
With only a half fly the tent could leak in the corners during a heavy downpour
Product Verdict
Overall this is a very reasonably priced tent. The Coleman Sundome 4 Person is a perfect tent for occasional warm summer evenings not too far away from home. For use in more inclement weather consider upgrading and spending a little more.
The tent will withstand some rain but it's just not specified well enough for camping up in the mountains where the weather can turn. Stick to established campgrounds or the back yard and you'll be fine.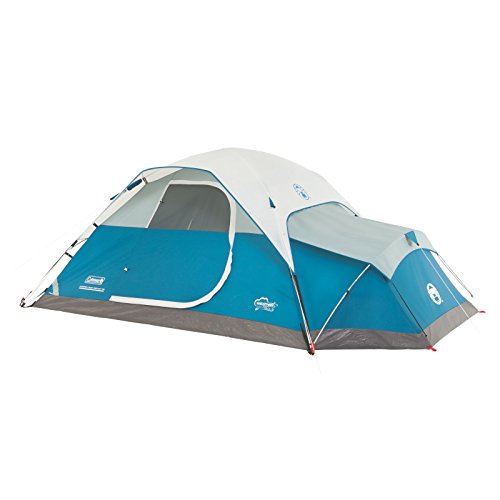 | | |
| --- | --- |
| Product | Juniper Lake Instant Dome Tent with Annex |
| Sleeps | 2 People plus a pet |
| Total Setup Time | 4 minutes |
| Shelter Material | Nylon |
| Poles | Fiberglass |
| Weight | 13 lbs |
| Base Size | 112" x 118" |
| Rain Fly | Half |
The Juniper is basically a traditional dome tent with a side annex bolted on. This makes it a very attractive proposition for those that worry about enough room for gear or those that want to camp with a pet. The annex is perfect for bringing along a dog, say up to the size of a Labrador.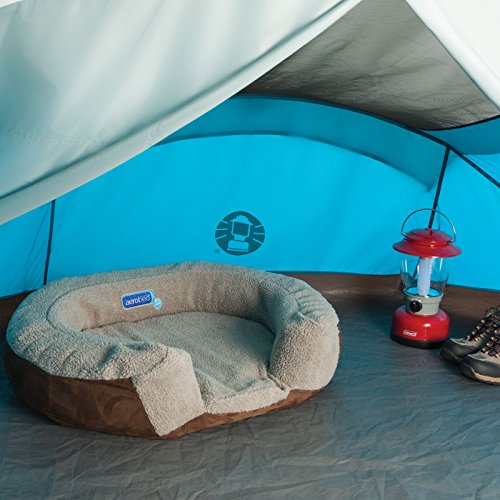 Quick, but not that quick setup
Setup is relatively easy, though not quite as simple and quick as the manufacturer would have you believe. It took us about 4 minutes to set the tent up until we were happy with the construction.
The tent material is pre-attached to the extendable poles. In theory this should help setup but it's just a little fiddly to get right.
Locking tabs on the poles don't always work
When extending the main tent poles they're a little hit and miss in terms of the tabs that are meant to lock the poles into position. In the wind these can also unlock, collapsing and twisting the main body of the tent. This is why we would recommend taking some duct tape if you plan to camp in all but the best of weather conditions.
Flimsy poles
At the thinnest point the main poles are just way too flimsy and it's easy to conclude that this tent won't perform well in the wind.
The Coleman Weathertec system and half rain fly will keep you relatively dry. This tent is not for stormy conditions though. The floor seems a little thin compared to the other Weathertec models from Coleman, even that of the Sundome reviewed above. The purchase of an additional ground tarp would certainly help.
The zippers can annoy
One further annoying feature are the zippers. Out of the box these either work perfectly or constantly get stuck. When setup the half fly, which hangs over can also get stuck in the zipper. The Juniper would certainly benefit from a little wax being rubbed on the zippers.
Putting the Juniper away isn't the easiest experience either. This is largely due to the poles being pre-attached to the tent fabric.
Pros
Relatively quick to set up
Annex space designed to store extra gear or a pet
Cons
Flimsy poles
Tabs on extending poles don't always lock so tent can collapse or twist
Difficult to put back in the bag
Product Verdict
If you're a couple that likes occasional camping out and hiking with the dog then the Coleman Juniper could be for you. If conditions are good and you're not in an exposed area the tent will likely perform well. That's as long as you get a model where the extending poles remain locked in place. Otherwise you'll need the duct tape.
There are just too many niggles to fully recommend this product for all. Shame as the idea is a good one.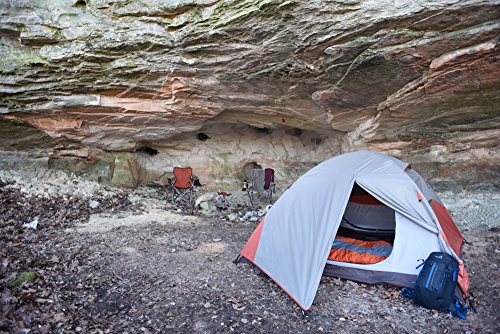 | | |
| --- | --- |
| Product | ALPS Mountaineering Lynx 4 Person Tent |
| Sleeps | 2-3 People |
| Total Setup Time | 10 minutes |
| Shelter Material | 75D 185T Polyester |
| Poles | Aluminum |
| Weight | 8 lbs 10 oz |
| Base Size | 7'6 x 8'6 |
| Rain Fly | Full |
The Lynx is something of an enigma. It straddles the line between working as a larger backpacking tent and a car camping tent. It will comfortably fit 3 or 2 adults and 2 kids. However you'll probably want to use it as a 2 person tent to get the most enjoyment from it.
Freestanding constructed tent
The construction is a freestanding, aluminum 2 pole design. Just 17 clips to fasten and the polyester tarp to pull over and you'll be setup in less than 10 minutes.
The tent inner offers plenty of ventilation with the half mesh construction. The mesh will adequately protect from no-see-ums, though it's fair to say there is better quality mesh out there. All this mesh with no closable vents is also what makes this a 3 season tent. It would lose too much heat for winter use.
There's a couple of storage areas and we particularly liked the overhead mesh gear loft area. Perfect for wallets, mobiles etc The fact that there are 2 doorways also means you'll never have to climb over anyone to get in or out of the tent.
Decent aluminum tent poles at this price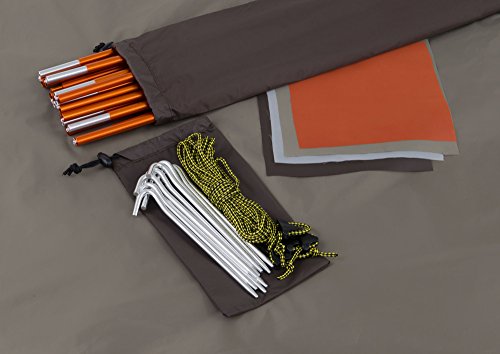 The aluminum poles are also a nice touch at this price point. Though they easily scratch and ding. So while they're not quite the same quality as those you'd get on Big Agnes for example, the tent is at least a third of the price and construction better than any of the others in this review.
With the full rainfly in place 2 vestibules to store boots and backpacks are created. This is really useful dry space. We should also mention that the rainfly incorporates 2 small eye shaped windows. This allows light to enter the tent without sacrificing too much privacy.
Zippers on fly can be awkward to reach
The only downside to the shape of the tent is that it's a little awkward to reach the zippers of the rain fly. You almost have to lay flat on your tummy to reach them when fully down. It's worth making a loop of paracord to tie onto the zipper so you can more easily reach and unzip the fly.
Great performance in the rain
For the most part the rainfly does an excellent job at keeping you dry. If you're expecting lots of rain or if you've used the tent a few times in downpours it might be worthwhile seam sealing the zippers and the 4 lower corners of the tent. Long term these are the potential week spots.
A few small upgrades would really set this tent apart. For example the stakes are cheap. For the rainfly some lighter, stronger alternatives like some MSR Groundhogs would improve things. The zippers though large could also be better quality. Lastly swap out the guy lines for some better quality paracord.
Pros
Will keep out majority of water even in heavy rain
Good for car camping and makes a roomy backpacking tent
A light tent with a decent amount of room
2 vestibules for storage
2 entrances so no need to walk over anyone
Great ventilation
Cons
Can be a struggle to reach the fly zippers from within the tent
Product Verdict
So is the Alps Mountaineering a 4 person backpacking tent?
Maybe. The Alps Mountaineering Lynx is a superb tent for the price. Hang it from a backpack or take it car camping. It's light, offers practical storage and will keep you dry in the rain.
This is indeed a very good tent but if you're looking for a proper backpacking tent which will cope with more extremes of temperature then it might not be for you. But overall in this company it's a well-constructed 3 season tent with no unpleasant surprises.
See what's involved in setting up the Lynx and get an idea of the space available in the brief video below.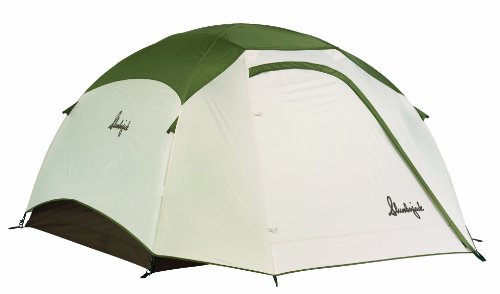 | | |
| --- | --- |
| Product | Slumberjack Trail 4 Person Tent |
| Sleeps | 2-3 People |
| Total Setup Time | 10 minutes |
| Shelter Material | 75D Polyester 1200mm |
| Poles | Fiberglass |
| Weight | 11 lbs 15 oz |
| Base Size | 98" x 83" |
| Rain Fly | Full |
This tent takes literally a couple of minutes to put up, even beginners can do it. It makes an OK tent for the mild hiker; it's good when it comes to temperature, but unfortunately doesn't deal with humidity so well.
It's best when used in dry, sunny weather conditions. Let's take a look at the pros and cons:
Pros
Super easy to put up
Good for summer camping trips and festivals
A reasonable amount of space
Cons
Slightly heavier in weight so not for long hikes
May not be durable in bad weather conditions
Not as well-made as the other tents on test
Product Verdict
This tent is reasonably priced and OK for summer camping trips, especially for those who are just getting into camping. However, it probably isn't best for experienced campers who want heavy usage, as the tent is a little flimsy. It's not great either for transitional weather conditions or camping in rain or wind.

Price Disclaimer
5. Kelty Yellowstone 4 Tent – Great quality perfect for a small young family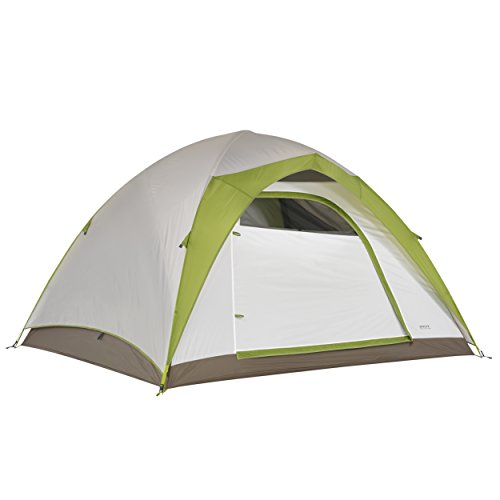 | | |
| --- | --- |
| Product | Kelty Yellowstone 4 Person Tent |
| Sleeps | 2 People |
| Total Setup Time | 8 minutes |
| Shelter Material | 68D Polyester |
| Poles | Fiberglass |
| Weight | 8 lbs 6 oz |
| Base Size | 99 x 59 x 81 in |
| Rain Fly | Three Quarter |
This tent can fit two people depending on size, may also fit small children. It isn't the most spacious on the list, so that's one thing to consider. It is though easy to set up and doesn't take long at all, even with only one person doing the work. Let's take a look at some more of the pros and cons:
Pros
Will keep you dry during thunderstorms
Makes a good small family base camp
10 minutes to set up or pack up
Good ventilation
Cons
May not do so well in windier conditions
May need to buy better tent stakes
Perhaps not the most spacious tent
Can get a little chilly in the evenings
Product Verdict
Many find that this four person tent does not perform well in windier conditions yet again it's probably fair to say that about most on this test. This tent does everything in a so-so fashion, it's just OK and is a reasonable choice for shorter hikes.
This is a tent that offers reasonable quality and value overall. Though you may need to buy higher quality tent stakes to keep it put in the wind.

Price Disclaimer
Which is the Best 4 Person Tent Of This Bunch?
Of these 4 person tent reviews unsurprisingly none of them are roomy enough for 4 people as well as camping gear. You generally expect to fit less people inside of the tent than stated, so bear that in mind. It's unlikely that any of the tents above will comfortably fit 4 adults, although 2 adults and a child or a pet plus gear is more realistic.
Make sure you carefully consider who is likely to camp with you – children? partner? pets? The weather conditions you're going to be camping in – sunny days or cooler evenings? Are thunderstorms likely? Then consider your budget and how long you want this tent to last.
On balance the ALPS Mountaineering Lynx 4 Person Tent may not be the cheapest on the list, but it's a safe bet and a good all-rounder if you want a high quality 4 man tent. This tent is easy to set up, waterproof, has a good amount of space and is suitable for multiple uses making it a great all-round buy for the price.