Last Updated on April 23, 2018 by Dean Anderson
Camping can be fun any time of the year. However, all tents aren't able to be used throughout the entire year. Some tents may get too cold in the winter or not have the proper amount of ventilation in the summer. Others may have a hard time staying put when it's windy. When you're looking for a tent that'll be able to protect you even in winter, you'll want something that can keep you warm and has other features to protect you from the wind. Here are some of the best four season or winter tents on the market, in a variety of different sizes and style options.
This large 4 season tent comes in three different colors, red, blue, and black. Since it is designed to sleep eight people there is plenty of room inside it but a smaller group as with most tents would be more comfortable. There are also room dividers included in case you want to separate the rooms from each other for some added privacy.
The air flow is also good in this product because the ventilation system is able to be adjusted. It also features a removable rain fly, to keep you further protected from the elements when you need it.
Pros
Comes in different colors
Quite roomy
Easy to set up
Can split up into rooms
Good air flow
Cons
Some but not all customers have reported faulty zippers
Some people have had problems with the zippers wearing out on this one after only being used a few times. However, that may be a matter of pulling them too hard or the tent being too rigid. This one is quite roomy, so it's great for large families or groups. However, the dividers don't go all the way to the floor, so it isn't ideal if you actually need real privacy when you're using it.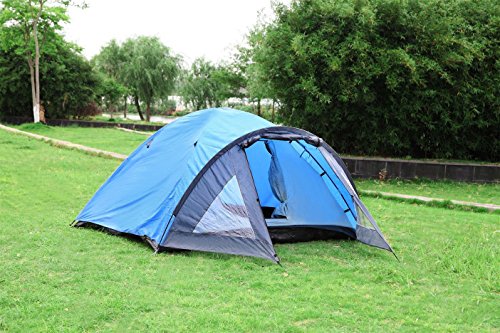 This tent is lightweight enough to be used when backpacking or on a regular weekend getaway. The air is able to move freely throughout the whole space because of the design of the tent, so it can keep you warm or cool, depending on what season you're using it in. It also has an entrance that is large enough to store shoes, bags, or anything else you don't want messing up the interior of the tent. The frame is made from fiberglass instead of plastic, which helps it hold up better. Furthermore, the most noteworthy feature of this item is that it is virtually weatherproof when it is secured to the ground properly.
Pros
Lightweight
Good ventilation
Large vestibule
Rather weatherproof
Cons
This one doesn't have any windows to speak of, but that's a minor concern when you think about how it can protect you on cold, rainy, and windy nights. The tent is great for squeezing four people in or letting two or three have the room they need.
This versatile tent can be utilized by two people and their bags or three people. It is easy to put together right out of the package, and it actually can go right back into the case with ease when you're taking it down. The floor is sturdy and thicker than the rest of the tent, and the whole thing only weighs around 8 pounds, so it won't break your back.
Pros
Works well in rain, wind, and snow
Easy set up and take down
Lightweight
Great warranty
Sturdy floor
Cons
Have to be careful with tent poles
Not good for backpacking
This one is a little too heavy to backpack with even though it doesn't weigh a lot, and if you handle it aggressively, you may bend or crack the tent poles. It's best if at least two people assemble and reassemble the tent, to keep this from happening. The fact that it holds up to rain, wind, and snow is quite impressive, and can make this tent look rather attractive.

Price Disclaimer
Winter Tents Conclusion
If you're wondering which one of these tents would serve your purpose better, it really depends on how many people you'll be traveling with. The best tent overall is the Wenzel Ridgeline 3 Person Tent, which is great for up to three people, but isn't so big that one person would have too much room in it. Once you stuff your pack and your sleeping pad into the tent, you'll be glad you got something larger. This product has a 10 year guarantee and Wenzel really delivers on that. Many have reported getting free replacement parts in the mail after inquiring about them.
If you're looking for something a little bit larger, the Seemoo 4-Person 4-Season Camping Tent has some great features. It can stand up to many different weather conditions without leaking or blowing away, and the entrance gives you room for all your extras. Besides that, the ventilation is top notch because the lightweight material used in the interior of the tent is breathable. Although it is supposed to be for four people, many recommend sleeping only two adults, depending on how tall the adults are if you don't want to be sleeping in the corners. It is also lightweight enough to be able to be utilized by backpackers, so it's quite versatile.
Finally, the Coleman 8-Person Red Canyon Tent has the most room. It's perfect for a large family to use and can house eight people easily. It is also easy to set up, in a matter of minutes, and has good ventilation that can be adjusted. The one drawback is that the dividers don't reach the floor, so it isn't really ideal for more than one family because of the privacy aspect. However, it would be great for a couple of adults or parents and kids, since they are comfortable sleeping in the same area. Furthermore in this winter tent there is more than enough room for small families or a couple, their dog, and all of their gear.