Last Updated on November 3, 2020 by Dean Anderson
Going on a backcountry camping trip is an entirely different world than glamping or day hikes.
Regular camping trips are kind of like a home away from home. It's where you can set up shop for a few days as you enjoy the immediate area around you.
However, the backcountry is meant to be explored.
These kind of camping trips are more about finding the best views and going on long excursions than anything else. As such, they require lightweight backpacking tents to get around.
A lightweight tent allows you to move your camping site as you discover a national park or beautiful mountain. It lets you be mobile and comfortable all in one.
As great as this camping tool is, it can be a little hard to find the perfect lightweight option for you.
Here's everything you need to consider when shopping for the ultimate lightweight backpacking tent.
Price Point
For the most part, you will get what you pay for when shopping for lightweight backpacking tents.
There are tents in the market for as low as $20 and as high as a few hundred dollars.
If you are an avid camper looking to transition from close-quartered campgrounds to the big backcountry, it might be good to treat yourself. But, you can start at a lower price point if you are just beginning to discover the great outdoors. This introduces you to the tools you need without breaking the bank.
No matter what kind of budget you're on, be sure to check for quality.
You'd be amazed at the power some low-price tents pack. Still, for long-term durability and multiple uses, paying a little more can go a long way.
Tent Protection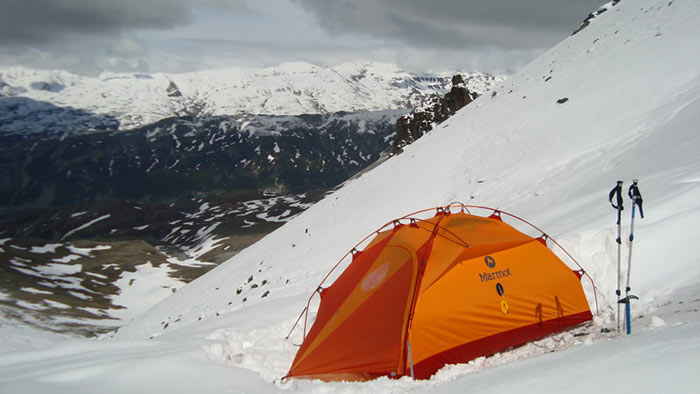 One of the biggest determinants of quality is the level of protection you get.
The best lightweight backpacking tents are made to withstand heavy winds and rain. Some will also offer ventilation from intense heat or cold, depending on the area you live in and buy from.
To best spot the difference, look for double-wall tents over single-walls.
Double-walls are made with a layer of mesh and a separate rainfly. The rainfly tends to generate condensation when put up against the elements. The mesh, though, protects you and your fellow campers from laying in a wet, cold interior space.
Single-wall tents come without the mesh, and are more vulnerable to the elements. They work fine in dry climates. But, be careful of choosing less weight for much less comfort.
You will thank yourself for choosing added layers of protection. These provide support to the wall construction and ensure a safe night's rest – much needed to hit the trails the next day!
Season Rating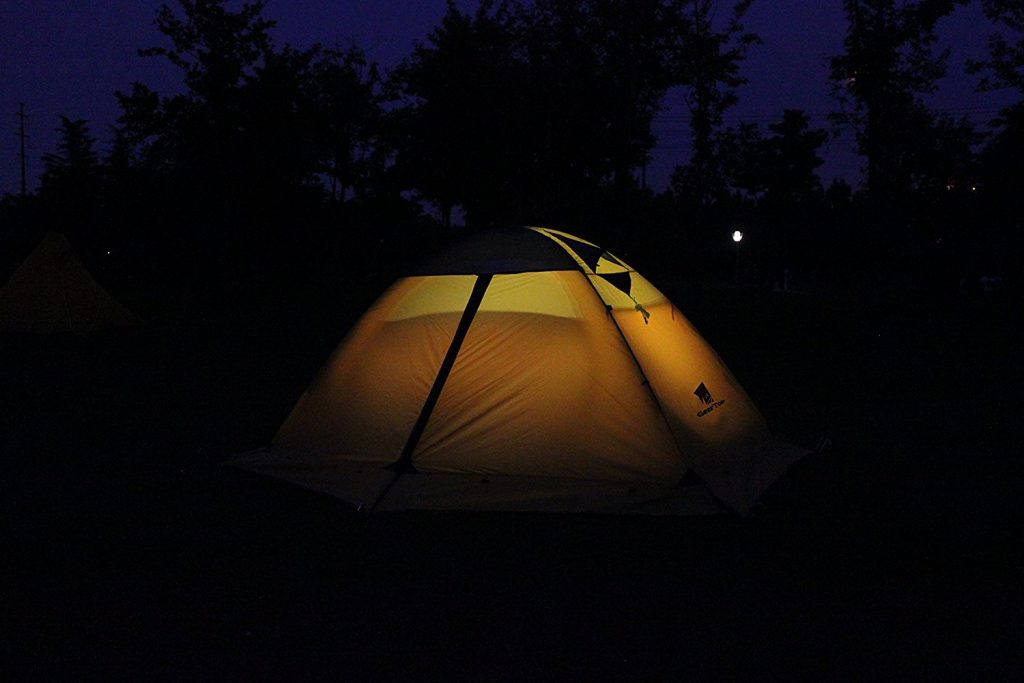 When deciding the level of protection you need from the elements, it would help to know what you're up against.
Checking a park's weather reports and seasonal trends is a good start. You can use these as a standard to guide you when picking your tent's season rating.
A season rating tells you the kind of weather a tent is strong enough to work in.
The minimum rating of a tent is a 2, and the highest is a 4. The range covers low winds and mild rain at the bottom level. It builds up to strengths prepared for snow and heavy, non-stop winds.
Keep in mind ventilation and access points will vary as you move along the spectrum.
It makes no sense to have a 4 season tent with a lot of vents, because it leaves space for snow to enter your space. Similarly, some 2 season tents don't come with flaps to close your vents, because they are made with warm temperatures in mind.
Space and Capacity Of The Tent
As much as you want to feel safe from your surroundings, you also need to be comfortable.
Keep your camping colleagues in mind as you browse lightweight backpacking tents. If you plan on going on most trips alone or with your best friend, a two-person tent will do.
However, if you have kids or a group of friends who love the outdoors, it might be worth considering a tent with more capacity.
Also, think of the amount of gear you plan to take.
Some people opt for a bigger tent than the amount of people they have in order to make more room to hangout and store gear. This comes at the expense of a little more weight on your back. But, it could be worth the extra comfort once you're in for the night.
Don't forget to consider standing room and points of entry, too.
Setup Needs
Tents come in two basic forms – freestanding and non-freestanding.
Freestanding forms are the easier of the two to setup camp. They don't require much time thanks to their fixed pole system. This allows you to stop practically anywhere, even on solid rock.
Non-freestanding tents need stakes and poles to be secured. Surprisingly, this gear is lighter than tent poles. Yet, they take a little more time to get used to and consequently take away from relaxing after a long day.
Consider the convenience you want to invest in and the amount of time you'd rather spend on the trails.
Footprint
Another option for your comfort is to purchase a tent with or without a footprint.
A footprint is like an insurance policy for the bottom of your tent. They add an extra layer to protect against rips and other wear. This may mean your tent ends up lasting longer than it normally would, but not everyone likes the extra weight in their pack.
If you're fine with carrying the extra weight you might as well go for the footprint. Better to know your tent will last as long as possible than to keep having to repair or replace it.
The Camping Culture: Lightweight Backpacking Tents and More
The best part about planning a camping trip is the adventure you get to enjoy once you make it out there.
Don't stress the details before you even go anywhere.
Keep up with our tent tips and tricks to create the ultimate experience without any hassle.