Last Updated on May 19, 2017 by Dean Anderson
Short for "bivouac sack" a bivy sack got designed for climbers that wanted lightweight, weatherproof shelters for their sleeping bags. Bivy sacks are ideal for hikers and trekkers that go on ascents that last for several days and need a degree of safety and privacy while they sleep.
The main selling point of bivy sacks is they are generally light to carry in a backpack and fold away in a compact fashion. Bivy sacks are typically made from two levels of fabric – a bottom layer coated with urethane to make it waterproof, and a top one from a lightweight and breathable type of nylon laminate such as Gore-Tex.
Today's bivy sacks are a world away from the early ones. They were originally designed as slip-on covers for sleeping bags but were seldom useful for aiding in ventilation. Modern bivy sacks are breathable and help to ventilate vapor produced from one's body heat.
Why it makes sense to have a bivy sack
If you plan to do some mountaineering, or you simply want to travel light while trekking, a bivy sack is for you! The aim of it is to keep you dry and warm – something you would very much welcome on a cold and rainy night!
The last thing you want to do while trekking is to fall ill because you spent the night in a waterlogged sleeping bag! Another great point of bivy sacks is they shelter you from the elements, thanks to their waterproof construction.
Bivy sacks also take up little space in your backpack, so there's no need to feel like you need to lug around a heavy shelter with you wherever you go!
How to choose the best bivy sack for you
When it comes to selecting a bivy sack, it's vital that you choose one that offers real value for money. After all; the last thing you want to do is spend your cash on a product that doesn't do what it claims!
With that in mind, your first thought will be to scour the World Wide Web for a bivy sack review. But, the good news is that we've reviewed 5 bivy sacks right here on this page! The products we reviewed are the Outdoor Research Helium Bivy, Snugpak Stratosphere 92860, Chinook Summit, Aqua Quest Hooped Bivy Tent, and the Black Diamond Bipod. Check out each review below:
At 18 ounces, the pewter-colored "Helium" by Outdoor Research is the lightest bivy made by the company. Boasting a waterproof and breathable Pertex Shield+ fabric with a Hydroseal floor, its makers claim that the Helium has a "no-nonsense" clamshell design capable of handling adventures in all seasons.
The Pertex Shield+ screen doesn't just allow the bivy to be breathable; it also offers you a way to enjoy looking at the stars on a clear evening! Another feature of the Outdoor Research Helium is the easy to use Delrin single-pole system, making setup of the bivy as easy as pie.
Pros:
One of the lightest products on the market at just 18 ounces
Measures 19.5-inches high by 26 inches wide, and 84 inches long
Fully seam-taped with anti-fungal coating on the floor
Has a breathable Pertex Shield+ fabric with a Hydroseal floor
Cons:
Is nearly double the price of many competing products
While breathable, some "seepage" may occur in particularly wet conditions
May not suit people that get easily claustrophobic
Some older users or those with mobility issues may find it hard to enter and exit
While the Outdoor Research Helium is well-received and is a durable bivy, the major gripe you might have with it is the price. That's because it's the most expensive of the five products reviewed on this page! Still, if you want a premium product, you can't expect to pay a budget price for it!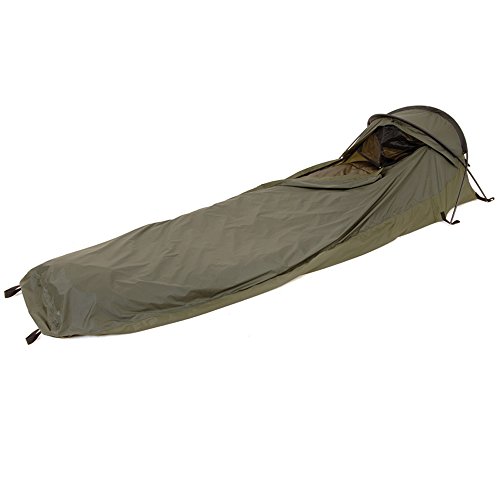 The second one-person bivy on review here today is the Stratosphere 92860 by Snugpak. Weighing in at just under 40 ounces, this bivy comes complete with seven alloy stakes, of which one peg is a spare in case you need it.
Available in an attractive olive color, the Stratosphere 92860 features a roll away "No-See-Um-Mesh" mosquito net in front of the hood and includes a meshed ventilation system at the rear. The stuff sack that it comes with measures 31 cm by 14 cm.
Pros:
Measures 91 inches long, making it ideal for taller climbers
190t Nylon groundsheet with 50D Nylon inner fabric
Can be hung out to dry in minutes if wet
Keeps you dry even through an evening of heavy rain
Cons:
Not ideal for use in hot weather
Some people might find the zipper too hard to operate at times
The color might not be to everyone's tastes
Water from heavy rain can sometimes pool by the zipper area
The Snugpak Stratosphere 92860 is a durable product that will last for many uses. Assembly is quick and easy, and it's priced around the mid-range area making it an ideal choice for many mountaineers.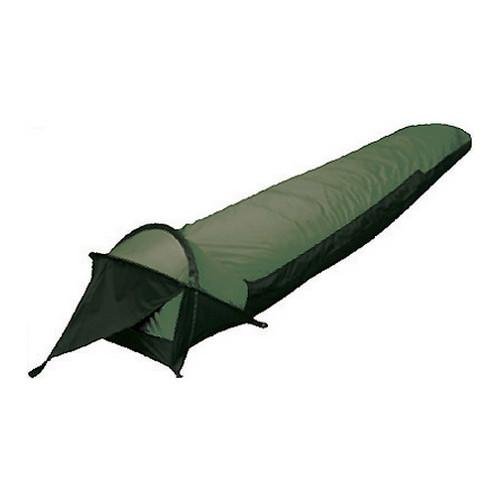 The Chinook Summit bivy sack is an advanced bivy that uses aluminum poles. It features a waterproof and breathable fabric top, and a waterproof Ripstop Nylon bottom fabric. All seams are factory-taped to ensure that the bivy is waterproof, and the bivy contains a contoured hood and roomy foot box.
Complete with the stuff sack and stakes, the Chinook weighs 32 ounces, making it a little lighter than the Snugpak Stratosphere 92860 reviewed earlier. It's also available in a choice of two colors: blue and olive.
Pros:
Perfect for multi-day wilderness trips or trekking and snow camping
The hood's design means it can be kept open during heavy rain
Mosquito netting ensures that you aren't attacked by unwanted insects at night
Ideal for any conditions, including snow and heavy rain
Cons:
Water pooling can sometimes occur, although it's not 100% avoidable with any bivy
If you roll around at night, you might find the end won't stay staked down properly
Regarded as a mid-range bivy, the Chinook Summit is a good all-rounder and seems well-made. While it's not the cheapest of the five reviewed, it's certainly within many people's price ranges. Thanks to the innovative contoured hood design, your face won't feel like it's getting smothered at night!

Price Disclaimer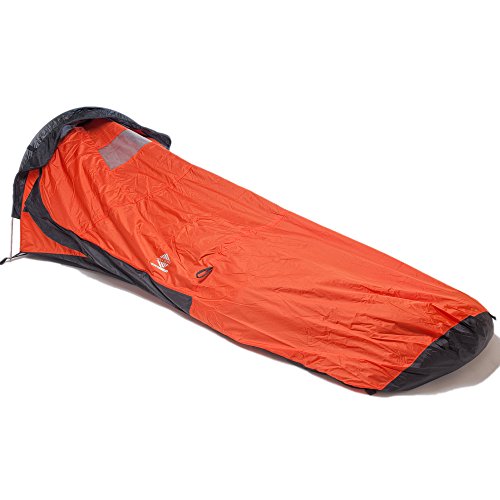 At 39 ounces, the Aqua Quest Hooped bivy tent isn't by far one of the lightest products reviewed here. But, its features more than make up for it. Take the material used in its construction as an example. It uses laminated ESTER PU Coated 70D Ripstop Nylon Taffeta, a durable and high-quality material.
And then there's the bug protection: it stops all kinds of insects from getting at you while you sleep! The only disadvantage of the Aqua Quest bivy is condensation; it's a bigger problem with this particular model than the others featured here because of its high insulation properties.
Pros:
Waterproof rating of 10,000 mm and breathability rating of 3000 gr/m2/day
Can accommodate anyone up to 6 ft 6" tall comfortably
Takes just a couple of minutes to set up from the included stuff sack
Available in orange and green colors
Cons:
Condensation can be a big problem in colder weather
The lightweight aluminum poles don't feel too sturdy
The Aqua Quest Hooped Bivy Tent is the cheapest of the five products reviewed here, but it's by no means a low-quality item! It does a good job of keeping you away from heavy rain, but condensation can be an issue with anything that touches the fly sheet.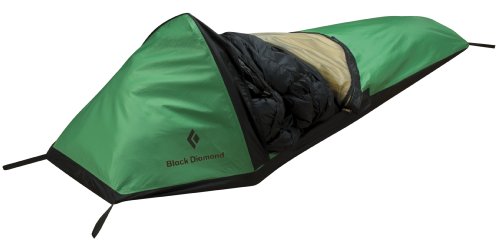 Last, but not least, there is the Black Diamond Bipod. Similarly priced to the Snugpak Stratosphere 92860, this mid-range bivy is well-constructed and features a single Easton pole system, made from aerospace-grade composite materials designed to flex rather than break!
It has the usual bivy features such as a large zippered entry and an insect screen, and it's, of course, waterproof. The Black Diamond Bipod is made from ToddTex single-wall fabric and features taped seams for extra waterproofing. It also has an astonishingly low packed weight of just 13 ounces.
Pros:
Lighter than the Outdoor Research Helium Bivy and cheaper too
Easy to set up
Comes with a strong Easton single pole system
Available to buy in either green or yellow
Cons:
Some tall individuals might not find it very comfortable to sleep in
Pegging down the foot end reduces overall available interior space
Not ideal for side-sleepers
The Black Diamond Bipod is an easily accessible bivy and made with well-known and proven construction materials. Condensation isn't much of an issue, and the Easton single pole won't easily break on you.

Price Disclaimer
So, which is the best bivy sack to buy for your travels?
Each bivy has its own pros and cons and is both aimed at and priced towards different segments of the market. The lightest products are the Outdoor Research Helium Bivy and Black Diamond Bipod, while the cheapest is the Aqua Quest Hooped Bivy Tent.
If you are looking for a good all-around bivy that isn't too harsh on the wallet and offers the features and practicality you need, the overall winner is, without a doubt, the Black Diamond Bipod. It offers excellent value for money and is also the lightest product tested.
A close runner-up has to be the Snugpak Stratosphere 92860, which is just as good but its heavier weight is the main thing that lets it down.