Last Updated on August 31, 2018 by Dean Anderson
Planning for a camping trip is simultaneously a big thrill and a huge headache. There are a lot of things you have to make sure you pack if you want it to be a successful, comfortable trip. It doesn't matter if you're only going camping for one night or taking a long weekend, you need to be well prepared.
The tent is arguably the most important thing you'll have to bring. But, the standard pole tent may not be the best option. It's worth considering an inflatable tent instead.
How Do Inflatable Tents Work?
Inflatable tents swap the pole structure of a tent with pillars of relatively high pressure air.
In most examples the pillars are integrated into the main tent shell material. They're actually sewn into the outer wall of the tent at intervals along the length. The tent is laid out flat and then the pillars inflated to lift the tent body.
See how this process works by watching the video below from Coleman. You can see the setup process at about 3minutes in.
In a few examples, as with some Geodesic offerings, the air tubes create an independent structure. Clips or fastenings dangle down to fasten the fly and inner tent to.
Both types are inflated with a manual double action pump.
Why Buy a Blow Up Tent?
Inflatable tents are also known as air-filled tents. They're innovative new camping tools that are creating a significant buzz in the market – and for good reason!
European camping enthusiasts have caught on to this trend faster than the U.S., but it's not long until you see these tents all over American campgrounds. Avid campers and newbie outdoor explorers alike are buying more and more inflatable tents over the traditional kind.
Here's why.
Good For Families & Backpackers
Most inflatable tent designs will suit a family for car camping. European brands like Berghaus and Vango offer options for 6 people and above. In the USA brands like Wenzel offer similar options.
There are however an increasing amount of backpacking options. The lack of aluminum or fiberglass poles appeals to this weight conscious group. Heimplanet and the likes have some really interesting options.
Tent Style
Inflatable tents come in standard, practical designs as well as fun, innovative designs. You can find a simple dome or tunnel tent or maybe purchase a geodesic design instead.
Dome-shaped tents and tunnel tents often provide more room for everyone to share. Geodesic designs are made to offer more stability and can be used in extreme conditions.
Inflatable Tunnel Tents
Tunnel tents are very spacious and one of the easiest blow up tents to set up. If you need multiple rooms this is the design to go for. The airbeams or pillars in this design are permanently attached to the tent.
The tunnel tent design is also easy to extend which is one of the reasons the military makes use of inflatable tunnel tents.
Inflatable Geodesic Tents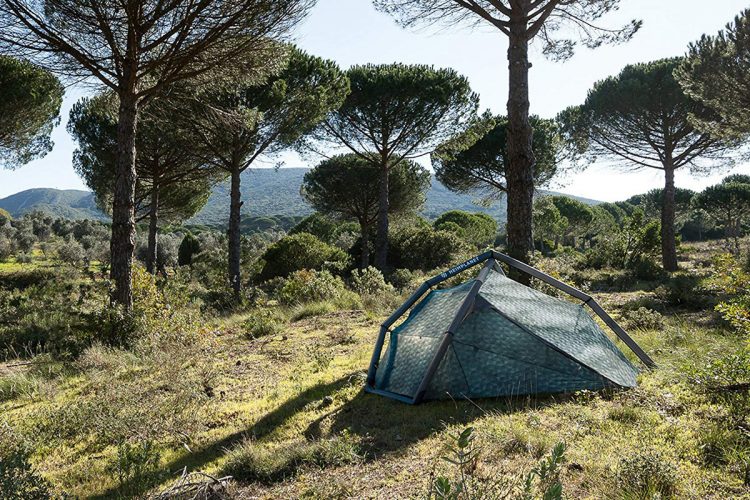 This poleless tent design gives us some of the most interesting and creative solutions on the market. They're also unbelievably stable and used by pro adventurers in all kinds of conditions.
Inflatable Dome Tents
An inflatable dome tent is a rare thing but thankfully more manufacturers are starting to offer this design. They're roomy, light and easy to setup and to pack.
Inflatable Bubble tent
A bubble tent is not so much for camping out as making a real statement in your garden. They're beautiful to look at and great for Alfresco dining in with friends.
Simple Setup and Tear-Down
When you buy a traditional pole tent, you end up spending a lot of time getting your campsite set up. You have to lay out all the poles and follow a whole slew of instructions to make sure everything is in place.
An inflatable tent can cut your setup time in half, if not more! All you have to do is roll your tent out on the ground, open each valve in turn and manually inflate the pillars. Once the outer is inflated you hook up the inner sleeping spaces. This is the opposite to many tents offered in the USA where you set up the inner first, then pull the fly over.
Then when it's time to head home, the tear-down process is just as fast. The air pressure can be instantly released from the beams on the air tent. You can fold up the flat tent quickly and be on your way.
How Stable Are Inflatable Tents
While it's nice to have convenience, safety should always be a priority when going camping. Thankfully, inflatable tents offer both. For the most part inflatable tents are as stable if not more so than the flexible pole supported alternatives.
They are more adept though at bending with the wind, the air beams won't break. Safer than the rigid structure of traditional tent poles, which can break or splinter in heavy winds.
A Decent Weight
Another detail worth paying attention to is the total weight of an inflatable tent. These are typically much lighter and easier to pack than traditional tents of a similar size. But, when you're comparing one air tent to the other, you want to choose what makes the most sense for your needs.
Valve Location
It's also good to explore the valve position and quality on different air tents. You don't want the air valve to sit too close to the ground because it can get dirt/mud/dust stuck inside. The valve also needs to be in a convenient location for inflating and deflating.
Can Inflatable Tents Puncture?
An inflatable tent can in principle puncture but it is highly unlikely. The part that's inflated is made from Thermoplastic Polyurethane (TPU), it's properties include a slight elasticity and resistance to abrasion. A similar material is used in some cell phone cases.
When setup it wouldn't normally come into contact with anything. You've more chance of getting a puncture through incorrect storage or when transporting the tent. Careful folding and storing in the bag it came in will prevent damage and potential punctures.