Last Updated on February 6, 2020 by Dean Anderson
Whether you're planning to go hiking or camping, a Bear Grylls backpack could be your ideal partner. Store and transport all your essential gear, such as water filter, extra layers, Swiss Army Knife and stove, in comfort.
With its handy range of features, the Bear Grylls backpacks are designed to give you ease of travel and a hassle-free outdoor experience. The distinctive black and orange brand comes from the man that is no stranger to an Everest base camp trek or camping out in the wild. The question is which Bear Grylls product you should choose for your own adventure? Here are some of the top-ranking ones to make your selection simple.
1. Bear Grylls 45L Backpack – The right balance of size, storage and features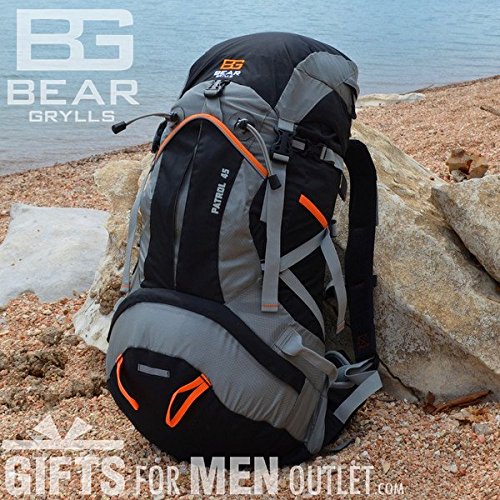 There's more to this backpack than its comfortable sleeping bag compartment with a diaphragm divider. What really makes it a great backpack is its hydration compatibility with the hydro port. This durable, extended daypack is perfect for any outdoor enthusiast. So whether you're out skiing in the back country, or generally spending a few days out camping or hiking, this multi-faceted, lightweight pack will keep you happy, all day long.
Pros
Dual ski slots to hold firm while skiing
Two ice axe loops to keep an axe handy
Comfortable hip belt
Strong rain cover for protection
Large pouch and sufficient zippered pockets for storage
Two mesh pockets for water bottles
Sturdy and tough, with 2 separate compartments
Cons
Shoulder straps are not adjustable
Sleeping bag compartment is small
Carrying this light Bear Grylls 45L backpack is a breeze and you're not going to end up being burdened by its weight as you move around. With its excellent protection against rain and adequate storage facilities, it's just the right thing to ensure that you enjoy your outdoor experience to the fullest.
With its two main compartments, you can actually stuff a small bag at the bottom, without getting it ruined by the rest of your travel knick-knacks. It's quite the ideal thing for a 2-night backpack trip!

Price Disclaimer
2. Bear Grylls Bearpac 20-Day Pack – A perfect day-to-day Pack for the commute, school or short hike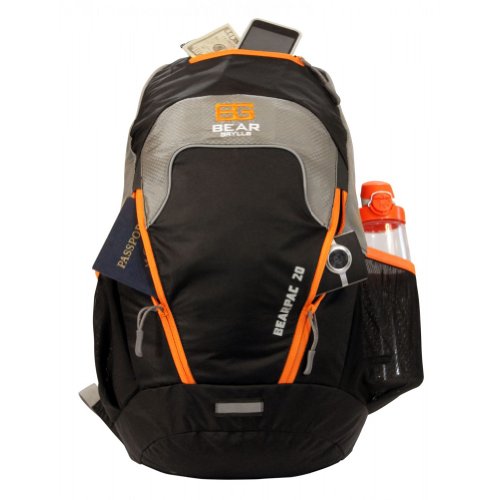 Padded at the back, this is an extraordinarily comfortable pack made of ballistic/diamond nylon to keep it sturdy. Like the Bear Grylls 45L, it's also hydration compatible, which means it is designed to hold a reservoir, offering a portal for the sip tube. So there's no danger of getting dehydrated while in the outdoors! The backpack is superbly organized, with key clips to hold things firmly.
Pros
Several zipper pockets for adequate storage
Internal hydration/laptop sleeve is well padded
Has a padded frame with excellent ventilation design
High on safety with reflective logos and tabs
Rain cover at bottom cushions the pack against water
Cons
Has only a chest strap, no waist straps
Does not come with water bottle as shown in some images
Has only one compartment with zipper
Back pockets are open; stuff can fall out when unzipped
Designed to exude comfort through every inch, the Bearpac 20 day backpack is ideal, even for young people due to the padding at the shoulders. Durability is the byword of this solid backpack, which is made of quality fabric, though lack of straps on the outside does cause a bit of a problem.
It's perfect for lightweight backpacking and works great not only for hiking but also as a school bag (it can easily take in a laptop and books). The water bladder is not included but this hydration compatible pack comes with the option to add your own.

Price Disclaimer
3. Bear Grylls Commando60 – Huge storage for longer backpacking trips
Another hydration compatible pack from Bear Grylls, this comes with amazing capacity, as well as adjustable straps and harness. The multiple access points to the two main compartments facilitate uncomplicated use, whenever you're out adventuring.
The outdoor-centric features of this multi-day pack provide the right blend of spaciousness and functionality for your outdoor experience. You can pack in your sleeping bag in the separate compartment that can be created with the diaphragm divider which comes with it.
Pros
Shoulder harness can adjust to diverse torso lengths
Perfect fit with adjustable shoulder and sternum straps
Soft and durable padding in the frame
Airflow design comes with advanced features
Has two ice axe loops with shaft retainers
Sternum strap has an emergency whistle to keep you safe
Seams are strong and tough
Cons
Not suitable for those with a really long torso
Side compartments are somewhat narrow
You can now embark on days of adventures with this Commando 60L multi-day pack that's perfect for all your outdoor travel. It's your commando in your adventures and provides the best of fits with its adjustable shoulder harness.
The tough fabric it's made of will keep your stuff protected from all the vagaries of nature. Absolutely safe, with a waterproof stash pocket in the hood, it's an ideal choice for a long trip outdoors. The compass is an added bonus that you're going to really love.
So What's The Best Bear Grylls Backpack of This Bunch
While all the Bear Grylls products come with excellent features, each has its own set of USPs that make it suitable for specific needs. There's something in these tough packs for everyone; you just need to make the choice that's right for you.
The 45L BG pack is quite the perfect thing for a day-long camping or hiking trip. It's lightweight, yet packed with all the features that are synonymous with the more expensive backpacks. The 20 day pack is not really for a trip lasting 20 days, but it's a self-sufficient and roomy little thing that rests easy on any shoulders. You can opt for the Commando 60L if you're looking for something adjustable, to fit all kinds of body sizes.