Last Updated on
12 person tents are essential for anyone looking to camp in large groups. It's often a lot easier and more convenient to get one big tent for the great outdoors instead of multiple small ones. Combine with a privacy shelter for showering or changing and you have a great home from home for a large mixed group.
Are these really tents for 12 persons?
Tent sizing can be quite contentious. In simple terms a 'person' or a 'man' is the space an average human takes up laid flat on their back in a sleeping bag. See the example image below.

So while you can fit 12 persons in the tents reviewed below it will be like sardines. If you do sleep 12 don't think that will necessarily be a pleasant experience. When choosing a tent always go upwards of what you really need, that way you'll have room for gear and for a more comfortable experience.
With that being said, what is the best 12 person tent for camping? Are there particular brands to avoid and things to look for? To help you make a more informed and confident purchase, we've reviewed three capable options for you to take a look at.
1. Eureka Copper Canyon 12 Person Tent – A good brand but including an awning would have offered better value
The Eureka Copper Canyon 12 person tent provides you with 168 square feet of sleeping space. It sits at 7 feet high, providing enough room to walk around in. There are two large D-style doors complete with half windows on the sides that offer various entry and exit points. This tent also has a removable divider inside that allows you to separate it into two different rooms for more privacy.
Great Setup Time For Such A Large Tent
When you take a look at this tent, you realize there's a lot about it that's very good. For starters, the setup time is relatively quick and painless. In reality it takes as little as 12 minutes to set up with only two people, not bad for such a large tent. This is the type of setup time you expect from smaller tents, let alone one that claims to accommodate 12 people.
Speaking about the accommodation size, everyone that's bought this tent raves about how big it is and we're no different! One Amazon customer wrote that they had plenty of space for indoor games even with two queen size air mattresses. There's also plenty of storage space inside for camping gear too, with most of this coming from above.
No Major Problems With Waterproofing
Talking about things coming from above, what about rain and water resistance? No one seems to have any trouble with this 12 person tent during downpours, which is another good thing. It even comes with a rain fly to help protect the top of the tent.
The main issue people we have with this tent is the lack of awning around the entrance. This means you can't store muddy shoes outside and keep them dry. You'll need to go out and buy a separate awning. Also, some reviewers said they needed to buy a ground mat because the floor can sometimes get a bit wet due to all the excessive pressure on it.
In terms of value the Eureka is significantly more expensive than all other tents on our list. You are purchasing a product from an established and trustworthy brand name though.
One final criticism is the weight needing a couple of people to transport it. Not a major issue since this tent is for car camping.
Pros:
Fantastic size, both in floor space and height
Water resistant and comes with a rain fly
Removable partition to allow either one or two rooms
Plenty of internal storage in the roof area
Two doors, meaning it's easy to get everyone in and out at once
Quick set up time with two people
Cons:
Relatively  expensive compared to what else is out there
No awning on the outside
Flooring requires a ground mat underneath
Fairly heavy and needs two people to carry it
Conclusion
If you're looking for a 12 person tent that really does provide enough room for 12 people, then the Eureka is a great choice. Of course it will be more comfortable for a smaller group especially if you're taking air mattresses to sleep on.
It offers a lot and is easy for you to set up and pack away. However, is it great value for money considering the price? Perhaps additional features like an awning and ground mat would help make this a more attractive proposition.
This 12 person cabin tent from Tahoe Gear sits tall at 6ft 6 inches high in the center. This provides plenty of room for most campers to stand up and walk around inside. The tent body boasts exceptional water resistance and is made out of very durable 190T polyester. This makes the material very lightweight, ensuring the tent is perfect for spring, summer, and a rainy fall.
This is One Roomy Tent
The standout feature of this tent is the amount of floor space you have inside. You can comfortably fit three decent sized mattresses in and still have a bit of room for storage. Looking at the height, the average person will have no trouble walking around, but if you're taller than 6ft 6, you may have to stoop down a bit.
With big tents like this one, you can't expect to get it up instantly. However, the Tahoe is fairly easy to take up and put down, but you do need at least two people involved. When it's up, you get a rain fly on top and even a small awning to place shoes under. There's a zip down divider on the inside too which separates the tent into ⅓ and ⅔ spaces, 2 or even 3 rooms.
A 2-3 Season Tent Perfect For Summer Camping
Although this tent is not suitable during winter, which is a shame, rainfall throughout the rest of the year is kept at bay by the included 1200mm coated tarp. This only covers the top but as long as the rain isn't sideways you'll be fine.
Surprising given the height and the cabin design the Tahoe Gear also holds up well in light winds. It's very sturdy indeed and when zipped up the tent will also keep bugs at bay making it particularly good in summer.
The bad points? Nothing much but there's a lack of actual storage pockets on the inside, meaning you have to try harder to keep things tidy. On a similar note the Tahoe has no hooks to hang anything with which for light in the evening is a little disappointing.
Pros:
Very good value for money compared to other tents in this category
Excellent weather resistant material to keep you dry
Plenty of space inside for a full family and supplies
Comes with an awning and rain fly
Relatively easy to set up and take down
Internal divider for more privacy if you wish
Lighter than most 12 person tents
Cons:
No internal storage to keep things tidy
No hooks to hang a lantern with
Some isolated complaints of broken poles upon unpacking
Conclusion
When you take into account how big the Tahoe Gear Prescott cabin tent is, how well it deals with weather, and the price, then you've got yourself a great product. It's certainly a contender for the best 12 person tent out there.
The downsides are relatively minor but just a little infuriating given the small manufacturing cost it would have been to put these things right. How much would a storage pocket or hooks cost?
3. Core 12 Person Instant Cabin Tent – 18' x 10.' – Good water resistance and storage from this 12 man tent but some durability issues let it down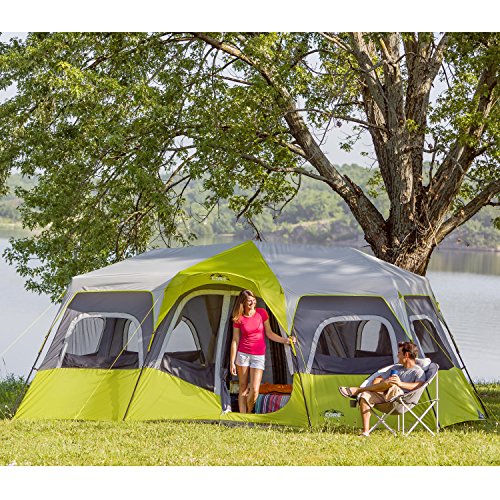 The Core 12 Person Instant Tent claims to have a setup time of 2 minutes, sleeps 12 people, and even fit 3 queen air mattresses inside. Along with a spacious camping tent, you also get internal storage slots and a loft overhead to store your camping gear. If all this is true then surely this is the tent to beat in this test?
The Core is As Spacious As The Tahoe Gear
Right off the bat, you can see some great features of the Core 12. Size matters and one customer on Amazon says they managed to get 8 adults in the tent, along with 2 children, 3 cots, and their camping gear. Setting it up and taking it down is supposedly very fast too. The manufacturer claims 2 minutes, no one including us has achieved those times, but given the size the setup is straight forward once you get your head around the process. Ongoing 2 people would indeed get it setup in a matter of minutes.
Dividers Allow For A Flexible Space
Another great thing are the room dividers inside that allow you to create 3 separate rooms. This is handy if you want to keep a little more privacy when sleeping. Furthermore, there's a loft above your head and storage pockets around the sides something which the Tahoe Gear lacks. This means you can keep your gear off the floor and maximise the space inside the tent. There's a little awning and a rainfly too, which helps make the tent even better regarding value.
Potential Durability Issues?
However, things get a little bit sour when you look at the durability of the tent. Unlike the cabin design of the Tahoe Gear the Core is much less stable and can take a battering from the wind. The poles and zippers just aren't as rugged and might be prone to long term durability issues. The Core like the others on test does do a good job at keeping you dry though.
All 3 tents here are for car camping so you aren't going to be hauling the bag very far still the weight at around 52lbs is a bit of a downside. You'll need two able bodied adults to carry it around.
Pros:
Huge floor space with room for 12 people
Storage pockets and loft space to keep gear off the ground
Dividers to provide privacy and split the tent into three sections
An awning to act as porch for muddy shoes
Rain fly to keep the roof dry
Water resistant, making it good during rain showers
Cons:
Not the most durable option on test
A bit too heavy – but to be expected with larger tents
Cheaper options out there
Conclusion
In this Core tent review we have discovered that the product has a lot of potential. There are plenty of things it does well such as the storage, floor space and ease of setup. The positives certainly outnumber the negatives. However, the main downside is the durability, which is essential when buying a tent that's going to get used by a lot of people at anyone time and hopefully for a few years.
Overall Conclusion: Which is the Best 12 Person Tent here?
It's clear there is one winner; the Tahoe Gear Prescott 12 Person 3-Season Family Cabin Tent. This tent offers exceptional value for money with very few negatives. While some people did complain of broken poles, when customer service sent new ones they proved to be strong and durable.
The runner-up is the Core 12 Person Tent. It's got potential, but we feel it's far from the finished article.
If there's one to avoid altogether it's the Eureka. It's not 'bad' it's just way too expensive and can't offer anything over the competition to justify the higher price.