Last Updated on March 10, 2020 by Dean Anderson
Outdoors camping with a large group demands a sturdy and spacious accommodation like a 10 person tent.
A big tent allows for a far more comfy, relaxing sleeping area and additional storage area if sleeping less than 10. Big-sized tents have the particular purpose of accommodating groups of up to ten people and their leisurely needs. There are various things that figure into which tent will be perfect for your camping adventure and these 5 reviews attempt to reveal what's important.
With everyone sleeping in the same tent, kids will also feel happier and safer at night as they won't need to leave the tent to find parents. When you have a tent that is specifically designed for ten people, you need to be sure it will stand up to everything that's thrust at it from a busy group. Let's find out in the first of 5 10 person tent reviews.
Don't have time to read the full reviews? Then check out the table below for our test winner and the stand out feature for each product.
| Product | Product Image | Unique Feature | ACS Rating | Price |
| --- | --- | --- | --- | --- |
| Coleman WeatherMaster 10-Person Tent | | Well made and good in bad weather | | CHECK PRICE |
| Mountain Trails Grand Pass 10 Person Tent | | Good ventilation and plenty of room | | CHECK PRICE |
| Ozark Trail 3-Room 10-Person XL Vacation Tent | | A budget option for a large group | | CHECK PRICE |
| Wenzel Great Basin Tent-10 Person | | Flexible interior space | | CHECK PRICE |
| Wenzel Timber Ridge Tent - 10 Person | | Tall and sturdy for a cabin tent | | CHECK PRICE |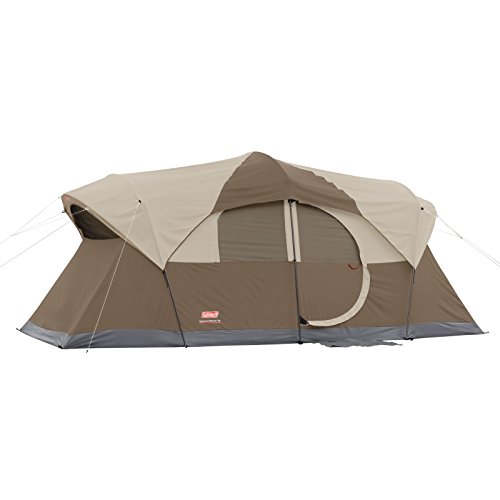 The Coleman WeatherMaster 10 dome tent will keep you dry and relaxed on your next camping trip. It has a resilient waterproof floor with welded floor seams to prevent water from seeping into the tent from the ground.
The tent is also light and relatively easy to set up. It also has a large hinged door that's so simple to use that it almost feels like being at home even though you're in the great outdoors.
For privacy, there is a room divider that bisects the tent so that you can have one big room or two 8.5 x 9-foot rooms. Parents and kids maybe, or boys and girls, it's up to you.
Pros
Hinged door for easy access
Easy set up with color-coded pole system
Doors to the front and back
Good ventilation keeps you cool in the summer
The good internal height allows you to stand up instead of stooping
Can fit 3 queen air mattresses in at a push
Includes a 1-year limited warranty
Cons
A bit pricey but there are deals to be had on Amazon
Has flimsy metal and plastic tent stakes, invest in some better Coleman steel pegs
The Coleman Weathermaster 10 Person Tent stands up very well to bad weather. This is in part down to the welded floors and inverted seams.
Bathtub style design means there's no chance of leaks from below.
However just because the tent is called Weathermaster it will still need sealing and weathering like any other tent in order to get the best out of it.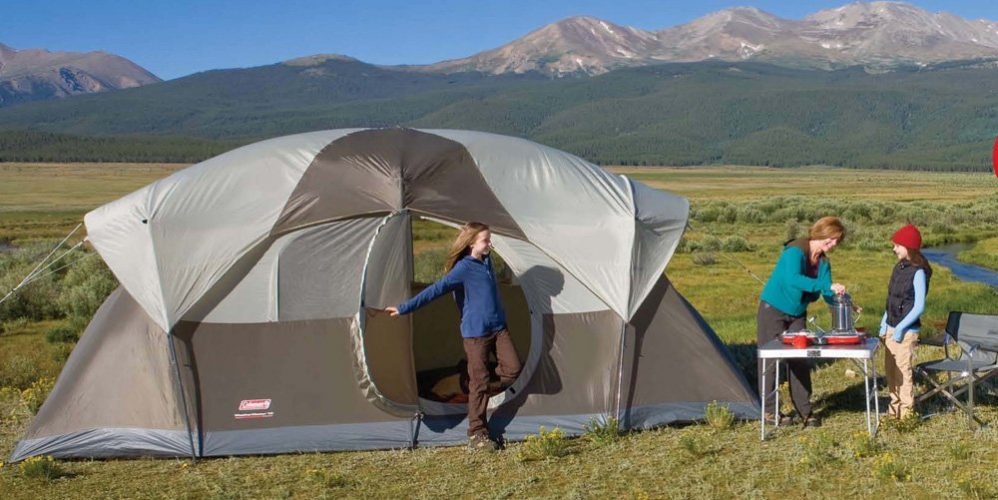 If you find erecting a tent a real chore then you will also appreciate the color-coded pole system. It's a simple touch but this kind of attention to detail can be seen throughout the tent. Like many tents, the Coleman performs best when used for leisurely camping in good weather when your focus is on relaxation and not defying the weather just for the sake of it.
Nonetheless, if you live and plan to camp in a state where chances of rain or wind are high then the Coleman Weathermaster 10 should definitely be on your shortlist.
Checkout Colemans own video which shows the rigorous testing the Weathermaster range has gone through in development.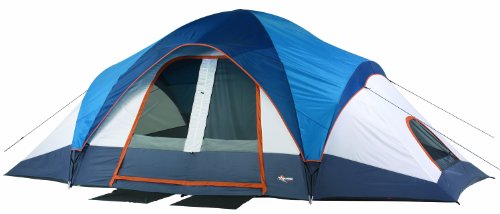 The light-weight Mountain Trails Grand Pass Tent was designed with the devoted camper in mind. A detachable fly plus large roof vents and zip-open windows help keep air in the tent fresh and cool during warm nights.
Like the Coleman, it features Dutch "D" designed doors with interior scoot windows that provide you plenty of personal privacy. Up to ten people can sleep comfortably in this awesome tent, so it is perfect for group camping.
You can sleep comfortably inside this big tent and have sufficient space for your gear as well. Pros
Lots of space to walking around
Fantastic airflow
Good ventilation even without opening any windows
Sturdy construction
Cons
Cheap tent stakes
Entry zippers can be awkward to use
Questionable durability
This large camping tent is essential for a large family or group camping. Campers will have plenty of room to stand, stretch out, and store their equipment. The tent is also a breeze to set up. You could even separate the Grand Pass into two rooms for additional privacy.

Price Disclaimer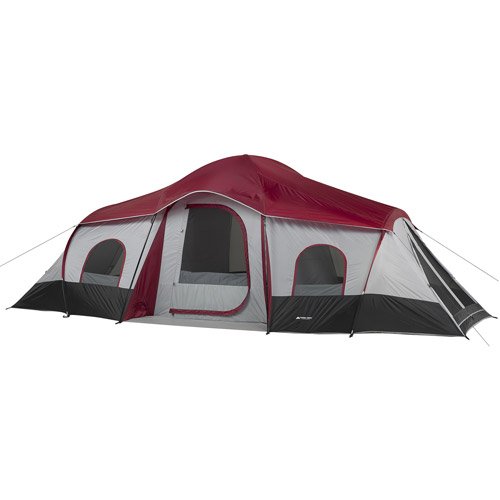 With 184 square feet of usable floor space and 78 inches of headroom at the center, you will have plenty of room for the entire family and all your gear in the Ozark Trail 10-Person Tent. With two detachable room dividers, you can create three rooms.
This tent is big enough for three queen-size air beds.
The Ozark tent features red, black, and beige colors for a fashionable look. There are seven zip windows along with a mesh roof for fantastic airflow. The canopy zips down for privacy. The tent also features a built-in front dirt mat that helps to keep the inside of the tent clean. The front canopy adds extra weather protection at the door.
Pros
The tent is huge and perfect for families
Easy to set up by 2 people
Great design
Sturdy construction
Cons
Mesh areas sometimes allow rain into tent
A little pricey but there are deals to be had
This three-room tent comes with a rugged zippered carry bag for effortless portability. Overall it's a nice tent that offers plenty of space for your family and friends. If you like the look of the Ozark check out more of this companies tents here.

Price Disclaimer
4. Wenzel Great Basin Tent-10 Person – A flexible interior great for mixed use with different groups
The Wenzel Great Basin Tent is a large, three room family dome tent which will sleep up to ten people. The heavy duty polyethylene floor has welded seams, just like the Coleman Weathermaster 10, for durability and waterproofing.
The mesh roof increases airflow on hot nights. While the polyester fly covers most of the tent and helps keep you dry on wet nights.
The detachable room dividers make it easy to separate the interior space into one, two, or three rooms perfect for various sized families or mixed-sex groups. Four windows, the mesh door, and the three mesh roof vents provide sufficient ventilation even at the hottest time of night.
This is a good quality and well specified ten person tent.
Pros
Plenty of space
A great size for a large family
Easy to put up and takedown
Smartly constructed
Easy to carry
Cons
The zipper on the door can come off its track easily
Setting up this 10 man tent is really simple, and families will love the sleeping area that the Wenzel Great Basin Tent provides. This space can also be divided for flexibility between groups and family members. Extra touches like the gear loft and hanging pockets also mean that storage isn't an issue. The Wenzel also holds up well to rainy conditions.

Price Disclaimer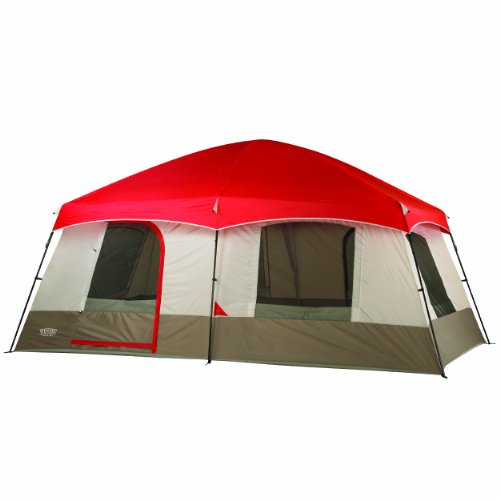 This is the second tent on review from manufacturer Wenzel. This is more of a cabin style tent rather than a dome as with the Great Basin model. As such standing height at 93 inches is better with the Timber Ridge but both employ a rainfly for the roof.
The Timber Ridge has 2 entrances and 6 windows. It gets plenty of light and ventilation because of these features. With 160 square feet of floor space, you can sleep 10 but you'd be better taking a smaller group and enjoying the living space too. If you really do need space for 10 then check out these options.
The design is relatively easy to set up for 2 people. It incorporates strong steel uprights and light and strong fiberglass roof frame which are connected to each other via a central hub. This results in a sturdy construction that will withstand rough weather.
Pro's
Incorporates a room divider
Fits 4 queen size mattresses
Tarp like floor material means the floor remains puncture free
Easy to put back in the carry bag
Equipped with an E-Port for electrical ports
Includes steel stakes for secure placement
Cons
A few buyers have complained about tearing upon setup it's best to keep the poles a little lose to avoid this
Advisable to treat with camp-dry or similar prior to your first camp trip
Mesh roof keeps insects out but means there's no hanging storage
This tent is supremely stable and can easily stand up to strong winds. That's a real plus point for a tent with so much ceiling height. Furthermore, this tent actually has a tough floor where no additional tarp or groundsheet is required. These tents are few and far between. At only a few dollars more than the Wenzel Great Basin, it's worth the extra money for this feature alone.
On a negative note because of the mesh roof, there is no hanging storage from the roof but saying that there is a convenient storage duffel included. That and the internal area is huge anyway, just take a few storage bins for your gear.

Price Disclaimer
So Which Is The Best 10 Person Tent Of This Bunch?
The Coleman WeatherMaster 10-Person Hinged Door Tent is the best 10 person tent of those reviewed here. It's a little more expensive than the others but if your budget allows and you are looking for a quality tent made from quality materials, then this is the tent for you. We would, however, recommend purchasing some better quality tent pegs to keep the tent stable and secured to the ground.
The Wenzel Timber Ridge runs the Coleman to a close run second place. The durable floor material alone makes this tent worthy of consideration. The cabin structure and internal height also mean this tent is a long term investment. Ultimately it misses out to the Coleman because of the main tent material and let's be honest the famous Coleman brand is also an attraction. This is a good ten-man tent nonetheless.
Given the competitive price the Mountain Trails Grand Pass 10 Man Tent comes in at 3rd place in these 10 person tent reviews. Ultimately it's just the quality of material that gives both the Coleman and Wenzel Timber Ridge the edge and potentially will result in drier tents. For infrequent campers though the Mountain Trails is significantly cheaper and will do a great job.
There's nothing wrong with both the Ozark or the Wenzel Great Basin either, these are fine budget tents. They both offer a good mix of features and good value for money but if you can afford the Coleman and will go camping more often then that's our recommendation. The three-room Ozark tent could be a good budget option for some families though.