Last Updated on November 3, 2020 by Dean Anderson
Camping is a pastime that many people enjoy each year. However, not everyone has the money to spend on expensive equipment to go on outdoor trips. That's why it's important to evaluate the cheaper options when it comes to basic gear, like tents. There are many tents on the market that are worthwhile even though they have a small price tag. There's no reason to write them off because they seem cheap. Here are some of the best inexpensive tents you can buy, which won't leave you feeling disappointed.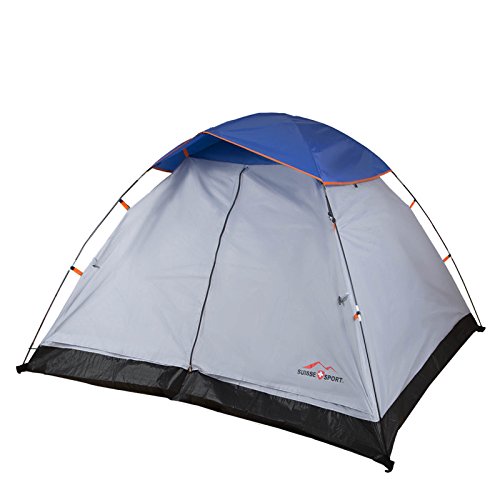 This is a classic dome shaped three-person tent, which can accommodate two or three adults, depending on their size. It comes with a small rain fly that protects the top of the tent, which is mesh, so air can come through and keep the tent cool. The tent is easy to set up and you won't see a lot of leakage when it rains. It also doesn't weigh very much, so it's quite portable.
Pros
Has a mesh ceiling for air to pass through
Comes with small rain fly
Easy to set up
Holds up in the rain
Doesn't weigh much
Cons
Although some people reported leaking at the seams of the tent, it wasn't really due to rain. This was mainly when there was condensation in the morning. This tent holds up well in the rain and can also keep you cool when it's hot outside.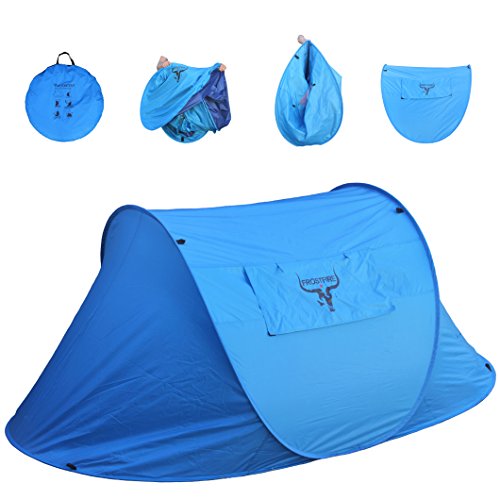 This cool tent packs up like a Frisbee in its handy case. It is fully enclosed, so there's no reason for a rain fly or anything like that. This allows for it to work well in cold weather and the rain because there's no place for harsh elements to get in. It sets up instantly and you can take it down quickly as well, due to its innovative design. It is also a great option to use at the beach.
Pros
Waterproof
Instant set up
Can also use on the beach
Has a window to let air in
Protects in rain and cold weather
Cons
No rain fly
Not for backpacking
Because it's of its strange size, it isn't a great tent for backpacking even though it doesn't weigh a lot. However, it could be attached to the outside of a pack. Some people didn't like that it has no rain fly, but it isn't really needed. There is one window that can be opened to let air in, but other than that, there's no place for rain to come in through.

Price Disclaimer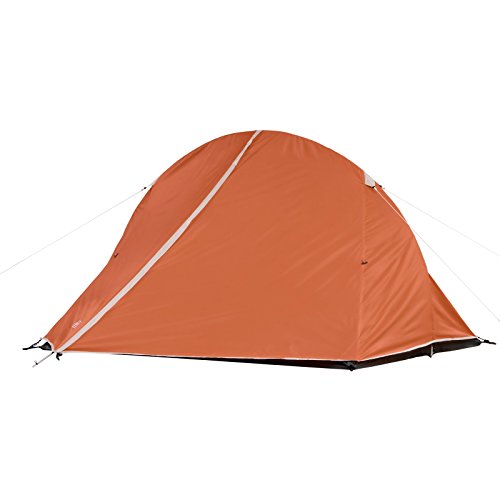 This tent is like having two tents in one. In the daytime, you can take off the full size rain cover and enjoy the sheer interior tent while protecting yourself from bugs and at night you can put on the rain cover for privacy and to keep you safe. The cover also allows for a large vestibule area for extra storage. This tent comes in 2, 3, and 4 person models, so it's great for many different purposes.
Pros
Large vestibule
Full sized rain fly
Interior designed for maximum air circulation
Good for tall adults
Also comes in larger sizes
Can last a long time
Cons
Doesn't have windows
Bugs may come in tent
This tent has no windows because the inside of the tent is totally sheer. This allows for bugs to come in between the sheer outside of the tent and the rain cover, but they shouldn't come inside the tent. This one is also ideal for tall adults and is an attractive orange color that people love.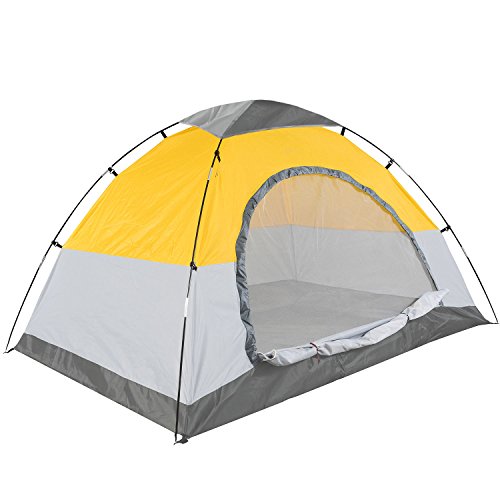 This is another classic dome shaped tent that is easy to set up, mainly due to the fact that the poles don't have to slide into any kind of material. They are secured by clips to make the whole process faster. There's a lot of room inside of it and it folds down small enough to be able to use when you're backpacking. The roof is vented and there's a rain fly included that covers up that area if you need more protection.
Pros
Made from high quality polyester
Good for backpacking
Sets up in minutes
Lots of room
Sheer roof
Cons
Too flimsy for some tastes
Rain fly is small
The rain fly on this tent is small and is designed to only cover the vented roof, which people didn't like. Some also thought it was flimsy. However, it is great for putting in your pack and taking somewhere, and it sets up within a few minutes. It even has a 6-month money back guarantee, in case you don't like the product.
Conclusion
All of these tents are a great price and very useful. However, if you are looking for the one that stands out as the perfect balance of quality and price, it's the Coleman Hooligan Tent. This is mainly due to the oversized rain fly, which adds extra storage space and the fact that it comes in sizes that are perfect for most families. It also is known to last for many years.
Another good one is the Frostfire 2 Person Instant Popup Tent. It sets up nearly instantaneously and is highly waterproof. One drawback is that the case is weirdly shaped, but since it only has one window, it is protected from wind, cold, and bugs, so it has you covered.
The Suisse Sport Dome Tent is a no-frills model that will still be able to protect you from rain and moisture. It has a bit of ventilation and can be assembled in a short amount of time.
Finally, the Swift-n-Snug 2 Person Camping Tent is easy to use because it only weighs around three pounds and can be put up fairly quickly. As far as cheap camping tents go none of these models really dissapoint but the Coleman Hooligan is still our pick of the bunch.