Last Updated on November 3, 2020 by Dean Anderson
It might be difficult to decide what to take camping. This post discusses some of the obvious and not so obvious things to bring camping in a tent.
Campsite gear should be the first items on the camping checklist. Essential gear includes a backpack, source of light (headlamp, flashlight, and or a lantern with enough fuel or batteries), a complete tent, chairs, knife, weather wear, survival whistle, signaling mirror, and rope.
Sleeping and comfort items should also be included. These include pillows, a tent repair kit, dustpan, whisk broom, sleeping bags, sleeping pads or cot, mattress, blanket, tool kit (with an ax, rubber mallet for tent pegs, and a tent stake puller) air bed, tent fans, and a lamp.
Your camping kitchen should have a stove (with enough fuel for the weekend plus some extra), fire-lighting tools, frying pan, firewood, pot, portable coffee maker, corkscrew, tablecloth, food storage containers, roasting sticks (for marshmallow or hot dogs), cooler with ice or ice substitutes, cooking utensils, biodegradable soap, sponge, dish towel, skillet, cookware, table, food, drinks, beverage jugs, water carrier, coffee, salt and pepper, plastic wrap, and tin foil. Many of these can be purchased in a mess kit or cookware set.
Essential personal items include a first aid kit, sunscreen, insect repellent, prescription medications, clothesline, a pad of paper, pen or pencil, a toothbrush, toiletries, detergents, camp towel, citronella candles, rain gear, toiletries, and toilet paper.
Other items include a radio with a weather band, a camera, campsite reservation confirmation, maps, and campsite information including hiking trails, a portable GPS, a cellphone, sunglasses, flares, bikes, toys, pet supplies, and pet food (if you are taking your pet with you).
The following is a list of must-have things to bring camping for the weekend, listed in order of importance.
Food, Drinks, Water & Cooking Equipment & Utensils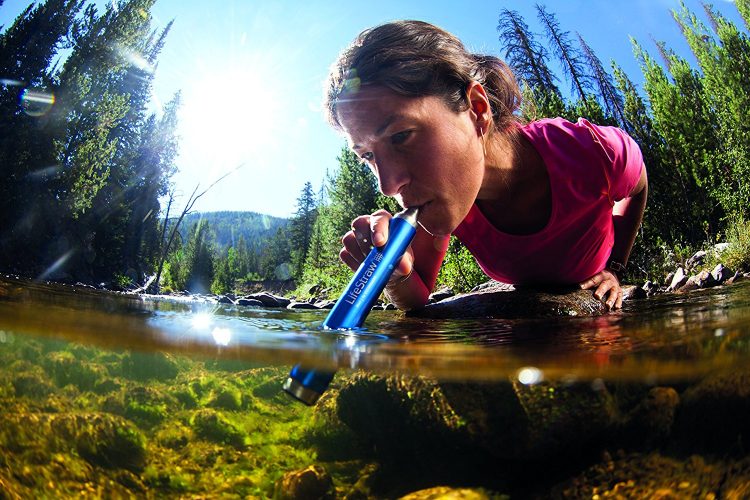 These items should be given priority. Cooking on a campground transforms a routine activity into remarkable outdoor fun. Camping meals should be delicious, nutritious, and easy to cook. If these items are not included in a list of things to take camping, a camper might go hungry or dehydrated while engaging in outdoor activities.
If you're car camping then you'll never be far from water. However, if you're backpacking or solo camping it might be a good idea to take some kind of water filter. Inexpensive gadgets such as a LifeStraw are small enough to put in a backpack pocket. With one of these, you can suck water straight from the river or other body of water. If you're going to be a reasonable distance from civilization for any period of time then consider a more robust and durable water filtration kit.
A small single burner camping stove is perfectly adequate to prepare simple hot meals for a small camping group.
Fire-Lighting Tools
When preparing a list of what to take camping, never forget to include a fire starting kit. The kit should contain light items such as cotton balls, a butane lighter, trioxane tablets or strike-a-fire, waterproof matches, and an ordinary fire starter.
Ensuring that you have a pack of matches and Morakniv Fire Starter is a guarantee to unlimited food options and warm nights regardless of how low the temperature is. The Morakniv Fire Starter yields approximately 7,000 strikes and produces 3,000-degree sparks. The fire starter works well even when wet so it is a good option especially in areas with low temperatures.
Let There Be Light With A Lantern, Headlamp, or Flashlight
Darkness impairs the ability to see, making it difficult to interact with friends or sneak a midnight snack. When your team is positioning its tent during the night, trail running at dusk, or simply searching for displaced items, the convenience of hands-free illumination offered by a headlamp can't be beaten.
A headlamp such as a Petzl is perfect for proximity lighting and will help navigate dark environments. As you make a list of what to bring camping, consider a headlamp since it has standard lighting technology that prevents a gradual decrease in brightness as the battery drains.
Pocket Knife
The knife selected should be tough, sharp, light, and free from rusting. Other similar things to bring camping include a corkscrew and small scissors and these tools are often incorporated into a Swiss Army Knife. These tools might be important depending on the planned camping activities. Some of the pocket knives use in a campsite include chopping food and feathering or batoning wood, among others. A multipurpose knife is the best cutlery tool for camping.
Safety First With A First Aid Kit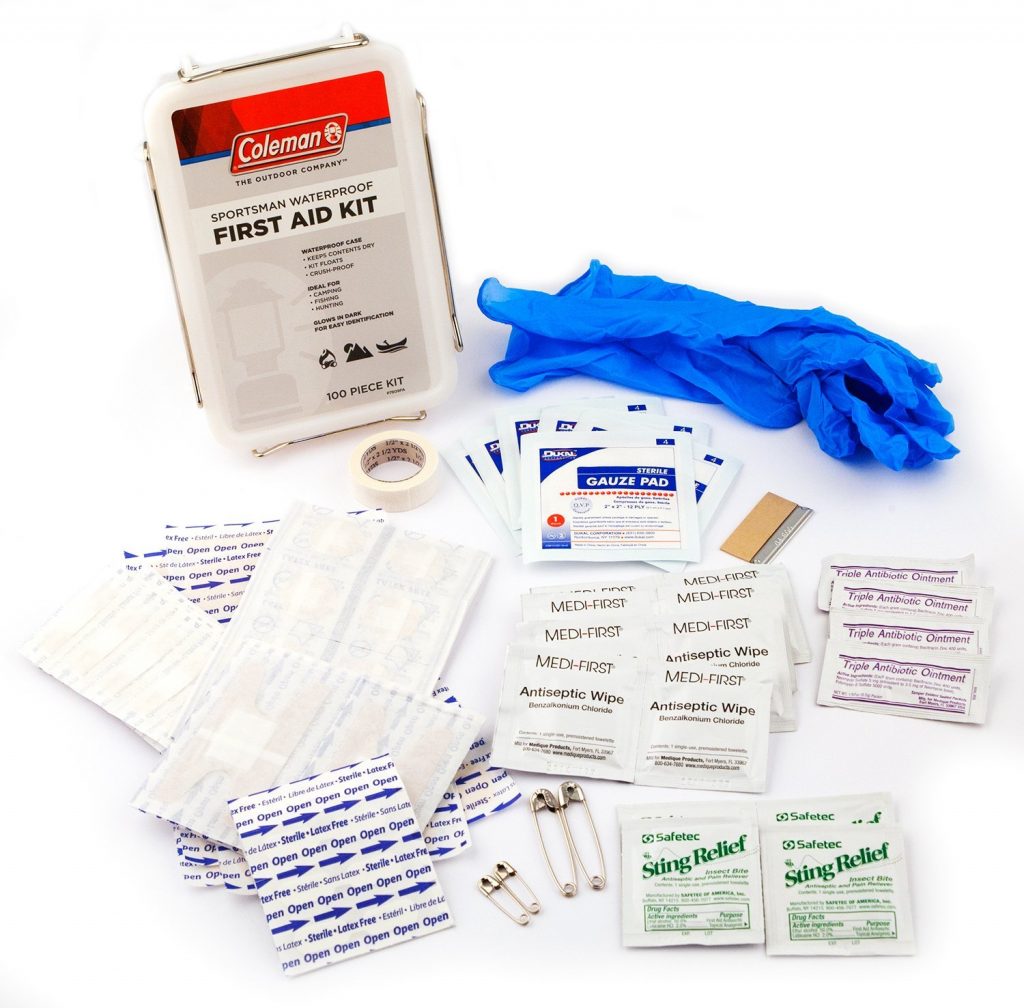 This is one of the items that require priority when making a list of what to bring camping. Accidental scratches, burns, bumps, or cuts are unseen incidents that are likely to occur on a normal camping trip. A first aid kit should accompany you even on your excursions away from the campsite. A well-stocked first-aid kit can help stabilize critical injuries while waiting for medical attention. This is an essential item for your camping packing list, get one.
Light & Heavy Weather Wear
Since it's sometimes hard to predict the weather condition with certainty, it is advisable to carry alternate weather wear. In your list of what to take camping, you should have clothes for wet and dry weather regardless of whether the forecast predicts stable conditions.
If the weather changes at the drop of a hat, you'll not need to huddle around the campfire seeking comfort or get stuck in the rain. Proper weather wear selection ensures that you can swap out dry clothes for wet ones or cover yourself with heavier attire to shield your body against cold.
Other attire and footwear include sleepwear, rainwear, shoes (walking shoes, water shoes, and easy-on shoes), and extra layers for warmth including gloves, and hats. Of course, these will only really be an option if you're car camping as opposed to backpacking.
Maps and a Compass
The GPS on your mobile phone and built-in GPS system in your car console are good navigators of places and directions. Unfortunately with this kind of GPS you might not be able to access a signal in areas with steep terrain or in remote camping areas you should therefore also consider a dedicated handheld GPS. Due to the unreliability of GPS also safely pack your alternative navigation essentials before setting off on a hiking or camping trip. These essentials, which include maps and a compass, will help you locate places if your GPS fails.
Tarps
Regardless of whether you intend to use it as a special shelter or to cover the ground under your tent, a tarp should be among the top things to bring camping. It is light, easy to fold, and occupies little space in your backpack. A tarp might just be the difference between staying dry and keeping waterproof.
Rope
A rope is one of the things to bring camping and has a variety of uses in the campsite. It can be used to create a shelter, support the tent in windy areas, hang coolers, or to rescue other campers stuck in the water or down a cliff. It is an essential item in scout camping. Scout leaders use it to teach scouts how to tie useful knots.
Portable Spice Rack
No one would be comfortable digging into substandard meals, so it would be better to put a portable spice rack or a shatterproof spice container into your camping Camelbak backpack. Flavoring food with spices makes it delicious and no one in the campsite can ignore the aroma of a well-spiced meal.
A Jar of Peanut Butter
Peanut butter should be included in a list of things to bring camping since it is high in fat and protein and generally full of energy. It has a long shelf life and can serve several purposes. It can be smeared on bread for a healthy breakfast or snack or just eaten by the spoonful. Something that tastes so good is just a real morale booster too.
Final Thoughts On Things To Bring Camping

Since it is bulky to carry all the required things to bring camping for a weekend, it is advisable to pack the most important items first. A Camelbak backpack can contain the water you need and then beyond that, it should include essential items such as food, utensils, pocket knife, first aid kit, weather wear, maps, compass, lantern or headlamp, flashlights, tarps, rope, fire-lighting tools, and if you have the room a jar of peanut butter!
All of these items are important and make camping more enjoyable. You can include other essential items if you have extra space and means of transport. If you want to make the campsite a comfortable home away from home, ensure your backpack is packed with these necessary items.
Now you know what to take camping it's time to learn a few camping tips and tricks to make your camping trip an easy, enjoyable experience.
Think we've missed anything out? Then please let us know by commenting below.