Last Updated on July 21, 2023 by Dean Anderson
What's the worst thing about camping?
It has to be not having a comfortable place to go to the bathroom right? Well, that's why you need the best portable toilet.
With the right portable camping toilet, you don't need to worry about digging a hole or using campground facilities. Instead, you can use a toilet that provides comfort and cleanliness that you're only sharing with people you know. With an easy cassette change and complete portability, you shouldn't need to worry about the issue of permanent foul odors either.
So, let's look at 3 portable toilets for camping that you could take when heading out off-grid. Here you'll discover the camping toilet that provides a good level of comfort, portability, and sanitation.
The Camco portable toilet is great for a wide range of uses. You can rely on it in a variety of outdoor situations including camping, boating, and operating in your RV. It is the cheapest toilet on our list but by no means the worst. Indeed, we think you will be delighted with the large 5.3-liter tank capacity that this toilet provides. But that's not all.
The tank is secured to the toilet firmly with side latches with below type flush operation. A sealing slide tries to ensure that no nasty smells can escape the toilet. Although this is pushed to the limit when the tank is full.
Best to pump before use to get some water in the bowl
The toilet also has a deep bowl and just requires a couple of pumps to get things moving. However, do make sure that before you do your business you flush first to add some water to moisten the bowl. It makes the system a lot easier to use and keeps the bowl cleaner.
Pros
Cheap and cheerful – One of the biggest advantages of this toilet is the price. It costs roughly half of what you might find yourself paying if you bought a similar toilet from other brands, so it's certainly a great saving
No squatting – Do you hate squatting on a portable toilet? You won't need to with the Camco. It's high enough to sit comfortably, just like a regular domestic toilet
Secure lower tank – One of the most important things you need to think about when purchasing a portable toilet is how secure the lower tank is. Thankfully the waste tank on this toilet will survive more than a few bumps and jolts
Cons
A little heavy – While the large tank is beneficial and raises the seat height, it's worth being aware that this also makes the tank quite difficult to carry when full. Consider this before committing to a purchase
Not the most portable – The size of the toilet also means that portability is an issue. You might have a hard time fitting this into confined spaces.
Not odorless – As with any portable toilet, it's best to invest in some cleaning materials for the toilet after use. It can emit nasty smells if the tank is full
Product Verdict
Ultimately, the Camco is a great purchase at an affordable price. While there are a couple of issues, including the problem of keeping smells sealed inside it is easy to use and reliable. As such, you can reliably use this product on everything from a family camping trip to a boat vacation.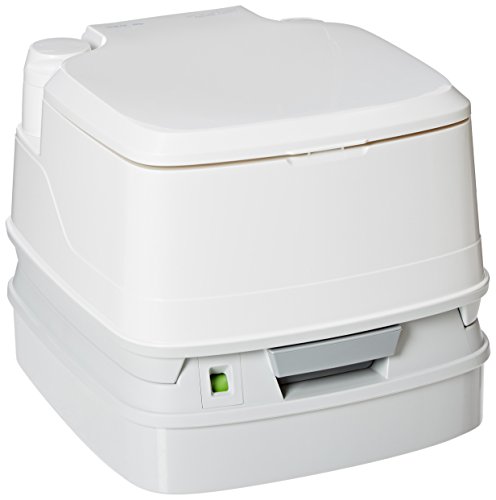 The Dometic portable toilet is certainly large enough to provide the best benefit for campers with a five-gallon capacity. Rugged and tough, you can use this without trouble in a whole range of different environments.
With a tank indicator, you will also find it easy to monitor the volume of the tank with no trouble at all. A push-button flush also means that you don't need to worry about issues of nasty smells lingering around.
One of the most comfortable models with a full seat
Some toilets have half seats that are too small to provide a decent level of comfort. That's not the case here. In fact, you'll find that there is plenty of seating space for all but the largest of persons.
Weighing 14 pounds this toilet is surprisingly light, ensuring that it is the perfect choice for a travel toilet. It's been designed for every type of recreational activity from camping to boat or even adding an extra toilet to your RV. With no pumping or batteries needed to make the system work, this is a modem solution to an old problem.
Pros
Hard and tough – Built with ABS plastic, the toilet is very sturdy so you won't need to worry about serious cracks or damage
Great toilet paper holder – simple and chic the added toilet holder is a real plus with this product
No pump or batteries – you'll never get stranded without a working toilet if you don't have batteries or the pump stops working. You don't need either with this device!
Just the right height for most – The height of this toilet is a definite plus. It's perfect for sitting on but isn't too large
Cons
Aesthetic damage – Despite having a tough design and outer shell the toilet can easily show surface scuffs and scratches
Toilet paper holder not weatherproof – If you're using the toilet out in the open, be aware that the area for the toilet paper is not weatherproof. Wind and rain can get through
A little loud – The noise may be too much for some people, particularly if left close by at night. It could be loud enough to wake some people up in the early hours
Product Verdict
The Dometic portable toilet is a home run for campers and outdoor enthusiasts alike. Compact enough for easy storage and movability, the toilet also works well and is easy to use. While there are minor issues with the toilet, the design more than makes up for it, and it's particularly pleasing to see that it's large enough for easy use with a full toilet holder.
When you look for the best portable toilet, you do need to think about how easy it is to clean. Well, with this toilet you can completely remove the seat, allowing you easy access.
Sealed valve keeps smells trapped
As well as this the '4.2 gal, freshwater tank' has a sealed valve. This stops odors from leaking out keeping the surrounding area fresh. Of course, this toilet is suitable for far more than just camping.
You can use the Thetford for anything thanks to the clever compact design. The toilet is quite expensive though, but is it worth the money?
Pros
The perfect size – One of the best features of this toilet is the size. Since it is so small, you can easily fit it anywhere from in a cupboard to under the bed. As such, the toilet is always close by, and that means it's perfect for anyone on the road. Whether you are a truck driver or taking the family on a camping vacation, you'll have constant access to the ideal toilet
No smells? No sweat – Since the toilet has a sealed valve, you won't need to worry about it smelling out the place. That means that you don't need to bother about making sure that it is always empty. As well as this, the high-quality design means no leaks are a guarantee. The toilet also comes with a deodorizer pack just in case any smells do slip out
Plenty of space – With between 3 and 4 gallons of space, you will have plenty of room, and thus you won't have to empty it out as regularly as some of the smaller models on the market. This can make all the difference and may determine whether your camping trip is enjoyable or not
Cons
Don't flush the roll – Yes, unfortunately, you can't use this toilet to flush toilet roll. Instead, it's best to take an extra storage container or bag to keep your used roll in. That way, you won't have to drag it out when you clean the tank. Apart from this issue, however, the tank is fairly easy to clean, but it can get rather messy if you're not careful
No way to secure – With the high price tag, you might think that the toilet would come with equipment to secure it to a wall or an area of a camper van. Unfortunately, it doesn't, and that means if you do want to secure it, you will need to pay extra for the accessories needed. That said, for camping and complete mobility, this toilet will be a fantastic choice
Deceptive sizing – Upon purchasing this bowl, you might find it is slightly larger than expected. This seems to be due to an issue with the marketing of the product itself
Product Verdict
All in all, while a little pricey the Thetford is a fine toilet for camping and a range of other activities. It does have some issues and does not provide the full level of comfort that some other models give you. But, it's still going to serve you well on the road and long journeys. As well as being a great size, this toilet is also excellent at keeping repugnant smells trapped, so it's perfect for family vacations. Only the fact that you can't flush toilet paper puts it at a distinct disadvantage from the other contenders.
Final Verdict: Which is the best portable toilet for camping?
Three portables to choose from, but which is the best for camping? Well, the good news is that each toilet has no issues that mean they should be dismissed completely. Instead, you need to think about which one suits you best.
For instance, the Camco is certainly the largest out of the three. As such, it will serve you well over longer trips or with larger groups. Despite, it's large and bulky size, the Camco also uses very little water.
The Dometic is a little smaller which is perfect if you want an easy storage option. It's ideal if you want it in the car with you, perhaps with young children in the backseat.
The price of the Camco is also a definite plus point and is the cheapest of the three. However, buyers may be disappointed with the level of stability. Ultimately, for something that is better for the great outdoors the Dometic might be the best choice. For a slightly higher price tag, you also get a toilet that will withstand some hard knocks.
As for the Thetford, it is certainly one of the easiest to clean. However, it does not provide the same level of waste storage as the other two choices. For this reason and the fact that you can't flush toilet paper, it may not be suitable despite the beneficial seal valve to prevent escaping odors.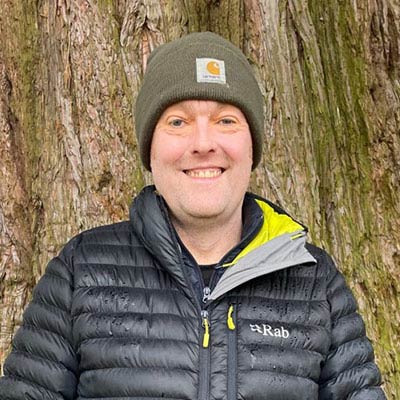 Eight years ago, I took a risk and left a miserable office job to follow a lifestyle career that involved my love for the great outdoors. I've taken my love for camping, hiking and travel to the next level by running my small campground with a friend near Portland, Oregon. It's for way less money but this has truly been a dream come true and the running involves lots of family and friends.
The next evolution of that was to get online and start allcampingstuff.com. At our campground, I spend a lot of time setting up camping equipment for customers and disposing of the garbage products they leave behind. If I can help just a few people with advice on good camping gear, then this website venture will be worth it.
So, if you want to avoid the duds and spend your money wisely you've hopefully come to the right place.