Last Updated on July 21, 2023 by Dean Anderson
Whether you are backpacking or hiking, it's vital that you have access to clean water during your travels. It's not always practical or possible to carry enough water with you and also for emergencies when miles from home a water filter can be invaluable.
Instead of lugging around several bottles of water with you or opting for a Camelbak, a water filter makes it easy to ensure that places like lakes, rivers, and streams can provide you with guaranteed clean drinking water.
While many sources of water are clean, it's impossible to tell for sure just by looking at it. With that in mind, it's crucial you have the best backpacking water filter with you on your travels to eliminate any doubt. The trouble is, how do you know which are the best ones on the market?
To help you choose the right one, we've carried out three water filter reviews suitable for hikers and backpackers just like you! The ones we reviewed are the Survivor Filter PRO, Katadyn Hiker Pro, and MSR MiniWorks EX.
1. Survivor Filter PRO – Cheap and good for occasional use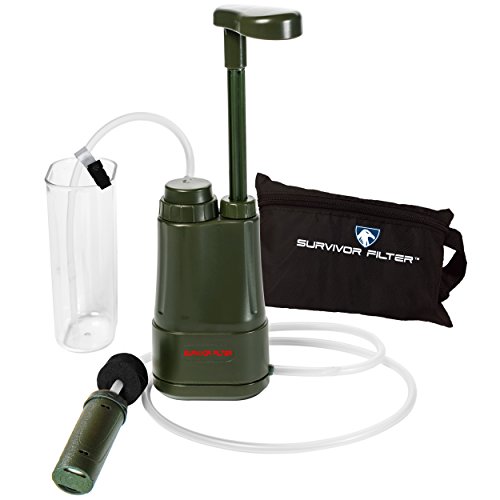 The Survivor Filter PRO features triple filtration: two cleanable membrane ultrafilters (hollow-fiber) that are capable of filtering down to 0.01 microns, plus a replaceable carbon filter for filtering larger particles.
Removes viruses, bacteria and heavy metal content
Independently tested by Intertek Labs in Columbus, Ohio (with the results publicly available to view online), the Survivor Filter PRO can remove up to 99.9% of viruses, staph, and bacteria from the water. According to the manufacturer, it can also reduce any heavy metal content in water by as much as 99.5% for mercury and 93% for lead – something they say exceeds EPA standards for water filters.
It can filter up to 500 ml of water per minute and comes in a compact size at just 6.5 inches (16.5 cm) long. The Survivor Filter PRO can be used in three different ways: direct from source, pumped into the cup, or pumped into a portable hydration device.
Not for use with chlorinated water
Real-world tests have shown that the Survivor Filter PRO works well not just in lakes, rivers, and streams, but also ponds and other bodies of water that are inhabited by local wildlife. Having said that, it cannot be used with water sources that are mixed with chemicals like chlorine.
Pros:
It weighs just 10.5 ounces (300 grams) and is less than 7 inches long
Filters out viruses, staph, bacteria, giardia, protozoa and water parasites
Replacement filters are readily available, cost around 10% of the filter's price
Comes with a handy carry case that takes up little space in a backpack
The ultrafilters are good for 100,000 liters of water and can be easily cleaned
Cons:
Can be slow to filter water at just 17 ounces of water per minute
The pump handle feels like it could easily break in extreme cold weather conditions
The included cup isn't that big
Filters can sometimes get clogged up too quickly
Only really suitable for infrequent hiking and backpacking trips (i.e. 1-3 times a year)
The Survivor Filter PRO is the cheapest of all three filters reviewed, and in some ways that shows through the quality of some of its components. Having said that, the manufacturer does offer a lifetime warranty in case any parts get damaged because of manufacturing defects.
Overall, it's a reliable water filter for the odd hike each year. But, some people might find the filtering speed and build quality of the Survivor Filter PRO an issue if they need to use it on a regular basis.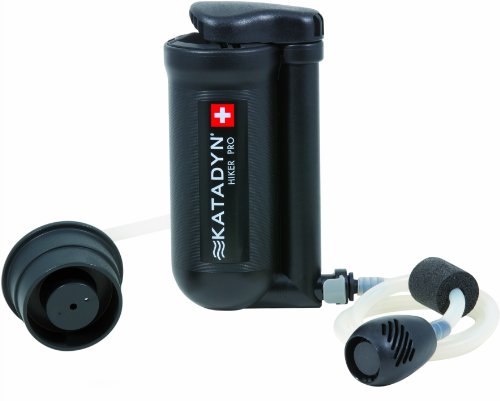 An 11-ounce water filter, the Katadyn Hiker Pro is the mid-range product of the three filters reviewed here. Each active carbon cartridge used with the product can filter approximately 300 gallons or 1,150 liters of water and claims to remove all sediment, particles, and microorganisms from fresh water sources.
Can attach directly to hydration packs
Included is a 0.2-micron glass fiber pre-filter, and it can easily attach to hydration packs that have 1/4" drink tubes. It also works well with water bottles too. The Katadyn Hiker Pro boasts a filtration rate of one quart/liter per minute, equivalent to around 48 pump strokes.
Can't remove viruses
The Katadyn Hiker Pro claims to remove bacteria, protozoa, cysts, and algae from any fresh water source. However, it cannot remove viruses like the Survivor Filter PRO due to the larger 0.2-micron filter.
Pros:
A mid-range water filter that comes in a compact form
Features a quick-connect system, making it easy to attach and remove hoses
Includes a cleanable filter screen that extends the cartridge life
Can pump enough water for 6-8 people in just 10 minutes
Sports a robust design that takes up little space in a backpack
Cons:
Replacement cartridges cost more than half the price of a new Katadyn Hiker Pro
The inlet port can easily break when removing the plastic hose
Can be time-consuming to disassemble and clean after use
The Katadyn Hiker Pro Microfilter is a mid-range water filtration system from a well-known brand. It has a better overall build quality than the Survivor Filter PRO, but replacement cartridges are expensive, and it doesn't filter out water-borne viruses.

Price Disclaimer
3. MSR MiniWorks EX – the best overall product on test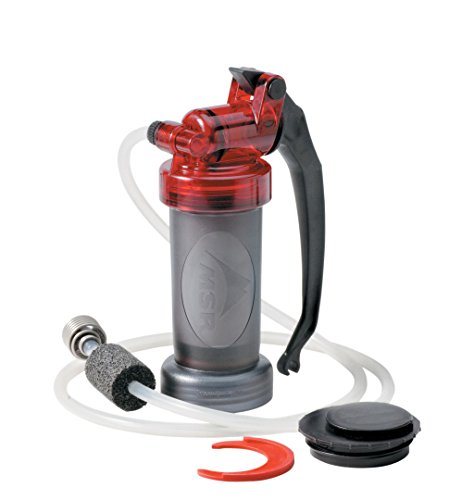 The higher-end of the three products reviewed is the MSR MiniWorks EX. Developed as a premium product, the manufacturer states that its been engineered for heavy use and utilizes the Marathon EX carbon/ceramic filter element.
Heavy but robust
With a flow rate of 1 liter per minute, the MSR MiniWorks EX weighs 1 pound or 456 grams. Although it's the heaviest of the three filters featured, it also serves as a measure of robustness and reliability.
Effectively removes bacteria and chlorine from water
It features a 0.2-micron ceramic/carbon filter and is effective against protozoa, bacteria, chemicals and toxins such as chlorine, and other particulate matter. The MSR MiniWorks EX meets NSF Protocol P231 for removal of bacteria (99.9999%) and protozoa (99.9%) in poor-quality water.
Because it's a premium product, it's also the most expensive of the three filters reviewed. Still, when you need to use a water filter in demanding environments, it pays to use the best products on the market.
Pros:
A well-built filter with a cartridge that is good for approximately 2,000 liters of water
Can be cleaned without the need for any additional tools
The carbon core eliminates any unpleasant odors and tastes from filtered water
Can also be used with water affected by pesticides
Cons:
It's the most expensive of the three water filters reviewed
It cannot filter out viruses
Replacement cartridges cost 50% of the price of a new MSR MiniWorks EX
Air intake valve needs adjusting before each use
The MSR MiniWorks EX is ideal for hikers and backpackers that need a dependable and compact water filtration system. It's a little heavier than the other two filters featured but is designed to work well for those that need to frequently filter water.
See how easy it is to operate the MSR MiniWorks in the video below as well as how to flush the filter before first use.
So which is the best backpacking water filter of these three?
Each of the products in these three water filter reviews is aimed squarely at particular segments of the market.
The Survivor Filter PRO is the cheapest product and has independent testing to back up its claims, but the main downside is the build quality. Still for occasional use or emergencies only this could be a good option.
Meanwhile, the Katadyn Hiker Pro is a mid-range product that offers better construction quality and is quicker to filter water. However, care must get taken when removing the inlet hose, or the port can break. Overall a good product but not the best on test.
Last, but not least, the MSR MiniWorks EX offers exceptional build quality and is popular with those that go on many backpacking and camping trips. Better construction does come at a price but nonetheless this is the best backpacking water filter on test and will last and perform well if maintained. Just pop it in the side pocket of a backpack and it will be ready should you need it.
To summarize:
The Survivor Filter PRO is ideal for infrequent use and is extremely affordable
The Katadyn Hiker Pro is a mid-range product that offers good value for money and can be used a handful of times each year but care must be taken when using
The MSR MiniWorks EX is a premium filter designed for pro hikers and those that frequently go backpacking that don't mind paying a little extra for a higher quality item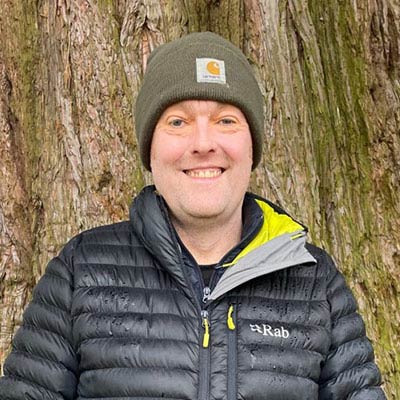 Eight years ago, I took a risk and left a miserable office job to follow a lifestyle career that involved my love for the great outdoors. I've taken my love for camping, hiking and travel to the next level by running my small campground with a friend near Portland, Oregon. It's for way less money but this has truly been a dream come true and the running involves lots of family and friends.
The next evolution of that was to get online and start allcampingstuff.com. At our campground, I spend a lot of time setting up camping equipment for customers and disposing of the garbage products they leave behind. If I can help just a few people with advice on good camping gear, then this website venture will be worth it.
So, if you want to avoid the duds and spend your money wisely you've hopefully come to the right place.