Last Updated on July 23, 2019 by Dean Anderson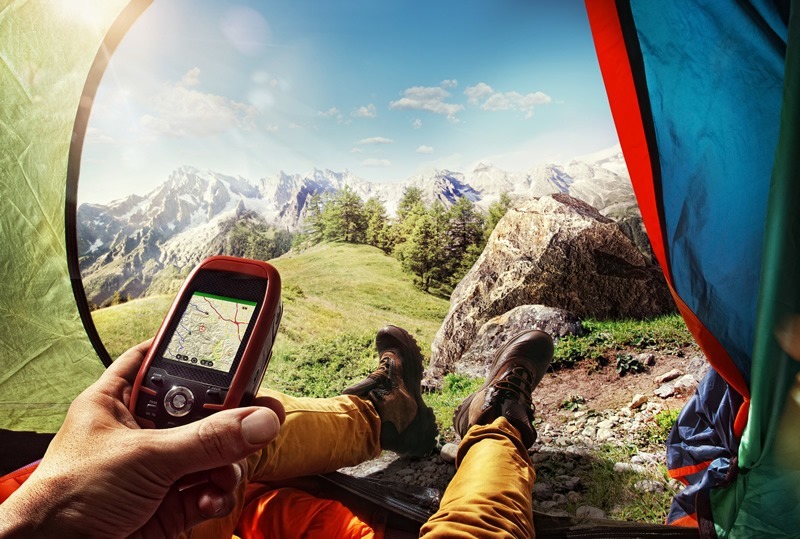 If you need a GPS that gives you everything you need to stay on track while remaining portable and hardy enough for a day or two in the wild, these best handheld GPS reviews are for you. Here we go over some of the best-value handhelds currently on the market, as well as why they're worthy of your notice.
The Foretrex 401 is IPX7 waterproof and equipped with a super-sensitive GPS receiver that features HotFix technology for improved performance even in canyons or under heavy forest. It can record waypoints, tracks, routes, and even your heart rate if you get the aftermarket HRM. TracBack lets you retrace your route, and a medley of other data—sunrise and sunset times as well as barometric data, for example—helps you figure out how best to plan your trip as you go.
Pros:
Excellent GPS speed
Very good battery life—can reach up to 20 hours
Very small but sturdy
Cons:
Extremely simple design may confuse some users
This is a small GPS—in fact, it's just less than 2 inches across. But don't let that small size fool you: this thing is packed with useful features, from dual-readout capability to MGRS configuration.  It's also superbly constructed, so you don't have to worry about it shorting from a quick rain shower or a bump on a rock wall. It costs about $170, which is definitely affordable for something of this performance. The only reasons one might hesitate to get it are the small screen and super-simple design. But other than that, it's a really good value.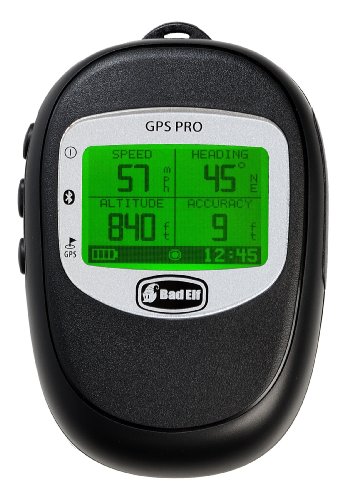 This handheld GPS receiver can feed location data via Bluetooth to as many as 5 iOS devices.  You can also read data like latitude and location, speed and direction on the receiver's LCD screen. The datalogger can store up to 100hrs of tracking data and integrates with a free app to map datalogs on a compatible iOS device. It has IPX4 splash resistance and a 3×2.5×0.7in form factor weighing in at 3.2oz.
Pros:
Great track logging
Good GPS pickup
Can send data to up to 5 devices
Cons:
Port cover (for charging port) tends to be loose
This is a fantastic addition to your kit if you have an iOS ecosystem going in your smart devices. It's technically not a standalone GPS device, but since most people bring their iPhones on excursions anyway, this is still a pretty good. It costs about $150, has a pretty sensitive receiver (you can test this thing in most basements and it'll still pick something up in the majority of cases), is excellent for photo geotagging, and turns any non-GPS-capable iPad into a mapping monster.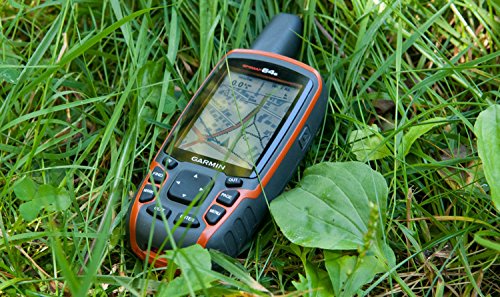 This rugged handheld navigator features a 2.6in TFT display that remains readable even in sunlight and boasts a resolution of 160x240p. A global basemap is built in, as is a tri-axial tilt-compensated electronic compass. It allows wireless data sharing with compatible Garmin devices and has 1.7GB of onboard memory, plus an SD card slot.
Pros:
Fast GPS detection
Miserly on battery usage
Good amount of onboard memory
Cons:
Altimeter is sometimes a bit off
Electronic compass has its weaknesses (extremely precise navigation, strong electromagnetic fields, etc.)
This is a great handheld GPS for about $300, with a lot of serious navigation features as well as nice upgrade-ability (thanks to the option for adding a heart rate monitor). The large screen is a godsend if you hate squinting at the uber-small ones, and the speedy and accurate GPS is wonderful. It has its issues, yes, but they're not ones most people will find unconscionable. If you know what challenges you can face with an electronic compass, for instance, you'll find whatever issues the 62S has to be natural. It's also built to take quite a beating, so it's definitely a nice device to have in your backpack for trips both in and out of the city.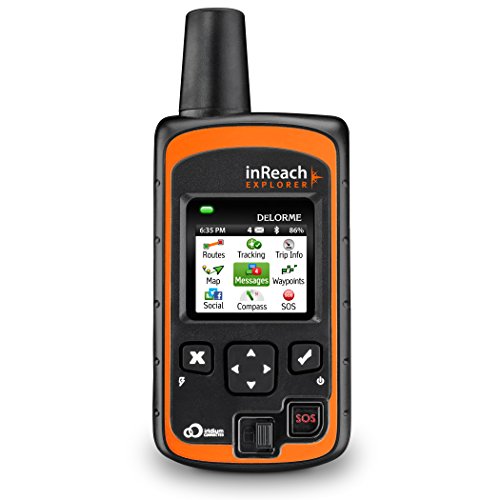 This satellite communicator has access to Iridium, which means global map coverage when paired with your smartphone. It can contact GEOS, the always-on search and rescue center, and send a quick SOS in case of a crisis situation. It supports route creation, waypoint creation, location/GPS pinging, map sharing, text messaging, barometric/altimetric data gathering, and interactive communication with GEOS. It also has a digital compass.
Pros:
Sends/receives text messages (even without a phone)
Great emergency message (SOS) functionality
Great battery life
Cons:
Requires a smartphone since it doesn't have a base map
Primarily a satellite messaging system instead of a GPS with preloaded topos
This is an interesting addition to the list that may come in handy for a lot of people because of its unique purpose: it's chiefly a satellite communications device which gives you a great emergency resource in a lot of zero-cell-tower-reception/signal situations, as you can still send and receive messages without having to use your phone. While it does have GPS and navigational features, these are perhaps best viewed as secondary to its satellite communication features.
That said, it can stand in as a decent (but not great) route planner if you pair it with your smartphone to get a base map as well as to log your progress. Considering you get that plus its satellite communication, the price (about $380) really shouldn't be painful—especially when you're in a pinch and realize how helpful this thing can be then.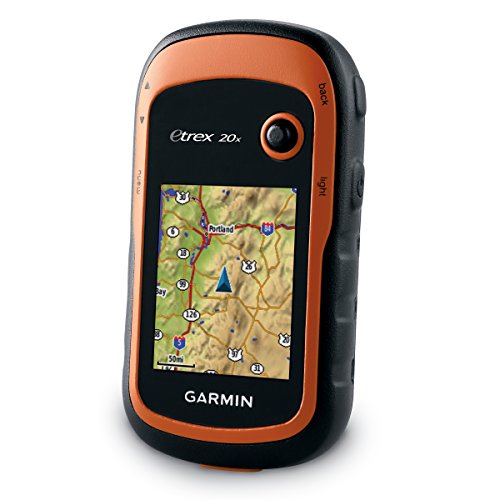 This palm-sized navigator comes with a sunlight-readable 2.2in display and a high-sensitivity GPS with Garmin's HotFix technology aiding it. A worldwide basemap is preloaded and 3.7gb of onboard memory gives you the ability to load more topos. It comes with an altimeter, a 3-axis tilt-compensated electronic compass, and a micro SD slot.
Pros:
Good auto navigation
User-friendly interface
Allows you to create custom profiles with their own settings and maps
Can support a whopping 64GB micro SD card
Cons:
Screen can be a little hard to read in some angles during the day
This is a nice little navigator with some great, rugged features built into it. Waterproof and durable, it also has one of the more straightforward and intuitive interfaces put out by Garmin—which means less cursing and fumbling when you start playing around with it. It does have a global basemap built in, but you will likely still have to import other maps for actual use. This could have been a negative if you could only import Garmin maps (they're pretty pricy), but you can use other ones, so it's fine. Still it only costs about $170, so that's forgivable.
So Which Is The Best Of These Handheld GPS Reviews
If you have to get a handheld GPS for outdoor activities—and we assume that's the main reason most people get one—the Garmin Foretrex and eTrex are probably your wisest buys here. They're perfect for outdoor adventuring in fact these babies can go anywhere in the world so if you're planning an EBC Trek or going on the Inca Trail to Machu Picchu then these are great options.
They're very portable, very sturdy, and have all the features most campers/hikers will consider vital for a GPS when out of the city. They also won't break the bank, which is always a plus.
The DeLorme has its own value due to its unique abilities, but it's still a bit inferior to the others as a GPS device. Otherwise, it may well have edged out the Garmin products in this particular niche.