Last Updated on December 9, 2019 by Dean Anderson
There's nothing that can ruin a backpacking experience quite like being unable to get a peaceful night's sleep. It's the ability to set up where you please for the evening that makes the experience what it is and to do that, you need to make sure that you have the right equipment. A good tent and a reliable sleeping bag are important, but make sure that you don't forget a decent backpacking pillow too.
In some respects a camping pillow needs to be of an even higher standard than a regular one, as it needs to be comfortable and supportive night after night, not just when you first use it. When backpacking, you have to think about how easy it is to pack as well as the weight.
Here, we're going to look at three of the most popular options on the market right now and we'll look at whether or not it's the right one to take on your travels. We'll look at a variety of factors, not just comfort. A good night's sleep is one thing, but you have to make sure that it's practical, easy to carry around, easy to wash, made of a reliable material, and whether or not it has any other features that its competitors simply don't.
With that in mind, let's look at the options and find out which is truly the best backpacking pillow.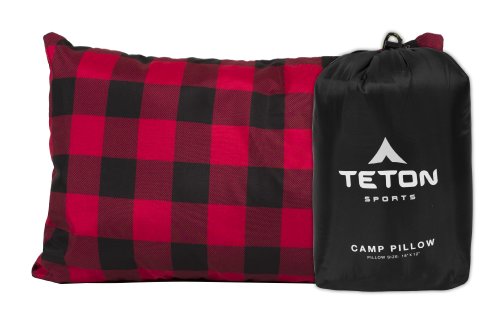 The first of our three competitors is also the least expensive, making it an attractive offer to any first-time backpacker. This 100% washable, 100% brushed flannel pillow with a SuperLoft Elite Fill comes to 0.4kg when inside the free stuff sack that features a drawstring and barrel lock for more convenient travel. The pillow itself is 30x46cm but compresses down to a size of 10x18x23cm when inside the stuff sack. With a variety of different color patterns and a limited lifetime warranty, it's designed to go perfectly with TETON's matching range of camping sleeping bags. It guarantees a non-sticky, non-clammy feeling thanks to a brushed P5 poly hi-count surface.
Pros
Fabric cover is soft and well-suited to humid environments
Sturdy material that weathers several nights in a row without issue
Small and lightweight
Drawstring works perfectly and makes it easier to tie to the exterior of a backpack or sleeping back
Easily washed
Handle on the bottom of the carry pouch makes it a lot easier to maneuver
Range of colors makes for a nice option
Cons
Somewhat small, might not be a comfortable fit for all
Drawstring bag only reduces it to around ½ of its size, meaning some might find it less portable and a little bulky
Loses some of the "puffiness" over a longer time period
Not the softest material, doesn't have a lot of give
Conclusion
For the price of it, the Teton Sports Camp Pillow with Free Stuff Sack makes for a perfectly serviceable entry-level camping pillow. It's easy to wash and the smooth surface is both soft and very low-fuss, offering a nice, cool, clean surface which is very welcome after spending a day out in the wilderness. For this reason this product made it to our camping gift list.
The sack itself is a great touch, easily tied to other gear or carried by hand. However, the small size will remain a big problem for a lot of users. It offers little room to sleep on, but at the same time, it doesn't compress very well, meaning it can feel bulky and uncomfortable during long walks. What's more, over time, it loses its ability to decompress fully, while the filling material isn't as supportive or as soft as some would prefer.
Overall it makes for a good camping pillow, especially for younger campers, but might not be suited for backpackers in particular. As the cheapest option on the menu, however, it represents excellent value for money.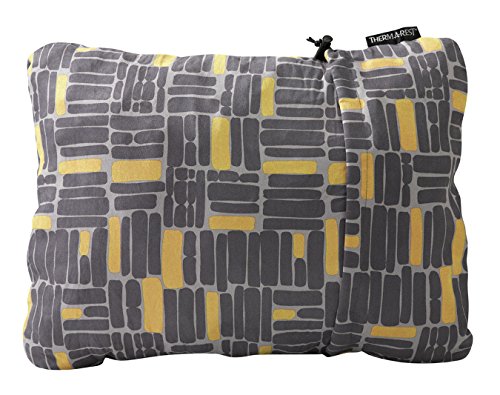 Filling in the mid-range, pricewise, of our three competitors, this pillow comes in at around double compared to the Teton Sports Camp Pillow. This pillow comes in a variety of sizes, but we will be looking at the medium option which measures 35 x 45cm and 35 x 12 x 15cm when compressed, weighing 0.25kg.
With a brushed polyester cover, urethane filling, it is compressed by rolling up the pillow, pulling the sleeve over it, and using a barrel locked drawstring to keep it compressed.
Pros
Incredibly comfortable, moulds well to support your head
Highly supportive and firm, providing good neck and head support when backpacking
Machine washable
Easily regains firmness by puffing up for a short while, making it well suited to repeated use
Compresses to nearly ¼ of its original length
Very lightweight
Cons
Compression cord is a little tight and might need re-tied to allow pillow to fit without straining the stitching
Doesn't compress a lot, width-wise
Needs to be washed before use, otherwise, it remains limp
Foam chip urethane filling can take a little getting used to
Cases are not easy to hand-wash
Surface can feel somewhat slippery, leading to some discomfort if propping the pillow against another surface
Conclusion
The Therm-a-Rest is a pillow that's easy to recommend to backpackers due to its high-quality, firm support, and overall comfort. This pillow is full of urethane foam chips as opposed to a fabric fill, which retains its fullness after compression and decompression with only a little fluffing. It does however come air-packed, so users may be surprised to find it very limp upon first opening it. This is easily corrected by giving it a thorough fluffing the first time you use it.
It's very lightweight, but the dimensions of how it folds in on itself can make for some awkward packing. While it gets much shorter, it retains its full width. So it can be awkward to pack. Once you have packed it, it makes for a perfect backpacking pillow so long as you can get used to the feeling of the foam chips inside.
3. Sea To Summit Aeros Pillow Premium – Very comfortable and lightweight, the best backpacking pillow here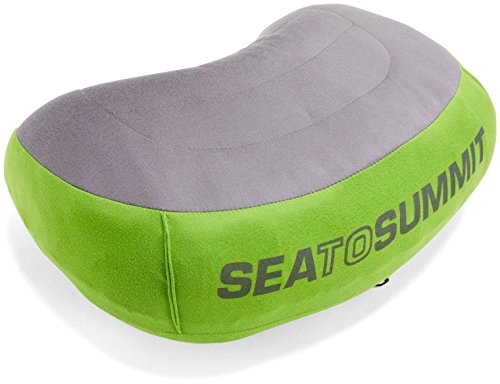 The last pillow we will be looking at is the most expensive option of the three, costing on average around three times the price of the Teton Sports Camp Pillow. Unlike the other two options, this pillow is inflatable to a size of 40 x 25cm, with a larger size available, too.
When compressed and inside the stuff sack, it is 7 x 8cm and weighs 0.07kg, making it the smallest and lightest pillow of the three when compressed, but also the largest when inflated. So far so good. It's covered with a brushed 50D polyester and has a synthetic fill between the layers of the pillowcase and a TPU bladder.
Pros
Very easy to pack, highly lightweight, supremely compressible
Curved interior shape supports head and ensures a snug fit
Cool, smooth material perfect for sleeping in humid environments
Not bulky at all, easy to pack into just about any bag that offers 7 x 8cm worth of space
Though inflatable, it only takes a few breaths to get it up to full size
The shape is contoured to fit your shoulders when you sleep so it doesn't feel too obtrusive.
Easy to wash
Cons
A little noisy if you move around a lot at night, might not be suited for the lightest sleepers
Some users have had issues with the internal bag suffering punctures or breakdowns, which could make it entirely useless
The inflatable feeling when sleeping on this might turn some users off entirely
Air leaks can be difficult to patch
Conclusion
The price difference between the Sea To Summit pillow and the other competitors is immediately noticeable, but many will consider it well worth it. A highly supportive pillow, it can take a little getting used to the feeling of sleeping on something inflatable, but once you do, it makes for a remarkably comfortable night's sleep. What's more, it's perfect for backpackers, as highly compressible as it is. There are some issues with potential leaking but these experiences seem to be isolated.

Price Disclaimer
The Verdict: Which is the best backpacking pillow?

Overall, the Sea to Summit Aeros Pillow Premium offers a sleeping experience that the other pillows simply don't compare with. What's more, it is incredibly compact and easy to transport, making it perfect for backpackers who are very careful about how much space they have to conserve with all of their gear. Though it is the most expensive option, it seems well worth it.
For a close second, the Therm-a-Rest offers a decent night's sleep once you get used to the awkward setup process and the feeling of sleeping on foam chips.
The cheapest option, the TETON sports pillow, makes for a fine camping pillow, especially for younger campers. However, it's smaller size doesn't make it a good fit for a lot of adult campers, while its relative lack of compression also means that it's not very well suited to the portability that backpacking demands.
If your budget is something of a concern, go with the Therm-a-Rest. Otherwise, the Sea to Summit Aero Pillow Premium is our choice for the best backpacking pillow on the market right now.