Last Updated on August 2, 2023 by Dean Anderson
Eating is as important a part of camping as the camping itself.
Getting out in the fresh air, enjoying fresh cooked food and staying well-supplied with nutrients and energy to last out the trip are all important. That's why you need a good mess kit to be able to enjoy that food without too much fuss. Without a good mess kit, a camping trip gets a lot less convenient. So, we're going to look at three of the best kits on the market.
What you want from your mess kit
The best mess kit for you is determined entirely by your own specific needs. We're going to look at the kits and figure out who they're best for, as well as the best overall. This means looking at what's included, whether it has utensils and cookware alongside tableware, and what unique pieces each set has.
We also have to look at the durability of this outdoor equipment and how long they're going to last. Are they going to last one night, one camping trip or can you use them again and again? How well built are they? It doesn't matter what a set contains if it's not going to last.
1. IGoPeaks

Stainless Steel Mess Kit

– Durable and light but a little on the small side for most adults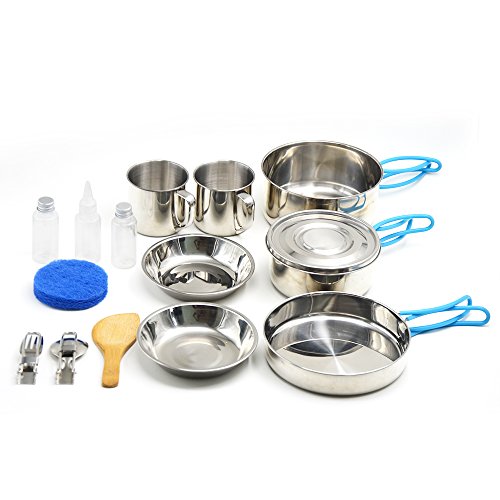 First, we're going to look at this kit from IGoPeaks, designed for two people with 16 different pieces. Those pieces are as follows: one large nonstick pot, a small nonstick pot, a pot cover, a nonstick frying pan, 2 cups, 2 dishes, a folding soup spoon, a folding fork, 1 oil bottle, 2 cruets, a wooden spoon, a cleaning sponge, and a Nylon drawstring travel pouch. Altogether, it weighs 1.7 lbs and it takes up 3.58'' x 6.5'' in space. All metal pieces are made of stainless steel and it all collapses into a neat package for easy travel. As such, it sets the price midpoint for the three we're reviewing.
The pros
The small size and easy packing make this kit supremely compact and easy to move on the go.
The size of the different pieces is great for youth campers
Stainless steel is a remarkably strong material, great for transferring heat, retaining it, staying durable and resisting both stains and rust
The included bag makes it even simpler to pack away
A cleaning sponge makes for a nice addition and pairs with the nonstick feature of the pots to make them easy to clean
The cons
A single spoon and fork may make for some awkward, asymmetrical dining experiences. May require some extra utensils
The small size means it's not great for larger meals or larger campfires. If you're making food for two adults, it might mean taking your turn
Especially unsuited for large fires because the handles get much too hot when exposed to any heat from a flame
There's an issue with the handles, perhaps caused by heat, that makes them come away from the body of the pots too easily
The conclusion
The IGoPeaks is a perfectly fine set that's let down by a few issues. In particular, the small size of it may make it supremely easy to transport, but it also makes it much harder to make a substantial meal out of. For that reason, it's a good option for youth campers, but perhaps not the best for grown adults.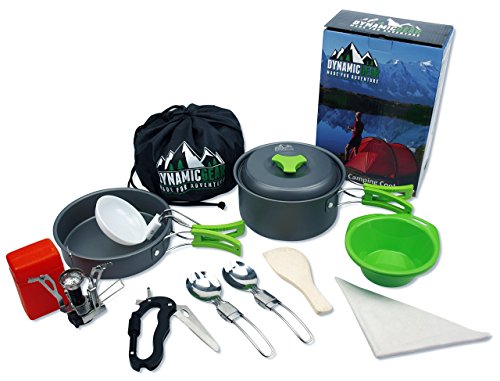 The Dynamic Gear kit is slightly pricier, costing only a little more than the IGoPeaks kit. For that price, you get a nonstick pot, a pot cover, a nonstick pan, two green plastic bowls, two stainless steel sporks, a soup spoon, a wooden spatula, a cleaning microfiber cloth, a travel bag, and a camping stove. The stove makes a big difference compared to the IGoPeaks kit. You might expect it to be heavier, but it weighs 1.74lbs, only 0.04lbs more. On the other hand, it takes up 9.25 x 3.74 in space so it is a good deal bigger.
The pros
The stove immediately makes this product significantly more valuable as it means a camping fire isn't always necessary
Aluminum oxide is a better material than stainless steel for conducting heat and cooking foods thoroughly
The microfiber cloth is much better at cleaning any stubborn stains that might linger on utensils, pots or dishes
Unlike the IGoPeaks kit, there are two sporks here, suitable for two users eating the same meal. So long as there are no extra travelers, there should be no need for extra utensils
The cons
It is larger and, with the stove, somewhat more unwieldy. Unless you have it fully secured, it's not well suited to being carried by backpackers
Operating the stove can be tricky for new users and the instructions provided are minimal, so it's a good idea to have some experience with this kind of cooker first
Aluminum oxide can take some time to heat up initially so be prepared for a wait
The lack of cups or mugs compared to other kits is noticeable
The conclusion
Fixing a lot of the problems in the IGoPeaks set, the Dynamic Gear mess kit, while it does have one of its own: it's not as easy to carry. However, the added value of not only the stove but the microfiber cloth which makes everything much easier to clean means it's seriously convenient. For the minimal price increase over the IGoPeaks, the difference in value is immediately noticeable.
3. HUKOER Camping Cookware Mess Kit – Light and cheap but the utensil quality lets it down as an overall kit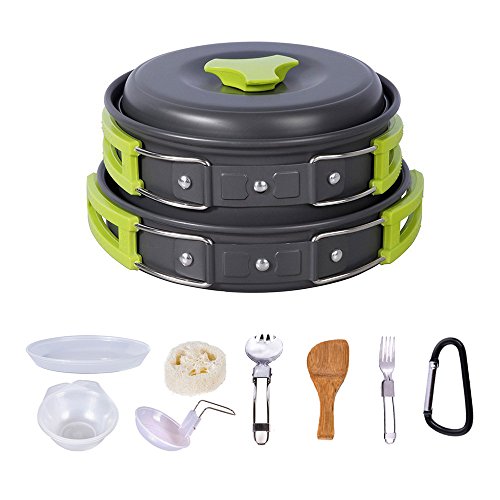 Finally, we have the HUKOER camping cookware set. This kit is the cheapest of the three. For that price, you get one pot, a pot cover, a nonstick pan, a dish, two bowls, one steel spork, one soup spoon, a wooden spatula, a cleaning sponge, a stainless-steel fork, an aluminum hook, and a draw bag. Altogether, it weighs 1.3lbs, making it the lightest of the lot. It's also the smallest of the bunch, at 6.3 x 3.7
The pros
Aluminum oxide has exactly the same benefits as the Dynamic Gear kit, making it a great material for cooking and keeping in good condition in the long-run
The lightest pack and the easiest to carry, it is perhaps the best suited for those wanting to hike long distances while keeping themselves fed
For the price, it's a reasonable competitor to the other kits
The cons
The aluminum oxide pots have the same slow start as in the Dynamic Gear kit
Again, two different utensils make for a poor dining experience when two people try to eat the same meal together
Contains a handy sponge, but it doesn't compare to the microfiber cloth in the Dynamic Gear kit
The folding utensils are uniquely weak, with the hinges breaking under consistent use
Cheap, but that's primarily because it has no real selling points of its own
The conclusion
With many of the same strengths of the competitors, but lacking many of their advantages and having a few weaknesses of its own, the HUKOER mess kit isn't a great competitor. However, it is cheap and might make a great first mess kit for those trying out a shorter trip. Just pack your own utensils.
The best camping mess kit winner is…
The camping mess kit we most readily recommend is the Dynamic Gear pack. For the slight price increase over the others, getting a stove alongside your kit is well worth it. The microfiber cloth is also a nice addition for making cleaning up a much quicker and smoother process, too.
The Dynamic Gear might not have the strength of the stainless-steel IGoPeaks kit, but this option is too small for most campers and best suited to juniors.
Lastly, the HUKOER kit is a good purchase in its own right given the lightness, but with only a small price increase over it the Dynamic Gear mess kit is easy to recommend over it.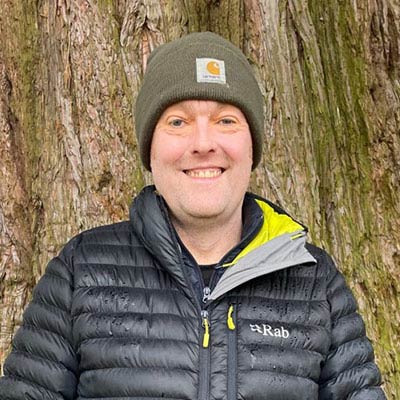 Eight years ago, I took a risk and left a miserable office job to follow a lifestyle career that involved my love for the great outdoors. I've taken my love for camping, hiking and travel to the next level by running my small campground with a friend near Portland, Oregon. It's for way less money but this has truly been a dream come true and the running involves lots of family and friends.
The next evolution of that was to get online and start allcampingstuff.com. At our campground, I spend a lot of time setting up camping equipment for customers and disposing of the garbage products they leave behind. If I can help just a few people with advice on good camping gear, then this website venture will be worth it.
So, if you want to avoid the duds and spend your money wisely you've hopefully come to the right place.