Last Updated on November 3, 2020 by Dean Anderson
There are a couple of ways to approach camping: you can go rough and rugged, or you can camp in comfort. If you're more of a comfortable camper, a good camping chair is a must. It gives you somewhere to sit that will support your back and keep you off the ground, whether you're fishing or sitting around a campfire.
A good camping chair needs to be comfortable supportive, and it should be able to stand up to heavy use. You don't want your camping chair to collapse because you're too heavy for it or after you've only used it a handful of times. It also needs to be portable because you only have so much space when you pack for a camping trip, and you need to be able to easily move it around when you're camping.
We've taken a look at three top chairs to help you find the best camping chair available. These heavy duty camping chairs should give you what you need for an enjoyable camping trip, but do they deliver on their promises?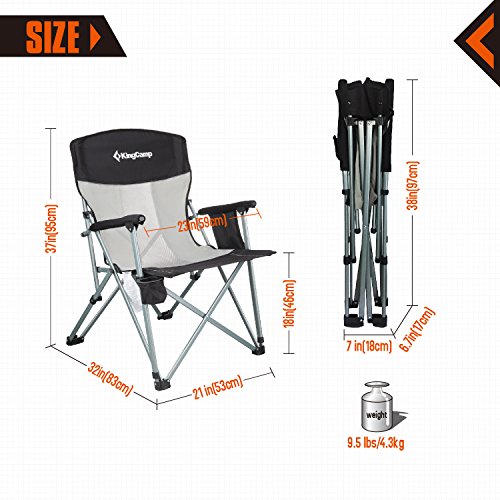 If you know the pain of sticking to your camping chair on a hot day, this chair with a breathable, moisture-wicking mesh will make you happy. Designed to keep you cool, it also has comfortable padded armrests and headrest, as well as a handy cup holder and storage pocket.
With its solid frame, which can hold up to 330 lb, and durable polyester material, it should stand up to use fairly well. However, some parts, such as the flip-out cup holder, do appear to be slightly less solid. It provides good support, but the seat does sag a fair amount.
The chair's smaller size makes it very portable, folding down to only 38″ x 7″ 6.7″, and it comes with a carry bag too. But the smaller size is also a downside if you're on the larger size. The chair folds out to 21″ x 32″ x 37″, which is perfectly adequate for some, but others will find that it doesn't offer the space or the weight capacity that they need.
Pros
Breathable mesh helps to keep air flowing
Comfortable padded armrests and headrest
Sturdy construction with solid steel frame (supporting up to 330 lb) and 600D polyester
Cup holder and storage pocket for holding drinks, snacks, and accessories
Portable, with carrying bag
Cons
Not as large or capable of holding as much weight as some chairs
Some parts of construction seem flimsy
The seat might sag too much for some people's liking
Conclusion
The KingCamp Folding Chair is an ideal all-around camping chair. Whether you're on a camping trip or in your backyard enjoying a BBQ, this comfortable camping chair is a good choice.
The small size when folded, combined with the handy carry bag, makes it easy to move around, as well as to store. With its cup holder and storage pocket, you can settle in for an afternoon with everything you need. However, the smaller size of this chair is bound to be a downside for some, as it might not support their weight or size.
2. Coleman Big-N-Tall Quad Chair – Good choice for taller, larger campers and wet conditions
For tall or large people, finding a camping chair that works for them can be tricky. This Coleman Big-N-Tall Quad Chair aims to solve that problem by providing a chair specifically for these people.
The oversized chair is supported by large feet for extra stability, and the steel frame can support up to 600 lb at once. In addition to being a roomier chair, it's also a good choice for using in the rain or around water. The seat features a drainage system, and there's also a water-resistant cell phone sleeve.
Like other camping chairs, this foldable number comes with a useful carry bag. However, some people might object to the 'Big-N-Tall' logo on its side. One of the other downsides is that the chair isn't the most comfortable offering. While it has more space for taller and larger people, it doesn't feature a headrest or padding like some other camping chairs.
Pros
Good size and weight capacity for taller, larger users
Includes a carry bag for portability
Seat drainage system and cell phone pocket are great for wet conditions
Sturdy construction
Drinks holder in one arm
Cons
Not as comfortable as some other chairs
Carry bag advertises the 'big and tall' nature of the chair
No padding or headrest
Conclusion
Big and tall users will be glad to discover this chair, designed to give them extra space. On the other hand, they might find that it leaves something to be desired where comfort in concerned. Comfort could be improved by adding cushions or extra support if you still wanted the extra space.
This chair is an excellent choice for wet conditions, for just sitting in the rain to fishing. The drainage system for the seat prevents standing water, and the cell phone holder protects your important gadgets and possessions. This chair is durable, although it might not prove to be the most comfortable choice.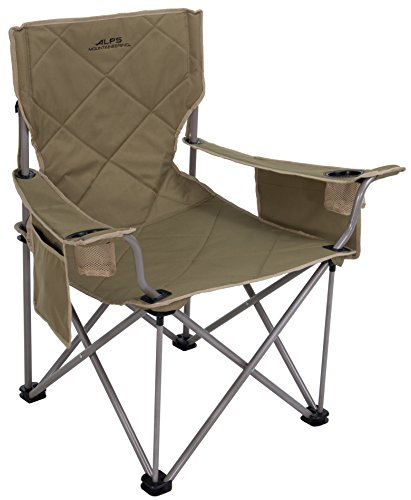 Nothing but the sturdiest, most durable camping chair will do for some people. The ALPS Mountaineering King Kong Chair aims to deliver on that front, promising to hold a weight of up to 800 lb. The chair's patented support system delivers a durable, high-capacity chair with a stable steel frame and strong fabric. It includes cup holders and pockets, as well as additional storage in the form of a mesh pocket on the back of the chair.
This chair measures 38″ x 20″ x 38″ and weighs only 12.5 lb, making it easy to carry in the included shoulder carry bag. These chairs come with a limited lifetime warranty from ALPS to reassure you of their quality.
The one complaint about this chair is that it can be uncomfortable on the legs if you're that bit shorter. The canvas style fabric to the front edge of the chair can cause discomfort by cutting into your legs.
Pros
Sturdy, with a huge 800 lb weight capacity but no visual advertisement
Includes a carry bag to make it easy to move and store
Plenty of storage, with two cup holders
Adjustable armrests so you can get maximum comfort
Limited lifetime warranty
Cons
Can cause leg discomfort
Might not last a long time
Only suitable for certain heights – complaints from both shorter and very tall people
Conclusion
The ALPS Mountaineering King Kong Chair presents a sturdy option for anyone looking for an affordable camping chair. Its plentiful storage and adjustable arms, plus its strong frame and fabric are all positive attributes. It's easy to carry around and store, thanks to its carry bag. Most importantly it will represent a comfortable option for most of its intended users.
To give a balanced review it's fair to say that a small number of users such as those below 5′ 11″ might find that the front of the chair fabric can dig in after extended use. Likewise, if you really do have a large girth then the diagonal part of the frame underneath the cup holders can also pose a problem. We're really nitpicking with this though and talking about potential users on the limits of the intended market.
Final Words
Each of these camping chairs offers their benefits, so which is the best out of the three?
Based on the criteria of comfort, portability, and heavy duty use, the ALPS Mountaineering King Kong Chair is an excellent option. It has plenty of storage and comes with a carry bag, plus its sturdy frame and fabric are capable of holding a lot of weight. This chair is a little more costly than others, but it still represents good value and it's worth paying for high-quality construction, durability, and comfort. Only those right on the weight and height limits might find it uncomfortable.
The KingCamp Folding Chair offers a close runner-up, especially for anyone who doesn't need a wider chair. It will help to keep you cool in warm weather, and it features padding on the arms and headrest, which the other chairs don't have. This comfortable option is portable, but it gets beaten out by others due to its smaller size and seemingly flimsy construction in places.
The Coleman Big-N-Tall Quad Chair is also a possibility if you're looking for a larger chair. But it's not ideal for people who don't want to advertise the fact that they use a 'fat man chair', due to the logo on the carry bag. Like the King Kong Chair, some users might find this one to be uncomfortable, and it doesn't offer the storage options that the other chairs have.
In summary, if you're looking for the best camping chair for durability, comfort, and portability, the ALPS Mountaineering King Kong Chair should make you happy. It's a top choice for larger people, with plenty of stability and lots of space too. Choose this chair for an all-rounder that offers a little of everything.