Finding the perfect gift for your friends or family can be a traumatic experience at best.
You want something good and original but might not want to break the bank. Well if they're into camping or hiking then this list should have you covered. Whether it's camping gifts for Christmas, a birthday or you're just taking advantage of Black Friday 2017 deals for a loved one we've got it covered.
We've divided the ideas into some convenient groups based on value, gender and uniqueness. Many have been fully reviewed elsewhere on our site so you can get the proper low down and understand why we rate them so highly. Here goes…
Camping Gifts Under $30
LifeStraw Personal Water Filter – An essential 'just in case' item that makes perfect gifts for hikers in your life
For less than $20 this has to be the must have camping gadget for any hiker or camper. It's small, light weight and it just might save your life. Since 2005 this has been used by millions around the globe and put simply it makes contaminated water safe to drink.
Filters without the use of chemicals
Flip the lid on both ends and suck up as you would do with a standard straw. The LifeStraw is good for filtering a 1000 liters of contaminated water all without the need for chemicals such as Iodine or Chlorine.
Buy one for your friend to put it in their backpack for an emergency, hopefully they'll never have the need to use it. If you're planning on spending more then this is a great starter for making up a camping gift basket.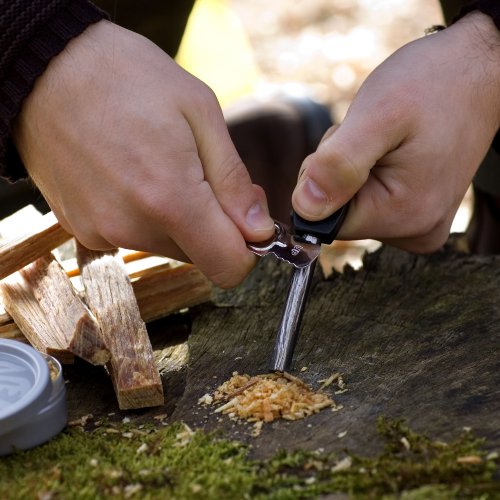 Nothing feels more manly than lighting a campfire with a fire steel. Assemble a small amount of fibrous flammable materials and smoothly run the striker down the steel to create a mass of sparks. Hey presto your fire, BBQ or stove will be lit. This model is good for 12,000 strikes.
These fire starters are standard issue for the Swedish Army and this is the very model I keep in my backpack at all times. Another essential piece of kit for the keen camper or hiker.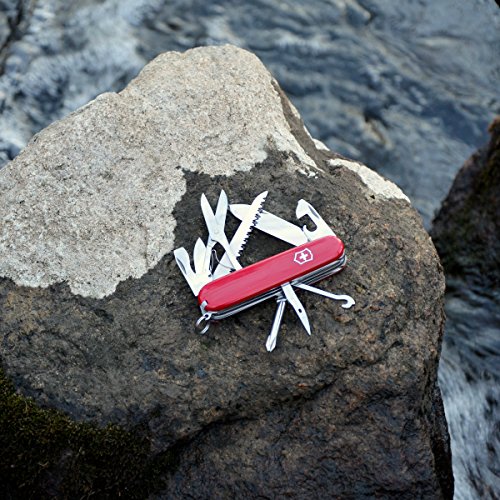 With plenty of options under $30 from the Victorinox brand this is another must have tool for any keen outdoors persons gear list. This is a multi-tool that you will use daily while camping or hiking whether it's for preparing food, hunting tasks or using to fix stuff with.
There are other brands out there but none have the warranty or spares back up that Victorinox offer. We reviewed a range of their products here.
If you're looking for gifts for the camper that has everything then why not consider this extended first aid kit?
It's not just for campers or hikers. A kit like this is useful for anyone that enjoys or works in the outdoors. Even drivers will benefit from having a kit like this. It's for those just in case moments, it's a product you hope you'll never have to use which is why the recipient of your gift might not have it.
This first aid kit contains all the usual items you would expect. Bandages, scissors, tweezers and supplies for the immediate treatment of injuries and infections.
Even includes basic survival gear
The kit has also been extended based on customer feedback. A stronger knife has been included as well as some basic survival gear such as a flashlight, fire starter, compass and fishing hardware.
This is a really thoughtful and unique camping gift that comes in a compact pack that will fit in a glove box or backpack. Buy and keep it to hand, for those just in case moments.
MSR Ground Hog Tent Stakes – A great little upgrade for backpackers and campers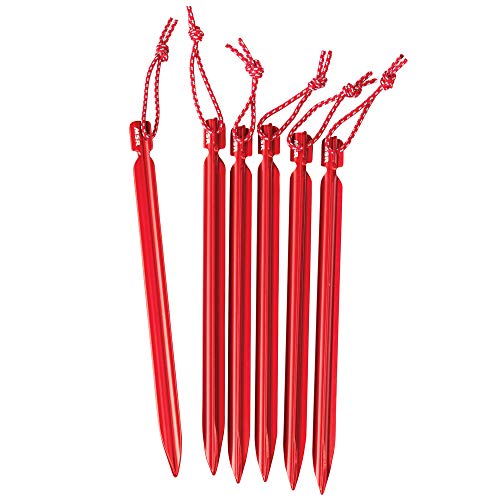 Perfect for a backpacker or a frequent camper are these tent peg upgrades.
Ditch the cheap wire offerings that came with your tent and swap for these lovely 3 sided aluminum beauty's from MSR. They look great, weigh next to nothing and the design really holds your guylines firm, even in strong winds.
Ground Hogs work best in medium to firm soil for options for other ground types see this review.
These are a great upgrade for any outdoors person and can be bought for less than $3 each or in packs of 6.
Camping Gift Basket
For camping gift basket ideas you could combine a few of the above items. These are all under $30 and furthermore given their nature it wouldn't matter too much if the recipient already one of the items. Having 2 of any of the above is a bonus. A gift basket makes a great Christmas present for couples, families or just someone you're unsure about what they already own.
Mid Price Marvels
BioLite NanoGrid – Next generation lighting for regular camping trips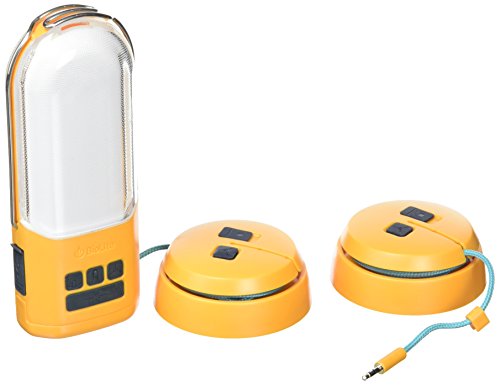 Let there be light, BioLite! If there's one thing you need plenty of when camping it's light. Especially during the winter months.
The BioLite brand seems to have the knack at the moment of making next generation versions of products. Their designers seem to rethink the original purpose and add value for modern culture. The NanoGrid is no exception. Not only does it provide light for up to 72 hours, from 3 daisy chained units, it can also double as a phone charger. This baby has enough stored battery power to charge up to 3 smart phones.
Part of a great family of products
The unit can also be recharged via a USB outlet. Indeed if you have a BioLite Stove you can recharge the NanoGrid from that. Decent camping lanterns are hard to come by, they're the Achilles heel of camping gear, with too many cheap below par products on the market. This product goes some way to addressing the balance and is highly recommended, though it has to be said you do pay for that luxury.
Not sure this would make one of the best gifts for hikers and is perhaps more suited to campers given it's a multi-unit device. You can read our full review here.

Price Disclaimer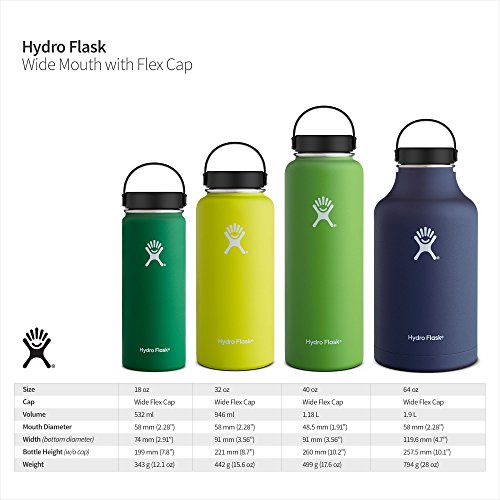 This item is one of the most gifted items in the Sports & Outdoors section of Amazon.com. They range in price from approx $30-90, depending on size and color. For hikers this is a seriously useful gift. You can easily maintain the temperature of hot drinks and soups for up to 6 hours and keep cold stuff cold for 24 hours.
A nice gift for those that travel a lot
The different lid options means the flask is suitable for a range of liquids and makes consuming them easier and safer. A great gift for any camper or hiker and also useful for those with jobs that are remote or involve lots of traveling.
If you've got a little more money to spend then a stove upgrade might just prove to be one of the perfect gifts for hikers or serious campers. This ingenious device cooks your food using a range of biomass fuels as well as charging all your USB connected tech.
Extend the functionality of the stove
A range of accessories are also available to extend the usefulness of the stove. These include kettles, coffee press and a portable grill. This will change the way you cook while backpacking or camping.
Even if a stove is not what you're looking for you have to admire the level of product design that has gone into the Biolite. Just watch the brief video below.
Money No Object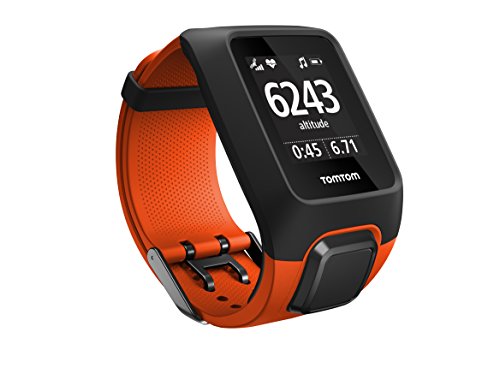 If you've got a decent sized budget for an important birthday or main Christmas gift then why not consider a GPS Tracker watch? This is great for lots of activities including hiking and camping.
Tom Toms got your back
The GPS lets you know exactly where you are in the world and can help you plan safe routes while off the grid. It will also monitor your heart rate, active minutes and keep an eye on the calories you're burning in any weather. The recipient may have a watch but do they have a watch that does all this?
If it is still a little pricey remember to check out the best buy Black Friday deals online in November.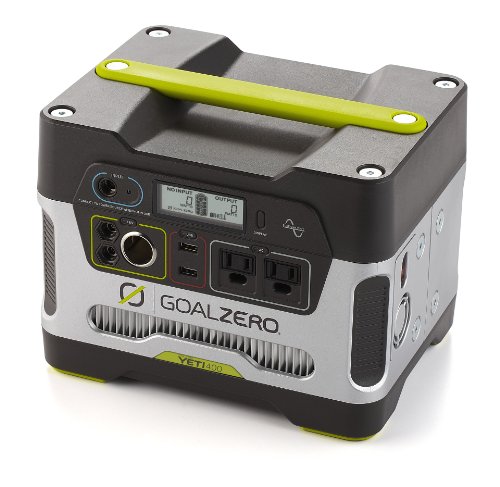 As much as many of us want to get 'off grid' there are many more of us that want to do that with a few modern conveniences. We go camping yet we take our cell phones and gadgets to make our vacation that little more comfortable. Inevitably these all need recharging and some need constant power. Everything from torches, cells, lanterns to TV's and toasters.
Power for just about any gadget
Step up the Goal Zero Yeti 400 portable power station. This is a grand name for what is ultimately a big rechargeable battery with an inverter to power just about anything you can think off. Various sizes are available with different power output capabilities.
The '400' has just about the right blend of power and functionality versus the cost of the unit. Plugin your cell, toaster, TV, you name it for instant power. These units can also be recharged on the go by attaching optional solar panels.
A great product useful for camping as well as many jobs around the home and garage. Checkout how one land owner in Colorado uses the Yeti and optional solar panel to keep her various bits and bobs charged while out and about.
For The Man That Has Everything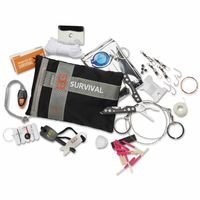 Nothing says Happy Christmas more than a survival kit does it? This one is endorsed from one of the best of the boy scouts out there, former SAS man Bear Grylls. Your man will still be tinkering with all the bits and bobs in this kit come New Year.
It's not quite a full bug out bag a prepper would have but it does contain most of the essentials you'll need in an emergency, all contained in a handy waterproof bag. The kit is of a decent quality too and highlights include a multi-tool, fire starter, mini light and a wire hand saw. Yes please I want one!

Price Disclaimer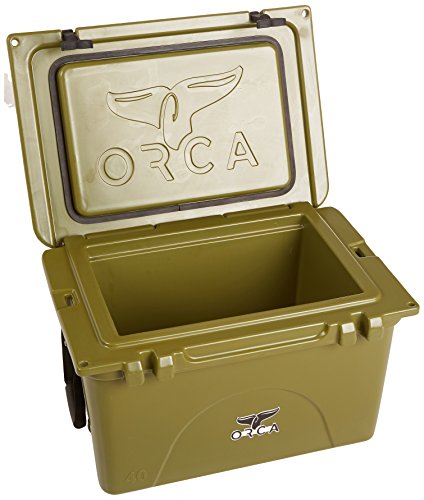 If he's into camping or generally just having a good time with his buddies then chances are he's got a cooler. But has he got one like the Orca TW0400RCORCA? In our recent tests this beauty pipped the Yeti Tundra 35 to the top spot.
Not only is it cheaper but it also matches the ice retention performance of around 7 days! Furthermore this well made model is made in America unlike the Chinese made Yeti. If you like your beverages ice cold while camping, fishing etc then check out the Orca Cooler, available in numerous sizes and colors.
For Her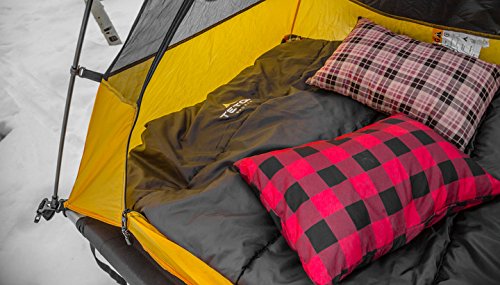 Lets face it camping isn't much fun unless you're comfortable and warm. My female better half reliably informs me that a good quality camping pillow is a must have for any trip.
The Teton Sports pillow with a tartan style finish is a great option for a weekend away. It's light at only 0.4kg with a comfortable brushed flannel finish. Also don't worry if you spill anything on it as the whole thing is washable. It also comes in a handy stuff sack.
Anything that keeps my lovely lady warm is worth it's weight in gold. If there's one thing that's bound to get her whining, it's being cold while camping.
The TNH sleeping bag, fully review here, is rated for use anytime of the year down to 0 degrees. It's light and folds up easily into the included compression sack, furthermore the zipper is of a decent quality. If you've ever had a sleeping bag, jacket or tent with a poor zipper you'll appreciate what I'm saying.
Camping Gifts For Couples
Take your camping cooking to the next level with this truly ingenious, next generation camping stove. The Biolite uses any solid biomass fuel, such as twigs, pellets and wood chunks to cook your food and heat the surrounding area. Uniquely the BaseCamp can also charge USB connected devices such as cell phones and tablets with it's built in thermoelectric generator.
A groundbreaking very cool product
You can cook up to 8 burgers at once with this unit and a handy included light lets you see how well done the food is, any time of the day. A truly ground breaking product with loads of built in tech for gadget fiends and one of the best camping gifts for couples or families.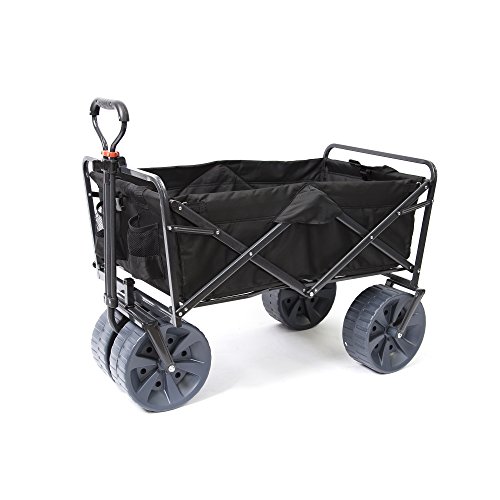 If you're buying for a couple or indeed a family it's likely they'll have lots of camping gear to lug around. Well why not make things a little easier with this collapsible utility cart from Mac? It's really well made and folds down easily and into a relatively small footprint for storage.
Once you've got used to the steering you can haul the tent, kids, dog or even a decent sized cooler. This particular product won our recent review of 3 top utility carts.
Wrapping our camping gift ideas up – Pun Intended!
We hope to have given you some great camping gift ideas for lovers of the great outdoors, regardless of your budget. You really can't go wrong with our sub $30 section and if you have money to burn our pick of the bunch would be either of the BioLite CampStoves, super useful and great for anyone that likes gadgetry.
Hopefully they'll like anything you choose for them, after all it's the thought that counts.
Last Updated on March 14, 2023 by Dean Anderson