Whether you're going out exploring the wilderness by yourself or just want a tent that's going to be easy to carry around, finding the best one person tent is essential. They are small and compact, offering the space you need in a size that's easy to transport whether you're moving around on foot, on a bike or in the car.
But not all one person tents are created equally. Some are certainly better than others, and there are different tents that suits the various needs of different people.
Two things that all one person tents should be are light and waterproof. If they can't protect you from the rain and remain easy to carry around, they won't be much use to you.
All the one person tent options discussed below are light and waterproof and are the next size up in terms of space from a bivy tent or even a one man cot tent. On top of that, they can all be bought for under $100 because we know that most of us don't want to break the bank when buying a tent.
Read on to learn all that you could possibly need to know about these 5 individual tent options.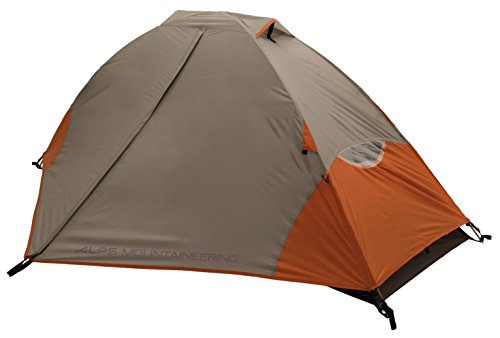 The ALPS Mountaineering Lynx single person tent is designed specifically for people who enjoy mountaineering, as the name suggests. That doesn't mean it can't be used in other ways, however.
Firstly the ventilation on offer is good thanks to the half mesh walls. There is also a vestibule for extra storage, which will be useful to most people allowing you to fit vital bits of gear.
The tent weighs 3.94 lbs, meaning it's reasonably lightweight and easy to transport. You should have no trouble fitting it in your backpack once it's all packed up correctly. The rainfly is one of the better ones available, so you will remain protected from the rain while you sleep.
In terms of size, the tent is certainly compact. Bigger people using the tent might find the space a little cramped, but this won't be a big problem for the vast majority of people. However, you might not be able to sit up inside it comfortably.
Another implication of the compact size is that some people can find it challenging to get in and out of, especially when the vestibule is deployed. The tent is just under our ceiling price, offering decent value for money.
There are cheaper one person tent options out there but because of the particularly light design, storage options and waterproof quality, the price is more than fair
Pros:
Good value for your money: it offers more than you'd get from more expensive tents
Very lightweight: it's easy to move around without it causing you any major headaches
Vestibule storage: if you're carrying things with you, you'll have somewhere to put them
Good ventilation: the half mesh walls mean condensation won't become a problem
Easy assembly: there is nothing complicated about putting up the tent; it's small stature aids this
Cons:
Very compact inside: taller or larger users might find they feel a little cramped
Vestibule storage use impacts on entry/exit: some people will find it harder to get out of when the vestibule storage is being used
Hard to sit up comfortably: even people of average height will find it difficult to sit up comfortably
Conclusion:
Overall, the ALPS Mountaineering Lynx 1-person tent is a good tent for people who need protection from the elements and want to move around easily.
The lightweight design and strong waterproof features make it useful for people who are hiking and mountaineering, as well as campers who just like to do a lot of walking. It's not such a good product if you want a bit of extra space inside the tent and bigger or taller people should look elsewhere if they want to sleep comfortably.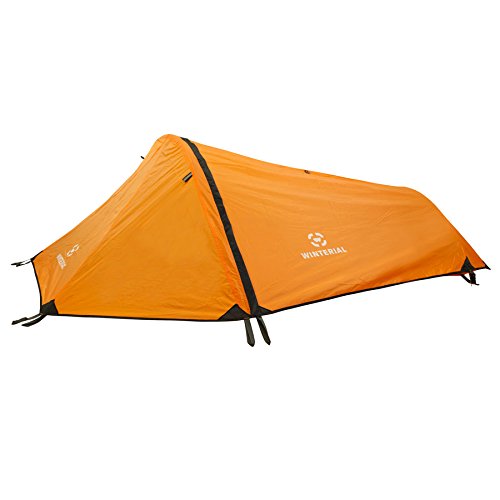 At a good chunk under our $100 target the cost of the Winterial Single Person Personal Bivy Tent is very impressive. For people who are not experienced campers with specific needs, this price will attract them. But what do you get for your money? For a start, the tent is 4 lbs when packed, meaning that it's lightweight and won't weigh you down when getting around. It's 22" x 7" x 6" when packed. However it remains one of the heavier options on test here.
The assembly is very easy, so even beginner campers shouldn't have much trouble here.
The waterproof features are adequate but not the best. If it rains, you won't get wet. But if that rain turns into a torrential storm, the tent will be pushed to its limits, and it might not always hold up.
One clear problem lies with the ventilation in the tent. The mesh roof is poor, and many people find that condensation becomes a problem during humid nights.
The overall durability of the tent is not the best. It's cheap and affordable, but it won't last forever as a result of this. The stakes are a little shorter than they could otherwise be, and this makes surviving storms that bit more tricky. There's also not much on offer in the way of storage.
Pros:
Very quick and easy to assemble: the poles snap together easily and it uses two hoops
Low cost: this is one of the most affordable one person tents on the market
Lightweight: the tent is very lightweight and easy to carry in a backpack
Access is always easy: the zippered doors are large and offer plenty of space to get in and out of
Cons:
Too compact for some: for those over 6 foot, the space will probably be inadequate
Stakes are not the most durable: the stakes are relatively short and don't always stand up to testing conditions
Condensation problems: ventilation is a clear problem, meaning that you could wake up with a lot of condensation on the inside of the tent
Conclusion:
The Winterial tent is best for people who want to go hiking in mild conditions. If you are planning on camping in extreme weather conditions, this is probably not the tent for you. It should also be avoided if you're tall and need more space than this compact tent has to offer. The lightweight design and easy assembly are what make it stand out, alongside its low cost.
3. Eureka! Solitaire Tent – One of the lightest 1 man tents around but build quality suffers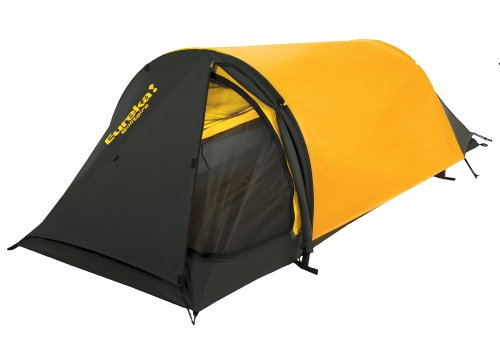 The Eureka! Solitaire Tent is aimed at people who want a starter tent at a low cost. This is among the cheapest one person tents on the market. It's also incredibly lightweight at only 2.9 lbs. If you want something small and easy to pack away, this could be an option. Still it's not quite the light weight option that the Andake Ultralight tent represents.
However, people who are looking for a tent that they can rely on long term should look elsewhere.
Many users have found that the poles simply break after a few uses, while this wasn't the case with our test model this is a trend too big to ignore. The poles have clearly been designed poorly and cheaply. Some reviewers have reported that hail storms have also been known to rip the tent material too.
The overall flimsiness and poor design quality of the tent negate any of the positive things it has to offer. You will spend a long time setting it up, and all that time will be wasted if it breaks quickly.
Pros:
Low cost: it's a cheap tent, but you get what you pay for here
Decent option for single use: if you want a cheap tent to use once for a festival it could work
Very light: it's one of the lightest tents around, making it effortless to transport
Cons:
Weak and poor quality poles: the poles break very easily
Overall flimsy design: the other components are also flimsy and poorly designed
Difficult to get in and out of: access is difficult
Tricky to set up: it takes a lot of effort to put in place, and the instructions are not very helpful
Conclusion:
Considering the major downsides that come with using the Eureka Solitaire tent, it's impossible to recommend it. It's a bad product with a track record for not lasting long and breaking on users.
The poles are the major problem here. You'll be lucky if they last more than a couple of uses without snapping on you. Once that happens, the tent is pretty much useless. It could be a semi-decent option if you only want to use it once and could replace the poles with stronger alternatives. This then is not the best solo tent on test and buyers should look elsewhere. The Eureka brand does have more to offer than this dud though.
4. TETON Sports Mountain Ultra Tent – Great ventilation and an easy setup but with some minor niggles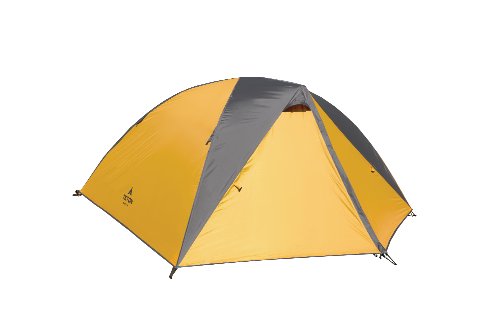 The standout feature of the TETON Sports Mountain Ultra Tent is the micro-mesh material that's used to keep the tent properly ventilated all year round. This ventilation technology is better than you'll find on any other tent in this price range. The TETON is well under the $100 dollar price category for one person tents at the time of review however the price of the Teton has been known to fluctuate.
It's simple to put up and take the tent down. It's also taller than many of the options on this list, so you will have room to sit up comfortable when inside the tent especially if you're a six footer.
However you probably won't be able to fit it in a backpack, and it's more weighty than the other options on the market.
One criticism that has been made of the tent numerous times is its tendency to leak. The leaks people experience only tend to be minor. It's also vital to use the rain-fly and the footprint to minimize this. It's not ideal to be using this tent if you are expecting poor weather conditions overnight or if you frequently camp out in such conditions.
Pros:
Room for storage in the vestibule: easy to store what you need to store
Good ventilation: micro-mesh material allows for very strong ventilation in all conditions
Limited Lifetime Warranty: the tent comes with a warranty to protect you against defects
Plenty of room inside: even tall users should have no problems here
Cons:
Quite heavy: it's a tent that's heavier than many of the other options
Difficult to carry in a backpack: the weight and bulkiness make it difficult to carry around
Minor leakage: many users complain of minor leakage after rain and storms
Conclusion:
If you want something that is going to be easy to carry around and pack away simply in your backpack, the Teton isn't the tent for you. It's a good product for people who don't mind the size and weight of the product.
If you are expecting bad weather, always deploy the rain-fly and footprint to avoid leakages. The micro-mesh material that provides good ventilation is its main selling point. Having a warranty that covers you offers another reason to make the purchase. Despite it not being the best on test here this one person tent will get plenty of sales.
5. Andake One Person Tent – Lightweight and waterproof making it the best solo tent on test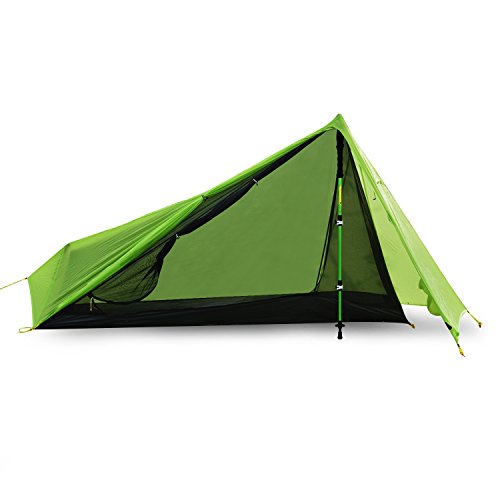 The convenience you get from the Andake one person tent is paramount. You can pack it all up and slide it inside pretty much any decent backpack. The size is very small, and the weight is even more impressive. At just 1.7 lbs, you can carry this tent around with you all day and never feel like it's weighing you down. This is certainly the most impressive aspect of the tent.
The quality of the materials is impressive too. This is not a flimsy tent that will only last a few camping trips. You should be able to keep coming back to it and using reliably it time and time again. The nylon ripstop fabric of the flysheet makes it one of the best out there. It also has a waterproof rating of PU 2000mm while still remaining breathable, so you won't get wet unless it rains hard for a long extended period.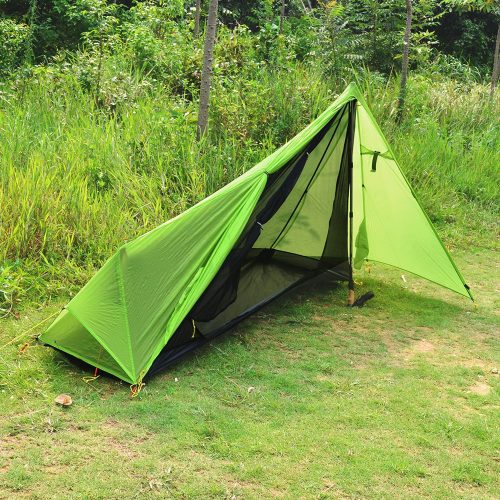 Some people have found that the trekking pole doesn't always stand up to harsh conditions when the wind picks up. And the setup can be tricky if you don't watch the instructional videos. But these are relatively minor complaints. The main problem for people who are trekking with a lot to carry is that the vestibule storage space is very limited. It's fair to say though that backpackers on the whole do try to carry light.
Therefore the price tag is fair and reasonable considering the high quality of the materials and the very minor quibbles.
Pros:
Fits in backpacks easily: one of the easiest tents to transport and carry
Ultra lightweight: the lightest one person tent on test
Made from strong materials: all the materials used are strong
Waterproof: leaks shouldn't be a problem here
Cons:
Tricky setup: the setup can be a little complicated the first time but instructional videos are available
Weak trekking pole: the trekking pole isn't suited to strong winds but replacements are available
Limited storage space in the vestibule: not a great deal of storage space for hikers but is that anything new?
Conclusion:
If you don't need much storage space, but you want to keep dry, the Andrake is the tent for you. It's good for people who are walking casually and want nothing more than a strong tent that is easy to carry around. You won't find a tent lighter than this one, and the way it packs up makes it extremely portable too. All in all, the Andake Tent is a very good product with a lot to offer. Against the rest of the competition here this is the best solo tent reviewed
The Overall Verdict & The Best One Person Tent Revealed
Of these one person tents the Andake tent is a clear winner when it comes to quality on offer.
The materials that are used to construct the tent are of the highest quality, and no other tent on the list can compete with them.
Yes, it's the most expensive tent on this list, so maybe the fact that it's won is not a surprise. But it still comes in at under $100.
Another admirable tent worth a mention here is the ALPS Mountaineering Lynx tent. It offers great value for money, it's really easy to set up and carry around, and ventilation won't be a problem. Of course, the best ventilation can be found on the TETON Sports Mountain Ultra tent. But the weight, bulkiness and fluctuating price make it less appealing.
The tent to avoid is the Eureka! Solitaire tent. It's simply too weak to be able to do the job properly for you. The poles break far too easily, and the design simply isn't good enough for what most people expect from a tent.
While all these tents offer a good degree of waterproof protection out of the box, so to speak, it's still worth following the tent waterproofing advice here.