Last Updated on August 3, 2023 by Dean Anderson
Tent poles are the literal foundation that lets tents stand on the ground. If you love camping or you're looking for the best gear, a sturdy tent pole is worth its weight in gold for campers.
If you have a camping checklist for beginners, you know what you need. You should have a strong, reliable tent pole material at the top of that list.
How do you know which one is best for you?
In this guide, we'll show you the right materials for tent poles that fit what you need. From aluminum tent poles to fiberglass tent poles to everything in between, we give you the low down.
Here's what you can use for your tents to get a peaceful day at the camp.
1. Aluminum Tent Poles
Aluminum is one of the two most common tent pole materials in the market – and for a good reason. Many of the upper-mid to high-end tents that are both light and expensive take advantage of them. These tend to go the more expensive route because they fulfill two things campers love the most.
Aluminum tent poles are strong and they're light. They have some of the best strength to weight ratio and they can be as flexible as need be. They can be far more expensive due to both the strength and flexibility they provide.
A tensile material
When you compare them to fiberglass tent poles, they are more tensile. This means if you are using them for rounded dome tents, they can adjust according to the shape you need.
For campers with big family outdoor camps, aluminum tent poles create larger spans. They provide an almost unchanging tensile strength crucial when camping in inclement weather.
Aluminum tent poles will retain much of their flexibility in any weather condition. This is in stark contrast with fiberglass tent poles that can become brittle in extreme cold camping.
The problem with aluminum is that they can corrode, especially in salty winds. They also cost around double compared to other tent poles on this list.
If you want strong and flexible materials for tent poles, aluminum tent poles are right for you. You will spend extra, but you can guarantee yourself a strong tent structure.
Pro's
Strong
Light
Quite flexible across longer expanses
Con's
Quite expensive
Can corrode
2. Fiberglass Tent Poles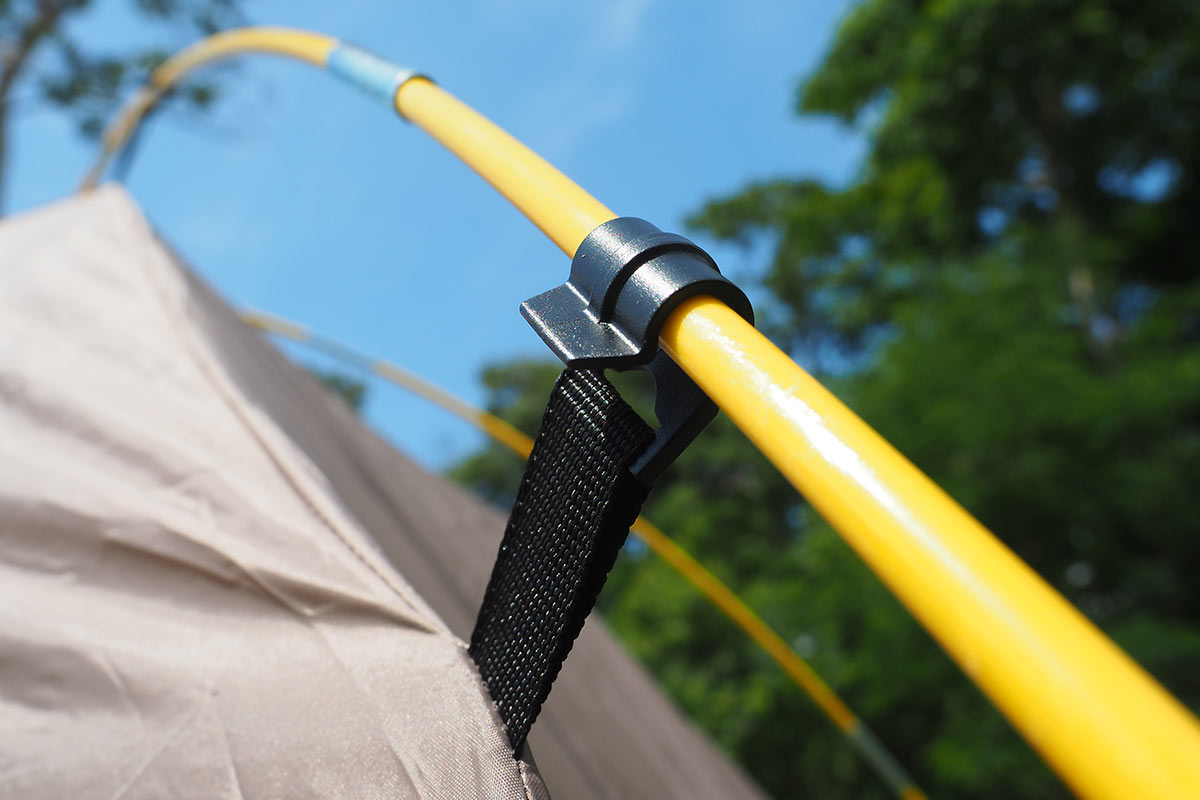 Fiberglass tent poles are some of the cheapest tent pole material. Many of the lower-end tents will have fiberglass poles included with them. They tend to come in use for car camping and cabin style tents where flexibility is a must.
There are some tent brands that provide a combination of fiberglass and steel or aluminum tent poles. This combination works as a stand for the tent. The fiberglass tent poles because of their flexibility to bend will then work as the roof for the tent.
Thicker than aluminum
Fiberglass tent poles, in general, are solid and flexible but they tend to be heavier than aluminum. This can be a problem if you're looking to pack light or hike for miles on end. This extra weight comes from the extra thickness they have over aluminum.
The problem with fiberglass comes from their cold conductivity. They can crack and break in cold temperatures, so they are best during summer weather. They can also shatter or splinter if you put them under severe pressure.
Pro's
Quite strong
Cheapest poles available
Con's
3. Steel Tent Poles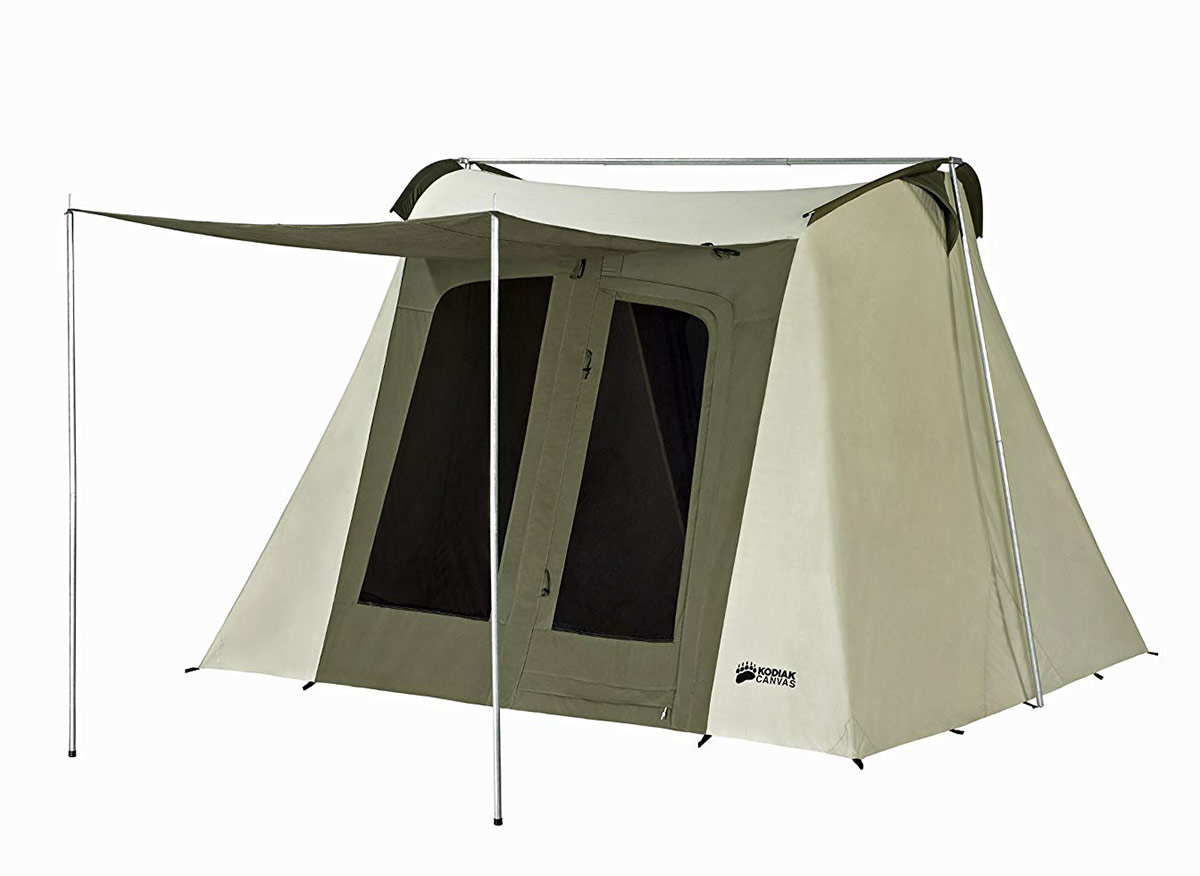 Steel makes some of the strongest, most durable tent poles out there. As you can already imagine, steel is heavy and hard to lug around when compared to aluminum tent poles. People find good use for these in car-camping tents and cabin tents where people use heavy duty canvas. You'll also appreciate steel on longer camps or if you plan to live in your tent.
Perfect under canvas
There are dome tents with steel tent poles too, which also uses heavy-duty canvas. When you use steel as a material for tent poles, what you get is strength and durability. You can be sure that your tent structure will never break apart without costing you an arm and a leg.
The problem is the weight and longevity of these tent poles. Unlike fiberglass tent poles, these can corrode when wet, especially with saltwater. They are also on the extreme spectrum of the weight class.
Pro's
Very strong
Relatively cheap
Con's
Only suitable for car camping
Can rust if not stainless steel
Might need 2 people to set up
4. Carbon Fiber Tent Poles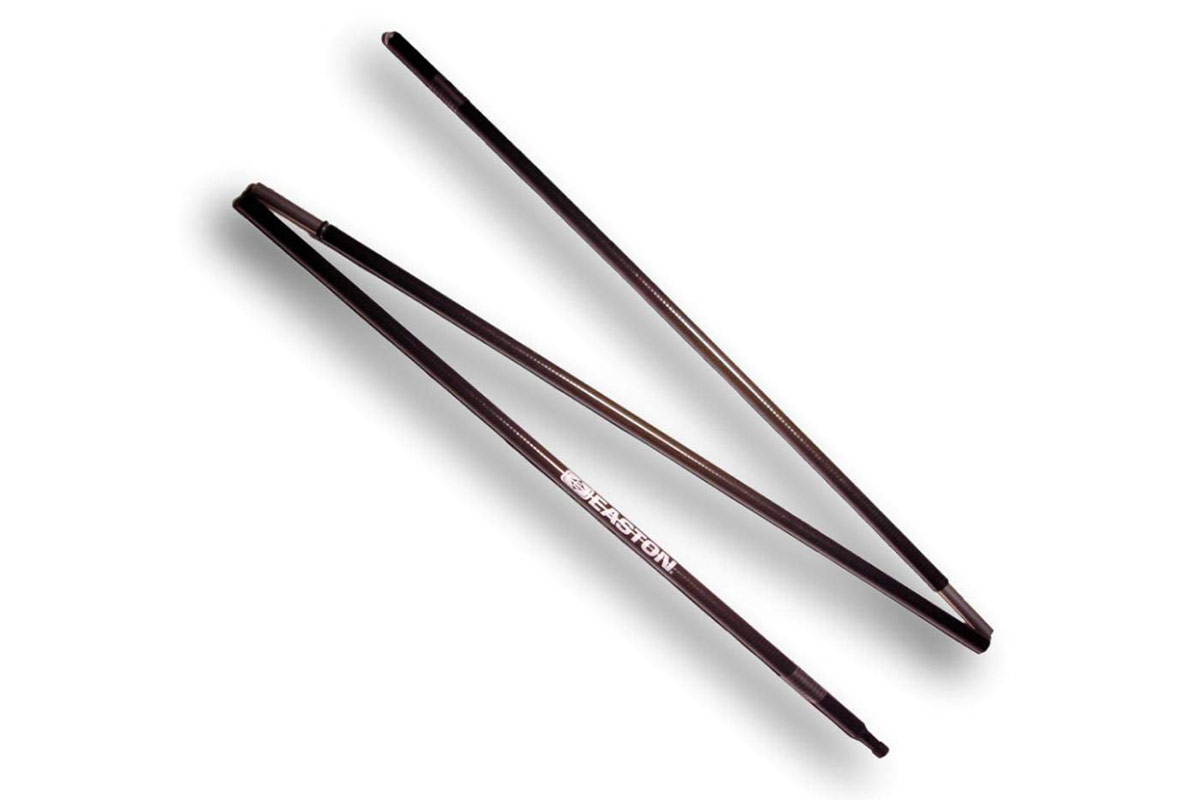 If you're basing on material alone, carbon fiber tent poles are the best in class. Carbon fiber poles are the strongest, most durable and lightest tent poles available. You can see them in use by professionals who are looking to camp at extreme temperatures or want to minimize weight when backpacking.
Carbon fiber poles are ultra-lightweight. They can even be lighter than aluminum tent poles, with the durability of fiberglass tent poles. Why are they less common than the latter two?
An expensive option
The keyword for this is cost.
Carbon fiber is expensive, so much so that you'll pay at least an extra 50% cost of aluminum tent poles. They also have bad flexibility due to their rigid structure, making them unsuitable for extreme windiness.
Pro's
Very strong
Very light
Tent poles that look great!
Con's
5. Composite Tent Poles
Composite tent poles are a new technology in the market and are still under careful introduction. Many of the current composite poles claim to have aerospace-grade materials. This provides superior flexibility and breakage resistance to aluminum tent poles.
How does this work?
Composite designs differ from every manufacturer, but superior tensile strength is achievable. The composite will have directional wrapping, which will help the tent poles flex in the strongest winds.
Pro's
Con's
6. Air Beams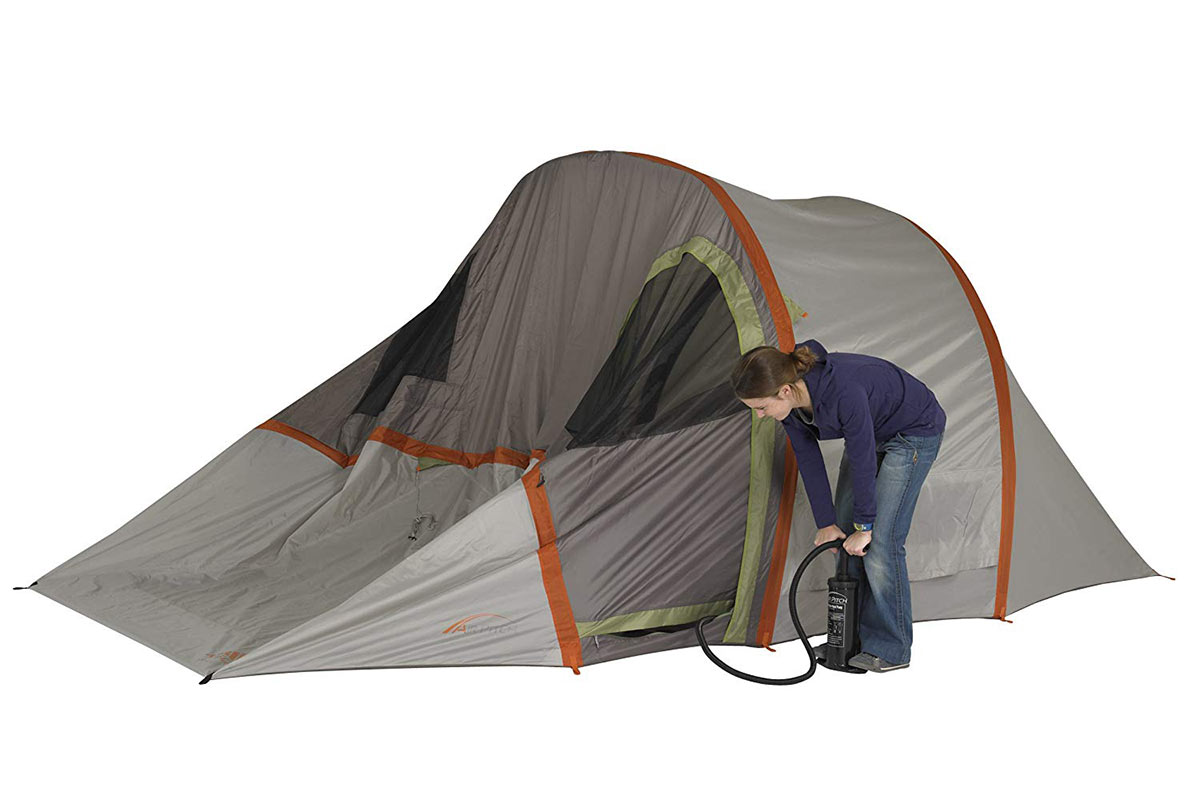 Air beams are perhaps the most unusual option on the list. You can find them in inflatable tents.
In the past these were somewhat unreliable. Now that big brands like Coleman have got involved in the manufacture of them the quality has come on leaps and bounds. They're also highly flexible and allow the tent to cope with windy conditions when properly staked and guy lined.
Tents that incorporate air beams, generally tunnel tents, are easy to install and set up. You do pay a premium though for choosing a tent with built in air beams.
Beams are generally sewn into the tent
With most brands the air beam is sewn into the tent already, although spares can be bought for some brands like those from Berghaus.
For those that aren't replaceable the tent comes with a puncture repair kit to repair the high pressure air beams with.
Pro's
Relatively strong
Very flexible
Con's
Quite expensive
Not easily replaceable
What's The Best Tent Pole Material For You?
If you're looking for the best tent pole material, consider the tent you have, the fabric it uses and the type of camping you'll be doing. Different conditions, budgets, and even activities will make for different suitable tent poles.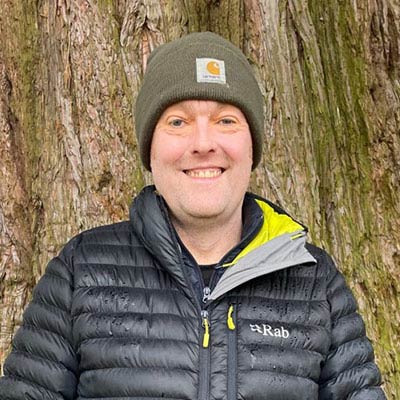 Eight years ago, I took a risk and left a miserable office job to follow a lifestyle career that involved my love for the great outdoors. I've taken my love for camping, hiking and travel to the next level by running my small campground with a friend near Portland, Oregon. It's for way less money but this has truly been a dream come true and the running involves lots of family and friends.
The next evolution of that was to get online and start allcampingstuff.com. At our campground, I spend a lot of time setting up camping equipment for customers and disposing of the garbage products they leave behind. If I can help just a few people with advice on good camping gear, then this website venture will be worth it.
So, if you want to avoid the duds and spend your money wisely you've hopefully come to the right place.