Last Updated on October 8, 2019 by Dean Anderson
There's nothing quite like the great outdoors. However, if there's only one thing we dislike about camping and trekking activities, it's the prospect of an uncomfortable night's sleep. That's why making the right choice of tent is absolutely vital.
For many people, especially solo travelers, an off ground tent is the perfect solution.
Anybody with camping experiences can relate to the pain of sleeping on uneven terrains or having stones digging into them. Sleeping in a tent that leaves you suspended slightly above the ground can remove those problems forever.
Gaining a more comfortable night's rest is just the start. It also enables you to wake up free from the aches and pains commonly associated with traditional camping. This in itself can help maximize enjoyment.
Knowing that you want an off ground tent is one thing, a camping hammock with a tarp is one solution as are cot tents which is what we focus on here. However finding the best tent cot for the perfect night's sleep isn't straight forward. There are many practical factors to consider ranging from size to assembly time. Then there's also the price.
The market can feel like a minefield. Here's the low-down on three of the most popular off ground tents out there. You can see which is best in our comparison table or read the full reviews below.
| Product | Product Image | Unique Feature | ACS Rating | Price |
| --- | --- | --- | --- | --- |
| Kamp-Rite Oversize Tent Cot | | Great quality from the big brand | | CHECK PRICE |
| Tangkula Folding Tent Cot | | Good value for money | | CHECK PRICE |
| iUcar Portable Tent Cot | | Comfortable and easy to erect | | CHECK PRICE |
| Yescom 1 Person Tent Cot | | A cheap copy of a much better product | | CHECK PRICE |
1. Kamp-Rite Oversize Tent Cot – Quality you'd expect from the defacto cot tent brand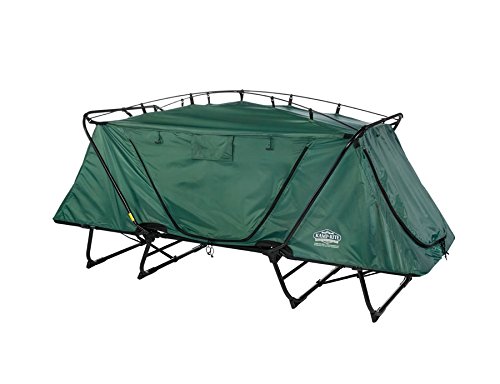 Kamp-Rite Oversize Tent Cot Specification
| | |
| --- | --- |
| Folded Size | 36″L x 34″W x 7″H |
| Size Setup | 90″L x 32″W x 47″H |
| Weight | 32lbs |
| Ground Clearance | 11" |
| Setup Time | 5mins |
| Tent Fabric | 190T Nylon |
| Frame Material | Steel |
| Weight Limit | 350lbs |
The Kamp-Rite oversize tent cot is a versatile all-in-one model designed to suit all camping situations. It can be used as a flat cot, chair or lounge as well as a tent, and can be assembled in a few minutes flat.
Good for larger people
When in tent mode, it sits a full 11 inches from the ground while it boasts an extra 12 inches of headroom compared to the standard size model. This takes the dimensions to 90" x 32", making it a good option for the larger framed individual.
A heavy duty 210D tent and rain fly design can withstand even the harshest weather. However, while the flaps are designed for better ventilation, they can present a problem with condensation. This is easily prevented by either keeping them shut or ensuring that they are tied up in the right position. Nevertheless, overlooking this factor can suddenly make things a little less comfortable.
Great overhead pockets
Arguably it's greatest design feature revolves around the positioning of zips and overhead pocket flaps. Aside from the airflow, it creates ample room for positioning flashlights and other key items.
Pros
Very spacious, thus suitable for bigger users or those wanting to store other items inside
Sturdy against both the wind and rain
Versatile design removes the need for chairs or additional items
Lives up to the promise of easy installation
Moderate retail pricing, especially for a known brand
Cons
Condensation problems when window screen pocket covers aren't positioned properly
Can get very warm inside
Quite bulky, making it difficult to carry on longer treks and journeys
Conclusion
For anyone that suffers from claustrophobia or requires ample space when sleeping, the Kamp-Rite will allow you to camp right.
It certainly does the job with regards to protecting you from the elements, not least when it comes to sleeping away from bugs and critters. Then again, it is worth noting that those with back problems may require additional padding for the bed itself. For those happy sleeping on a firm and fairly thin fabric, though, this should not be an issue.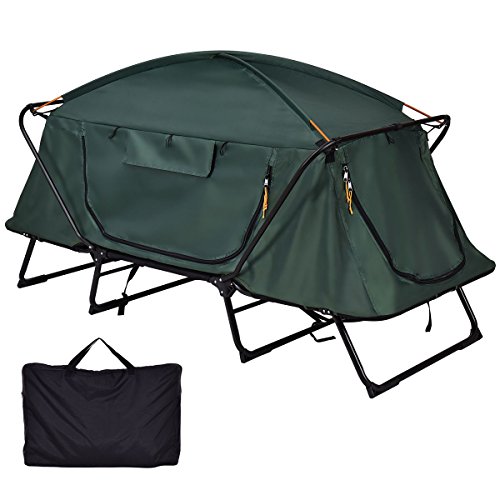 Tangkula Tent Cot Specification
| | |
| --- | --- |
| Folded Size | 33″L x 33″W x 7″H |
| Size Setup | 81.5″L x 32″W x 43″H |
| Weight | 29lbs |
| Ground Clearance | 12" |
| Setup Time | 4mins |
| Tent Fabric | 420D PU Coated Oxford |
| Frame Material | Steel |
| Weight Limit | 275lbs |
The portable pop-up tent designed by Tangkula is an affordable, no thrills answer to your casual camping needs. It includes a mattress, sleeping bag, and even a pillow. Like the Kamp-Rite branded cots, it also allows the cot to be separated from the tent.
As well as a comfortable sleep, the mosquito net ensures that you won't encounter unwanted guests. On the other hand, the fact that all elements touch the tent sides can be a little problematic in harsh weather conditions.
Can get hot
On a less positive note, the lack of ventilation when the windows are closed can allow it to get very hot.
While the compact design is great as an all-in-one camping product, it's not the most practical for treks.
Pros
Very affordable price, deal for an infrequent camper
All-in-one, removing the need for extra items
Mosquito mesh is very useful
Cons
A little heavy
Poor ventilation when windows need to be closed
Condensation can form easily
Conclusion
Tangkula's's compact off ground tent doesn't compete with the features of premium products. Considering the price, though, it isn't meant to.
It's a great tent cot when the weather is nice. This is especially true thanks to the included bedding facilities and option to disconnect the cot from the tent. When taking on the harsh elements, however, there are better more ventilated options out there.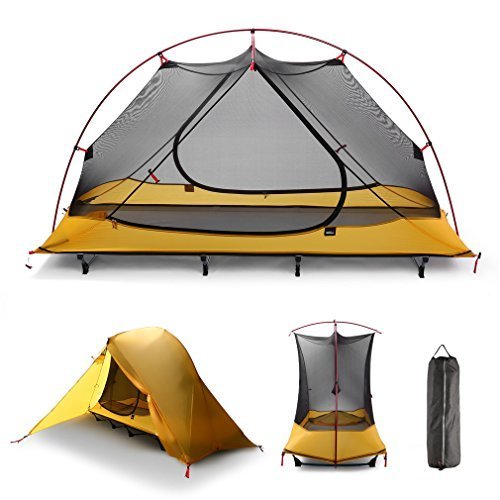 iUcar Tent Cot Specification
| | |
| --- | --- |
| Folded Size | NA |
| Size Setup | 78.7″L x 25.9″W x 41.3″H |
| Weight | 5.8lbs |
| Ground Clearance | 6" |
| Setup Time | 10mins |
| Tent Fabric | 20D Nylon |
| Frame Material | 7001 Aluminum |
| Weight Limit | NA |
The brand name might not stand out, but the iUcar portable cot tent offers immense comfort. The tent isn't as high above the ground as some others, but it still fights off the damp and wind with immense efficiency.
The sturdiness removes any movement while the design ensures all bars are outside. The comfortable sleep is encouraged further by the bedding that's included.
Spacious interior
Although it's not the largest off ground tent on the market, it is fairly spacious inside with the roof being pulled quite high. This creates more than enough room for connecting a flash light. Meanwhile, the light weight of 2.6kg makes it great for treks too.
As with other models, the bottom cot can be disconnected to create a separate chair or lounger for daily use.
Pros
Easy assembly (once you know how) lives up to expectation
Stays dry even in harsh conditions, and is sturdy against the wind
Covers can be positioned to allow air circulation without letting rain in
Fits into the carry bag for easy transportation
Quality material will last for years

Cons
A little fiddly on the first time you assemble it
Could include better storage space
The most expensive of the three
Conclusion
While being more expensive, this one person tent cot still offers great value for money. Its design is suited to the more regular camper as well as casual ones. More importantly, its sturdy frame and comfortable bedding makes it perfect for longer trips and adverse weather.
Once you've got used to the assembly process, it can be erected and dismounted within five minutes too. For an all round off ground tent, this is a brilliant product.

Price Disclaimer
4. Yescom 1-Person Folding Tent Cot – Comfortable but basically a cheap copy of a brand that does it better overall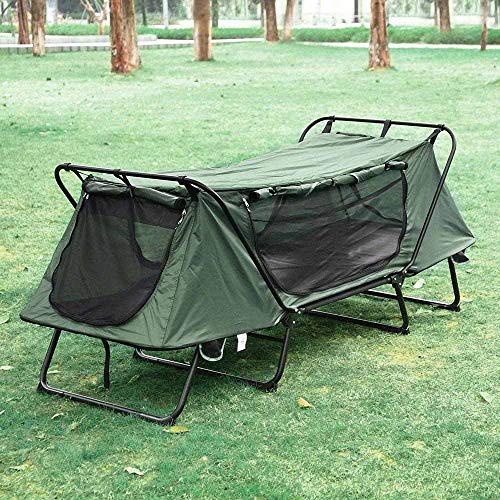 Yescom Tent Cot Specification
| | |
| --- | --- |
| Folded Size | 34 1/4" L x 6 1/2" W x 32 11/16" H |
| Size Setup | 83 7/16" L x 30 11/16" W x 35 5/8" H |
| Weight | 28.6lbs |
| Ground Clearance | 14" |
| Setup Time | 5mins |
| Tent Fabric | 200D Oxford PU 2000mm |
| Frame Material | Steel |
| Weight Limit | 330lbs |
At first glance you could be forgiven for thinking you were looking at a Kamp-Rite product. It looks just like their original tent cot product. But will this cheaper offering measure up in quality as well as looks.
Doesn't quite lay flat
On first setup the Yescom folds out easy enough, however it doesn't quite lay flat. Perhaps this will ease with a little use. Especially with my weight. I'm not quite at the 330lb limit but I'll certainly put it through its paces.
Within minutes you can be tucked up inside this ample sized shelter a good 14" from the cold of the ground. The 2 D-type doors allow easy entry and exit, plus the built-in camping pad makes things pretty comfortable.
Noisy but comfortable
The only thing we'd say is that the pad beneath you is quite noisy when you move around. It squelches and squeaks but is nonetheless comfortable. Again, perhaps it needs breaking in?
As an aside we didn't rate the Yescom as a chair. The angle doesn't feel right and the tent fabric, zippers etc make things uncomfortable. It can also work as a bench during the day or as a standard sleeping cot.
Good storage
Once in the tent cot there are numerous storage pockets for mobile phones, wallets and other small items. There are also polyester mesh linings to the windows and doors. These separate you from the outside and look more than capable of keeping the bugs at bay.
On paper and first looks the Yescom seems to have a lot going for it. Unfortunately, this is where things go a little pear shaped.
Poor zippers
The zippers on the Yescom just aren't that good. They're small, they jerk and look like they'll bend after a bit of use. YKK, these are not.
Waterproofing should be better
The zippers and seams are also the weak point when it comes to waterproofing. Despite the manufacturers claims and the decent 210d Oxford fly sheet, the rain gets it.
If you plan to use the Yescom in potentially wet conditions, then ensure you seam seal the backs of the zippers and treat the fly with Nikwax or similar. Do this before your trip.
Pros
Good build quality
A good size comfortable space
Handy storage pockets
Cheaper than the competition
Supports a decent weight
Cons
Not waterproof enough out of the box
Noisy built-in sleeping pad
Poor quality zippers
Conclusion
For summer nights out camping the Yescom proves to be a half decent copy of a much better tent cot. If, however you plan to use it in more adverse conditions then ensure you give the materials a proper waterproof treatment.
For the money the Yescom is a reasonably well-made tent cot that incorporates all the essential features. Unfortunately, it doesn't quite measure up to the best in this test.
Final Words – So Which is The Best Of These Cot Tents?
If you're a casual camper who sticks to fair weather and easy conditions, all four of these cot tents can satisfy your needs. Sleeping above the ground is far more comfortable, and the tents above also provide great air circulation. If it's going to be a one-off short trip, the Tangkula portable tent is more than adequate.
However, if you're looking to do a trek or more frequent camping trips, there is only one answer. You don't always get what you pay for in this world. Nonetheless, those sentiments do ring true here, and the iUcar is the solution that will provide years of camping comfort. It offers a luxurious experience. Meanwhile, the practicality of having everything all in one very lightweight carry bag is a winning option for this portable camping tent.
If you want the backing of a big brand name and a brand name that specializes in cot tents then by all means consider the Kamp-Rite. It only just loses out to the more expensive iUcar.
Lastly we'd only recommend the Yescom for summer camping. The lack of waterproofing out of the box will prove too much of a frustration for most. Still for spring and summer the Yescom is a comfortable tent cot with good storage and ventilation.
In truth with any of these options the money you'll save by not needing additional items will work in your favor too.