Last Updated on March 9, 2019 by Dean Anderson
Dark rest tents have been growing in popularity in recent years. The idea is that the tent provides a blackout effect so that you can keep it darker. This gives you the chance to lie in for longer in the morning or perhaps to block out either natural or artificial light when you're trying to sleep at night.
What to Consider Before Buying a Dark Rest Tent
When you're looking for a dark rest tent, there are several things that you might consider to choose the right one for your needs. You'll need to look at just how much light the tent can block out, as well as how much control you have over the light that comes in.
One thing to think about is whether by blocking out the light from your tent, you could also be trapping in the heat. Some tents might be better at circulating air and regulating heat than others. In some cases, you might actually be looking for an insulated tent with extra warmth.
Read our full guide about blackout tents.
Of course, just like any tent, you will want to consider the overall quality and the size. How much space do you have? Will the tent stand up to the weather conditions that you want to use it in?
Ozark is one of the brands offering dark rest tents, and the Ozark Trail 6-Person Dark Rest Instant Cabin Tent is one of the options you have if you want to buy one. We've taken a good look at this Ozark Dark Rest Tent so we can review it for you, and help you to make a decision about whether to buy it.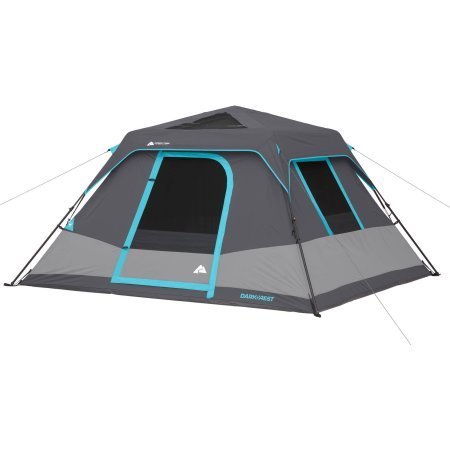 | | |
| --- | --- |
| Product | Ozark Trail 6 Person Dark Rest Tent |
| Sleeps | 6 Persons |
| Total Setup Time | 1 minute |
| Shelter Material | Polyester |
| Poles | Steel |
| Weight | 20lb |
| Base Size | 10' x 9' |
| Rain Fly | Half |
This Ozark Trail tent sleeps up to six people, with pre-attached poles for immediate setup. It features "innovative dark rest technology", as well as skylights with ceiling panels. The 10 x 9 foot tent can fit two queen airbeds and has three large windows.
Gives you the darkness you're looking for or see the stars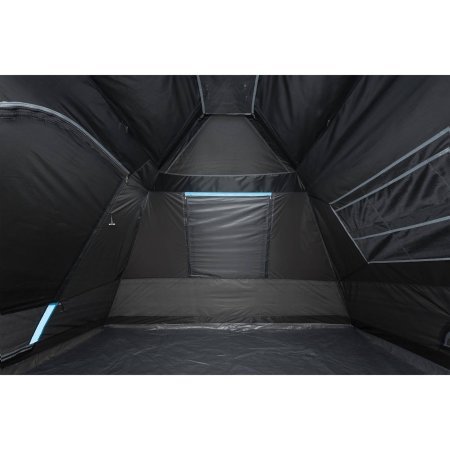 One of the best things about this dark rest tent is that you have the option to make it dark or to let in some light from the ceiling. The ceiling vents are also great for adjusting temperature.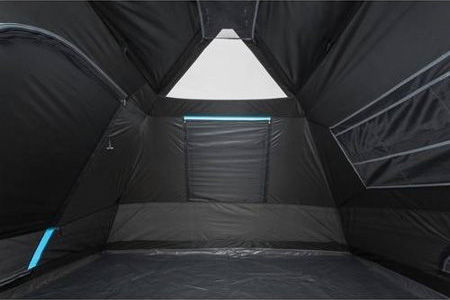 Zipping up all of the windows and vents keeps light to a minimum, which is fantastic if you prefer to sleep with more darkness than you would typically get outdoors. But if you want to feel like you're really sleeping under the stars, you can also unzip the skylights to give you a great view.
Plenty of space
If you need a tent with plenty of space, this one definitely provides it. The cabin style tent will take two queen-size airbeds, or you can fit up to six people sleeping side by side. Of course, you will want to leave space for gear. The tent's hanging gear loft and large gear organizer are great for this, offering lots of space to get your gear out of the way.
Easy to set up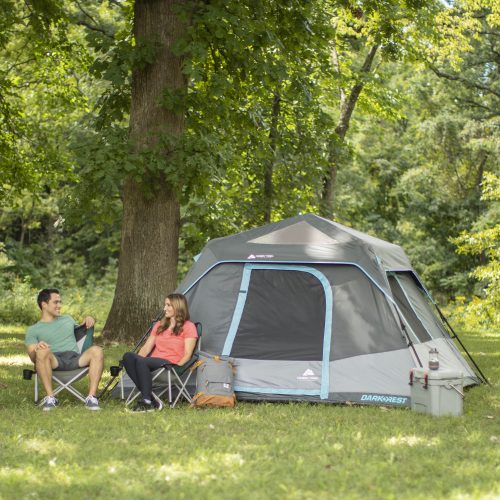 No one wants to deal with tents that take too long to set up. We tested out the speed with which you can set up this six-person tent, and it was speedy to get up. The pre-attached poles are handy and allow you to simply click everything into place. You really can get it up in only a minute, even with just one person.
Issues with the seams
One of the negatives that we noticed with this tent is that there are some issues with the seams. While it seems to hold up in the rain thanks to the rainfly, the seams do have some small holes and could possibly turn into bigger problems. Of course, you could add extra reinforcement and protection.
Regardless of this the Ozark is only really suitable for Summer camping. You might get away with a few late Spring or early Autumn camps but on the whole this is still a budget tent brand.
Doesn't provide total blackout
If you're looking for a complete blackout, you're unlikely to get it with this tent. It does control the light well, but don't expect it to completely block out any and all light. In fact, this tent is better if you do want to let in some light sometimes and do a spot of stargazing.
Pros
Very quick setup
Freestanding design
Helps to control light
Option of opening skylights for stargazing
Lots of space and gear storage
Electrical cord access
Mesh organizers and a gear loft included
3 windows
Cons
Potential problems with holes in the seams
No total blackout
Only provides tallest height in the center – might not be suitable for taller people
Heavy with the steel frame
Conclusion
Overall, the Ozark Trail 6-Person Dark Rest Instant Cabin Tent offers an excellent option for anyone looking for a dark rest tent. It's a great value tent and it meets its primary purpose of controlling light, while also offering lots of space. The instant setup will also be a bonus for many first or less experienced time campers.

Price Disclaimer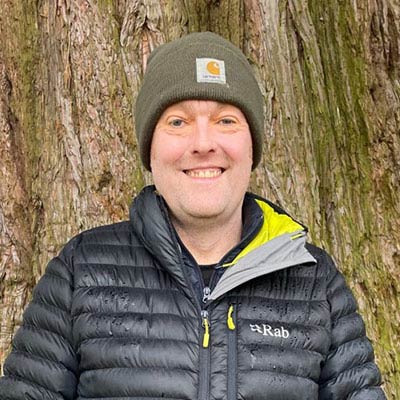 Eight years ago, I took a risk and left a miserable office job to follow a lifestyle career that involved my love for the great outdoors. I've taken my love for camping, hiking and travel to the next level by running my small campground with a friend near Portland, Oregon. It's for way less money but this has truly been a dream come true and the running involves lots of family and friends.
The next evolution of that was to get online and start allcampingstuff.com. At our campground, I spend a lot of time setting up camping equipment for customers and disposing of the garbage products they leave behind. If I can help just a few people with advice on good camping gear, then this website venture will be worth it.
So, if you want to avoid the duds and spend your money wisely you've hopefully come to the right place.