Last Updated on November 3, 2020 by Dean Anderson
Do you want to know the differences between a 3 season vs 4 season tent? This post will arm you with all the vital information you need to make a buying decision.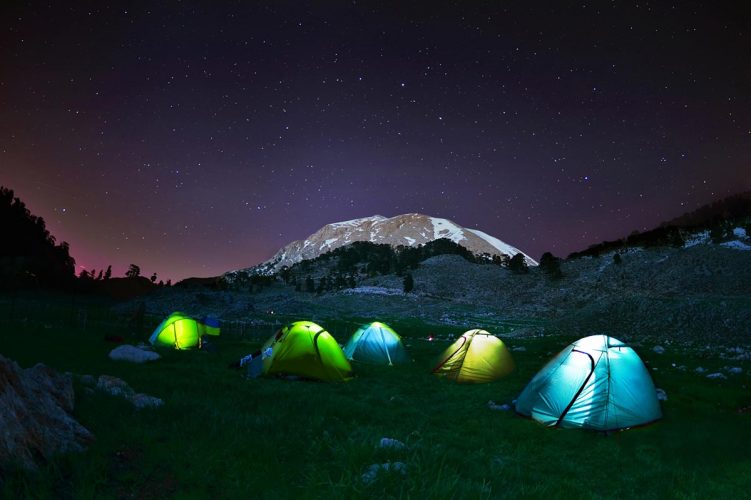 Which Tent Do You Need?
When it comes to buying a tent, most models with the exception of some summer pop up tents, are rated either three-season or four-season tents.
Depending on how often you'll be using your tent and what the weather conditions will be, will dictate which tent you purchase. Three season tents are ideal for spring, summer, and fall, however, it also depends on what the weather will be like during those seasons.
According to Rei, three-season tents "balance the need to keep weight low with the need to handle the wide range of conditions that spring, summer, and fall can conjure up". Whilst four-season tents are used for heavier-duty conditions. With Rei commenting they "are engineered to withstand fierce winds and substantial snow loads.""
Which is why when you are choosing a multi-seasonal tent, you need to consider the environment. And also the weather conditions where you'll be camping as opposed to the actual season.
Three-Season Tent
Due to their lightweight nature and ability to protect campers from the elements, three-season tents are most popular with backpackers and hikers.
These tents provide great airflow which makes them ideal for camping in summer and warmer weather. They also often come with two layers — an inner (tent body) and an outer (rainfly), which helps to protect campers from bugs, wind, and rain.
Common features of a three-season tent include:
Lightweight: these tents often weigh no more than 6lbs, thus making it very easy to carry and ideal for those who want to lighten their load.
Weather protection: three-season tents are able to withstand rain and wind. In terms of wind, a lot of these tents can handle up to 30 mph, with some more specialized tents, such as inflatable models, being able to handle higher wind speeds.
Easy to setup: typically three-season tents are easy and quick to put up and take down. This is because they only have one or two aluminum poles and two tent layers to attach.
Breathable with good airflow: three-season tents often have mesh walls and raised vestibules. These ensure they're breathable and have good airflow.
Three-season tents are great for camping. However, the lightweight fabric and poles can only withstand so much, so always check the weather forecast. You shouldn't use a three-season tent if you think you might experience high winds, extreme cold, or heavy snow.
Four-Season Tent
Camping supplies can sometimes have complicated names. For example, the four-season tent isn't ideal for year-round use. It's been designed to withstand harsh winter weather conditions, such as high winds, ice, heavy snow, hail, and cold temperatures.
Four-season tents aren't usually that lightweight with backpacking models weighing between 8lbs and 16lbs. Car camping models made of cotton canvas are much, much heavier. This is because their main purpose is to protect you from extreme weather conditions.
Common features of a four-season tent include:
Heavy-duty material: four-season tents use heavy-duty materials, such as polyester nylon. This is to protect the campers from the outside elements. These tents have been designed to block out the wind and the cold, whilst trapping in your body heat.
Strong exoskeleton: to protect campers from high winds, four-season tents have a strong and sturdy exoskeleton. This requires more aluminum poles and full fabric sleeves.
Angled sides: four-season tents rely on their steep angled sides to protect campers from all the elements. The rainfly and vestibules often extend fully to the ground for maximum extreme weather protection.
Bigger vestibules: these tents are a bit more spacious and have a large hooped vestibule, which is ideal for placing your gear. This additional space helps to eliminate frost buildup in your tent.
There are some drawbacks with the four-season tent however, because of the material these tents are often quite heavy. They also generally cost a bit more than a three-season tent, especially if you're trying to find a lightweight option.
However, these tents are perfect for wintry conditions and as winter is coming, you might want to consider investing in a four-season tent if you want to still go on adventures this year.
With a vast range of four-season tents, there's a lot to choose from. We recommend reading the reviews and finding out what other people have said about the tents.
Invest in Your Ideal Tent: 3 Season vs 4 Season Tent
Investing in a good-quality tent that is practical for your adventures is key to finding the right camping equipment. So, how do you choose between a 3 season vs 4 season tent?
Remember to ask yourself:
What you are needing the tent for and how long you'll be camping
What the weather conditions during your trip will be like. In-depth forecasts are a good idea to look at, however, if you are planning a trip in advance, then you might want to consider the time of year
And how much weight you want to carry
Getting a tent that works for you and your needs is crucial, as this will be your main shelter for subsequent trips.
If you're a keen camper or you're wanting to go camping more then you'll need to equip yourself with appropriate camping gear. Check out our camping gear articles now to make sure you haven't forgotten anything before you go on your next adventure.