There's nothing worse than arriving at the camp site with all the family or friends and then slowly realizing that you don't quite have the space to house everyone in the same tent. Or where you've a mixed sex group where it isn't appropriate for them to be sharing a room. In most cases, it will result in either a very tight squeeze or an uncomfortable camp. It may even mean that the trip is ruined.
If you're traveling with a larger group, you need a larger tent, preferably with multiple rooms. That's why we're looking at some 3 room tents for family or mixed camping. We've selected three tents to take a closer look at, weighing the pros and cons to decide on a verdict: which is the one worth choosing?
Price isn't the only thing we will be looking at. The best 3 room tents need to take into account the needs of the whole group. How many will it sleep, does it have good storage space, is set-up easy or difficult, and the like.
Let's take a look at the pros, cons, strengths, weaknesses, and final word on each. After looking at each tent, we will come to the conclusion: which is the best 3 room tent for a family or mixed camping group?
1. CORE 12 Person Instant Cabin Tent – A tent with separate sleeping areas but with durability issues that can't be ignored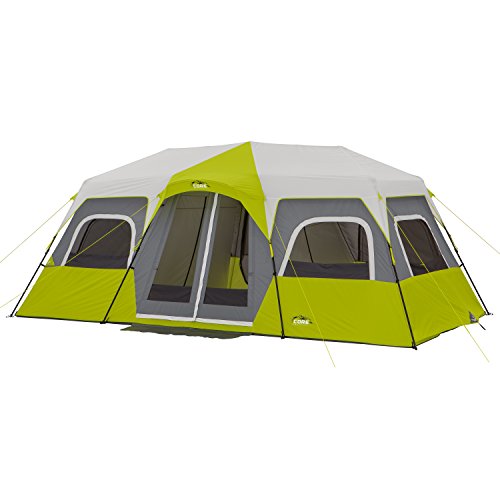 First off, it's the Core, a three-room tent measuring at 18' by 10', that's meant to fit twelve people in all. It's right in the middle of the three we are looking at, price-wise. It's a cabin-tent, meaning that it has straighter walls and square-shaped tents to offer a lot more space to whoever is staying inside and hooks for easy lantern hanging.
There's some flexibility to the design, as well, with two dividers that can easily be erected or taken back down, so you can switch between three rooms or one big one without too much lengthy set-up.
Pro
Quick setup and packing: Despite the relatively larger size, the CORE Instant Cabin can be set up alone once you have gotten the hang of the design. Taking it down is even easier, the process of wrapping it up and storing the tent easier than even some smaller cabin tents. A gear loft makes it quick and easy to store the rest of your stuff, to
Good for families or mixed groups: Dividers are easy to set up, providing privacy for mixed groups but also an open space for the family when necessary
Suited to the environment: Tent is very effective at protecting from the rain, with windows to let in the sun at a moment's notice, too. Air intake vents all along the tent help keep it cool in muggier climates, too.
Cons
Vent troubles: Those same intake vents have to be staked closed with no readily available zipper. This can make it harder to protect the interior if you're camping where the wind is kicking up sand and dust.
Unreliable poles: Poles seem to bend rather easily in stronger winds which can cause the tent to fold in on itself. The tent isn't best suited for windier areas or weather conditions.
Durability issues: The zippers on the tent also seem prone to breaking and developing new holes.
Heavy: Weighing over 50 pounds in total with the carrier bag included, it's not as easy to take from place to place.
Verdict
Spacious, weather-proof, with flexible partitions, it might seem like the CORE is the perfect family tent. However, a few common bugs in the design and the less than perfect intake vent cover take a few points off. For large family camping in more gentle climates and weather, however, it does the job just fine.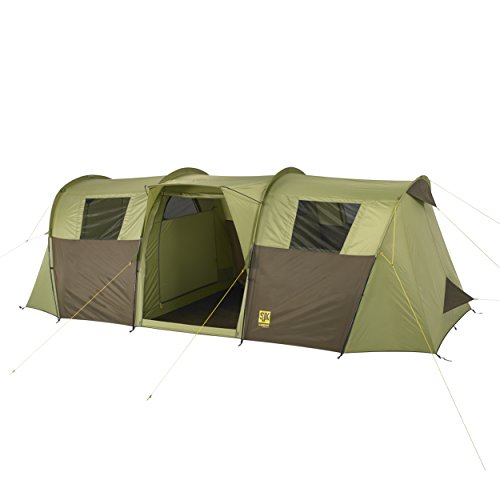 Another cabin-style tent, this time measuring in at 10' by 10', the Slumberjack is slightly smaller than the CORE but is the most expensive item on our list. Designed to house ten people, it too allows for flexible divider control. The central area is built larger to allow for storage of wet or messy items instead of doing it over your cot, with two sleeping areas on either side. Smaller windows mean less natural lighting, but hooks for lanterns are included. The tent and packaging are relatively light, too, so it's not too difficult to take to and from the site.
Pros
 Highly durable and convenient: Very few reliability issues compared to the CORE, despite the fact it has 2/3rds that tent's weight. Solid and highly weatherproof, as well as be very easy for one person to set-up and take down again.
 Great for families: Much like the core, the dividers allow the creation of separate rooms or a joint tent with little-to-no effort required. The central space makes for an excellent "mud room" while each side chamber provides plenty of space, enough to fit more than one queen size inflatable mattress each.
 Accessible and comfortable: A particularly nice addition is a roll-up door that allows you to enter and leave the tent without having to get down on hands-and-knees.
Cons
 Expensive for the size: Compared to the larger CORE, it is roughly about 1.5x the price depending, although it houses fewer people.
 No gear loft: With no overhead storage for your gear, which the CORE includes, you may be forced to use more of the central space for storage alone.
Verdict
A high-quality, well-built tent that adequately houses ten people. Though it is more expensive, as stated, you are getting the quality you pay for. It's just as flexible and well designed as the CORE, without any of the durability issues. The only real problem worth noting is the lack of a gear loft.
The cheapest tent we're looking at with a dome design as opposed to the cabin style of the other tents. The Semoo houses 9 people, with the chambers able to fit three people each. While it has no windows, it does have the unique feature of three large D-style doors, one for the middle and one for each side chamber that work as mesh windows, good for keeping out bugs. Like the others, it has a weatherproof design, too, so it's suitable for camping no matter what the weather.
Pros
Big and spacious for the price: There's no denying the cost-effectiveness of this tent given its low, low price. It costs around 1/3rd the price of the Slumberjack, depending, but only houses one person less. Despite the size, it fits the carrier bag nicely and weighs the lightest of the three, making it easy to carry.
Fine climate control: Well-ventilated thanks to mesh doors that also keep out bugs. Waterproofing works as intended, too.
Highly accessible: The D-shaped doors on all sides make it easy for everyone to get in and get out without disturbing the campers in the other rooms.
Cons
Serious durability issues: It's a case of "you pay for what you get". None of the materials are very high quality, with poles that seem a little fragile compared to the other entries on the list chief amongst some of the problems suffered with this tent over time.
Slightly more difficult setup: Despite being smaller, the poor instructions that come with the Semoo made it a little more difficult to set up with two people usually being needed for the task instead of one.
Verdict
The Semoo makes for a perfectly adequate family tent for the large group that is perhaps trying out camping for the first time. There's no doubt that the relative lack of space compared to the others (thanks to its dome design) will be a negative, but it does comfortably sleep as many as it says it does. However, with the price comes a few issues with unreliable cords and somewhat fragile poles that need to be addressed. For the price, you can't ask for much better, but it doesn't stand up on its own compared to either of the others.
Conclusion – Which is the best 3 room tent for a mixed group?
If we are going to recommend any tent above all the others, it has to be the Slumberjack Overland 10 Person tent. Though it might not be the largest or sleep the most, the extra you pay for guarantees a quality that gives everyone a peaceful night's sleep that can be used time and time again.
The Slumberjack is portable, it's great for families thanks to flexible divider control, and it's a tent that would be worth recommending to any outdoorsman. In this case, you really do get what you pay for. Partner with a pop up changing tent and you have a complete home from home where all can enjoy being together as well as privacy when required.
The cheapest tent on the list, the Semoo would be the runner-up. It offers a decent amount of space for the dome-layout, with good climate control and highly accessible doors. It has a few durability issues, but not quite as many as the CORE 12 Person which is also much heavier than either of the other two tents. If you're looking for a comfortable, reliable camping experience, go with the Slumberjack. If you're looking for something cheaper and a little more suitable for a first-time family camping experience, consider the Semoo.