Last Updated on November 3, 2020 by Dean Anderson
A camping trip is only as good as the tent you enjoy it from. The wrong selection could see your sides sagging, and your night-time toilet forays becoming more like a fight to the death. That's why it's always worth considering offerings which aim to make your life easier, such as hinged door tents.
As you can guess from the title, these are tents with at least two poles along the door perimeter. They stop those notorious sagging sides, ensuring your tent remains spacious and in shape your whole trip long. Most importantly, they make toilet trips easier by ensuring you can open your door in seconds.
Of course, not all tents with hinged doors are created equal. That's why we're going to take a look at five options which could (or could not) bring the calm you need on your next camping trip.
1. Coleman Yarborough Pass 6 Tent – A half decent waterproof tent with room enough for four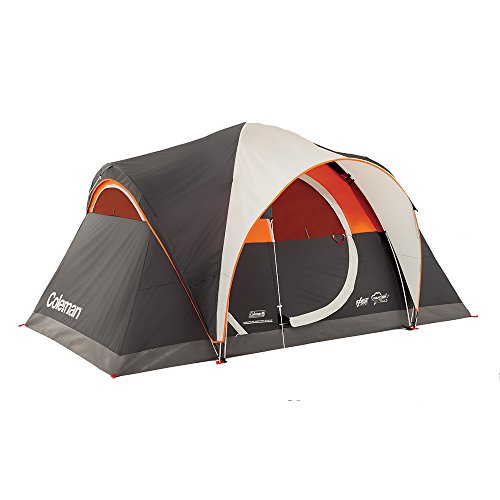 | | |
| --- | --- |
| Sleeps | 4 comfortably |
| Center height | 5.8ft |
| Base size | 12 x 7 ft |
| Shelter material | Polyguard fabric |
| Setup Time | 8 minutes |
| Price | Reasonable |
Let's kick things off with the Coleman Yarborough Pass 6 dome tent. This supposedly fast pitch product comes complete with a WeatherTec system, angled windows, and an Eport for easy electrical use. These all sound like amazing benefits, but does the Coleman Yarborough Pass 6 live up to its hype?
Fast color coded setup?
If Coleman's claims are anything to go by, this tent is an impressive 45% faster to set up than their standard offerings. That may well be, but if it is, we don't hold out much hope for their other offerings.
Honestly; setup on this tent is fine. Still, despite a Fast Pitch system with pre-attached, color-coded poles, it isn't noticeably faster than most other tents. In large part, this isn't helped by the fact that the instructions provided are, quite honestly, a bit useless.
Even once the tent is all ready to go, the door design on this tent isn't fantastic, with the joins struggling to meet and the zip set-up confusing. Given that this is a hinged door tent, that's a pretty significant problem.
Snug as a bug in a rug
Coleman has certainly ensured that you won't get wet thanks to their WeatherTec system, complete with welded floors and inverted seams. Angled windows also ensure you can air out on even the rainiest camping mornings and still keep dry.
As for space, this tent offers a roomy vibe, but the jury's out on whether the 6-person claims apply. This would be a spacious option for two or even a family of four, but you might want to leave it at that.
Pros
Fantastic waterproofing
Setup is easy if you know how
Compact storage for easy transport
Cons
Poor setup instructions
Would struggle to fit 6 as advertised
Some issues with awkward door zip design
Product verdict
The Coleman Yarborough Pass 6 Tent does have a lot to offer, especially if you're planning to camp in the rainforest. That said, fantastic rain proofing does mean that you may encounter ventilation problems in hotter weather.
This tent is certainly spacious even though the advertised six people may be a stretch. Still, this is a pretty affordable 4-person tent for those looking into family camping. Is this the best tent in the world? Probably not, but it isn't too bad a bet when you pair it with an affordable price point.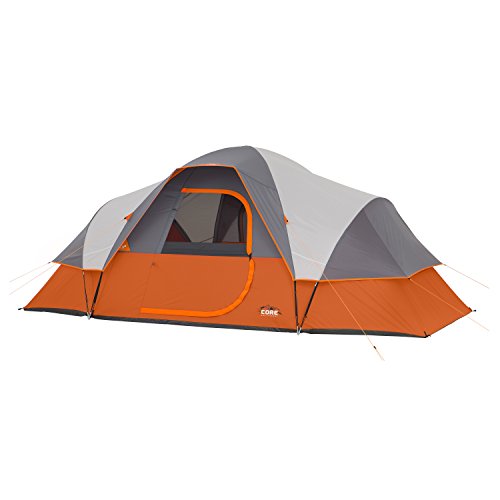 | | |
| --- | --- |
| Sleeps | 9 |
| Center height | 6ft |
| Base size | 16ft x 9ft |
| Shelter material | Durable 68D Polyester |
| Setup time | 5 minutes |
| Price | Incredibly reasonable |
Next, we've got the CORE 9 Person Extended Dome Tent. This offering comes complete with H2O block fabric and taped seams, as well as adjustable ventilation. Campers can also enjoy a secure and waterproof electrical port and a comfortable 6ft center height.
How much space can one tent hold?
The best thing about this tent is the space it offers. CORE wasn't lying when they claimed this tent sleeps nine. Inside, there's ample space for an amazing three mattresses and still room to spare. The sheer height of the tent also adds to that spacious feel, making this a pretty sure bet for group camping sessions.
Set up is pretty easy considering size, especially if you have some prior knowledge. That said, you may want to set aside a little extra time for taking this tent down. Struggling to fit their used tent back into storage is the last thing any camper wants, but that is a slight gripe here thanks to the tiny storage bag which comes as standard.
Who said anything about waterproof?
One downside worth mentioning is the poor waterproofing. Despite the H20 block fabric, leaks are especially prevalent from the sides. Preparation with these waterproofing tips would help. For the most part, this is due to the rainfly, which has an annoying habit of, well… flying away. Sunny days won't be a problem, but maybe check the forecast before heading off.
Niggles aside, the price on this one is nothing to sniff at. It's less than $150 for this nine-person tent which, for the most part, offers fantastic quality to boot. Even if you had to keep it for sunny trips, you can bag yourself a bargain with this one.
Pros
Ample room for sleeping and standing
Fantastic price point
Straightforward setup
Cons
Some waterproofing issues
Poor tent stakes
Small storage bag
Product overview
The CORE 9 Person Extended Dome Tent is a pretty impressive offering all around. Even large groups can fit comfortably in this one. Setup is as straightforward as you could hope and is easy enough for one person. And, of course, then there's a fantastic price point to mention.
That said, it is worth noting that the waterproofing issues may well mean that this one's off the cards for anything but camping trips with guaranteed sunshine. You may be able to survive a little drizzle without major issues, but a downpour could soon bring this tent's capabilities down a little.
3. Coleman Elite Sundome 6 Person Tent – Built in lighting is good but the poles and waterproofing let it down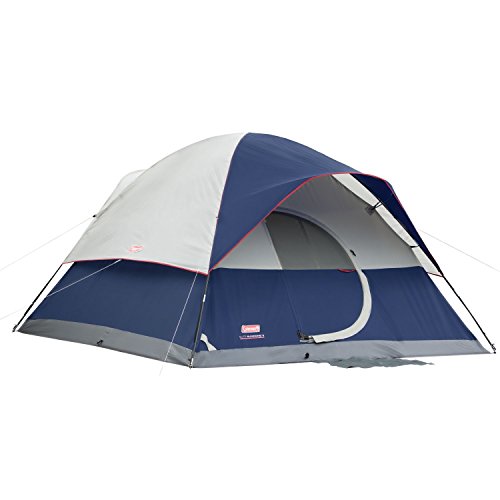 | | |
| --- | --- |
| Sleeps | 4 people (comfortably) |
| Center height | 6 ft |
| Base size | 12 x 10 ft |
| Shelter material | Polyguard fabric |
| Setup time | 10 minutes |
| Price | Expensive |
Next, we have another offering by Coleman with the Elite Sundome 6 Person tent. The CPX™ 6 LED lights and CPX™ 6-powered energy pack are the most notable features of this tent and are sure to appeal to any camper who wants to stay connected. Presumably because of these additions, this is one of the most expensive offerings on our list despite being one of the smallest. But, is it worth the price?
The benefits of a tent with lights
The benefits of a tent with lighting are plain to see. Fumbling with the flashlight isn't exactly one of those fun camping experiences, and the quality CPX™ 6 LED lights can make it a thing of your past. If you fancy nights in reading or playing games with the kids, then, this tent has something of a wow-factor. That said, setup with lights already in place can be a little problematic, as messing around with the wires too much could do some damage to this primary feature.
Potentially problematic poles
Poles are also a problem. An integral aspect of any tent, the poles in the Elite Sundome have an irritating habit of breaking after two or three uses. The good news is that this tent does come with a 1-year warranty, so this might not set you back much if you go camping often.
That said, outside of that warranty, Coleman has something of a problematic policy. Rather than offering replacement poles, they provide repair kits or give 25% off a future purchase. Neither of which is much help for the tent has already cost well over $150…
The WeatherTec system doesn't work so well here
Waterproofing is another potential problem area with this tent despite the same WeatherTec systems and inverted seams which are so efficient in Coleman's Yarborough Pass tent. Major leaks shouldn't be a problem, but some spraying is evident during rainfall, and belongings can get a little damp in the process.
Pros
Inbuilt lighting system
CPX™ 6-powered energy pack
Insta-Clip pole attachments
Cons
Tent poles prone to break (no replacements offered)
Prone to leaking
High price point
Product overview
While the inbuilt lighting and charger do account for the high price point on this tent, performance is slightly disappointing for that amount. Lighting is, undeniably, a fantastic feature, but it's the only real unique bonus with this tent.
As with our other Coleman offering, six people would struggle to fit, especially due to an unnecessary split which takes up space. Breaking poles are also a real problem. Sadly, Coleman offers no replacements, making this an expense which may not even last many trips.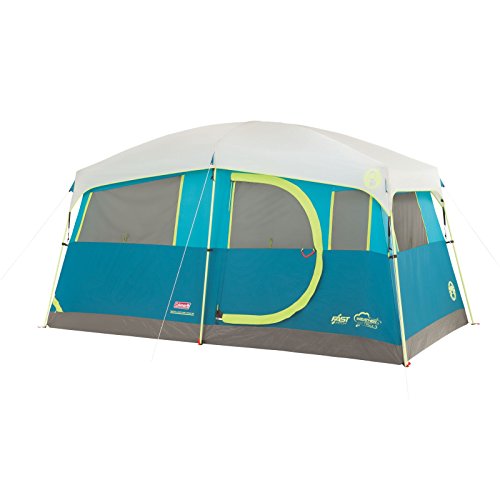 | | |
| --- | --- |
| Sleeps | Easily 6, with 8 at a push |
| Center height | 6 ft. 8 in |
| Base size | 13 x 9 feet |
| Shelter material | Polyguard fabric |
| Setup time | 9 minutes |
| Price | Reasonable |
While we're on the subject of Coleman lighted tents, it seems apt to mention the Tenaya Lake Lighted Fast Pitch Cabin Tent. And guess what; we got along with this one a whole lot better. Benefits include a built-in LED lighting system complete with a dimming switch and two power options.
The four storage pockets are also a significant selling point, providing even more room in this spacious cabin design.
Set-up which does what it says on the tin
Coleman makes the crazy claim that this will be 55% faster to put up. Thanks to their classic color-coded pole design and instructions which actually do the job, that's a much more accurate representation than made with their Yarborough Pass tent.
While it might not be exactly 55% faster to set up, this should be ready to go in no more than 8-9 minutes. Do note, though, that there are still missing instructions regarding specific poles, so again, prior knowledge is useful.
The lights in this tent, too, offer a better experience all around with a dimmer switch, two power options, and a run time of either 14 or 200 hours. Most importantly, despite the addition of lights, this tent is at a far more reasonable price point than the Elite Sundome.
What about that waterproofing?
Sadly, Coleman may have addressed many issues with this release, but waterproofing doesn't seem to be one of them. This tent has the same WeatherTec system, which, in this case, claims guaranteed dryness. Yet, small leaks seem to come in from some of the seams during heavy downpours. That said, the windows and rainfly do their jobs pretty well, meaning that you won't get totally drenched.
Pros
Easy to set up
Inbuilt lights with easy controls
Handy storage compartments
Cons
Some minor issues with waterproofing
May struggle to fit 8 as advertised
Product overview
All round, this tent is a good option. The spacious design with inbuilt storage makes for ideal camping during a family summer trip. The lighting is also a fantastic feature and doesn't boost price to the high levels of some similar tent offerings.
That said, the seams could be more waterproof out of the box. Treating with seam sealer prior to first use is an easy enough job that will pay dividends.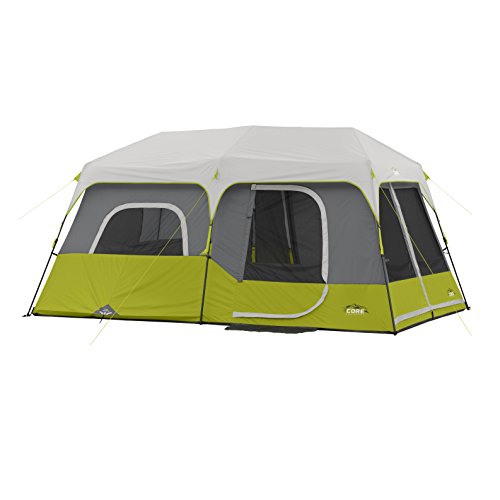 | | |
| --- | --- |
| Sleeps | 5-7 |
| Center height | 6.5ft |
| Base size | 14' X 9' |
| Shelter material | 68D Polyester |
| Setup time | 60 seconds |
| Price | Pretty steep |
Last up we have the CORE 9 Person Instant Cabin Tent. One of the largest offerings on our list, this also has the most substantial price point at over $200. For that price, campers can enjoy features like an instant setup, H20 Block Technology combined with water repellent fabrics, and an advanced venting system. But, does this tent really deserve your dollars?
Instant setup
As you can expect from a tent which boasts of an 'instant setup,' getting this tent ready is pretty darn easy. As the only instant tent on our list, that's a definite plus point for campers who don't have much set up know-how and want an easy life. The pre-attached poles mean that there's no need to fumble around or work out what goes where. It'll all be there for you and ready to go. One person could undoubtedly manage it with ease.
Size-wise this isn't a bad bet, though it is worth noting that the nine-person estimate doesn't take luggage into account. Nine people may fit if you all travel light, then, but a comfortable trip would probably involve no more than five to seven people.
Expensive canvas with a tendency to rip
It is worth noting that the tent material, especially around the window seams, seems particularly prone to ripping, especially during repeat trips. As such, care should be taken around windows and also when taking the tent down. While rips can be avoided with extra precaution, then, it's not unreasonable to expect a tent of this price range to include slightly better quality materials and manufacture.
Temperature control, too, could be a problem with this offering. In part due to the large size, sleeping bags and extra layers are necessary to keep warm as the tent itself offers little in the way of insulation.
Pros
Instant setup
Reasonable size
Cons
High price point
Tendency to rip
Lack of temperature control
Product overview
This tent has definite plus points, especially in the form of its instant setup, but considering its price, it's a pretty disappointing option. Setup aside, there are few special features which can justify the cost, and even size isn't necessarily a strong point, with the recommended nine people only applying if you bring nothing else with you.
Material quality is also a problem, with the sheer size weight of this tent (inbuilt poles included) seeming simply too much for the 68D Polyester. That wouldn't be a problem with a $100 tent, perhaps, but it's definitely an issue when you're paying double that.
And the winning tent is…
Drum rolls please because it's not time to announce our winner. The results have been counted and verified, and we can now reveal that the best tent with hinged doors is…
The Tenaya Lake Lighted Fast Pitch Cabin Tent
That's right; we couldn't resist those inbuilt lights and handy storage compartments. If you're embarking on a luggage-heavy trip, it doesn't get better than this for keeping everything clean and manageable during your stay.
The lights, too, ensure that you can spend camping evenings inside when the rain starts to fall. In short; this tent has a whole lot going for it at a frankly fantastic price. In fact, this tent is cheaper than other offerings on this list that don't have half the unique benefits which can be found here.
Our runner up is definitely the CORE 9 Person Extended Dome Tent, which has space capabilities akin to the tardis, and another fantastic value price point. Sadly, the lack of lights and waterproofing issues just about made up our minds for us in the end. Well done Tenaya Lake tent; your place is truly deserved.