Smaller tents might be ideal for wild camping and long treks but sometimes you need something bigger. If your camping trip is a family getaway or a chance to spend quality time with a group of friends, sharing a tent gives you more quality time together.
Families especially can benefit from a larger tent, keeping the adults and kids together – and maybe the dog, too. Of course, a tent designed for 8 or more people doesn't have to sleep that many, either. The extra space is ideal for storing gear or even setting up furniture, heaters, and other camping conveniences.
An eight person tent is the most popular sized tent on the market and as such the competition for your dollar is fierce. Have a look at the 5 tents available below to decide which is the best 8 person tent for you.
When you're settling in for a long camping trip, you want to make sure you're going to be comfortable. The cabin design of the Coleman Montana is ideal for using with camping cots and airbeds for a comfy camping trip with family or friends. Measuring 16′ x 7′, with a 6'2 center height, the tent provides plenty of room for both sleeping and storage. You can get up to 5 people into the tent, even with gear, and stretch to 8 if only using the tent to sleep everyone side by side. Color-coded poles make setup easier, but at least 2 people are required, and the instructions could be clearer for those with less experience. At around 25lbs when packed up, it's fine for carrying to and from the car.
Pros
Angled windows help to keep out the rain and stand up to wind
Vertical walls provide more center height and standing space
Provides space for up to 5 people, even with gear
Packs up to 27″ x 8″ x 8″, with separate bag for poles
Door offers a porch/vestibule area for relaxing or storage
Color coded pole setup
Cons
Requires at least two people to set up – instructions are not entirely clear
Poor ventilation can mean the tent gets hot
Rainfly may not always hold up
Some reports of construction quality issues
No room dividers
Product Verdict
The Coleman Montana is a great family-sized tent, well-suited to the average family size of 4 or 5. It could also work well for scout groups or other groups of people camping together. With plenty of space inside, as well as an awning, there's room to sleep a group of people and store gear too.
The cabin design gives it more space and helps to keep out the rain, but the rainfly doesn't always offer the protection it should. A few other reviewers have also reported issues with construction, such as misaligned stitching or snapping poles. The lack of ventilation also means it's not the best tent here for warmer weather.
Still the Coleman 8 person Montana tent is the official tent of the National Park Foundation, it does plenty to a good standard and has the backing of a big company. It's still likely to get many fans, particularly in cooler or temperate climates.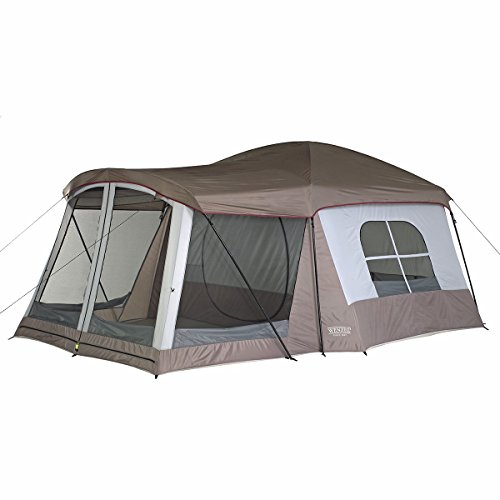 When you have a larger tent, you often don't want to have everyone and everything in one place. The Wenzel Klondike offers you the option of having two separate spaces so you can make everything more organized. You can use the screen room area to store your stuff, keep your dog, or even sleep up to an extra 3 people.
While it makes a good sun room the tent can also heat up a little too much during the day. Many have also said that it doesn't stand up too well to high winds due to the tall high sides. The Wenzel represents good value but there are a few issues to contend with.
Pros
Roomy 16′ x 11′ tent with extra space in the screen room
Easy setup could be done by one person
Screen room provides separate space for gear, away from beds
Waterproofing, including bathtub floor, will withstand short storms
Great value for a large tent
Cons
Can get hot during the day
Not designed to handle wind
Large size makes it hard to find a spot to set up
Door on only one side of the tent makes entering and exiting more difficult
Product Verdict
This Wenzel Eight Person tent can work well for a family trip, giving two separate areas to make use of. However, although there are two sections, there is only one entrance, making some climbing over people or gear inevitable. The tent could work well for parents with kids or with pets but is also an option for couples or groups on their own who want plenty of storage space.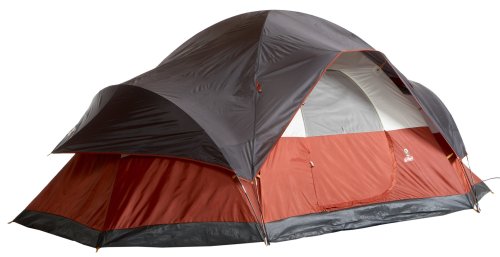 If you're looking for a tent that's even easier to separate into different sections, the Coleman Red Canyon has room dividers that enable you to create 3 different rooms. This is ideal for family camping, give you separate spaces for adults, kids, and gear, or perhaps a bedroom for the dog. Fitting a family of up to 6 with gear, this roomy tent works well for medium-sized groups. It can be set up quickly with two or three people working on it, and the price is reasonable for a large tent.
Pros
Room dividers allow you to create 3 separate rooms
Space to fit up to 6 comfortably with gear
Plenty of ventilation for warmer weather
Easy setup in 15 minutes or less
Cons
Not suitable for cold or lots of wind and rain
Some potential issues with quality of construction
Side windows can't be closed
Product Verdict
This roomy tent from Coleman benefits from room dividers and excellent ventilation. However, an inability to close the side windows means the rainfly needs to be on at all times for privacy if there are other campers around. Some reviewers have complained of poor quality, including broken poles or ripped fabric seams. While some light rain won't cause any issues, thanks to the Weathertec System, the tent isn't designed for heavy storms. It's a great family tent with plenty of space, although better suited to shorter occasional trips.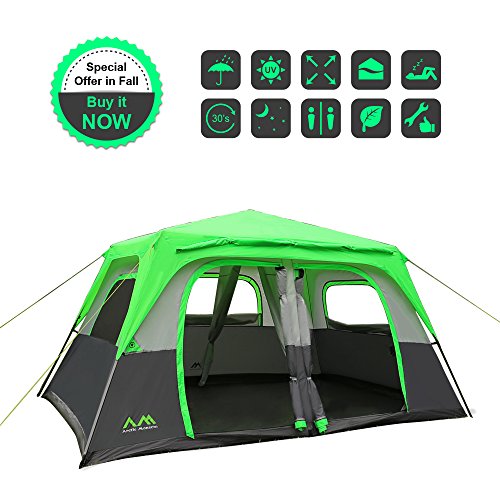 As the brand name might suggest, Arctic Monsoon's Starry i1 tent is excellent for using in wetter weather. While some other 8-person tents don't stand up to more than a light shower, this tent has great waterproofing and strong construction to stand up to wind. The rainfly even provides a porch section for dry storage space. It can be set up very quickly and easily – even in under a minute with practice. Although the Artic Monsoon is slightly more expensive than other tents of a similar size it just might prove that it's worth paying the extra for better quality.
Pros
Easy and quick to set up
Secure bathtub floor prevents water from getting in
Divider wall lets you separate the space
Tough construction
Cons
Heavy weight of nearly 30lbs
Some leakage in heavier rains
Front porch doesn't protect whole door
Product Verdict
There are a couple of issues with the Starry i1 that might put off some seasoned campers, but overall it's a sturdy tent. If battling against particularly heavy rain, there can be some problems with leakage, but it's a tough tent that largely keeps water out and overall you're likely to enjoy your trip.
The wall divider also allows the roomy space to be split into two, providing enough room for 4 sleeping bags in each section or fewer people with gear. However, this tent doesn't pack down too small and is nearing on a hefty 30lbs. Car campers are unlikely to be phased by this though and for most the Artic Monsoon will be a great buy.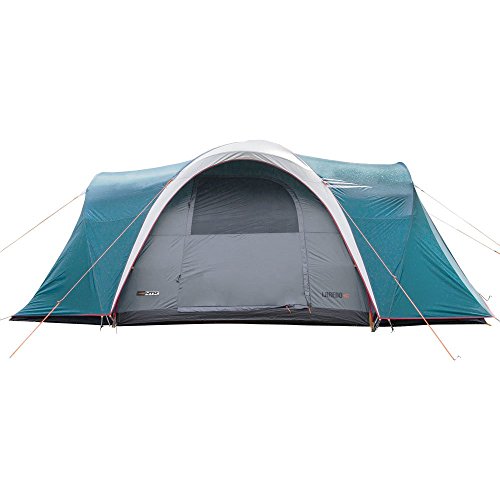 Some people need an even roomier tent than others. If you're taking a particularly large group camping, you want more space for gear, or you like to create a nice living space in your tent, the NTK Laredo GT could work for you. With more than 6 feet of headroom and measuring 10′ x 15′, this tent can sleep up to 9 or even 10 people, depending on configuration. It also provides great value for money for the space it offers, as well as the quality of construction. The full rainfly also protects it well from the rain, while still allowing ventilation something that the Coleman Montana and Wenzel both struggle with.
Pros
Extensive rainfly covers the whole tent and has a waterproof coating
Plenty of space – can fit more than 8 people and is also 6.2′ high
Weighs less than 24lbs – lighter than some smaller tents
Good ventilation
Utility pockets inside for gear storage
Cons
Room for improvement on peg and zip quality but these can be upgraded
Only one door at the front of the tent
Product Verdict
The NTK Laredo GT is a wise choice for larger groups, with a lot of space to work with for a lower price than some of the other choices here. Despite it's larger size, it still weighs under 24lbs, making it easier to transport. Compared to the other tents on test the dome design also provides better protection from wind and rain. There are a couple of niggles that could be better, such as the two separate zips on the door and the lack of a second door. However, overall, it's a well-constructed and sturdy tent, this is the best 8 person tent of this group test.
The Verdict – The Best 8 Person Tent
These five 8 person tent reviews conclude that if you're looking for a great value 8-person tent that will serve you well, the NTK Laredo is the ideal choice. It offers plenty of space, plus good protection from wind and rain. Although it could benefit from an awning or porch for separate storage, it does have utility pockets inside. Overall it offers the best value for money of all these tents.
The Arctic Monsoon Starry i1 tent comes a close second, with good construction and room dividers. However the slightly higher price at the time reviewed and heavier weight for transporting means it loses out on the top spot.