Last Updated on December 10, 2019 by Dean Anderson
It doesn't matter whether you're having a party at home, a day at the beach or you're planning on an extended camping trip; you want to make sure that you have a memorable time. With the right camping canopy, you can ensure that you have the right amount of shade from the sun and cover from the rain without having to stay in your tent all day. Plus a canopy provides a great communal area for people to socialize and eat together.
Your only problem in the search for the best canopy tent is the fact that you have a lot of options on the market right now. There are a few things that you need to consider, including the durability, weather-proof capabilities, and pricing. It's all relevant when it comes to choosing the best camping canopy for your needs.
What To Consider Before Buying A Canopy Tent
Ease Of Setup
These days when it comes to a canopy no one wants to be push fitting steel poles together. The products reviewed here are all of the pop up canopy tent variety and all will set up in under 10mins. It's worth looking out for the ones that can be setup and took down by one person.
Durability
When you are choosing a canopy tent, you need to think about the fact that you are outdoors and need cover in the right weather. You want water-resistance, wind resistance, and UV protection from the sun. It should be protective of you, and it should weather light winds and rain. Look out for products that might include UV ratings with an SPF value eg SPF 50+.
Size
All canopy tents need to have an overhead canopy and four legs to be functional, but there are a lot of frame sizes out there that you can choose from. Choosing the wrong size is going to ruin your trip potentially; whether too big or too small. You should be very certain about what you need in terms of size before you head on your journey.
All of the reviews below are for products measuring 10×10 feet but some of the models are also available in larger sizes.
Portability
As you are choosing a canopy tent for camping, you need to consider how it will be transported after you've left the car. Selecting a canopy tent that comes with a bag and straps will make life a lot easier for you in the long run, so consider this when making your choice. Furthermore some manufacturers offer packaging that incorporate roller wheels so you can pull the canopy along. A great feature when the package can be 25-50lbs in weight.
Materials
Many canopy tents have frames that are constructed of steel or aluminum. Steel is the sturdier option, of course, but it's also much heavier, and this has to be a consideration for your trip. Aluminum is a lighter material, making transportation far simpler. Canopy covers should be made with waterproof and fire-resistant polyester, and they all vary in their thickness.
Here at AllCampingStuff.com, we're going to take the worry off your hands. Below, we've got five of the best canopy tents on the market listed, with a detailed review and conclusion, everything that you need to make your decision as easy as possible.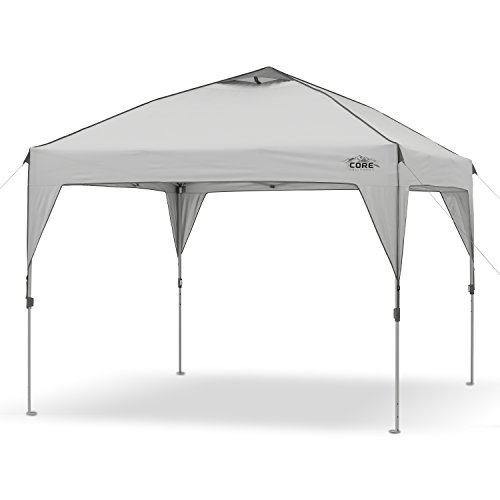 | | |
| --- | --- |
| Total Setup Time | 2mins |
| Dimensions | 10'x10'x112" |
| Shelter Material | 150D Polyester |
| Frame Material | Steel |
| Weight | 43lbs |
| UV Protection | UPF 50+ |
The CORE Instant Shelter Pop-Up Canopy offers 50+ UV protection and has a water-resistant polyester material with fully taped seams. These are designed to keep out all manner of weather, from hot sun to wind and snow. True to size, this is a canopy tent that offers protection, shelter, and shade to any camping adventure.
Easy Setup, Fast Put Down
When you are looking for an instant shelter, the CORE Instant Shelter Pop-Up Canopy Tent should be in your sights. No one wants to fiddle in the rain to set up a pop-up canopy, and one of the most significant benefits of the CORE canopy tent is the fact it was created specifically to remove any issues with the setup.
If you have just two minutes (with two people!), you can get this tent from package to erect without any problems. For one person it can take between five and ten minutes to get it erected, but that's still speedier than many other options on the market.
See how easy this process really is in the brief video below.
You won't have to worry about it blowing over in the wind when it can withstand twelve hours on a windy beach without any worries!
True To Size & Durable
This canopy has a steel frame, which lends to the 43lb weight of it. It's robust and sturdy, but some may find it a little heavy when it comes to lugging it around from car to camping site. The good news is that this canopy comes with a wheeled bag, so you don't have to carry it for long if at all!
Weather-Resistant
The CORE canopy tent gives you 100 square feet of shade and weather protection, and when all you want is shade from the sun, you get precisely that. With 97% of UV rays filtered out for optimum shade, you can get real value from this canopy tent. It offers precisely the kind of protection that you and your family need to really enjoy a couple of days away in nature.
Pros
Two hooded openings at the very top of the canopy allow air to flow through while repelling water
Pinch-free buttons for an easy setup
The bag that comes with this canopy tent has wheels!
Cons
The pegs are not always proportionate to the size of the canopy, which can mean that they bend
It's not easy to assemble alone
Product Verdict
This canopy by CORE offers everything you need in terms of durability and sturdiness as well as weather-resistance. It's better to assemble together than go it alone, as it can be a little temperamental. The wheeled bag makes for such easy transport that this product is a firm favorite.
| | |
| --- | --- |
| Total Setup Time | 3mins |
| Dimensions | 118"x118"x112" |
| Shelter Material | 150D Polyester |
| Frame Material | Steel |
| Weight | 37lbs |
| UV Protection | UVGuard UPF 50+ |
When it comes to canopies for your camping trip, you need those that are weather-resistant and will withstand the pressure put upon it by the wind and rain together. Unfortunately, while the Coleman Instant Canopy tent talks about being lightweight, this isn't necessarily a good feature. This canopy doesn't win prizes when it comes to the weather, and Coleman says that this product is not meant for overnight use – which doesn't help for campers!
Easy To Set Up & Handy Wheely Bag
Despite the insistence that this isn't to be used overnight, those who want to use it for their picnicking in the day absolutely should. With three minute easy setups, Coleman provides three easy steps to get it where you want it to be without complications. There is a wheeled bag supplied to make it easy to transport this canopy from car to location, and you can enjoy the convenience of this outdoor canopy.
Protection For All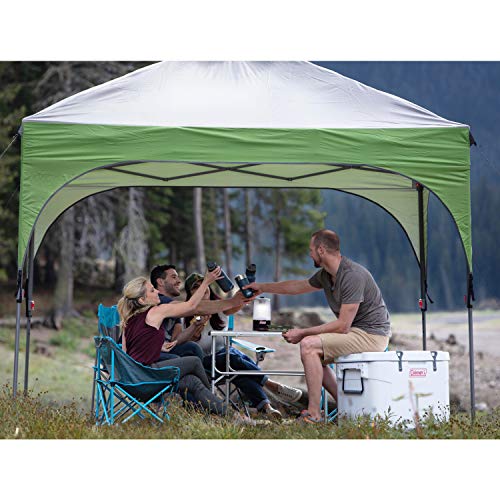 Most canopies have a polyester material to protect from wind and rain. The Coleman canopy tent is made with UVGuard material that will protect you from harmful UV rays. The top of the canopy also has 2-way roof vents, and these are designed to keep the air flowing through it. The only issue with the roof is that in heavy rain, water pockets can form and this has the capability of bending the frame and stretching the material for the shelter.
Durability
When you want a tent that's durable for your protection, this may not be the one for you. Excellent for sun shading, but not so great for wind and rain as it's lighter than other canopies. You'd need to weight the canopy right down with sandbags if possible.
Pros
You get shelter on any surface, from grass to asphalt
Easy to set up and can be done by one person
Excellent for camping, picnics and outdoor events
One-piece operable frame with one button to open it out
SPF 50+ UV sun protection
Wheeled bag for easy transport
Waterproof
Cons
Needs to be weighed down as it's not stable in the wind
Not designed for overnight protection while camping
Coleman will not honor the warranty with overnight damage
Product Verdict
It might be easy to set up, but for the price, you will find that the canopy collects the rain and bends the material and frame, or it will blow away without being weighed down. Not the sturdiest on the market today and not highly rated as a sturdy canopy. It's always nicer to use a company with excellent customer service – so perhaps one to avoid!
| | |
| --- | --- |
| Total Setup Time | 10mins |
| Dimensions | 118.1" x 118.1" x 96.5" |
| Shelter Material | Polyester |
| Frame Material | Steel |
| Weight | 20.7lbs |
| UV Protection | 99% UV Protection |
Finding a sturdy canopy on a budget isn't always easy, but with the right research, you'll come across the AmazonBasics Pop-Up Canopy Tent. It's one of the latest products in the category of canopies for camping use that really stands out, and it's not just because of the blue hue of the canopy itself.
Sturdy Frame & Unique Roof
This canopy has steel frames sitting at 10×10 foot. It's excellent value for money and is durable in its polyester cathedral style roof – unique for a pop-up tent. While it's a sturdy option as a canopy in the sunshine, it doesn't hold very well in heavy rain, so it's best to leave it for the dry days if possible to avoid the rain pooling on the roof. The canopy itself does have excellent UV protection, though, so you'd be more than covered in hot sun rays.
Durability Under Pressure
Unfortunately, in strong wind and challenging weather conditions, the AmazonBasics Canopy falls a little short. The polyester canopy itself is not water-resistant, so not suitable for wet conditions at all. It's best not to sit under a canopy that will easily collapse when you are trying to enjoy a camping trip outdoors.
Rusting Outside
The steel frame for this canopy has a white powder-coating that will help prevent any peeling and rusting. The legs are adjustable to promote stability on a dry day with little wind, whether the ground is flat or uneven. However the frame really could do with beefing up. It isn't as strong as it needs to be and the plastic hardware of the construction really lets the design down.
Easy Transportation
The AmazonBasics canopy comes complete with a black wheeled bag for easy movability. You can take the stakes, the frame, and the canopy down and find it far easier to move it around. It's economical in price and convenient to pop up when you need it.
Pros
96 square feet of coverage in the shade
One-person assembly is easy
The frame will not rust or chip due to the coating
Cons
Not water-resistant so if it rains, it doesn't offer much protection
This canopy is not sturdy enough in windy weather
Feels flimsy to put up and not long-lasting with too much plastic hardware
Product Verdict
Not the best out there, but okay if you're going to use it for a dry day to shade from the sunshine. Definitely not the right canopy for proper camping, but as it's basic, it does the job for temporary usage. The many plastic components really let it down.
This isn't a water resistant canopy either, so be weather-aware before you put it up. The best thing about this is the ease of putting it up, so if you need to get it up for some shade and down again in a hurry, you'll manage it alone!

Price Disclaimer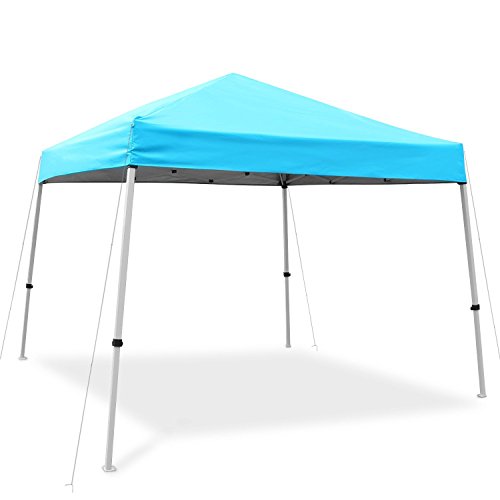 | | |
| --- | --- |
| Total Setup Time | 10mins |
| Dimensions | 120" x 120" x 98.4" |
| Shelter Material | 300D Polyester |
| Frame Material | Steel |
| Weight | 25lbs |
| UV Protection | UPF 50+ |
For a canopy with a little something quirky, think about buying the Ohuhu Pop-Up Slant Canopy Tent. It's got the easy setup feature nd the slant-leg design offers more than one dimension for coverage. The top of the canopy sits at 8x8ft, and the bottom sits at 10x10ft.
Weather-Resistant
The polyester fabric of the canopy has a silver coating to enhance the UV protection by 99%. Camping involves being outdoors, and the most protection you can get for your family is the best option for you. This canopy is sturdy in the wind, and the legs themselves hold up under extreme weather.
Excellent Quality & Easy Set-Up
Buying a polyester canopy means searching for excellent quality that will last for some time, and with the Ohuhu Canopy, you can bet on excellent quality every use. The set up is simple, using a locking mechanism and push buttons for safety. The legs are strong, and the carry bag that the canopy comes in is of excellent quality, too. The bag is durable, with a heavy-duty zip and buckles. The fold is easy, and the storage is excellent when done.
Excellent Customer Service
When encountering issues with the canopy, such as breaking after one use, the manufacturer is on the ball! If frame joints are weak, contacting Ohuhu for a replacement is easy as pie, with a replacement sent out quickly. The excellent customer service from the manufacturer makes it far easier to enjoy the canopy as you know you have back up if things go wrong.
Easy Let Down
When it comes to putting it all away, you won't be disappointed that the canopy is just as easy to put down as it is to get up in the first place. It fits back into the bag – which doesn't always happen with most products like this, and it comes with stakes so those can be put back easily, too.
Pros
A light product that is easy to pack and carry alone
Three heights to pick from, making it one of the flexible options out there!
All canopy legs have pinch-free buttons for easy use
The best quality polyester fabric on test at 300D
Good budget option
Cons
Needs more than one person for setup
Issues with quality control have been reported
Cannot be set up on concrete as it comes with stakes to put into grass or sand
Product Verdict
A great budget option for the canopy market to be proud of. The Ohuhu EZ is durable, reliable, and has excellent protection from the sun and its rays. You may need one more person for its setup, but it's lightweight and easy to carry alone at least.
However you won't be able to use it on concrete, but it's the perfect canopy for grassy areas to camp on, and even the beach for lazy summer days.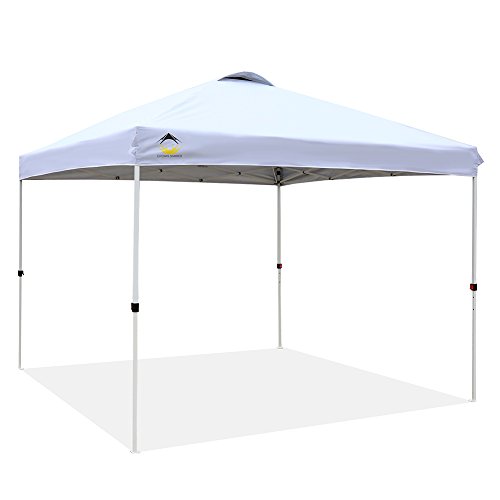 | | |
| --- | --- |
| Total Setup Time | 8-10mins |
| Dimensions | 120 x 120 x 110.3 inches |
| Shelter Material | 150D Polyester |
| Frame Material | Steel |
| Weight | 35.2lbs |
You want an easy folding option, and this Crown Shades Canopy is just that. Not only does it fold down really simply, but when you're in nature, it's portable and easy to move. It's big enough to throw an outdoor party and have fun under it, so when you're sitting with 4-6 people around a camping table, you'll get the right coverage with this canopy. The shade is comfortable, and the legs of the shade are straight rather than slanting, which gives 100 square feet of coverage from the weather.
Easy Central Hub Set Up
You can set up this canopy with a central hub system at the push of the button. Push the center hub while you open the frame to lock in place and you get the perfect place to sit during the day. The height of this canopy is up to 9 feet with 3 adjustment heights to choose from.
Weather-Resistance On Point
This canopy is waterproof, so can hold off on the rain. It's also got built-in UV protection from the sunshine, so you can sit for hours and not worry about sunburn, great if you have kids. Sure, there are no walls, but you get a lot for your investment. There is a carry on bag with wheels for easy movement, and you get ropes and stakes to keep it firmly in place.
One-Year Warranty
It's always nice to know that you can buy from a company that cares about your product experience, and Crown Shades has done well with that by offering a one-year warranty with the canopy. Any issues, give them a call, and they're happy to assist.
Pros
The steel frame is rigid and strong
Resistant to rain
Durable and designed to last
Sturdy roller bag for secure storage and transportation
UV protection of 50
3 height options for different events or conditions
Cons
Over time, the fabric can weaken with use – true of all models
Product Verdict
One of the best out there, the Crown Shades canopy is an excellent one to use on a camping trip. It's easy to set up thanks to the central hub system that you simply push up. This canopy also offers class leading weather protection. Those heavy rains won't have anything on this canopy, and the UV rays of the beating sun will be kept safely at bay.
So, Which Camping Canopy Wins?
While there are some excellent choices here, the clear winner for us is the Crown Shades 10x10ft Outdoor Pop-Up Canopy. It's the easiest of the lot to setup, though not the quickest, and offers all the protection you'll need from various weather conditions. You can expect wear and tear of the materials with heavy use but they're as good as anything else on test.
A very close runner-up is the CORE 10′ x 10′ Instant Shelter Pop-Up Canopy Tent. It offers everything that you need for durability and sturdiness, with excellent weather-resistant qualities, too.
We think the AmazonBasics Canopy despite the decent price is the least capable due to the fact that there is little water-resistance, and when you are out camping you need a canopy that's going to be able to keep you protected in all weather. You need strength and durability, not a canopy that is feeble in the wind! The cheaper Ohuhu model offers so much more for less.
Further Reading
2. UV Protection from fabrics