Last Updated on November 3, 2020 by Dean Anderson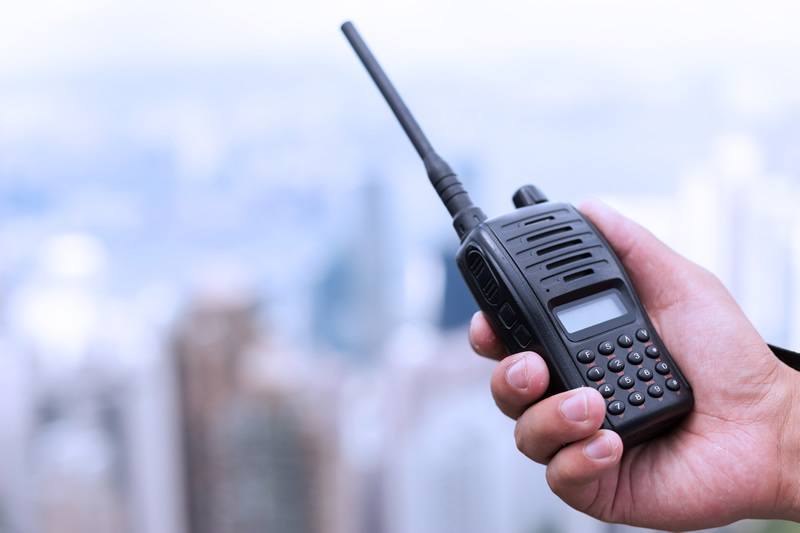 The best two-way radios are ones that give you decent range even in high-obstacle-count areas, good sound quality, and few headaches when it comes to actual use.  What's more, they typically cost around $40. Here we have some of the best products meeting those prerequisites that you can enjoy taking outdoors for easy communication during family campouts, hikes, or just about any wild adventure.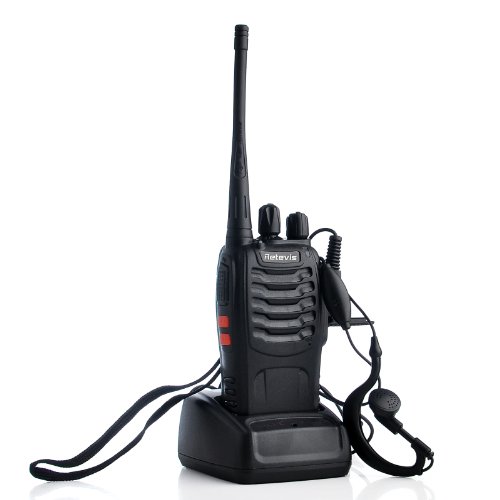 This two-way radio uses UHF 400-470MHz and can access 16 channels. Each walkie talkie has a 3-mile range and uses a 1500mAh battery. The walkie talkies also include time-out timers to prevent each user from occupying a channel for too long, a channel scanning feature, a busy channel lock-out that prevents transmission when there's a dialogue going on in the same channel, and an emergency alarm button.
Pros:
Great price
Good sound
Great battery life
Cons:
The range is severely affected by buildings and most boats
These are great walkie talkies if you don't plan on using them in the city or from within a modern boat. That seems to cut their range down to about a third of the maximum advertised range and can have a significant impact on sound clarity as well. For camping trips and hikes, though, these would be fantastic. They also only cost about $60 for a 3-pack, which makes each unit less than $20.
This transceiver is a dual-band piece with the ability to use frequencies from 136-174MHz to 400-480MHz. It is 25KHz/12.5KHz switchable, has a two-color LCD and offers 128 channels. The output is 4 watts, which translates to a maximum range of 4mi.
Pros:
Very large, bright display
Easy to set up and use
Comes with a medley of accessories, including earpieces and belt clips
Cons:
Not very water-resistant
Buttons can feel a little small for some hands
Other than the fact that these aren't really super water-resistant or thick-glove-friendly, these are absolutely fantastic for the price (about $60 for 2). They have some of the best screens you'll see on walkie talkies at this price point and the sound quality is rather nice too.
As with most two-way radios, the advertised range is typically far higher than what you would normally get (various obstructions being in the way of real-world usage, after all), but the quality of the communications you get through this set is still more than acceptable than most, all things considered. The small size—one is about the size of a man's palm—is great too, as it makes them so portable.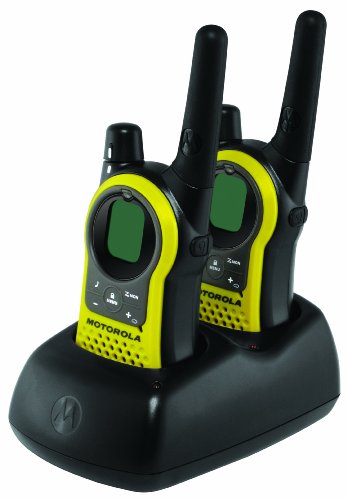 These radios have a maximum range of 23 miles, which makes them among the most powerful of walkie talkies in this price range. They have 22 channels and 121 privacy codes for a total of 2,662 combinations. They can also access the NOAA's National Weather Service in most areas and have two power options: the bundled rechargeable batteries and aftermarket AA ones. They are rated IP 51, which means they can deal with dust and a bit of dripped water.
Pros:
Can still work in most boats/ships
Great, sturdy build
Good range
Cons:
LCD tends to fade as the battery gets weaker
Let's get this clear from the start: you won't be getting 23 miles on these things since there's virtually no way for you to get the "optimal" testing conditions companies use to obtain those figures. Nevertheless, these two-way radios do have some pretty good range for their category. They might not reach even half of the advertised 23mi range in everyday use, but they generally perform well enough. They're also surprisingly sturdy for their cost (about $50 per pair).
These radios have tri-power functionality, which means you can select an output of 1W, 4W, or even 8W. It offers a total of 128 memory channels and is switchable from 24KHz to 12.5KHz. There are 50 CTSS and 104 DCS Tones, and each unit is fully backward-compatible with accessories from the UV-5R line. It has a dual standby/watch, a time-out timer, and a busy channel lock-out feature.
Pros:
Good audio quality
Pretty good programmability
Cheap for a decent HAM radio
Cons:
Programming by hand can take some patience
This is a good set to get if you want an introduction to HAM radios or are already familiar with them but want a cheap stand-in for your more expensive set on certain excursions. At about $60 per pair, this is about as cheap as the decent HAM radios get, so it's definitely not a bad purchase—even if it does have a few quirks. Programming it via the keyboard isn't the most intuitive thing in the world, the antenna is a bit weak, and it has a near-worthless manual. Even with those issues, it's still a bargain worth considering.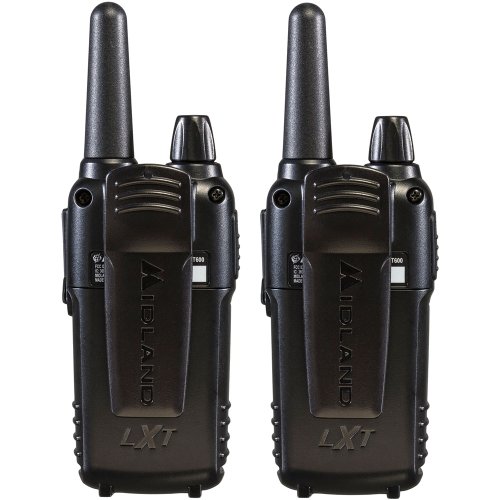 Midland's LXT600VP3 can be powered by either AA batteries or the rechargeable batteries bundled with it. It has 36 channels, a maximum range of 30mi in optimum settings, an option for no-tone operation, high and low transmission power settings, access to NOAA weather alerts, and channel scanning. It also has automated squelch, a backlit LCD, roger beep, and water resistance.
Pros:
Very small and portable
Quite sturdily built
Two power options
Cons:
The battery indicator onscreen is always full until you press the PTT button
These would be amazing if not for the oddity that the battery indicator shows that it's full until you press the button for transmission. This can trick a lot of users into thinking theirs are still fully charged when they really need charging already. That said, once you know about that, these are pretty nice, especially for around $40. They're tiny enough to tote about easily, are relatively water-resistant, and have a variety of other features one wouldn't usually get on radios at this price point.
Verdict
The best buys here are perhaps the 2 Baofengs and the Midland model. All offer reasonable audio quality and decent range even in high-obstruction environments, and they do it at affordable prices. Of course, you shouldn't expect them to do the job if you need professional-gear-level communications from your equipment. For that sort of thing, you would need to shell out well over $200 for your sets.