Last Updated on August 13, 2018 by Dean Anderson
When you're out camping, you don't expect to be as comfortable as you would be at home.
That being said, there are a few ways you can ensure your trip is as comfortable as possible. One of the ways you can do this is by purchasing the best sleeping pad you can afford. A quality self inflating sleeping pad will also take up less room and pack smaller.
You can either combine a sleeping pad with a camping cot and sleeping bag for the ultimate sleeping system. However many will simply lay them on the tent floor. For the sake of these reviews we're presuming that's the case. With that in mind a good pad will insulate from the floor and provide a degree of comfort.
As these pads are the self inflating variety you won't have to worry about blowing them up, especially when you're already tired from making your way to your camp site. All you need to do is lay it out and enjoy a peaceful rest when it's time for bed. Nobody wants to have to sleep on the hard floor and carrying a full on bed with you when you camp can be heavy and impractical. If you want to minimize hassle when camping, a self inflating sleeping pad can help you do just that.
Here, we have 5 self inflating sleeping pads that could be suitable for you. We've reviewed each one in detail so you can figure out which is right: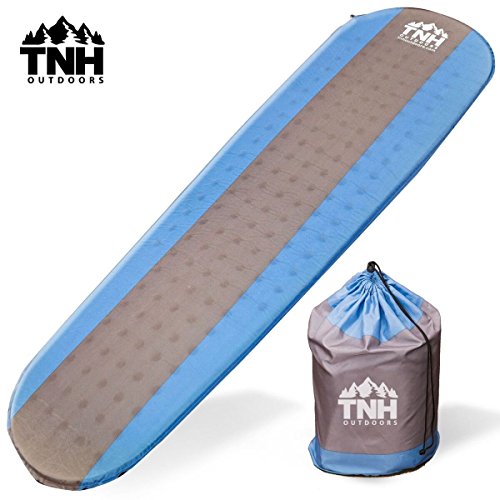 This pad claims to leave you refreshed when you wake. The company are so confident that you will have a good night's sleep that they have a money back guarantee if you don't feel like you're satisfied. Of course they know that very few will actually take them up on that promise. We all know that good sleep is dependent on lots of factors not just a decent sleeping pad.
Smooths over uneven ground
Having said that the pad is extremely good value for money. To say it's only 1.5″ thick users report that it rides out ground unevenness well even if you're on the heavy side and sleep on your back. However side sleepers putting more pressure into the center of the pad might find that it makes little difference to sleeping on the floor.
Whether you sleep on your back or your side this pad will insulate well from the cold of the ground. You just need to ensure it has fully self inflated and add a few extra breaths if not to get air evenly distributed. Lets take a look at a few other pros and cons:
Pros
Great material quality
Value for money
1.5 inch thickness to ride out uneven ground
Quickly takes shape when put in place – a few extra breaths might be required though
Holds heavy body weight well
A smaller person will have lots of room
Perfect for kids as well as adults
Cons
A little heavier than the other options on test at 950 grams
Some reports of cell separating and bubbling
Good for back sleepers but not so good for side sleepers
Overall the TNH Outdoor is a comfy pad for a solid price. It will fit in a small bag with the rest of your camping gear perfectly, and is cheaper than many lower quality sleeping pads.
The only issues you may experience are inflation and weight. It isn't too heavy and these reviews are squarely aimed at car campers but if weight is important to you, perhaps you're a backpacker, then there are lighter alternatives. That being said, the quality of materials and construction make up for this.
Check the 'O' ring on the valve for inflation issues
Inflation may be difficult for some though most find it easy. Just give it a few extra breaths to ensure it's fully inflated. You have to watch that the 'O' Ring on the valve is properly seated otherwise it can make inflation and deflation problematic.
Overall this is a great value for money sleeping pad that most will love though side sleepers might be better looking for something thicker.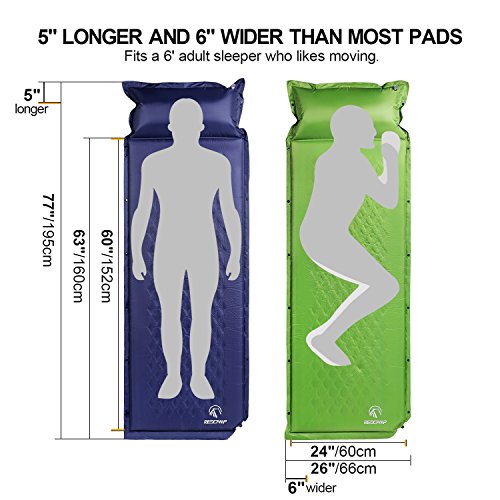 With the Redcamp sleeping pad, you can connect multiple pads together to create a larger sleeping area. This is a great option for couples who have a large tent and would like to ensure they have satisfactory sleeping arrangements. The sleeping pad has many pros, but a few cons too. Let's take a look:
Pros
Very cost effective
Comes with a bag
Goes back into original box with minimal effort
Good quality material
Good length and width for adults
Cons
Does not come with instructions
Occasionally have trouble with holding air
This is an overall good product, especially for the price. However, the only issue many have with the Redcamp is that it will not hold air sometimes, stopping it from inflating fully. It also may not be as comfortable as other options for those who need joint support, and the fact it comes with no instructions throws many people off. Although this is a decent sleeping pad at the end of the day, the cons could make it hit and miss for some campers.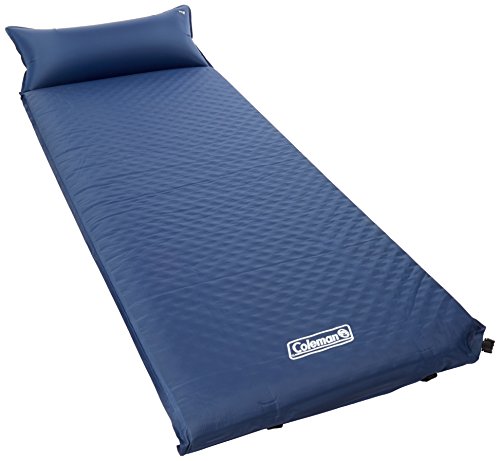 This pad is roughly an inch thick, making it reasonably comfortable. It's also pretty cheap, which is good news for campers who are trying to enjoy their hobby on a budget. However, this sleeping pad seems to have more cons than pros. Read on to learn more:
Pros
Cost effective
Comfortable
Cons
Straps can rip off – some say with first time use
You must manually blow up the pillow
May not work so well after a few uses
Takes a little longer to inflate
This Coleman sleeping pad is potentially OK for a casual camper, however, it is not the most well-made pad on the list. If you get sent a good one, then you may enjoy a comfortable sleep at a cost effective price. However, if you get sent a faulty one like many others, you may end up with a sleeping pad that was only good for one use. You will likely get a better quality pad for the same price or cheaper, so bear that in mind!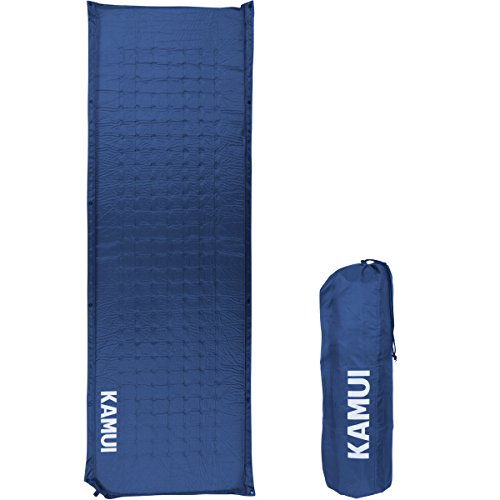 This sleeping pad is designed to take over 275 pounds, and is very thick and comfortable compared with other sleeping pads on the list. Let's take a look at the pros and cons to see if this could be a good choice for you:
Pros
Inflates really well
Comfortable 2 inch thick foam
Still pretty good value for money, although slightly more expensive than others on the list
Great customer service
Cons
Bulky when packed up
Not great for backpacking
Overall, this is a great sleeping pad for car and family camping. However, it's probably not the best if you're an avid backpacker. The Kamui pad is affordable and there are few negatives you can levy at this pad.
A customer will only very rarely be sent a defective pad according to Amazon reviews. As the customer service is great, this could make a great investment for somebody who wants an affordable, comfortable sleeping pad for car and family camping. Just avoid it for backpacking!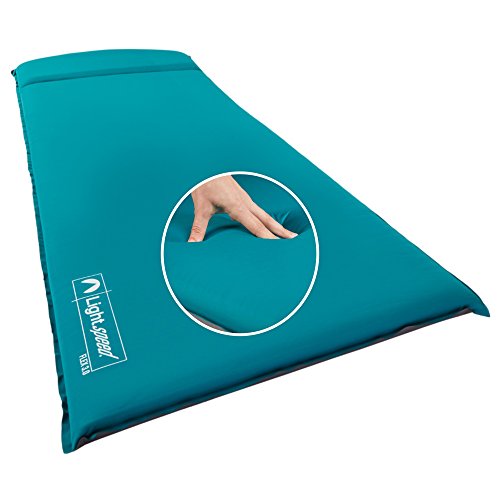 This is the most expensive sleeping pad on the list, so you may be put off right off the bat. It is double what you would pay for some of the other sleeping pads out there. There are different colors available to suit your tastes, and the pad has been reportedly tested to a weight of 350 pounds. Is it worth the money? Take a look at the pros and cons to find out:
Pros
Extremely comfortable even for older people who need more support
Easy to fold back up according to the majority of people
Guarantees a great night's rest
Cons
Not as affordable as other options
The Lightspeed pad comes as a highly recommended pad. Almost everybody who tries this pad gives it 5 stars. We think that it's the closest you'll get to glamping while being out in the wilderness. It's extremely comfortable, even for older people who may need more support on their joints. Side sleepers can sometimes find it difficult to find a comfortable sleeping pad, but this pad does the job. We really have nothing bad to say about this pad – looks like you get what you pay for!
Conclusion – Which is the Best Sleeping Pad of the Bunch?
By now, you may have made your own mind up about the winner. However, we have taken our time, poured over reviews, and we think that the clear winner is the Lightspeed Self-Inflating Sleep Pad. Although this pad is a fair bit pricier than others on the list, you definitely get what you pay for. If you're a serious camper and you want something comfortable, reliable, and durable, then this is the sleeping pad for you. You just have to feel confident spending the amount of money asked!
However, some people will prefer a more cost effective option when it comes to finding the right sleeping pad. In this case, the runner up is the TNH Outdoors sleeping pad. For half the price of the winner, you'll still get a great quality sleeping pad. It may not last as long or be quite as flawless, but it will still be a great investment! Plus, you pretty much have nothing to lose with the money back guarantee that the company offer.
Although the two above pads are great, other pads on the list can still make a brilliant investment, depending on your reasons for camping, who you are camping with, your budget, how serious you are, and more. Be sure to weigh up the pros and cons yourself so you can purchase the right pad for you.
If there's a pad to avoid, it's probably the Coleman Self-Inflating Camp Pad with Attached Pillow. Although it's cheap and many say that it's comfortable, it's hit or miss with the quality. The straps aren't great and many find they rip off after the first use. This could be an OK pad for the casual camper, but you will likely be able to get a better quality pad that will last longer for a cheaper price!
Hopefully, these reviews have helped you to find the perfect self inflating sleeping pad for your camping requirements. Whatever your budget, whoever you are camping with, and whatever your reasons, we know there's something on the list to suit you. Which will you invest your money in?