Last Updated on September 24, 2019 by Dean Anderson
Most campers that are in the market for camping bunk beds will come across the Disc-O-Bed brand at some stage, and it's certainly a name you can trust.
The Disc-O-Bed brand have made a brand out of what is essentially 2 camping cots in bunk bed format. Before rushing out to buy the first product carrying the manufacturer's logo, however, it's vital that you source the best option for your party's needs.
Below are impartial reviews of three Disc-O-Bed products. Each one covers everything from comfort and practicality to durability and value. By the end of this guide, you should have a far deeper understanding of all three models, putting you in the best position to make a calculated decision. In turn, you will see a significant improvement in your future outdoors adventures.
Here's all you need to know about the three best Disc-O-Bed camping bunk cots out there.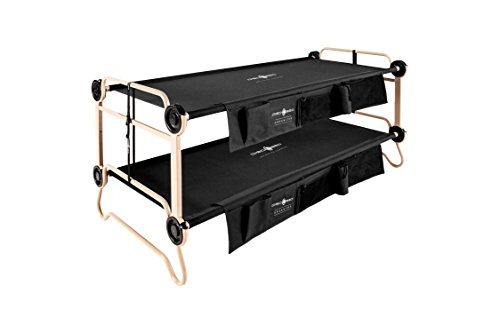 If you're planning to take a camping trip of any kind and want to maximize the floor space inside the tent or campervan, this sturdy double bunk bed is ideal. This camping bunk cot can support two large people without showing any signs of breaking. Meanwhile, the good levels of comfort mean that there's no need for additional air mattresses though a sleeping pad wouldn't hurt.
Simple to assemble and convert to a sofa
The assembly is pretty easy on the first attempt and becomes even easier after you've finished. Swapping into sofa mode is also hassle free.
While appearances might not be the top item on the agenda, the black color helps the product look good for the entirety of the trip. Small scuffs from muddy shoes aren't the end of the world.
Compact portable bunk beds and still comfortable
While there's still enough of a gap between the two cots for comfort, this bunk bed doesn't stand too high either. With just under one foot of space underneath, there is some storage space in this area as well as the organizers.
It also packs away very easily and won't take up too much space in the car. However, backpackers may look elsewhere due to sheer weight and relative bulk.
Pros   
Strong, sturdy unit is built to last while each cot hast the size and strength to support large body types
Very easy to assemble and dismantle
Black color hides dirt quite well while material can be brushed easily too
Low enough that it can fit into most large tents or camper vans. A great addition to the saved floor space
Can be quickly switched to/from sofa mode
Cons
Noticeable heavy, making it difficult for backpacking trips and similar adventures
Plastic material covering the cot can start to smell quite quickly, meaning regular cleaning is key
Rubber non-slip foot pads are sold separately
Conclusion
Quite simply, this is a great product for anyone that wants extra space inside the tent and isn't intending to pitch up in new places each night. Both users will also be comfortable while sleeping, even if one fidgets, due to the comfortable beds and sturdy frame.
The product is built to last. This makes it a particularly good for frequent campers or even those that might need extra beds around the home when guests come to visit. Just remember to buy the rubber feet too.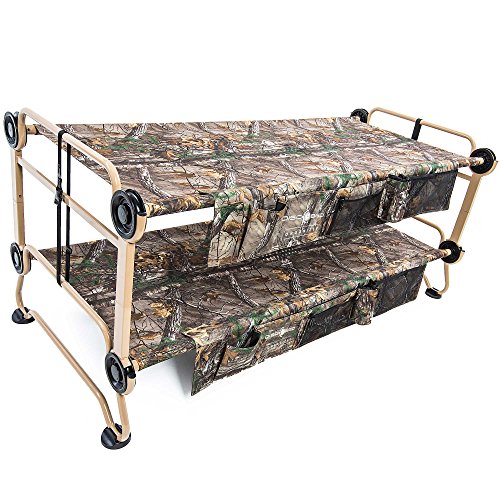 The Cam-O-Bunk comes in two sizes, large and XL. While both are very suitable for home usage, you will need a reasonable size tent to accommodate when camping. Otherwise, you could start to feel a little claustrophobic.
Difficult to assemble
While the bunk bed utilizes the iconic Disc-O-Bed assembly system, the assembly can be a little bit of a struggle. Once assembled. However, the product is very sturdy. Meanwhile, the Realtree XTRA camouflage design looks amazing and hunters and fishermen will appreciate the design.
Despite being separated into two bags, the heaviness makes it hard to carry the products. On a brighter note, they won't take up too much storage space individually.
Nice comfort but the product smells for the first few uses
Overall the comfort levels are good, but the smell of the plastic can be a little disruptive, especially if you haven't let the tent air out during the day. The leg extenders and rubber feet are worthy additions.
Pros
Once assembled, it looks great on any camping trip
A sturdy product with a good design, including ample storage facilities
Doesn't take up much room once packed away
Robust and anti-rust steel makes it durable for years
The large version is wide, and the XL version is even wider still.
Cons
Naturally a heavy product due to the extra width
It's significantly harder to assemble and dismantle than alternative products on the market
Side organizers and mats carry a potent smell
Conclusion
There's a lot like about these portable bunk beds, even if the assembly isn't quite as simple as the manual might suggest. The extra width is great for comfort but that comes at a cost space wise.
We just can't look past the fact that these camping bunk cots don't leave as much floor space as they could. Even if you do get a good night's rest, it will come at a cost, particularly as you won't want to dismantle each day. Without being a bad product by any means, there are better, easier to assemble Disc-O-Bed options out there.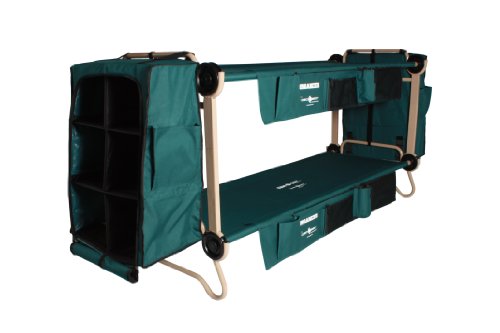 The green Cam-O-Bunk Cot with organizers, cabinets and leg extensions is a complete package. It offers room for two campers to sleep and boasts ample storage at both ends of the bed to help save even more floor space.
Storage good for family campers
However, for light campers, it might not be necessary to have quite so much storage. Having the option is nice, though. While the steel frame is sturdy, rust proof, and built to last, it does create a very heavy product.
Leg extensions add room but cause the beds to be less rigid
With the leg extensions included, there is ample space between the two beds. Unfortunately, the material used in the cots means that movements by a disrupted top bunk sleeper will make it a tough night for the bottom sleeper. Removing the extensions will help reduce this but at the cost of the space between the two beds.  
Pros
Leg extensions, organizers, and cabinets create more storage and greater space between the two cots
Very comfortable and sturdy. Each cot is capable of supporting a large adult or multiple small kids
The beds are firm, providing a great platform for everyone. If you prefer a softer sleep, this can be achieved with additional items
Also available in XL, offering a greater sense of control over your purchase
Cons
Even the large option takes up a lot of space, not least when the cabinets are there. The XL is even wider
Very heavy, weighing in at 83 lbs. Requires patience for assembly, even though the method is very simple
If the top sleeper moves a lot, the bottom bunk will suffer
Needs to be assembled properly, or else it will collapse
Conclusion
This is certainly a good option for those with a lot of tent space and a desire to stay organized during the trip. However, many people will find that it's better to leave the leg extensions alone as a way to aid stability.
Nonetheless, it does the job very well (once assembled) and looks the part too. It is worth noting, though, that the sheer size and weight make it tough to carry and difficult to assemble inside smaller tent spaces.
In terms of the setup time for any of these camping bunk cots it's worth watching the brief promotional video below so you know what you're getting yourself into. This video shows the optional leg extensions as well as the organizers and protective mesh.
The Verdict: Which are the best portable bunk beds here?
All three Disc-O-Bed solutions are good and are certainly better than a lot of the alternative cot bunk beds on the market. Nonetheless, the Realtree Xtra Cam-O-Bunk has a couple of features that cannot be ignored. Without being a bad purchase, it would be advised to look at the other two options here.
For the right type of camper, perhaps the family camper, the Cam-O-Bed with cabinets is a great option. It will take up more space, but you get a lot of extra storage space in the process. Meanwhile, the versatility between sleeping positions is worth noting.
If, however, you're simply looking for a comfortable bunk bed that does what it is supposed to do, the black Disc-O-Bed wins the day.
Its simplicity offers easy assembly, a comfortable sleep, and a sturdy product built to last. The slightly smaller size claws back floor space while the organizers still provide enough storage for most. Frankly, it's one of the best options to enhance any group camping adventure.
Compliment with a decent pad and sleeping bag and you have a comfortable home from home.