If you are planning on going backpacking, camping or hiking, you need to make sure that you have a sleeping bag in your kit. A sleeping bag is crucial when you're camping as it will keep you warm through the night, conserving body heat – it's the outdoors replacement for a duvet.
Out in the wilderness, the temperatures can drop quickly, and you do not want to find this out on your first camping trip without a sleeping bag, or it could be the last! You probably should be looking for the best winter sleeping bag to keep you warm all while offering fantastic value for money.
If that's the case, you've come to the right place. In this post, you'll find five reviews so that you can choose the right 0-degree sleeping bag for your specific camping purposes. These options are designed to provide you with protection from the cold while keeping you comfortable through a winter night in the wilderness.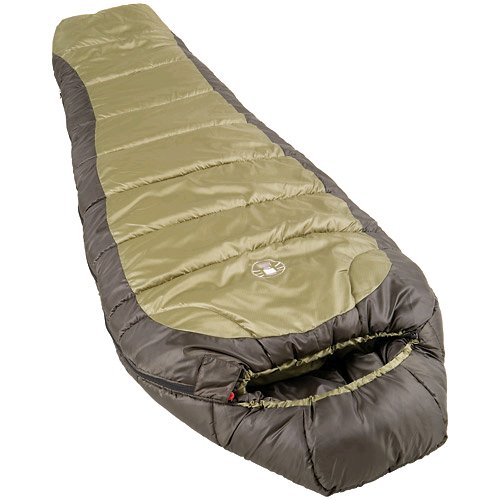 This will be a fantastic sleeping bag if you are planning a trip camping, where you're driving to the campsite rather than hiking. With ComfortSmart technology by Coleman, you should feel cozy sleeping in this through the night. For a sleeping bag, it is also quite large and will fit most people up to the height of 6'2. The sleeping bag itself is actually 6'3 inches, so there isn't that much wiggle room here. The bag is suited for temperatures between 0 and 10 degrees Fahrenheit. However, if you find yourself camping on a warm night, the bottom can be unzipped for better ventilation.
As mentioned, this sleeping bag is quite long, but that extra length does come with a price. The sleeping bag isn't particularly compact, and you would have a hard time carrying this in all but the largest backpacks. As such, it's best suited for pamper camping rather than trekking out into the wilderness.
The big benefit of this sleeping bag is that it will keep you warm at lower temperatures and it is durable. You won't see much wear and tear with this sleeping bag even in rougher environments either. It also won't cost you a fortune, and with a low price tag, it's great value for money.
That said, larger individuals might find this bag a little too snug. Anyone over 190-lbs might want to consider one of the other, larger options on this review list.
Pros
Great value for money
Extra ventilation for warm nights
Long length for taller individuals
Comfortable at lower temperatures
Cons
Too large for backpacking
May not be comfortable for larger individuals
Conclusion
If you are looking for a sleeping bag suitable for car camping or on a trip where you won't be walking long distances to the campsite, this could be a great choice. Although backpackers may wish to steer clear because it is a little large for carrying around all day. However, for those who are looking for a more relaxed camping trip, it does provide excellent value for money and comfort at colder temperatures.

With this zero degrees Fahrenheit sleeping bag, you really will feel like a mummy, wrapped tightly in the lightweight yet ultra warm material. This sleeping bag utilizes body-mapping technology. The benefit of this is that it will eliminate any cold spots and potential problem areas in the bag. Coupled with a zipper draft tube, you should never feel a shiver down your spine sleeping in this bag.
As well as this, the sleeping bag, which is slightly more expensive than Coleman's, is water resistant. It has a few other enticing features too such as protective zip storage for electronics on both sides. Finally, it comes with a Teton limited lifetime guarantee which should provide you with extra peace of mind out in the wild world.
The big benefit this bag has over Coleman's is that it will fit snugly into a backpack. Compressed, the sleeping bag is only 8' by 10' so there should be no trouble taking this bag on trips for a few weeks. Although, you will definitely need to practice packing it away a few times as it can be difficult to get it fully compressed.
The bag is also suitable at lower temperatures of five degrees, camping high up in the mountains or on adventure treks. During low temperatures, the bag will keep you a toasty 20 degrees. This bag may also provide you with some level of wind resistance. Although you should not expect it to completely shield you from the wind.
Some users might not appreciate the compact design of this bag. It could be particularly unpleasant for anyone who is claustrophobic as once inside it is very difficult to move around. The design of the bag can lead to other issues as well. The zipper can come completely undone, and this can be difficult to remedy, particularly if it occurs in the middle of the night.
Pros
Compact bag that is easy to carry around
Perfect for backpacking and car camping
Keeps you warm even at lower temperatures
Cons
Zip can come undone and may be a nuisance to fix
Tight design might be uncomfortable for some campers
Conclusion
Great for backpacking, Teton Sports Mummy Sleeping Bag could be a brilliant option for longer trips. While slightly more expensive than Coleman's offering, it does provide some extra warmth and comes with a few useful extra features. Although anyone who has trouble with tight or confined spaces may find it difficult to sleep comfortably in this bag.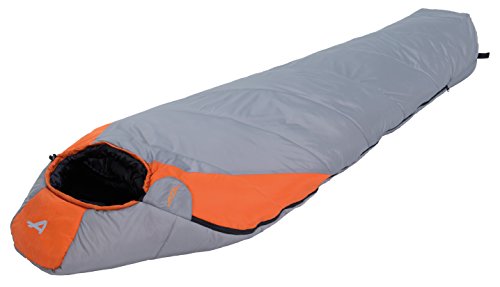 This sleeping bag offered by ALPS is designed to have two layers for higher levels of insulation. Made of high-quality material, the bag also has extra levels of insulation for sensitive areas of the body like the chest. As well as this, the bag can be bought in a variety of sizes for both smaller and larger individuals. The sleeping bag fits into a sack, and the design of the sleeping bag is similar in shape to the Mummy offered by Teton Sports.
The bag will certainly keep you warm at lower temperatures, as should be expected with a zero degree sleeping bag. However, similar to the Coleman the price to be paid is the size of the bag. Due to both the size and the weight (6lbs) this bag is too large for comfortable backpacking. You may also find it difficult to get the bag back in the sack it is purchased with.
That said, comfort wise, it certainly ticks off the right boxes. Even at lower temperatures, you will find this bag keeps you toasty. The main unique selling point of this product is definitely the bag in a bag design. With two separate zipping up materials it does provide a secondary layer of insulation.
Pros
Higher levels of insulation
Extra comfort at lower temperatures
Available in different sizes for various body lengths
Cons
Too heavy for backpacking
May be slightly narrow for some users
Conclusion
This sleeping bag, while not suitable for long camping trips could be a great option if you are going car camping. The extra insulation is certainly noticeable with an extra layer of comfort. However, it does have fewer features than the lighter, more compact Mummy sleeping bag, despite offering a similar design.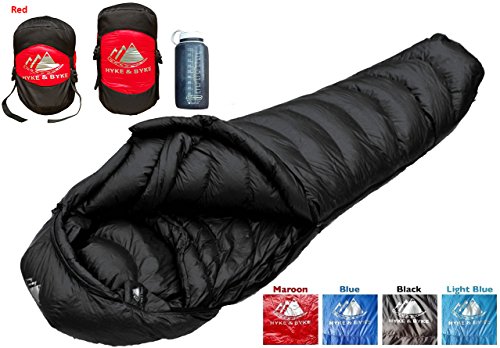 This sleeping bag is one of the most expensive out of the items we have chosen to review. But does it still provide great value for money? The main difference between this bag and the others is that it uses a duck down insulator rather than a synthetic material. The design is a mummy bag, offering the same type of tight, compressed comfort as two of the other sleeping bags reviewed thus far. It can be purchased in two sizes – regular and tall – and is incredibly light at just 3llbs.
The main benefit of this sleeping bag is definitely the aforementioned weight. So far, many of the sleeping bags we have reviewed have been too heavy for backpacking. This can be an unfortunate issue with zero degree sleeping bags. However, the Snowmass is different and you'll be able to hike comfortably with this on your back. In fact, you could take this camping at 11,000 ft elevation and still be perfectly comfortable.
That said, there is an issue with the bag that should make you think twice about a purchase. The zipper can jam frequently, and when it does, it can be a nuisance to get free. The outer material is also quite delicate and could tear when attempting to free the zip. This could be a serious problem for camping at lower temperatures when you need to get in your sleeping bag as quickly as possible.
Pros
Fantastic natural insulation
Suitable for a variety of different camping conditions
Brilliant for backpacking and camping due to lightweight design
Cons
Higher price
Issues with zip getting caught
Lightweight material could easily tear
Conclusion
Despite being one of lightest sleeping bags we have reviewed, this sleeping bag has serious issues with the zip design. For this reason, despite the benefit of being easy to carry backpacking, keen campers may want to think twice about purchasing an otherwise fantastic piece of kit.
The last bag for review is the Adult Sleeping Bag provided by TNH Outdoors. This bag is described as a three to four-season sleeping bag for outdoor camping with a zero degree design. The shape of the bag is again, based on the mummy design and the weight very nearly matches the 3llb offered by Hyke & Byke. At 3.6, you probably will not notice the difference.
The outer layer of the sleeping bag is waterproof which is a serious upgrade from the water resistant material offered by Teton Sports. The bag also boasts a heavy duty zipper, and it comes with a lifetime warrantee, similar to the deal offered by ALPS.
The bag provides two big benefits. The first is the waterproof outer layer. This means that if you are out hiking and it starts to rain you don't have to worry about your sleeping bag getting wet, even if your rucksack isn't waterproof. The other benefit is the zipper which means that the zipper won't get trapped and you can avoid the issue you could have with the bag offered by Hyke & Byke.
Unfortunately, this bag will not keep you as warm as the previous sleeping bag reviewed. It's perfectly suited for three seasons. While the bag can be used through the winter months, it will not provide you with the same level of comfort. Although, it does offer fantastic value for money for what it is. This is another sleeping bag small enough for backpacking. Although, you might want to think twice about taking it out for use in exceedingly low temperatures. The design of the fabric can also be quite loud when moving around, and as such, it may not be appropriate for restless sleepers.
Pros
Lightweight enough for backpacking
Waterproof even in heavy rain
Heavy duty zipper avoids snags
Good value for money
Cons
Will not provide great levels of comfort at exceedingly low temperatures
Best described as a three season sleeping bag
Conclusion
The sleeping bag provided by TNH Outdoors could be good for backpacking at slightly warmer temperatures. However, once the temperature drops below zero, you may find it is not as comfortable as some of the others on this list. However, the fact that the zip will not snag certainly gives it a distinct advantage over some of the other sleeping bags reviewed.
Final Judgement – The Best Winter Sleeping Bag Revealed
So, which is the best winter sleeping bag? In terms of comfort, if you are not backpacking, Coleman's offering provides the best sleeping bag at the best value for money. However, unfortunately, for backpacking and hiking, this bag is going to be far too large to carry around. As such, unless you are going car camping you may want to avoid this option.
For backpacking and hiking the Hyke & Byke Snowmass provides the best level of comfort, even at lower temperatures. If it wasn't for the problems with the zip and the design of the bag the duck down insulation would make it the perfect option. However, keen campers will know that any issue with the zip at all can be a serious and annoying problem, particularly at lower temperatures.
As such, the TNH outdoors sleeping bag is actually offering the best product to buy for most people. With a sturdy zip and optimum levels of comfort at higher temperatures, it is a great sleeping bag. If like my wife you really value a good nights sleep while camping this might make a great gift for friends or family.
If you're car camping, partner this with a decent camping cot and you'll get a great nights sleep. Backpackers should combine with a sleeping pad to just lift them from the ground and provide additional comfort.
The TNH also matches Hyke & Byke in size, and that makes it a comfortable choice for any type of camping. It may not keep you quite as warm as the Hyke & Byke at lower temperatures, but you certainly won't freeze, and you will be able to zip up with no trouble at all.