Last Updated on November 3, 2020 by Dean Anderson
Don't suffer a cold tent or wet clothes while camping, get yourself the best tent stove you can afford.
There's plenty to consider. With that in mind, we have put together this brief buying guide for you plus we reveal our feedback regarding five camping wood stoves that we have tested ourselves.
What is a camping wood stove?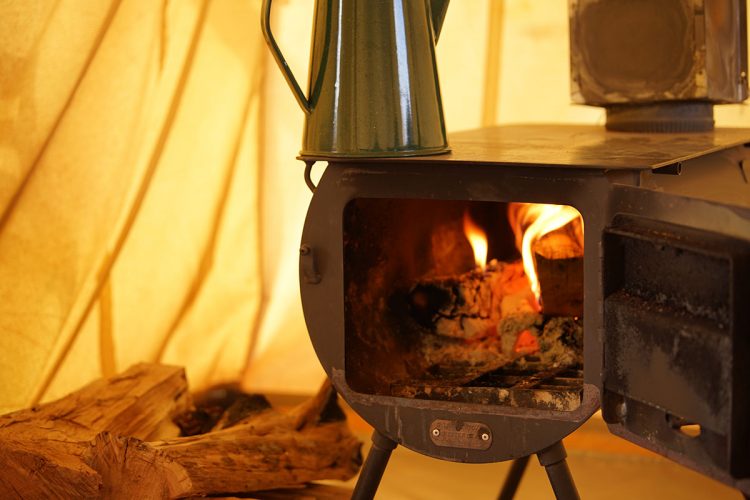 Just so we're clear we're talking about wood stoves for use in canvas-made wall or bell tent that incorporates a stovepipe which goes through a tent jacket in the ceiling or side of your tent.
This type of stove gives you the ability to boil water, warm your tent, dry your clothes, and enable you to cook. They're perfect for hunters, prospectors, outfitters, and families who want to camp all year round, especially in winter.
What are the benefits of choosing a wood-burning stove?
There are many different types of stoves out there for camping purposes, so why consider a wood stove?
One of the main reasons is because of the fact that fuel can often be located in the surrounding area. So long as the location is suitable, you are not going to need to carry huge amounts of carbon-based fuel.
As well as seasoned wood, pine cones, sticks, twigs, or even pre-made wood pellets all make great fuel. These can often be sourced while you are camping. In fact, if the weather is good it can be something fun for everyone to get involved in. This also makes it cheaper and more convenient for you in terms of packing and traveling.
A lot of the wood-burning stoves out there are designed to be smokeless too, which is good news for the person who has the task of cooking. They're simple, practical, and a good alternative to the propane-based fuel stoves out there.
It's not hard to see why more and more people are searching for the best tent stove for winter hot tenting.
What factors should you consider when looking for a tent wood stove?
You can narrow your search by considering the following features;
Size, weight, and portability – Do you need a portable wood stove? Perhaps it needs to break down and store within itself? Or maybe you're quite happy to lug it about in your vehicle or foldable wagon as required.
Ease of set-up and use – There is nothing more frustrating than buying something that is meant to make your camping experience easier, yet all it does is give you stress. You don't want to spend all of your time camping struggling with your new stove!
Added features – Are there any useful added features? Some wood stoves come with handy extras like drying racks or water tanks for boiling water. You might also get a storage bag for your stove too as part of the purchase. Consider what's part of the package.
Durability – Anything that you purchase for camping purposes needs to be durable. After all, it is going to need to withstand being packed, unpacked, and put to use in potentially challenging conditions. You'll want to make sure that it lasts for a period that reflects the price too. The word flimsy and camping simply do not go together.
Efficiency – How thermally efficient is the stove? Does it eat wood at a rate of knots or is the unit nicely sealed with good control over airflow? No one wants to be feeding the stove all night to keep warm.
Cooking performance – Does the product cook your food efficiently? How long will it take for you to have hot water? Also, what's the surface area of the cooking surface, enough for a couple of pans?
Smoke – Is the stove smoke-free internally?
The wood-burning camping stoves that we have tried!
We have tested out the following wood burning tent stoves using our Danchel Bell Tent with a stove jacket as the guinea pig.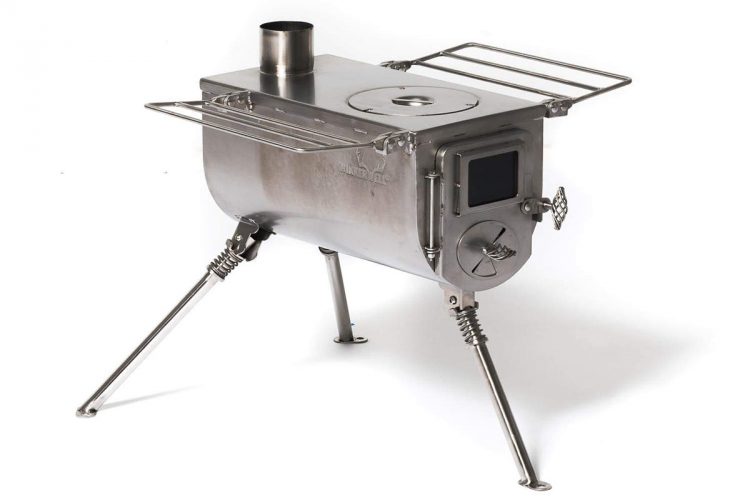 Firstly, we have the Winnerwell Woodlander, which is cited by the manufacturer as a portable wood-burning stove that is good for cooking and heating in small recreational spaces. Just like our test tent.
You get what you pay for with this stove, which is good news because it is relatively expensive. However, if you are looking to spend your money on a quality stove that is reliable and built really well, it is certainly a top contender.
Precise smooth damper control resulting in longer burns
The main thing we appreciated about this stove is how easy it is to control. The adjustment for the damper and the air vent are really smooth and once you've got them right there is very little smoke. Great for cooking. This is unlike the Shasta and SHTFandGo stoves we reviewed.
Once the stove is up to temperature you can almost fully close the flue and damper to get a burn from a few small logs that will last hours. Among these 5 stoves, this is the product that will give you the best chance of warmth through the night.
Once the stove had peaked in terms of temperature and then settled down it cooked our bacon perfectly. We don't want it too hot that it burns food or not hot enough so you're waiting around. The tent was also warmed in the process.
Perhaps add a door gasket
In terms of burn control only adding a proper seal/gasket to the door would improve the Winnerwell Woodlander.
As with any stove, we would recommend undertaking the first burn outside before you use the stove within a tent and certainly before cooking any food on it.
Extremely well made
The Winnerwell Woodlander really does feel like a classy model and it's easy to set up too. It's a little bit ahead of the rest by virtue of the fact that it goes together simply.
It also has legs that properly tighten with spring loading that help the unit to accommodate rough ground. They also fold flat underneath the stove body for storage.
Our only real criticism is that we would prefer something more secure than the eyelets that are used to tie-down the spark arrestor. Considering the stove itself is so durable and strong, it's a bit of a let-down that the eyelets are quite flimsy.
They look like they could break in high winds though it would be relatively easy to repair them.
Pros
Great burn time thanks to precise damper control
Durable and well made
Easy to set up with sprung legs
Low smoke even on the first burn
Useful viewing window
Stainless steel construction
Useful racks for keeping food warm or drying clothes
Cons
Flimsy eyelets that tie down the spark arrestor
One of the higher-priced models
Overall thoughts of the Winnerwell
Overall the Winnerwell is one of the best portable wood-burning stoves we have come across at this price. The unit is extremely well made with mainly stainless steel components. The pack also includes everything you need to get hot tenting.
The main advantage of this product over the others though is the excellent controls. The damper, flue, and viewing window all combine so that you can get the most from the fuel offered to the stove.
Put simply if you can afford it then go and get one. Winnerwell also offers the same unit in different sizes.
Watch this video to learn a few more things about this fabulous stove.
2. Guide Gear Outdoor Wood Stove – A good value for money tent stove with all the key components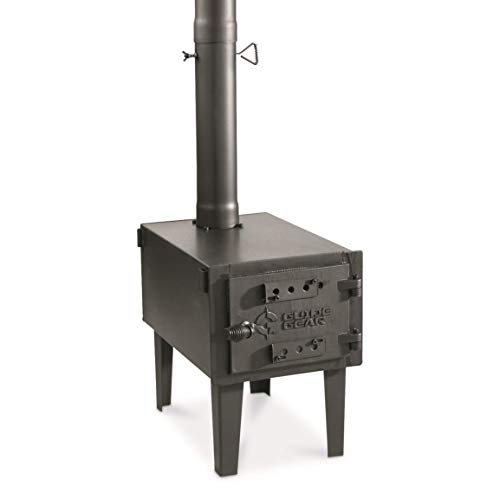 We were certainly impressed with this Guide Gear stove. It really does tick plenty of boxes for such a low price.
The first thing we noticed is just how well constructed this stove is. All of the piping and stove body is steel made.
Good burn efficiency
Following an initial burn, you're good to go and use it for camping. The burning efficiency is also pretty impressive making it a great stove for camping.
If you're looking for a cheap old school stove that does exactly what it claims to do, this is the solution for you. The stove could easily heat a well-built 350 square foot cabin. However, we must point out that the stove is not specifically designed for indoor installation; we're purely stating this to give you an understanding of the level of heat that it gives off.
Smoke can enter the tent
One of 2 issues we encountered with the Guide Gear was that smoke more often than not spills into the tent space when you open the door. The video below shows this at around 3mins 40 seconds.
This happens each time you need to feed it with more fuel. The stove pipe just doesn't seem to draw enough air in to prevent this from happening.
Short legs
The legs on the stove are also quite short, so you may want to think about different ways to raise the stove off the ground if this is going to be an issue for you. The door latch is also quite small and can get very hot. However, as you can probably tell, we're really nitpicking here as overall, it's pretty good.
The stove pipe is probably the most impressive component. A lot of the stoves out there come with thin, walled, tin pipes, which is frustrating. You don't get that here.
The pipe is constructed into five sections, which are really easy to assemble. Though the one nearest the stove glows red when the heat is really pumping.
Pros
Cheap heat
Good burn efficiency
All parts included
Cons
Short stove legs
Let's smoke into the tent when the door is open
Small door latch
In summary
Cheap and heat are not two words we're fond of using together. After all, cheap can often indicate poor quality, and you can't afford to take a chance on poor quality when it comes to your safety! However, with the Guide Gear stove, you really do get fantastic, cheap heat. For the price, we don't think you can beat it.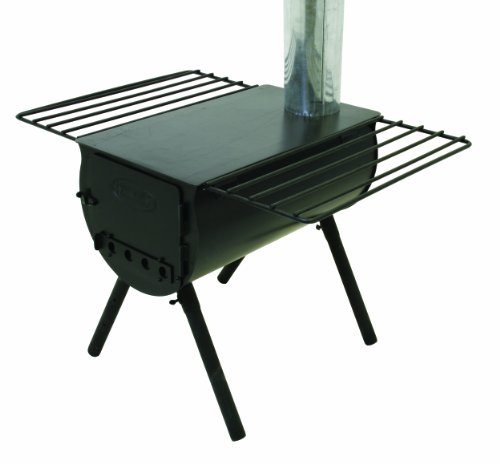 Next, we have the Camp Chef. Well, where to begin. This stove kit definitely had us interested from the start with it's inclusion of all the main components.
Not the most portable design
Let's begin by getting the negatives out of the way. Firstly the stove could be considered quite weighty but only if you're looking for portability.
It is not designed for hiking or to go from place-to-place. If that's the sort of adventure you're going to be going on, this is probably not going to be the choice for you.
If you are happy with a stove that will remain in the same spot during your long fishing or hunting trip, providing you with the heat you need, the Camp Chef is potentially a good option.
Damper control could be better
The Camp Chef doesn't quite have the refined control of the Winnerwell. There is a gap around the door and the air vents were also loose on our test model. This means you can't slow the burn down as much as with the Winnerwell, so you'll use fuel quicker. Someone will need to be up in the night to keep this thing going.
The Camp Chef does cook well though despite the basic control. The large surface area of the stove means you can have a couple of pans going at once. The racks on either side will also help keep food warm – that or help you dry gloves and socks!
Adjustable sturdy legs
On another positive note, the legs of the stove are sturdy and they are adjustable too, which gives you sturdiness even when you are on uneven ground. This is despite the leg welds being a little crooked. The Camp Chef is comparable to the Winnerwell in this respect and this an advantage over the cheaper Guide Gear product.
Offers good value for money
Another thing that we really liked about this product is that it comes with everything you need to get going. No need for any separate purchases. This represents real value for money at almost half the price of the Winnerwell.
You will receive a five-piece nesting pipe, as well as accessory shelves, a spark arrestor, an internal log grate, and a dampener, meaning you have everything that you require!
Pros
Sturdy and durable construction with good base materials
A good amount of surface area for cooking
Accessories included
Fire grate in the bottom to prevent overheating of base
Will accept a standard wood stove water heater
Good value for money
Cons
Would benefit from a door gasket
Can burn wood a little too quickly
The spark arrestor can let moisture in
Non-standard 5″ pipe
Welding on legs a little crooked
Overall thoughts
Given the price, the Camp Chef Alpine is a great product. Compared with the Winnerwell it does fall short but you'll save a ton on the initial purchase.
The Camp Chef is well built and heats up quickly. As long as you take it in turns to add more fuel regularly you'll have the heat on tap. A simple upgrade that might reduce the rate at which you go through fuel would be to add a gasket to the door. Still, this is a good product for the price.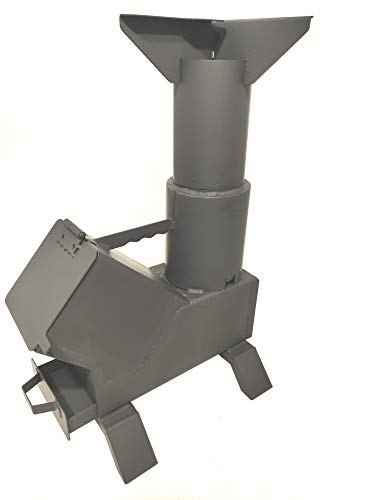 This SHTFandGO Bullet Proof Steel Stove and Tent Heater is certainly durable. That's one thing we knew we were going to get before trying out the product.
After all, SHTFandGO (Stuff, Hits, The Fan!) models itself on being a prepper brand, their gear needs to last. Plus with a material like steel and a promise like bulletproof, we knew that this stove was really going to deliver on the strength and longevity front.
It did not disappoint.
Bombproof construction
We're sure that this stove is pretty much indestructible in terms of construction.
There was a lot we liked about this stove. The visual fire really appealed, as it created a cozy feeling. It warmed the area well, giving off a good amount of heat so that we could still enjoy the cool evening. Cooking on the stove was a real joy as well.
A little rough around the edges
However, this stove does need a little bit of tweaking around the edges.
Specifically, it can be a bit difficult to feed the wood into the burn pot area because of the rough edges. We had to keep forcefully pushing the wood inside of the burner.
Chopping smaller pieces of wood makes this task easier.
Furthermore, the SHTFandGO produces a lot of smoke even after the initial burn. Much more than the Winnerwell Woodlander for example. For this reason, alone we'd be tempted to look elsewhere if you plan on putting it inside your bell tent for example.
Pros
Strong and durable
Good for cooking
You're able to see the fire
Cons
Difficult to feed the wood into the burn pot
A lot of smoke
In conclusion
Unless it really is the end of the world and you need that bulletproof construction we'd be tempted to look elsewhere.
The amount of smoke the unit produces is a little off-putting for regular use. It might be OK in larger spaces but we wouldn't put it in our Kodiak Flexbow for example.
Still the ability to see the flames and the quirky looks from a trusted brand might just win a few over.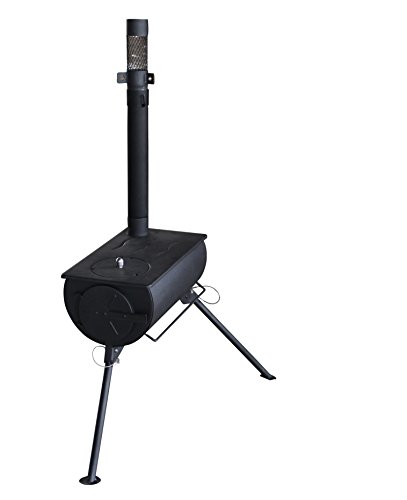 The final wood burning stove that we have on the list is the Shasta Vent Portable, Camping Wood Stove. Described as a 'military' style stove, we were very excited to try this product and put it through its paces.
With folding legs, this stove is pretty easy to set up.
Doesn't hold a lot of fuel
In terms of fuel efficiency, we noticed that the stove was very quick to heat up and very quick to cool down. This is obviously good in terms of fuel efficiency. However, because it does not hold a lot of fuel, you are going to have to keep adding fuel to keep it running.
You're not going to be able to fill the stove and get through the night without regularly replenishing the supply of fuel.
Some control over the burn rate
This stove does have the ability to open the door slightly for air intake if you are looking to control the burn rate, although this is only by a small amount. We used seasoned hardwood and managed to get a few hours of burn time out of the stove.
Fully featured
In terms of accessories and add-ons, this stove came with a vent damper, a spark arrestor cap, and more than five feet of pipe. It would be better if a greater amount of pipe was included, as this would draft the stove better, but compared to the others on the test this is a plus point.
The pipe was also notably easy to disassemble and clean.
Only the Camp Chef model came with a more comprehensive selection of add-ons, but the extras included were welcomed.
This sort of stove would be suitable for use with any suitable hot tent. Of course, as with the others, you'll need to vent the stove outside of the tent via a roof jack.
Very smokey
On the subject of smoke, like the SHTFandGO, there was quite a lot of it! Drafting is also a bit of an issue on this product, which is a shame.
Pros
Suitable for different tents
Portable and easy to transport
Cons
Short burn time
A considerable amount of smoke
Overall thoughts
One of our favorite things about this tent wood stove is just how convenient it is. In terms of portability, we cannot complain. It packs down perfectly and everything is nestled inside.
There is also a handle on the side so that it can be carried with ease. You can take it hiking, which you can't do with the Camp Chef model.
Overall for a small tent, it's a reasonable and cheap, convenient choice. We wouldn't call it military-grade, though!
So for burning wood which is the best tent stove?
It's quite clear to see that there was one product that we loved; the Winnerwell Woodlander Stove. Yes, there is a small amount of room for improvement, but overall, this wood stove has everything you need. It is very efficient, easy to control and the burn time is great. Plus, with virtually no smoke, it manages to achieve what a lot of the other stoves promised but were unable to.
Yes, it may be a little bit more expensive than some of the others. However, we believe it is worth the extra expense because it is such a good product. When you compare this with the other stoves you can see where the extra cost goes because the others were all lacking in critical areas.
The runner up
In second place, we have Camp Chef's Alpine Stove. This is one of the more affordable options, including everything you need without cutting corners.
It does tick all of the boxes but it just misses out on the top spot because it doesn't offer the portability of the Winnerwell.
Overall, we feel that the Winnerwell Woodlander is simply a classier model, excelling in all of the key elements that bit more. However, we certainly would not object to taking the Camp Chef Alpine Stove camping with us!
How to burn wood efficiently in your tent stove
Knowing how to get the most from your fuel will help your stove burn hotter and for longer.
We've read lots of negative reviews on the likes of Amazon for tent stoves where it's clear that the buyer didn't really understand how to operate what they'd purchased. There was nothing inherently wrong with the product.
Most wood burning tent stoves consist of the following components;
Stove body/fuel chamber – where you put the wood
Door with damper – open and close to add your wood and adjust the damper to control airflow
Stovepipe – where the smoke and any harmful gases go from the fire
Stove jack – the heat resistant hole in your tent to allow the stove pipe through
Spark arrestor – a fancy wire mesh hat for the stove pipe to catch any sparks before they hit your tent roof
Regardless of the above, a fire needs three things to ignite and burn, those are, fuel, oxygen, and heat. The combustion triangle explains this in more detail.
Balance airflow and fuel
With a tent stove, you should be attempting to balance airflow in order to moderate the amount of fuel you burn in order to generate the heat required for the specific task.
You balance airflow by means of dampers. This is a posh word for a valve that might be located on the stove door, stovepipe, or both.
Closing dampers restricts airflow and slows down the rate at which your fuel burns. This will also make the metal of the stove hotter and radiate more heat for a longer period. This is the ideal scenario for generating heat in your tent throughout the night.
However, if you restrict airflow too much you starve it of oxygen and the fire could go out. Likewise adding too much fuel can also stifle airflow and put the flames out. The mix has to be right.
Trial and error with your specific stove is what's required. Just understand the need to balance fuel and airflow and this will increase heat and lengthen burn times. If you think the fire is going out, open the damper slightly. If the flames are wild and you're adding lots of wood, close the damper.