Camping in the great outdoors doesn't have to be an uncomfortable experience. Sleeping on a pad is possible, but for the utmost comfort, a camping cot is recommended. The best camping cot will give you a great night's sleep and make you forget that you're out in the wilderness, until you wake up refreshed and ready to explore another day!
A camping cot isn't just suitable for camping trips. You may also want a camping cot to act as a spare bed in your home. They can be great for replacing an air mattress. The one you choose will depend on your specific needs!
Here are some of the most popular camping cots compared, so you can find the best one for your trip or spare room.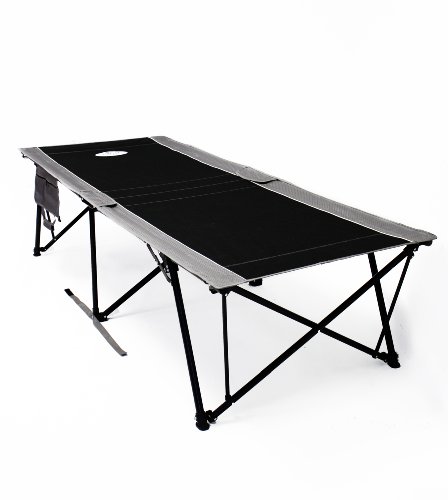 With this cot, the setup is super simple. The cot is pretty big, which is great if you want something substantial. Just be warned if you have a smaller tent like a pop-up to measure before purchasing. The cot is comfortable and sturdy, including for side sleepers who may struggle with sagging on some cot beds.
There's no locking mechanism on the legs however; this doesn't mean it will collapse, it simply means that you may worry about it collapsing. Locking mechanisms can bring peace of mind.
The size and weight of the cot is 8 x 9 x 42 inches, and 21 inches high when set up. The value for money is pretty good. One of the unique features of this bed is that it makes much less noise than other cot beds you might find on the market!
Pros
Squeaks less than other cots
Sturdy
Will hold a twin air mattress
Easy on knees and joints
Easy to set up
Cons
Very big and may leave little room
No locking mechanism on the legs
Conclusion
Overall the Kamp-Rite Kwik Cot is a good camping cot to go for. It's more than suitable for tall people, and people who need comfort for their joints. Just about anybody can use this cot.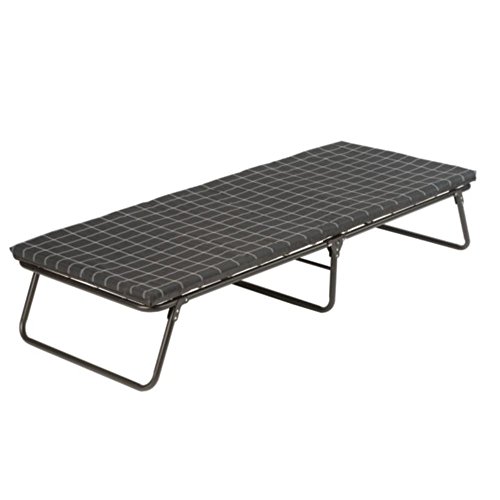 This cot's setup isn't too difficult, but it's harder to take down than it is to put up. Comfort is OK, but the material could sag if you're a side sleeper. This can mean the cot is OK when you first use it, but begins to deteriorate. The size is 11.25 x 10 x 39.5 inches, and it's not too heavy either, so could be good for camping trips. The value for money is pretty good, although there are no unique features, it just does everything ok which you would at least expect from a brand like Coleman.
Pros
Very comfortable for back and front sleepers
Cons
Surface can stretch, may be no good for side sleepers
Can make noise after a few uses, squeaking as you attempt to get comfortable
Conclusion
The Coleman Comfortsmart Cot is OK, but it definitely isn't the best one on the list. That being said, it isn't the worst one either. It makes a decent replacement for air mattresses and can be suited to even picky sleepers in the right conditions. It's also suitable for those who are taller and heavier so it's likely to find a few fans.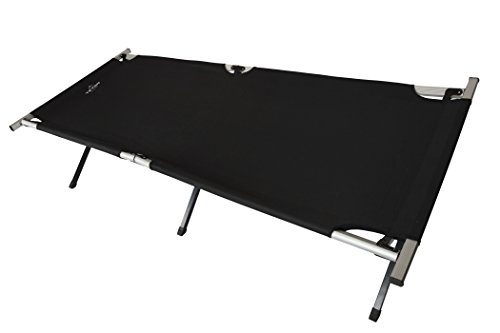 The setup bar on this cot can be difficult to snap into place. It isn't the comfiest on the list either, so it's no good for picky sleepers or those who struggle to drift off. Size is 17 x 25 x 75 inches.
Pros
Cons
Not the comfiest
Difficult to set up
Nuts and bolts seem to come loose
Cot wobbles
Conclusion
The Teton Sport is not a great cot to spend your money on. The metal bars are not sturdy at all, and there's a chance it could collapse. If you're looking for a cot for yourself and don't care all that much, it could be OK. However, if you want a good night's rest, or you're purchasing for guests, this isn't the cot for you!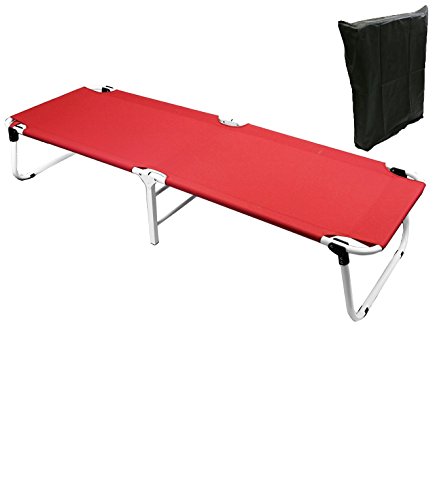 The setup of this cot is OK, but once up you will notice the bottom bar on your back. This can impede the comfort of the cot, especially if you're a heavier male. On the positive side there is clearance underneath for plenty of camping gear, and the cot can hold up to 270 pounds.It's also suitable for those who are up to 6ft tall. In terms of value for money it's a pretty good product, especially if you're somebody looking for something sturdy for a taller person.
Pros
Can hold a lot of weight
Suitable for taller people
Reasonably priced
Cons
Can go rusty
Metal support bar can be felt in certain positions
Conclusion
The Magshion Military Portable Camping Cot is pretty good, but may not be the best choice if comfort is your number one priority. The color is attractive and stands out well, so you can spot it if you're arriving back to your tent at night time. If you're on the taller/heavier side, it could be the best choice. These cots also make a decent spare bed for a guest too.
The set up of this cot is ridiculously easy. The one gripe many people have with this cot is that it's quite heavy, which can mean it isn't great if you're camping long distances and need to take it from place to place. In terms of value for money, it's one of the most expensive. That being said, the pros and comfort of the cot make up for it!  It's far superior to air mattresses, and can offer a great night's sleep to most people.
Pros
Very comfortable.
Super easy set up.
Can replace air mattresses.
Great value for money.
Cons
Heavy
No good for carrying long distances
Conclusion
Overall, this camping cot is one of the best you'll find for the price. While it might be heavy, the comfort and ease of use makes up for it. It also makes the perfect camping cot for somebody who is bigger than average.
Final Verdict – Which is the best camping cot of this bunch?
All of the camping cots on this list have their own unique pros and cons. However, one clear winner has been found among them all!
The Easy Cot, Portable Folding Cot is by far the best camping cot out there. The comfort and value for money are unbelievable, and you'll only experience this for yourself when you test it out. Of course the one con to this camping cot is that it's pretty heavy, which is why we have declared a runner up.
The Kamp-Rite Oversize Kwik Cot may not be as comfortable or easy to use as the Easy Cot, but it's a close second. The one benefit it has over the winner is that it is much lighter, so may be more suitable for camping trips.
Not every camping cot on the list is OK to use. Some of them are underwhelming at best, but the one that is best avoided is the TETON Sports Adventurer Camp Cot. This cot has few redeeming features. It may appear to work just fine when you first set it up, but the sagging and noise that can come with it after use just lets it down.
Whether you're looking for a camping cot to replace an air mattress/spare bed, or one to go camping with, the winner and the runner up on the list could be suited to your needs. For a spare room, or trips where you won't need to carry the bed, the The Easy Cot, Portable Folding Cot is your number one choice. For camping trips, especially ones where you will be carrying your bed, the The Kamp-Rite Oversize Kwik Cot is a safe option!