Finding the best 4 person tent can be tricky with so many different makes and models out there. They all have their own unique selling points and pros and cons, but they are definitely not created equal.
A four man tent is perhaps for those looking for a little more room than what a 1 or 2 person tent offers. Still you don't want something that is going to be difficult to lug around yet offers a little more room over the smallest tents available. Maybe you're looking to go camping with your partner and child, maybe you want the room but still want to backpack.
Unless you're moving from location to location while backpacking the chances are that you won't be camping for longer than a weekend with a 4 man tent. This size tent is great for a festival as it has the convenience of a smaller tent yet more room for changing and storage. All of the tents reviewed here are of a dome design, strong, light weight and easy to erect.
Read our reviews to help you make your decision on the right 4 man tent for your situation. Or if you're in a hurry check out the main points to consider in the table below.
1. Sundome 4 Person Tent – A nicely priced tent for light use during warmer seasons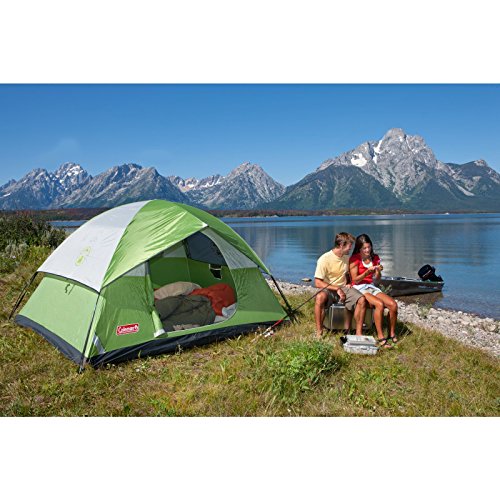 This is a great tent even for monsoon season. You will stay bone dry when the tent is new, although you may need to be careful when you've had this tent a few seasons. The only time you will experience a leak at first is when you don't set it up properly.
This is a no hassle tent to put up, and can fit 1 adult and 2 children, maybe even with a pet. You could also potentially fit 2 adults and 1 child inside. However, there won't be much room for gear if you're planning on going with the family. This is a tent best used for summer, but let's take a look at more of the pros and cons:
Pros
Super easy to setup even for beginners
Can withstand heavy storms
Great price for the quality
Great tent for summer as it's well ventilated
Cons
Can deteriorate after a few seasons
Product Verdict
A very reasonably priced tent. The Coleman Sundome 4 Person is perfect tent for warm summer evenings, but potentially not suitable for cooler evenings. It's also one of the most waterproof tents you'll come across when you first set it up.
The tent can begin to decrease in quality after a few seasons for many this will be fine as you'll likely upgrade to larger or more expensive tents. However it isn't the choice for those who want a long-term solution to camping. You may find it splits or the tent begins to leak. The Sundome is best for light use in warmer climates but it can cope with rain.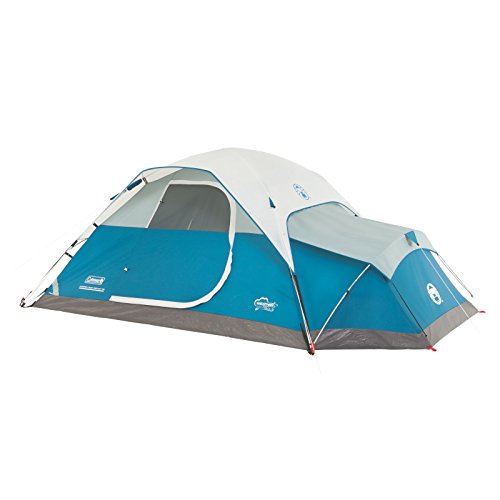 This tent can be a comfortable fit for 2 people, potentially a pet with the side area for a dog bed (or extra luggage). However, it depends on size, as the tent isn't the most spacious on the list. It is pretty much hassle free to set up though, so you minimize stress right from the get go.
Let's take a look at some more of the pros and cons:
Pros
Can be put up and taken down really quickly
Space designed to put extra stuff or a pet
Holds up in strong winds
A durable tent that will last
Cons
A little difficult to put back in the bag
May only fit 2 people comfortably
Product Verdict
This is a very good product for the price, and in spite of the cons, the extra space and no hassle set up make it worth it. The tent can be used heavily providing you take care of it. Overall a great choice of tent for those who want to camp as a very small group and with smaller pets.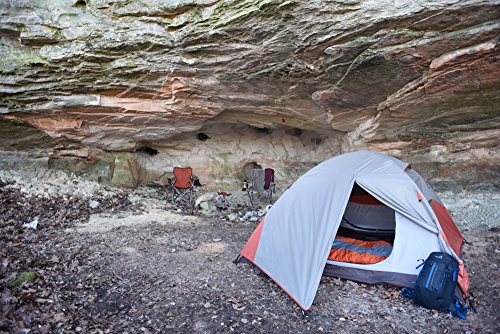 This is a super easy tent to set up. However you may need a slightly bigger budget for this one, but the stress that you eliminate can make it all worthwhile.
This tent is one of the most spacious on test and can even fit a queen airbed inside if you're planning on creating a roomy space for 2. The tent can work for both car camping and backpacking too, so it is good for different uses. Let's take a look at some of the pros and cons:
Pros
Will keep out majority of water in heavy rain
Good for both car camping and backpacking
A light tent with a decent amount of room
Can fit 2 adults with ease and possibly a small pet
Some storage space
Cons
Must look after tent to ensure it lasts
Tent poles are not the strongest
Product Verdict
This is a difficult tent to beat for the money. It's perfect for those who are interested in different kinds of camping and may want to take pets with them. The tent is literally zero stress and for the space, you really can't complain. It will keep water out if it rains in all but the most severe of downpours. Even then it only lets in small amounts of water near the entrance.
Overall this is a great product that warrants it's slightly more expensive price tag.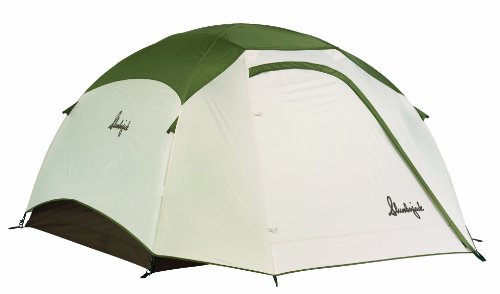 This tent takes literally a couple of minutes to put up, even beginners can do it. It makes an OK tent for the mild hiker; it's good when it comes to temperature, but unfortunately doesn't deal with humidity so  well.
It's best when used in dry, sunny weather conditions. Let's take a look at the pros and cons:
Pros
Super easy to put up
Good for summer camping trips and festivals
A reasonable amount of space
Cons
Slightly heavier in weight so not for long hikes
May not be durable in bad weather conditions
Not as well-made as the other tents on test
Product Verdict
This tent is reasonably priced and OK for summer camping trips, especially for those who are just getting into camping. However, it probably isn't best for experienced campers who want heavy usage, as the tent is a little flimsy. It's not great either for transitional weather conditions or camping in rain or wind.
5. Kelty Yellowstone 4 Tent – Great quality perfect for a small young family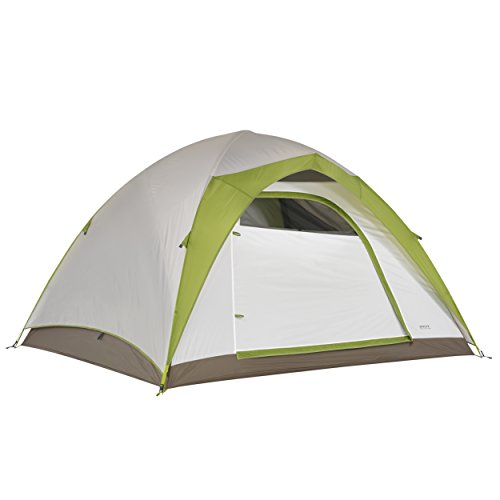 This tent can fit two people depending on size, may also fit small children. It isn't the most spacious on the list, so that's one thing to consider. It is though easy to set up and doesn't take long at all, even with only one person doing the work. Let's take a look at some more of the pros and cons:
Pros
Will keep you dry during thunderstorms
Makes a good small family base camp
10 minutes to set up or pack up
Good ventilation
Cons
May not do so well in windier conditions
May need to buy better tent stakes
Perhaps not the most spacious tent
Can get a little chilly in the evenings
Product Verdict
Many find that this tent does not perform well in windier conditions yet again it's probably fair to say that about most on this test. This tent does everything in a so-so fashion, it's just ok and is a reasonable choice for shorter hikes.
This is a tent that offers reasonable quality and value overall. Though you may need to buy higher quality tent stakes to keep it put in the wind.
Which is the Best 4 Person Tent Of This Bunch?
All of these tents have their own unique set of pros and cons. They would all make a suitable choice for somebody looking for a 4-man tent on a bit of a budget. That being said, the Slumberjack Trail Tent 4 is probably the tent you want to avoid. It doesn't perform in all but the best of weathers, it isn't very well-made and is not so durable. It is though ridiculously easy to set up, but the negatives pretty much outweigh the positives here.
With that in mind the 4 person dome tent with the edge over the others has to be the ALPS Mountaineering Lynx 4 Person Tent. This tent is easy to set up, has a great amount of space and is suitable for multiple uses making it a great all-round buy for the price.
The Coleman Juniper Lake Tent may not have as much space, but makes a great runner up, and is suitable for pets too with it's elongated entrance area. The only downside is the room, although it is slightly cheaper than the winner. It depends on what you're looking for in your 4 man tent. If you don't mind being a little more cozy, this could be the winner for you.
It's fair to say that none of these tents are roomy enough for 4 people as well as camping gear. You generally expect to fit less people inside of the tent than stated, so bear that in mind. It's unlikely that any of the tents above will comfortably fit 4 adults, although 2 adults and a child or a pet plus gear is more realistic.
Make sure you carefully consider who is likely to camp with you – children? Partner? Pets? The weather conditions you're going to be camping in – sunny days or cooler evenings? Are thunderstorms likely? Then consider your budget and how long you want this tent to last. On balance the ALPS Mountaineering Lynx 4 Person Tent may not be the cheapest on the list, but it's a safe bet and a good all-rounder if you want a high quality 4 man tent.