Last Updated on November 3, 2020 by Dean Anderson
Are you thinking about purchasing a bug out bag or BOB? Listed below you'll find three options and discover the best premade bug out bag available to purchase. Bug out bags are an important product because they should contain everything you need to survive a disaster or stay alive in an emergency situation for up to 72 hours. Though, some bags have enough in them to keep you supplied for even longer.
A bug out bag kit is a simple purchase that allows you to be prepared for an emergency with all the items and supplies that you could need in one, easy to carry rucksack. By prepping for an emergency with a bug out bag, you can make sure that you are ready for anything, be it a fire, an earthquake or a power outage. These bags are designed to be easy to carry, discreet, and something people can count on in an emergency situation.
So here are three possible bug out bags on the market right now for you to consider.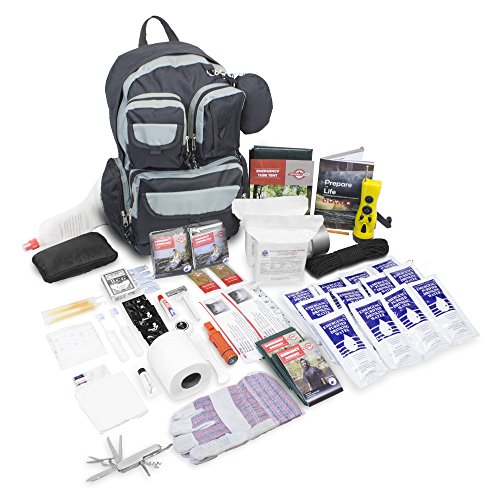 If you're looking for a good starting point, the bug out bag from Emergency Zone could be the best option. The bag itself is discreet and looks like a typical black rucksack. In an emergency situation, no one would be able to tell what was packed inside it and that's a good thing because this bag has a lot of what you would need in an emergency.
Suitable for two people, the bag includes a torch/ two-way radio system, supplies for first aid, sanitation and food and water. There's also a tech device that you can use to light your way and as a communication device.
The food is high quality and will last for five years before it needs to be replaced. Although, the food will not last that long if left in warm temperatures so you will need to think about where to store the bag.
The bug out bag can be used in a variety of situations however it is important to be aware that the bag is not waterproof. You will need to make your own amendments to the bag such as using duct tape.
A great feature of the bag is that there is plenty of room to add extra items such as clothes, more food and tools like a small hacksaw. While the bag does have a number of useful items included, there are certain omissions such as a compass, collapsible water bottle and filtering tabs. Though, for the price of the kit, you are certainly getting your money's worth. Particularly when considering the fact that the bag also includes a basic camping tube tent.
Pros
Good value for money
Kit will last 72 hours
Room to add other items
Food will last for a while
Cons
Some needed items are missing
Quality of items match the price tag
Bag is not waterproof
Conclusion
The  Emergency Zone 840-2 bag would make a perfect starting point for anyone looking to prep for an emergency. While there are items missing that people may want in their bug out bag, the bag has more than enough space to add extra pieces of kit and belongings. You could definitely fit a few items of clothing in without much trouble at all.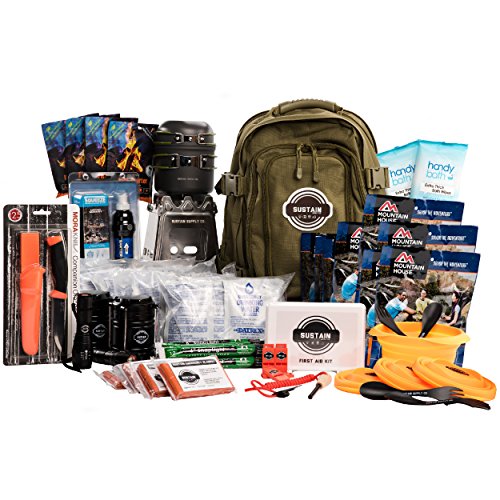 The premium emergency survival bag from Sustainable Supply Co. provides supplies for two people to last in an emergency situation for 72 hours, the standard for typical bug out bags. Boasting high-quality items and products, the bag includes items for cooking including a portable stove, items for starting fires and a first aid kit as well as a few lighting options. Also contained in the pack  are frozen food packets and water.
The food contained in the pack has a shelf life of 30 years due to being frozen, and the water will last for five. While there is a first aid kit, it should be noted this will only be useful for basic injuries. It does not have the items necessary to treat more serious injuries that could have occurred during an emergency situation.
Some people will be eager to take their bug out bag with them on holiday. While there is nothing in the pack that should prove to be problematic, it's worth noting that it is also not TSA approved. This means you could have trouble trying to bring it on a flight. It is also worth noting that you will need to unpack the bag before using it for an emergency as the lights are powered by batteries, and these are not included.
The bag itself looks like a standard black backpack and therefore will not draw attention. Although, it does have the word sustain plastered on the front in white. The bag does have space for extra items but it also comes with a wide range of products. However, unlike the previous bag, this one does not include a tent. Although it does have bowls and utensils so you'll have things to eat with and out of.
Pros
High-quality products included
Bowls and utensils for eating
Food will last a long time
Comfortable to wear and carry
Space to add extra items
Cons
No tube tent included
Batteries need to be added yourself
Basic first aid kid that may require upgrading
Conclusion
Although the lack of a tube tent is a notable disappointment, the Sustain Supply Co. bag does contain plenty of other items that are useful. While the first aid kit can no doubt be improved by the buyer, this is another mark against buying this bag, and at the current price, you would expect more than band-aids, bandages and antiseptic wipes.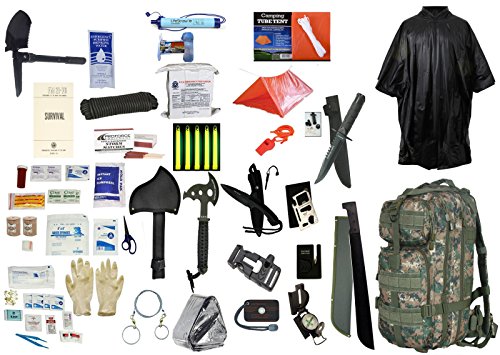 The Ultimate Arms Gear bag is perfect for someone looking for a heavy duty bug out bag to purchase. The bag includes an axe, a knife and a machete, and packs the most intense equipment on this list.
Boasting everything you need for survival for up to three days, the 21 piece kit also includes 12 pouches of purified drinking water and eighteen food bars that are classified as emergency rations. You'll also have a water filter that can clean a massive amount of water to high official standards.
One of the best features of this bug out bag is the bag itself. It's extremely high quality, and the military grade description may be right. It also has a few grommets that can be used for different purposes including a tent and are completely waterproof. However, what's in the bag is another story.
While the kit is impressive, there will be queries about quality and the inclusion of items that may not be necessary. We wonder why you would need a ruler or indeed a screwdriver in an emergency situation. Although there are also some very useful unique inclusions such as a signal mirror.
However, like the other bags on the list, if you are eager to add more items there is enough room to do so. You'll also need to pack all the items in yourself and once you do you'll find that the backpack is very heavy, mainly due to the food pouches. Be warned though, you may find that certain listed items are not included, and those that are may not be of the quality that you'd expect.
Pros
Kit for a waterproof tent and shelter
Items in great high-quality bag
Cons
Poor quality tools
Unnecessary inclusions
High price
Heavy to carry
May need to add your own items
Conclusion
While the Ultimate Arms Gear bug out bag itself is high quality the items contained inside are more questionable. The items chosen also make the bag quite heavy to carry and while you might think this means it has everything you need, you may find that you have to add more for your own items to feel completely safe.
Final Verdict: Which is the Best Premade Bug Out Bag
Comparing these bags, one may notice a number of similarities. While they all have great items included they are also all missing certain items that people may want. The Ultimate Arms Gear bag, for instance, puts a significant amount of focus on heavy-duty tools that may not be as useful as including more food and water. While the Sustain Supply Co. bag doesn't include a tent or indeed any form of shelter, which could be crucial.
Arguably then, it's the Emergency Zone bag that comes out on top here. It has some unique items included in a discreet bag that does include a tent and isn't that difficult to carry. Like the other bags, there is plenty of room to bag more items if you choose to and it also provides the best value for money out of the three. As well as being a great place to start when choosing a bug out bag, it could also be the only one you need to make sure you are prepared for an emergency situation.