Last Updated on July 25, 2018 by Dean Anderson
They say that a clean camper is a happy camper and for many cleanliness and good sanitation is paramount when camping. Therefore, looking for the best portable shower for camping should be a crucial step ahead of your next adventure.
Whether it's a weekend fishing trip or a week of hiking doesn't matter, the right portable shower will go a long way to maximizing your enjoyment. Before rushing into a purchase, however, it's imperative that you equip yourself with the info required to make a calculated decision. After all, there are many factors to consider, not least regarding value for money.
Here are our unbiased opinions on three of the best-selling portable showers on the market to help you make a winning selection. In turn, this should take your camping trips to an entirely new level.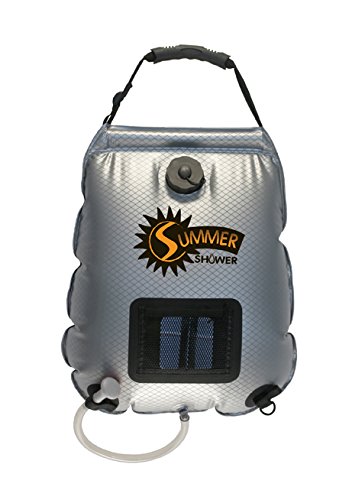 The Advanced Elements 5 gallon summer shower holds more than enough water for at least two people to shower. This is especially true when users turn off the nozzle.
Up to 100 degrees Fahrenheit in 3 hours
Like most solar shower facilities, it does rely heavily on the weather and sunlight. However, the fact that water can heat up to 100 degrees Fahrenheit in as little as three hours makes it a great option. The water also retains its heat quite well even when the sun has set.
Solar tech is a little limited, so the water can heat up a little unevenly. By the time you've hooked it up to the point where you'll shower from, though, this should not be a major issue. Once you've mastered the tap, the flow will be pleasant too. Although you do need to have realistic expectations about the possibilities, this is one of the best items on the market. It will have a hugely positive impact on your outdoor adventures.
Pros
The solar technology heats the water (in summer) to a suitable level in just a few hours
Easily turned nozzle allows you to conserve water for greater efficiency
A lightweight and compact design mean it is portable even when full
Bag material is unlikely to rip unless you are particularly heavy-handed
Cons
Definitely needs to be hanged high for any sense of comfortable water pressure
The water won't heat up that much during the colder months
Material around the handle will succumb to wear and tear
Tubes susceptible to kinks, which will impact flow unless straightened out
Product Verdict

There's a lot to like about this portable shower for camping, and it can be used on beach days and other outdoor adventures too. Replacement clips may be required as this is one area that can be flimsy. However, the bag itself, as well as the solar tech are of the best quality. While paying a little more money for a basic facility may leave a slightly sour taste, you'll soon realize that it's a worthy investment.
As close to a shower at home as you'll get
This portable shower is a little more expensive than some others and still won't give you the same level of comfort as your home shower. Nonetheless, it's far nearer to a 'normal' shower than most alternatives on the market. As long as you are going to get sunlight during the day, this is a great addition to your traveling arsenal. When buying an item for outdoor activities, reliability is key. This is probably the greatest selling point of the product.
Do remember that it needs to be tied up high above. Otherwise, you will be limited to drips rather than the free-flowing shower that you deserve. As long as you aren't overly heavy handed with it, though, it can satisfy your need for many trips to come.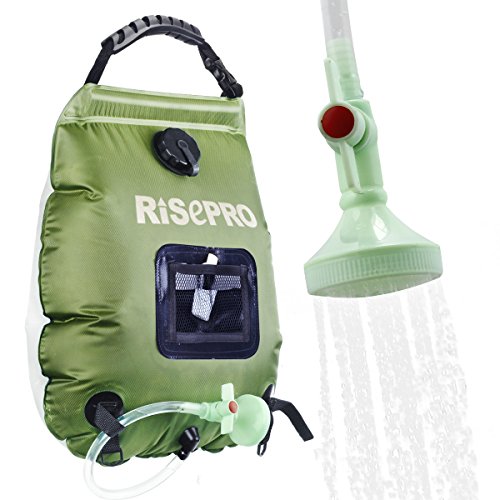 The RISEPRO solar heating portable shower for camping is a budget alternative but aims to do the same thing. Given that the products rely heavily on sunlight, it's difficult to know which is quicker. Nonetheless, water is heated using similar technology, so will heat up in a fairly similar time to the Advanced Elements. However, the bag's materials are clearly cheaper, and it does show in the quality of the shower.
On this product water has been known to leak from the shower head and the connector from bag to nozzle. Ensure you check the connections on first use. The real issue though comes when hanging the bag up. Get this wrong, and the material can rip. Nonetheless, as a cheap solution for single trip, this is an adequate choice.
The water flow has two settings, which is more than suitable for any camping trips where you might be short of water or time to heat it up.
Pros   
A good price for a product that offers an important function
Very lightweight and heats up quickly to a comfortable (yet not boiling) temperature
Shower head gives you control for efficient use
Cons
Likely to leak due to cheap plastic parts
Likely to suffer broken handles for a similar reason
Question marks over the 20L capacity. It feels as though there is less water inside
Promotes a heat of 128 degrees that is very unlikely to be attained
The hose doesn't feel long enough
Product Verdict

The RISEPRO 20L does an adequate job and can provide enough water for one long or two short showers. However, it fails to deliver on some of its promises. As a cheaper solution, this shouldn't come as a major surprise. It is still an OK option for those looking for short-term use or who will not have huge expectations regarding flow.
It could be easily argued that the good points outweigh the bad. However, there's no denying that those minor issues can cause aggravation. Given that showering is such a key factor when trying to maximize your enjoyment, this should not be underestimated. Besides, the potential leaking could cause damage to other parts of your camping inventory.
This is certainly a budget-friendly option, and it's not a bad product by any means. Nevertheless, there are better solutions out there. Whether you're a solo traveler or in a campground, you should only settle for the best.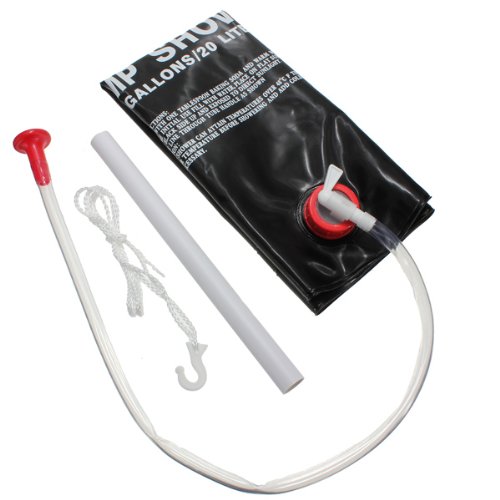 The 10 gallon RISEPRO shower bag has one big selling point: it's twice the size of most bags. It does serve its purpose while the price will please a lot of users too. In truth, though, the fact you can get a bigger product at a smaller price suggests that the quality is lacking. Frankly, that's not an inaccurate conclusion.
While the water can be heated to the same level, it will naturally take longer. Carrying the bag is hard and fixing it to a high place is even harder if the bag is full. Sadly, the flimsy materials aren't built with longevity in mind, making this something that is probably best used as a one-off tool. Still, the shower head is OK, so it is ready to provide a function.
Pros
There's a choice between high flow and low flow
It's a cheap solution
Has the ability to heat the water to a decent temperature
Cons
The 10 gallon capacity is largely unneeded
Bag can become torn fairly easily, raising questions about longevity
Plastic isn't fit to consistently hold 40l of water either
More water equals longer warm up time
Very heavy to carry when full
Product Verdict

At a glance, it may seem like you're getting more bang for your buck. In reality, if you are planning to capitalize on the 40l capacity, there's a good chance the bag will break after only a few uses. Besides, as long as you use water in an efficient manner, a 20l bag is more than enough for most situations.
Still, this isn't a bad option for one-off camping trips such as attending music festivals. However, the budget design is apparent during use. From flimsy nozzles to quickly losing shape, it is a product that is likely to fill you with frustration should you aim to use it on a frequent basis.
Unless you genuinely feel that the 40l is needed, it's best to stick to a smaller model.

Price Disclaimer
Final Words: Which Is The Best Portable Shower For Camping?
By now, you should have a fairly strong idea of which option you wish to take. While they all have pros and cons, it's fairly clear that there are variances in the suitability and value of these three models.
If you are eager to choose a RISEPRO due to the choice of two pressure types, the 20L is the better choice in most situations. In truth, though, the Advanced Elements is our winner by a fair distance. Essentially, given that the core principles of the products and technology are the same, it's a case of getting what you pay for.
Whether camping or taking on another outdoor activity, the benefits of a nice warm shower are plentiful. With this in mind, it's always worth paying the little extra for a sense of increased comfort. Even if you are only planning to take a single trip, this is the best choice to make. For those likely to use the portable shower again and again, the Advanced Elements item can become one of the best buys you'll ever make.